Pizza Rolls Recipe
The Best Way to Eat Pizza, Hands Down!
This is easily the best way to eat pizza, hands down. Rolled into delicious edible bites, you get the best ratio of bread to sauce to cheese to toppings. Even better? You can totally dip them into a ton of sauces for an explosion of flavor.
Pepperoni Pizza Pinwheels
From Brandi Milloy, POPSUGAR FOOD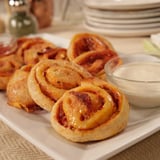 Ingredients
1/2 tablespoon flour
1 can refrigerated pizza dough
3/4 cup pizza sauce
1 cup mozzarella cheese, shredded
20 pepperoni
2 tablespoons butter, melted
1 teaspoon garlic powder
1 egg
2 tablespoons parmesan cheese
Optional Dipping Sauces: pizza sauce, ranch dressing and hot wing sauce
Directions
Preheat oven to 350ºF.
Onto a piece of parchment paper, sprinkle flour and roll out pizza dough. Press fingers into dough to dent to prevent the crust from puffing up.
Spoon sauce onto dough, leaving 1" around the sides. Sprinkle cheese on top of sauce and then place pepperonis on top (4 x 5). Into a small dish, mix butter and garlic powder. Roll dough into a log, long ways and as you roll the dough, brush the outside of the crust with garlic butter. Wrap in parchment paper and place in freezer for 15 minutes to firm up.
Slice log into 1 1/2" slices and place on parchment lined baking sheet. Brush with egg wash and sprinkle with grated parmesan. Bake for 30 minutes or until dough is golden and cheese is melted. Serve warm with dipping sauces.
Information
Category

Appetizers

Cuisine

North American

Yield

5 - 6 Servings

Total Time

59 minutes, 59 seconds