Pumpkin Cake Pops Recipe
Pumpkin Cake Pops Are the Tastiest Way to Savor the Season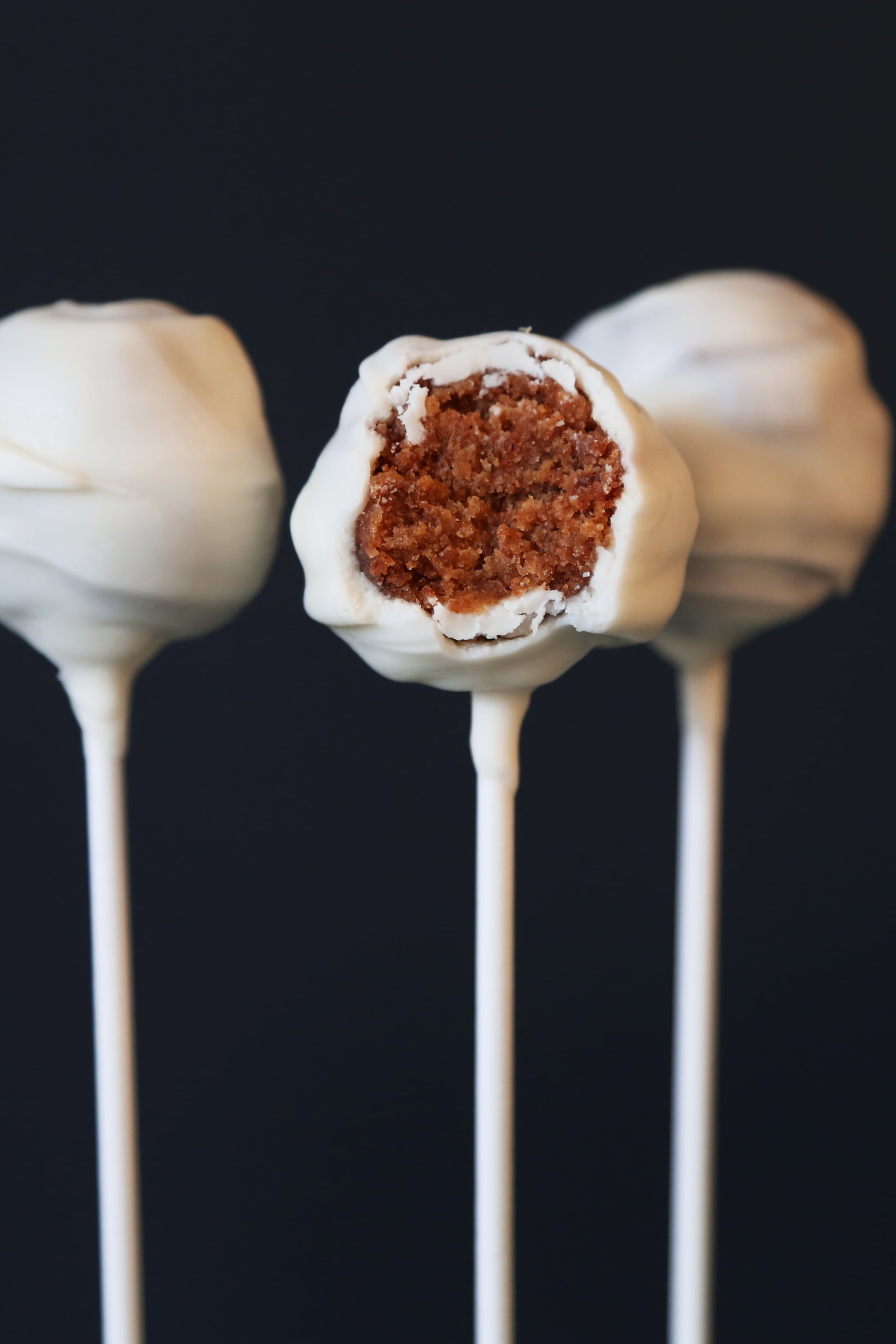 I'm going to go ahead and get real with you upfront: I have absolutely no idea how all those stunning cake pop pins could possibly exist, because cake pop making, even at its most basic, is tough and labor-intensive. I've taken on some challenging baking projects, and cake balls take the cake. But don't worry! This recipe isn't about creating some magnificent work of edible art, although I won't try to stop you if you want to turn yours into jack-o'-lantern cake pops. The point of this recipe is to create pumpkin cake balls so rich and full of Fall flavors, it's like Thanksgiving just exploded in your mouth. Yep, I went there.
Pumpkin Cake Pops
From Anna Monette Roberts, POPSUGAR Food
Notes
If you are pressed for time, use a pumpkin cake mix and ready-made cream cheese frosting, and skip ahead to "how to make cake balls." Alternatively, break the recipe into a two-day process, making the cake and icing on one day and assembling the cake balls on another.

For step-by-step photos, see our basic cake pop how-to or watch this cake pop how-to video.

You will have leftover cream cheese frosting. Double the cake recipe and use it for more cake balls, to ice a pumpkin cake, or for your favorite cupcake recipe, like carrot cake.
Ingredients
For cake:
1/2 cup salted butter, melted and cooled, plus more for pan
1 cup all-purpose flour, plus more for pan
1 teaspoon baking soda
1/4 teaspoon baking powder
1/4 teaspoon salt
1/2 teaspoon ground cinnamon
1/8 teaspoon dried ginger
1/8 teaspoon ground nutmeg
Pinch ground allspice
Pinch ground cardamom
1 cup granulated sugar
2 eggs
1 cup pumpkin puree, fresh or canned
For cream cheese frosting:
4 tablespoons unsalted butter, softened
8 tablespoons cream cheese, softened
1 1/2 cups powdered sugar, sifted
1/2 teaspoon vanilla extract
For cake pops:
2 (8-ounce) containers of white candy melts, such as Dolci Frutta creamy white shell
12 white cookie/cake pop sticks
Floral foam brick or cake pop stand
Ground cinnamon, for garnish, optional
Directions
To make cake: Preheat the oven to 350ºF. Prep a cake pan by greasing a 10-inch square pan or 9-inch round pan with butter and dusting with flour. Cut out a piece of parchment paper to cover the bottom of the pan.
In a medium-sized bowl, sift flour, baking soda, baking powder, salt, and spices. Set aside.
Using a whisk or a stand mixer fitted with the paddle attachment, beat together melted butter, sugar, and eggs until well combined and sugar is dissolved. Slowly mix the flour mixture into the wet ingredients, until well combined. Gently stir in pumpkin puree, being careful not to overstir.
Pour batter into prepared cake pan, and bake for 38 to 40 minutes, or until an inserted toothpick comes out clean. Turn cake out onto cooling rack to cool completely.
To make icing: Using a mixer, beat butter and cream cheese together until smooth. On a slow speed, incorporate sifted powdered sugar until smooth. Beat in vanilla extract.
To make cake balls: Crumble cooled cake into a large bowl. Add 1/4 cup of cream cheese frosting, and using the back of a spoon or rubber spatula, mix until fully incorporated. Try to roll a 1-1/2-inch ball. Mixture should be moist and can be molded easily like Play-Doh. If it is too dry or crumbly, continue to add more icing, a tablespoon at a time, until proper consistency is reached. Roll cake into 1-1/2-inch balls and place on a parchment-lined cookie sheet. Freeze for 15 minutes, or until the cake is firm.
Melt candy shell according to manufacturer's instructions. If shell is too viscous, thin it out with a teaspoon of canola oil. In addition, if the candy shell starts to cool as you are dipping the cake pops, return to the microwave for a few seconds to heat it back up.
Remove cake balls from freezer. Dip cake pop sticks about half an inch into melted white shell, and stick halfway into cake ball. Secure onto a floral foam brick or cake pop stand. Repeat with remaining pops. Return to freezer for 15 minutes.
Remove cake balls from freezer. Carefully roll each cake ball in the candy shell until fully covered. Tap against the side of the container to remove any extra candy shell, and return it to the cake pop stand. Repeat process with remaining cake balls. Double dip the cake balls if the shell seems too thin. Allow candy shell to harden, dust cake pops with cinnamon (optional), and enjoy!
Information
Category

Desserts, Cake

Cuisine

North American

Yield

12 cake pops

Image Source: POPSUGAR Photography / Anna Monette Roberts