Vegan Pumpkin Chili Recipe
If You Have a Can of Pumpkin, You Can Make This Vegan Pumpkin Chili in a Flash
As POPSUGAR editors, we independently select and write about stuff we love and think you'll like too. If you buy a product we have recommended, we may receive affiliate commission, which in turn supports our work.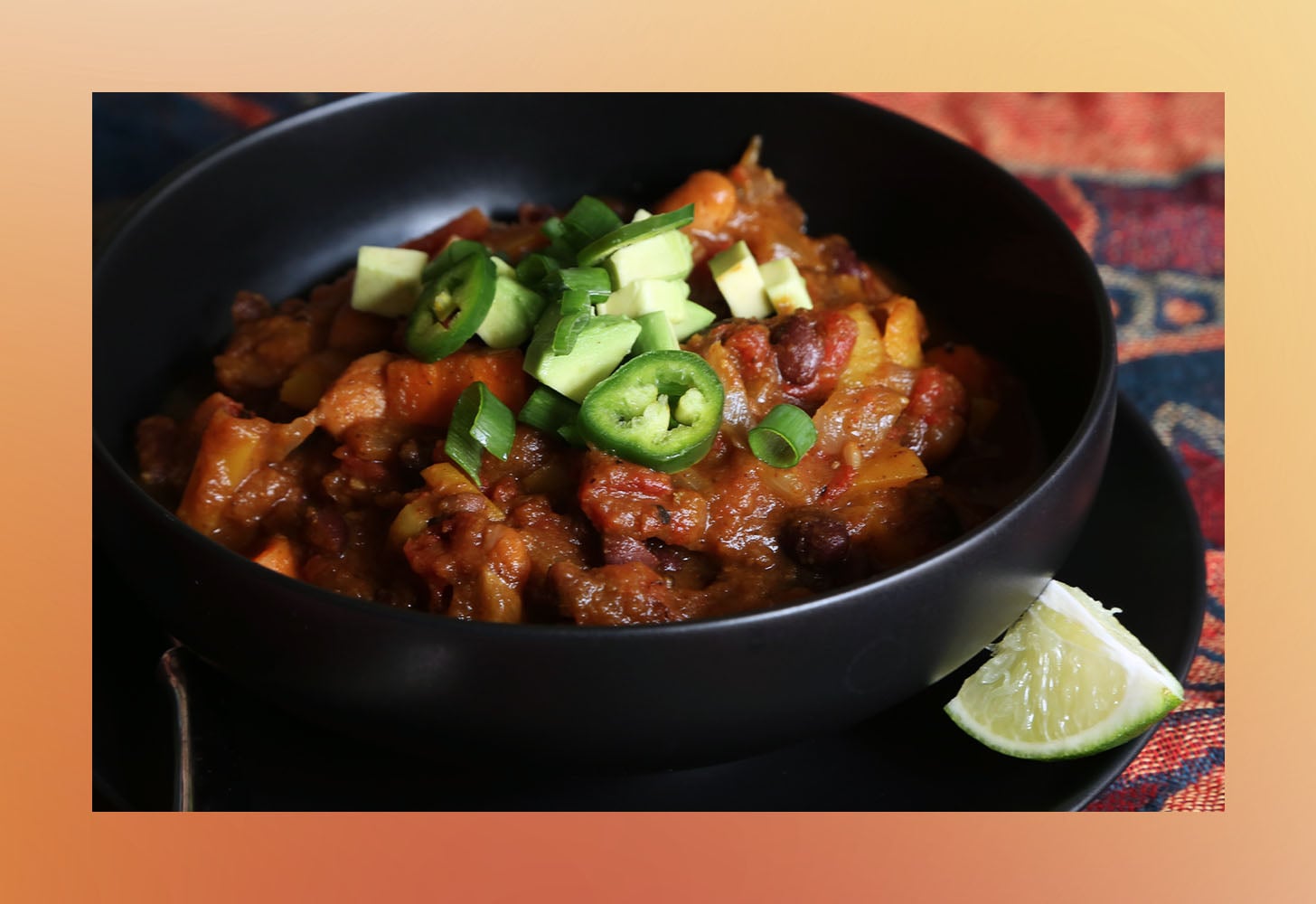 Have you heard of Bad Manners? This vegan food blog (formerly known as Thug Kitchen) became viral for mixing salivating shots of hearty fare stamped with captions containing lots and lots of cuss words. Their goal was to convey grit in the "otherwise polished and elitist food scene." Gingerbread bites beg you to "bake a batch of these sons of b*tches." And a Thanksgiving quinoa grain salad simply tells it like it is: "Shame the sh*t out of other side dishes." Bad Manners recipes evoke simultaneous hunger and booming laughter. The sassy, no-BS attitude, x-rated food porn, and tried-and-tested recipes keep people, including me, coming back for more.
This recipe for pumpkin chili from the "Bad Manners: The Official Cookbook" ($18) is one of the best GD vegan chilis out there, and a fantastic way to celebrate fall when "you need somethin heartier than a goddamn latte."
Admittedly, I felt skeptical using canned pumpkin puree in a soup, but the Bad Manners team did not lead me astray. The soup turned out thick and hearty, as if I dissolved tortilla chips into the pot. If you're sensitive to spice, leave out the jalapeño and garnish the top of the bowl instead. This has become an autumn staple in my house, and now, it can be yours too.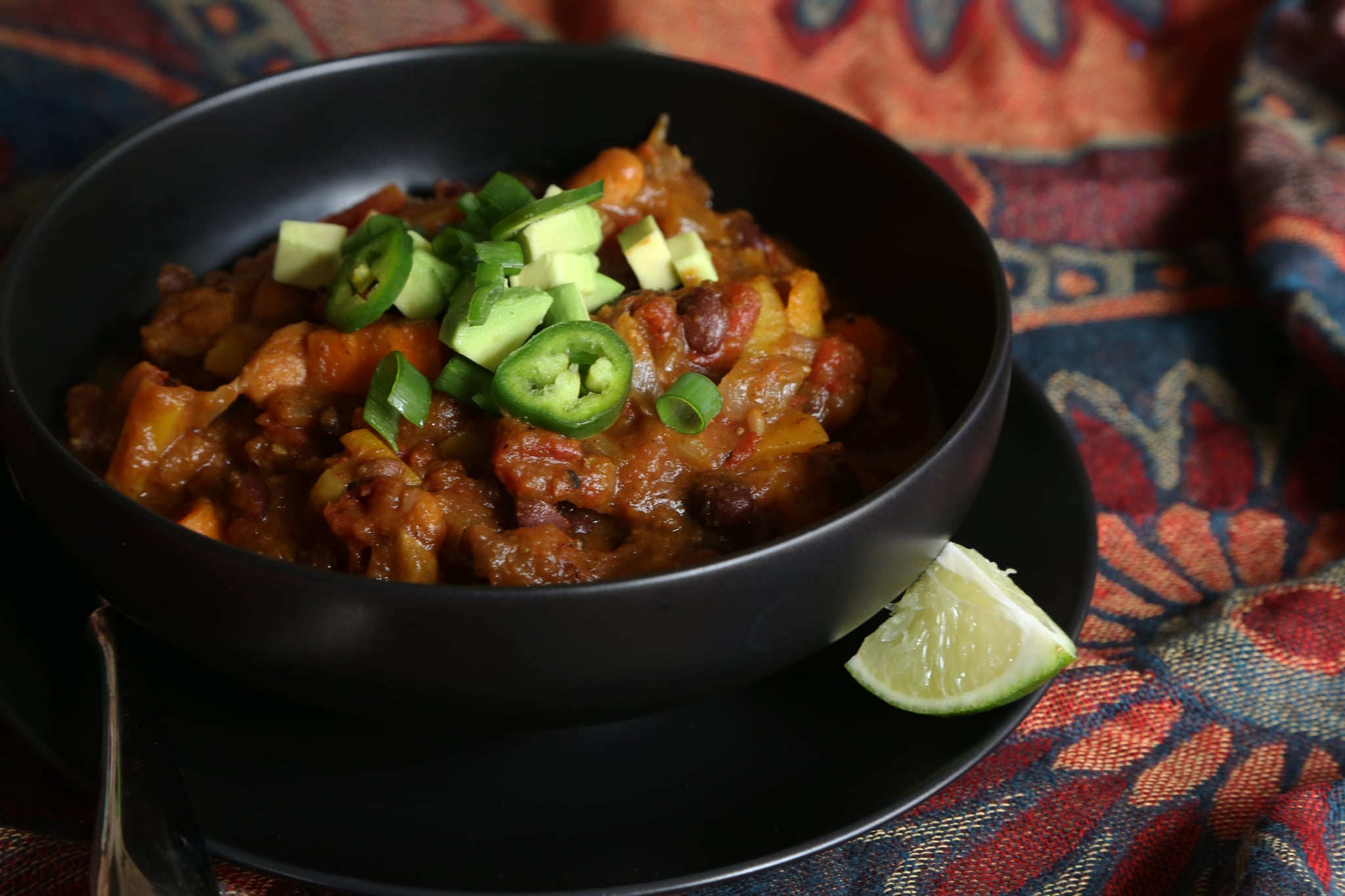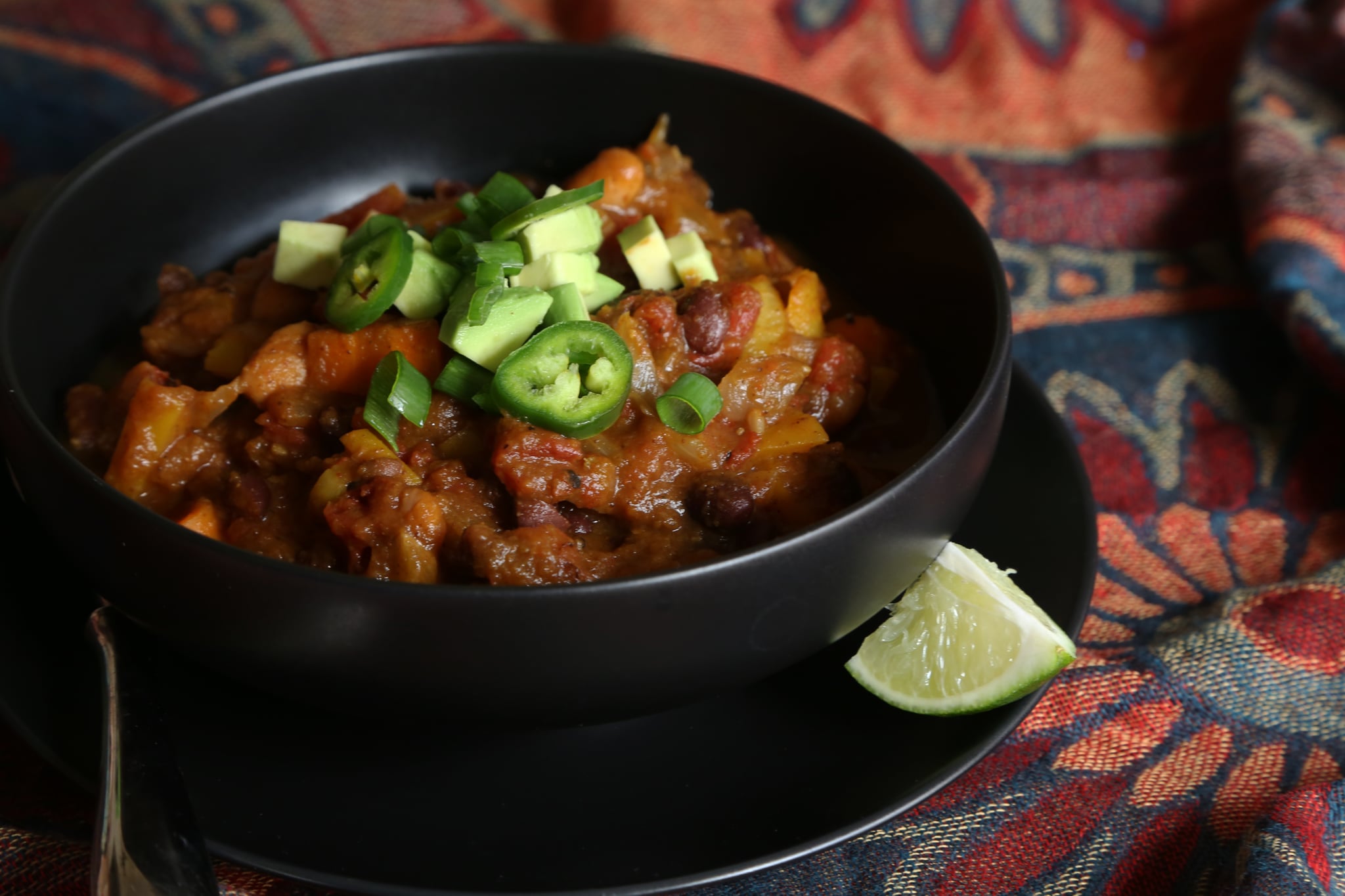 Vegan Pumpkin Chili
Bad Manners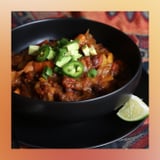 Ingredients
1 yellow onion
1 carrot
1 bell pepper
1 teaspoon olive oil
2 to 3 cloves garlic, minced
1 jalapeño, minced
2 teaspoons soy sauce or tamari
2 1/2 tablespoons mild chili powder
1 teaspoon ground cumin
1 can (14.5 ounces) low-salt diced tomatoes*
1 1/2 cups pureed pumpkin**
2 cups vegetable broth or water
3 cups cooked beans***
1 tablespoon lime juice
Toppings: cilantro, chopped onion, jalapeños, avocado, tortilla strips
*Fire-roasted tomatoes are damn delicious if you can find them.
**You can buy canned pumpkin puree, or cut up a fresh pumpkin into chunks, steam it until it is tender, and puree it until you have 1 1/2 cups.
***Whatever beans you prefer in a chili are cool, but if you need direction, half black bean and half pinto make a solid combo. And yeah, you can use two 15-ounce cans.
Directions
Chop up the onion, carrot, and bell pepper into pieces no bigger than a bean.
In a big soup pot, heat the oil over medium heat. Add the onion, carrot, and bell pepper and sauté them until they begin to brown, about 5 minutes. Add the garlic, jalapeño, soy sauce, and spices and cook that all together for another 30 seconds. Add the tomatoes, pumpkin, broth, and beans and stir that up so everything is mixed. Get those flavors mingling and sh*t. Turn down the heat, cover, and let that simmer together for about 15 minutes. Stir it around every now and then.
When it is done simmering, turn off the heat and stir in the lime juice. Serve right away with your favorite toppings.
Information
Category

Soups/Stews, Bean

Cuisine

North American

Yield

Makes enough for 4 to 6 people depending on how much they like chili
Image Sources: POPSUGAR Photography / Anna Monette Roberts and Photo Illustration: Ava Cruz