Pumpkin S'mores Doughnuts Recipe
This Pumpkin S'mores Doughnuts Recipe Is the Perfect Twist on Fall Desserts
This delicious recipe from Sunday Public is the perfect treat to get you ready for Fall.
About a month ago one Sunday morning, as I was drinking my coffee I had the urge to have a doughnut, as one does while drinking their Sunday morning coffee. After scrounging around in my pantry I found a can of pumpkin puree and thought why the heck not. Shortly thereafter there was a fresh batch of sugary pumpkin doughnuts and my craving was satisfied.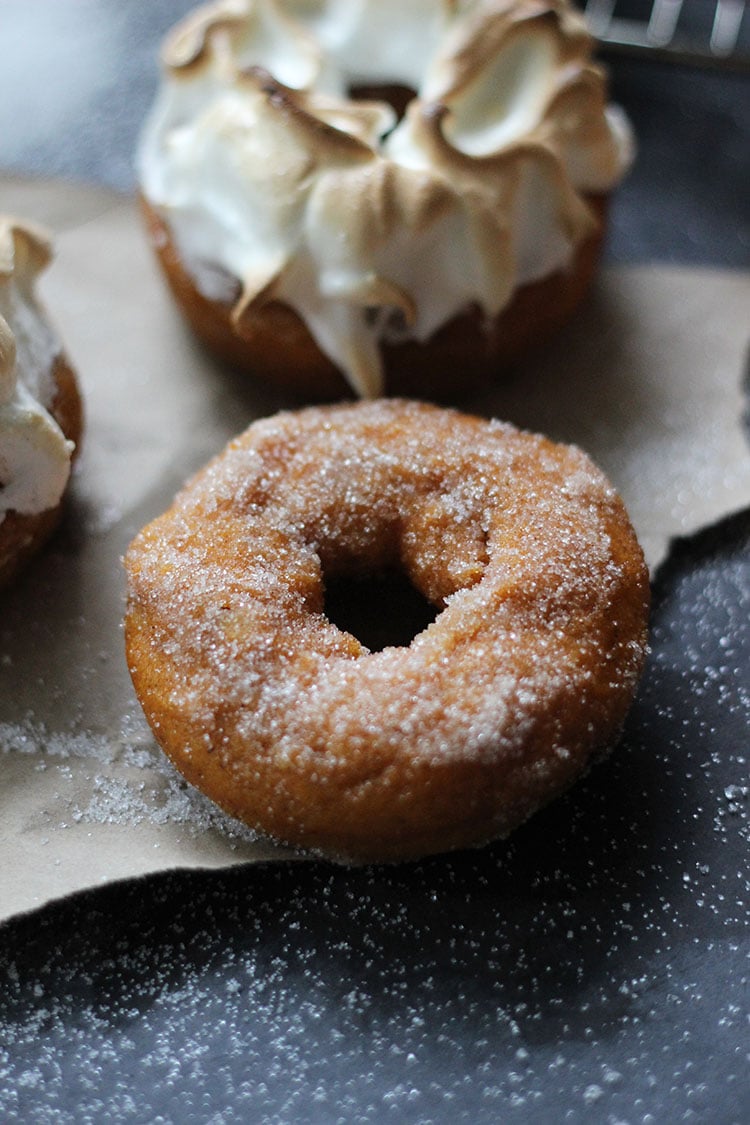 Ever since then these doughnuts have been on my mind though and with Canadian Thanksgiving sneaking up on us I thought it was time to bust them out again.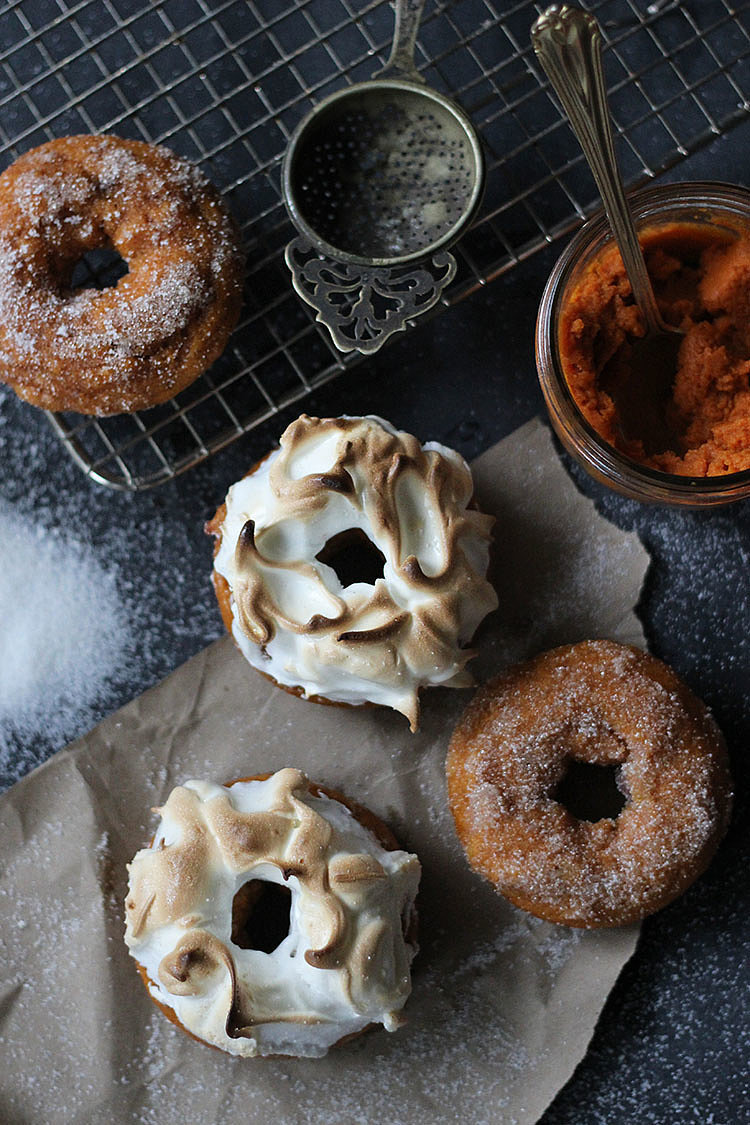 At Thanksgiving I always try to think of the kids and what they would eat for dessert. At the same time I have been in denial about summer ending and sometimes I think that every dessert should have a fluffy meringue topping on it. Naturally the only thing left to do was stuff the doughnuts with Hershey's chocolate and top them with a homemade marshmallow meringue and voilà, the best doughnuts in the world were born.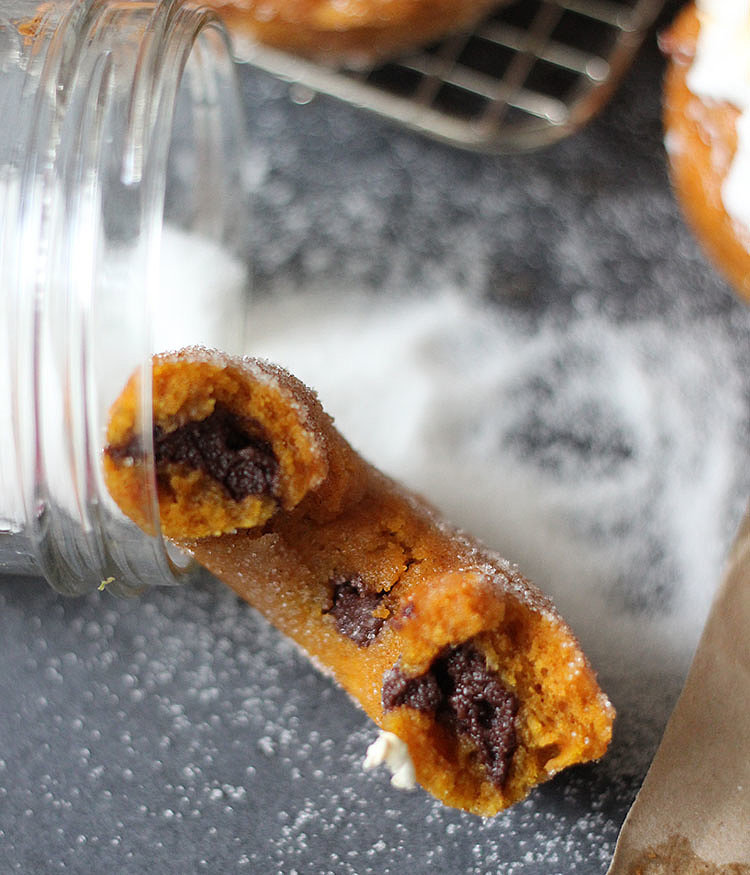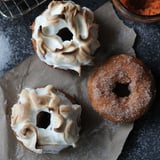 Ingredients
Doughnuts:
Cooking spray
1 (15-ounce) can of pure pumpkin puree (1 3/4 cup)
1/2 cup vegetable oil
3 large eggs
1 1/2 cups granulated sugar
3/4 teaspoon ground cinnamon
1/2 teaspoon ground nutmeg
1/2 teaspoon ground ginger
1/4 teaspoon ground allspice
1 1/2 teaspoons salt
1 1/2 teaspoons baking powder
1 3/4 cups + 2 tablespoons all purpose flour
2 large Hershey's chocolate bars
Topping:
Melted butter, for topping
1 cup sugar
2 tablespoons cinnamon
Marshmallow:
3 large egg whites
1/2 cup sugar
Directions
Preheat oven to 350°F. Prepare your doughnut pan with cooking spray.
In a medium bowl, mix whisk together the canned pumpkin, vegetable oil, eggs, and granulated sugar.
In another bowl, mix together the spices, the salt, the baking powder, and the flour.
Mix together the wet ingredients with the dry ingredients.
Place doughnut batter in a large disposable pastry bag and snip off the tip. Pipe doughnut batter into doughnut pan until half full. Take two pieces of Hershey's chocolate and break them in half. Place the 4 pieces of chocolate into doughnut batter. Cover with more doughnut batter until doughnut mold is full to the top. Repeat until doughnut pan is full.
Bake in a preheated 350°F oven for 15 minutes or until a toothpick inserted in the donut comes out clean.
Remove from oven and allow to cool for 5 minutes in the pan and turn the oven up to broil to preheat for the marshmallow meringue.
Remove the doughnuts and place on a cooling rack to continue cooling.
While still warm, brush them with a small amount of melted butter and then dip them into a cinnamon sugar mixture using 1 cup of sugar and 2 tablespoons of cinnamon.
To prepare the marshmallow meringue, whisk the egg whites and sugar together in a heat proof bowl and place over a pot of simmering water being careful not to have the bowl touch the water. Stirring continuously, heat mixture until it reaches 160°F.
Transfer the mixture to a stand mixer bowl and beat until mixture is shiny and medium stiff peaks form.
Spread marshmallow meringue onto the top of the doughnuts and heat under the broiler for approximately two minutes or use a hand held kitchen torch to brown.
Information
Category

Desserts, Doughnuts

Cuisine

North American

Yield

12 doughnuts