Red, White, and Blue Cake
Have a Red, White, and Blue Cake — and Eat It Too
Red, white, and blue cakes can be colossal without being food-colored: this festively patriotic cake is composed of three towering layers of fluffy white cake, a whipped cream filling studded with raspberries and blueberries, and a cream cheese frosting.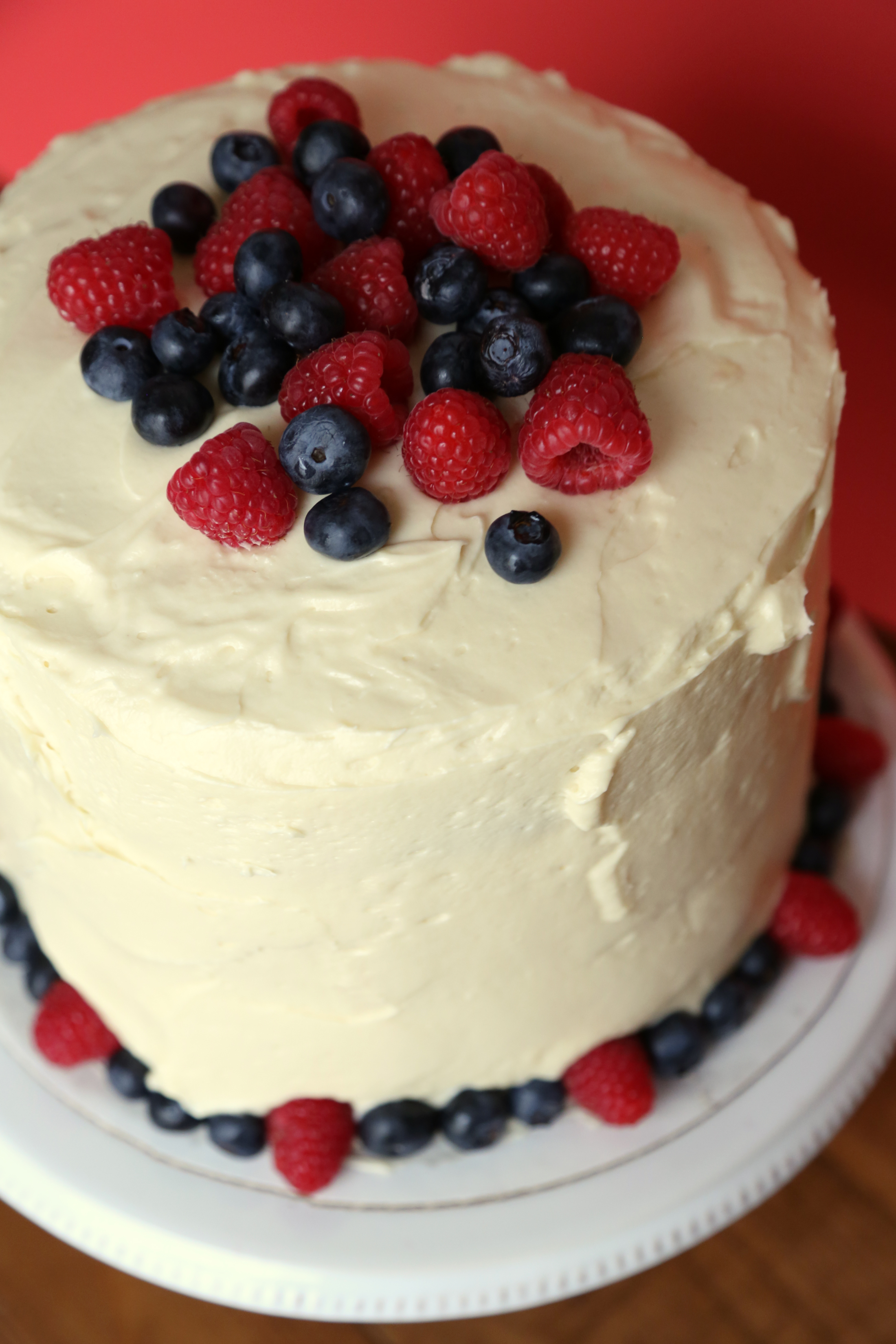 Beginners, listen up: if you've never attempted to make and ice a layer cake before, this is a great starter recipe, because the cake doesn't crumb as you ice it, which is half the battle. Do note, however, that while this recipe isn't complicated, it does have several steps and might take at least half a day to bake and assemble.
Ingredients
For cake
2 sticks plus 2 tablespoons unsalted butter, at room temperature, plus more for pans
4 1/2 cups cake flour (not self-rising), plus more for pans
1 1/2 cups whole milk
9 large egg whites, lightly beaten
1 tablespoon pure vanilla extract
1/2 teaspoon almond extract
2 tablespoons baking powder
1 1/2 teaspoons salt
2 1/4 cups sugar
For filling:
1 cup heavy cream
3 tablespoons sugar
2 pints blueberries, reserve a handful for top
2 pints raspberries, reserve a handful for top
For frosting:
2 sticks unsalted butter, softened
1 pound confectioners' sugar
1/4 cup plus 2 tablespoons heavy cream
1 teaspoon pure vanilla extract
8 ounces cream cheese
Pinch of salt
Directions
Make the cake: Preheat oven to 350°F. Butter and flour three 9-by-2-inch round cake pans, tapping out excess flour; set aside. In a medium bowl, stir together, milk, egg whites, and extracts. Into a second medium bowl, sift together the flour, baking powder, and salt.
In the bowl of an electric mixer fitted with the paddle attachment, beat the butter on medium speed for 30 seconds. With machine running, gradually add the sugar. Continue beating until light and fluffy, about 2 minutes. Scrape down sides of bowl as necessary. Add one-third of the flour mixture and one-third of the milk mixture, and beat on low speed until just incorporated. Add remaining flour and milk mixtures in 2 separate batches beating between additions to fully incorporate. Scrape down sides of bowl, and stir by hand to finish.
Divide batter evenly between prepared pans. Smooth surface with a rubber spatula. Bake until top of cake springs back when lightly pressed and a cake tester inserted in the center comes out clean, 25 to 30 minutes. Let cakes cool in pans on wire racks for 5 minutes. Run a small metal spatula around the sides of the pan, and invert cakes onto greased racks. Reinvert cakes onto cooling rack. Let cool completely before filling.
Make the filling: Whip the cream and sugar in an electric mixer with the whisk attachment until soft peaks form.
Make the frosting: In a standing mixer fitted with the whisk, beat the butter at medium-high speed until creamy. Beat in the sugar at low speed. Beat in the cream, vanilla, cream cheese, and salt, then beat at medium-high speed until fluffy, 3 minutes longer.
To assemble cake: Place one cake layer on a cake stand. Spread the whipped cream evenly over top of cake. Cover with the raspberries. Top with a second layer. Spread the whipped cream evenly over top of cake. Cover with the blueberries. Spread cream cheese frosting evenly over surface of cake. Top with remaining blueberries and raspberries.
Information
Category

Desserts, Cake

Cuisine

North American

Yield

Serves 12-16.
Image Source: POPSUGAR Photography / Anna Monette Roberts