Roast Cauliflower With Breadcrumbs and Parmesan
Ina Garten's Easy Cauliflower Side Is Just as Tasty as You Imagine
Like most cruciferous vegetables, cauliflower can be a tough sell for picky eaters, but we can think of few that wouldn't love this simple, cheesy side. First off, its name is ridiculously charming (cauliflower snowflakes — named such because the pieces resemble that). Secondly, thanks to being cut into thin pieces, a relatively high oven temperature, and a panko and parmesan topping, the cauliflower becomes brown, savory, salty, and crisp. Seriously, they might steal the show come dinnertime.
Notes
To make it ahead: Cut the cauliflower, place it in a plastic storage bag with a damp paper towel, and refrigerate for up to 3 days. Roast and complete the recipe before dinner. Grate the parmesan on a box grater as you would carrots.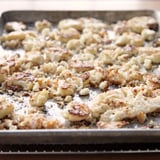 Ingredients
1 head cauliflower (about 2 1/2 pounds)
1/4 cup extra-virgin olive oil, divided
Kosher salt and freshly ground black pepper
1/2 cup panko breadcrumbs
1/2 cup freshly grated parmesan cheese
Directions
Preheat the oven to 425°.
Remove the leaves and trim the stem of the cauliflower, but leave the core intact. With a sharp knife, cut the whole cauliflower in large (1/2-inch-thick) slices. Don't worry if the slices fall apart; they'll look like snowflakes.
Place the cauliflower on a sheet pan, drizzle with 3 tablespoons of olive oil, and sprinkle with 3/4 teaspoon salt and 1/4 teaspoon pepper. Roast the cauliflower for 15 minutes.
Toss the panko with 1 tablespoon of olive oil, sprinkle on the cauliflower, and roast for another 10 to 15 minutes, until tender and browned. Sprinkle with the parmesan and roast for another minute or two. Immediately, scrape the pan with a metal spatula and toss the cauliflower and parmesan. Serve hot or at room temperature.
Information
Category

Side Dishes

Cuisine

North American

Yield

Serves 4
Image Source: POPSUGAR Photography / Nicole Perry