Salmon and Lentils 
en Papillote With Cilantro Recipe
This Salmon en Papillote Will Become a Summer Staple
This delicious fish en papillote recipe will be an instant hit for the Summer, thanks to our friends at GFF Magazine. They've shared their take on how to make this savory dish and you'll love every bit of it.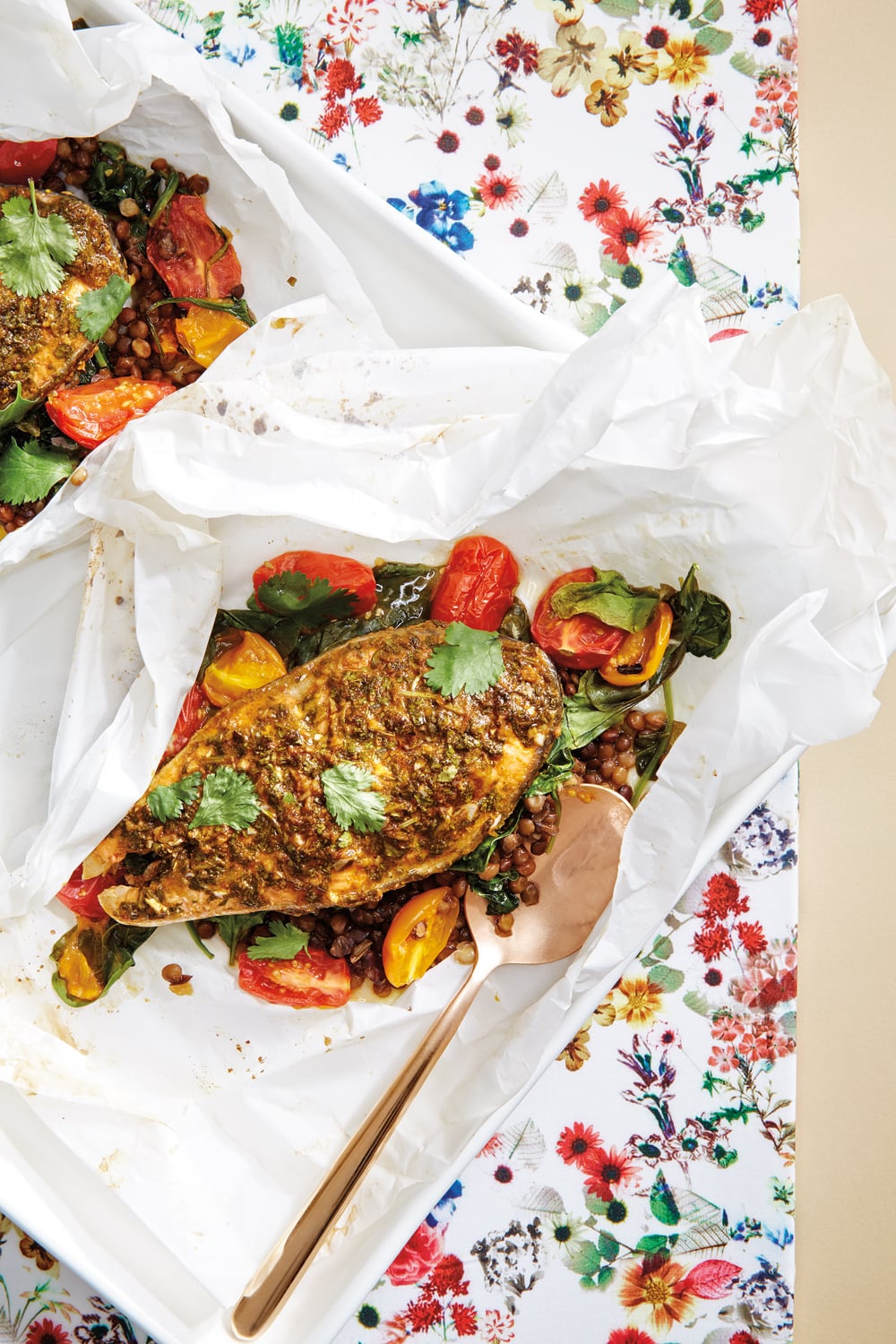 An easy and elegant 
way to cook fish, the en papillote method, or wrapping and baking 
in parchment paper, allows you to place all your ingredients in a pouch in the oven to steam them to moist, tender deliciousness.
More stories from GFF Magazine:
Cedar Plank-Roasted Salmon
Charred Vegetable Brochettes
Amazing Gluten-Free Sandwich Breads
Salmon and Lentils 
en Papillote With Cilantro
From GFF Magazine
Ingredients
1 teaspoon ground cumin

1 teaspoon ground coriander

6 tablespoons olive oil

1 cup (about 1⁄2 bunch) cilantro leaves, packed

Juice and zest of 1 lemon

2 cloves garlic, peeled

1 teaspoon paprika

4 (6-ounce) skinless salmon fillets or 8-ounce salmon steaks

1⁄2 teaspoon kosher salt

2 cups cooked lentils

6 ounces baby spinach

20 cherry tomatoes of various colors, halved
Directions
Preheat the oven to 375°F. In a small sauté pan over medium heat, toast the cumin and coriander, stirring until just fragrant, about 2-3 minutes.
Pour the spices onto a plate to cool, and set aside.
In a blender or food processor, combine 4 tablespoons olive oil, 1⁄2 cup cilantro leaves, lemon juice and zest, garlic, paprika, cumin, and coriander.
Prepare 4 parchment-paper squares, each as long as the roll is wide.
Season the salmon with the salt.
Place 1⁄2 cup cooked lentils onto the center of each of the 4 parchment-paper squares.

Top each with one quarter of the spinach, 1 salmon fillet, and 10 tomato halves.
Slather the salmon and tomatoes with the blended cilantro paste, and drizzle each with 1⁄2 tablespoon olive oil.
Fold the parchment squares to enclose the ingredients, and crimp the edges to seal.
Bake on a baking sheet for 15-18 minutes, depending on the fish's thickness.
Open each packet (careful of the steam), transfer the packets to a serving plate, garnish with the remaining cilantro,
 and serve.
Information
Category

Main Dishes

Cuisine

Mexican

Yield

4 servings

Total Time

19 minutes, 59 seconds