Shake Shake Burger Recipe | Video
Hack Shake Shack's ShackBurger
It might seem crazy, but burger fans regularly wait in hour-plus lines for a taste of Shake Shack's ShackBurger. Why? Because the burger is classic, unfussy, and pretty much gosh darn perfect. Trust us here, you're going to want to try it for yourself when you have a chance. Don't live near a Shake Shack? Watch the video for the next best thing: a homemade version of this epic burger icon.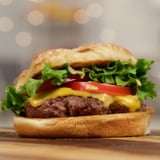 Ingredients
For the shack sauce:
1/2 cup mayonnaise
1 tablespoon ketchup
1 tablespoon yellow mustard
4 slices kosher dill pickles
1/4 teaspoon garlic powder
1/4 teaspoon paprika
Pinch cayenne pepper
For the burgers:
8 ounces ground beef sirloin
4 ounces ground beef chuck
4 ounces ground beef brisket
2 tablespoons butter, at room temperature
4 potato burger buns, such as Martin's Sandwich Rolls
4 tablespoons shack sauce
4 leaves of green-leaf lettuce
8 slices ripe plum tomatoes
1/2 teaspoon vegetable oil
Kosher salt
Black pepper, freshly ground
4 slices yellow American cheese
Directions
Combine mayonnaise, ketchup, mustard, pickles, garlic powder, paprika, and cayenne in a food processor and process until smooth. Transfer to a squeeze bottle. (It makes about 3/4 cup sauce.)
Gently mix together the sirloin, chuck, and brisket in a mixing bowl until just combined. Form into 4 patties, each about 2 inches tall and 2 1/2 inches wide. Refrigerate until ready to cook.
Split open buns and spread with a thin coating of butter, then toast in a skillet until brown, about 1 minute. Using a squirt bottle, drizzle about 1 tablespoon shake sauce on the top half of each bun. Place 1 lettuce leaf and 2 slices of tomato on top half of each bun.
Add oil to a large, heavy-bottomed skillet, then heat over medium-high heat until just beginning to smoke. Generously season beef patties on top side with salt and pepper, then transfer, seasoned side down, to the hot skillet. Use a heavy, flat spatula to press down and lightly flatten the beef patties. Season top-facing side with salt and pepper. Cook until a crisp brown crust has formed, about 2 minutes.
Carefully loosen any crusty parts of the burger patties from the skillet, and flip over. Top each patty with 1 slice of American cheese and cook until the cheese has melted, about 1 minute longer. Transfer patties to burger bun bottoms, top with the the top bun (including tomatoes and lettuce), and serve hot.
Information
Category

Main Dishes, Sandwiches

Cuisine

North American

Yield

4 burgers
Image Source: POPSUGAR Photography