Shrimp Pad Thai With Soba Noodles
Shrimp Pad Thai With Soba Noodles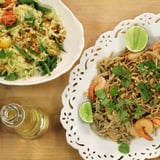 Ingredients
2 tablespoons reduced-sodium soy sauce
1 tablespoon chili garlic sauce
2 tablespoons fish sauce
4 garlic cloves, roughly chopped
1-inch ginger, roughly chopped
1/4 cup natural peanut butter
2 tablespoons brown sugar
4 teaspoons sesame oil
2 tablespoons peanut oil (or vegetable oil)
1 pound large shrimp, peeled
9 ounces soba noodles, cooked, rinsed, and drained
1/4 cup cilantro, roughly chopped
1/4 cup roasted peanuts, coarsely chopped
2 limes, quartered, for serving
Directions
In a blender, combine the first eight ingredients and 1/4 cup hot water; puree until smooth.
Heat a wok or large skillet on medium high. When it's hot, add 1 tablespoon of oil and swirl to coat the pan. Then add the shrimp and cook until they just turn pink, about 2 minutes. Transfer them to a plate.
Add another tablespoon of oil to the wok and swirl.
Return the shrimp to the pan along with the peanut sauce and cooked soba. Stir-fry for 1 minute.
Top with peanuts and cilantro. Serve with lime wedges on the side.
Information
Category

Main Dishes

Cuisine

Other Asian

Yield

Serves 2