S'mores Bars
S'mores Bars
S'mores Bars
From Brandi Milloy, POPSUGAR Food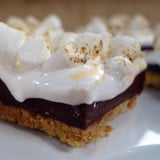 Ingredients
For graham cracker crust:
2 cups graham cracker crumbs
1/4 cup granulated sugar
1/2 teaspoon salt
1/2 cup butter, melted
For chocolate fudge:
3 cups semisweet chocolate chips
1 14-ounce can sweetened condensed milk
1 1/2 teaspoons vanilla extract
For marshmallow topping:
2 cups marshmallow fluff
2 cups mini marshmallows
Directions
Preheat oven to 350°F.
Make the graham cracker crust layer: In a large bowl, mix together the graham cracker crumbs, sugar, salt, and melted butter. Transfer to a quarter-sheet pan, spread out the crumbs in an even layer, and press into the pan firmly to create a crust. Bake for 10 minutes or until the top is golden brown.
Make the chocolate fudge layer: In a double boiler, melt chocolate chips until smooth. Whisk in the condensed milk and vanilla extract. Pour the fudge into the prepared crust, tilting the pan to distribute it into an even layer. Freeze bars for at least an hour to harden.
Make the marshmallow layer: Evenly spread marshmallow fluff on top of the chocolate layer, and then sprinkle with mini marshmallows. Use a kitchen torch to toast the marshmallows until golden brown. Alternatively, use your oven's broiler setting to toast the marshmallows for a few minutes. (Make sure to keep a close eye on the marshmallows as they'll go from toasted to burnt quickly.)
Freeze bars for a few minutes to set the marshmallow layer, and then cut into squares. Serve cold, and return any leftovers to the fridge to keep the bars' shape intact.
Information
Category

Desserts, Cookies

Cuisine

North American

Yield

Serves 12