Sous Vide Turkey Recipe
Thanksgiving Turkey, Made Foolproof
The only thing worse than a dry, overcooked turkey is an undercooked bird that gives your whole family food poisoning. Avoid both of these situations with this virtually foolproof sous vide turkey recipe from Nomiku.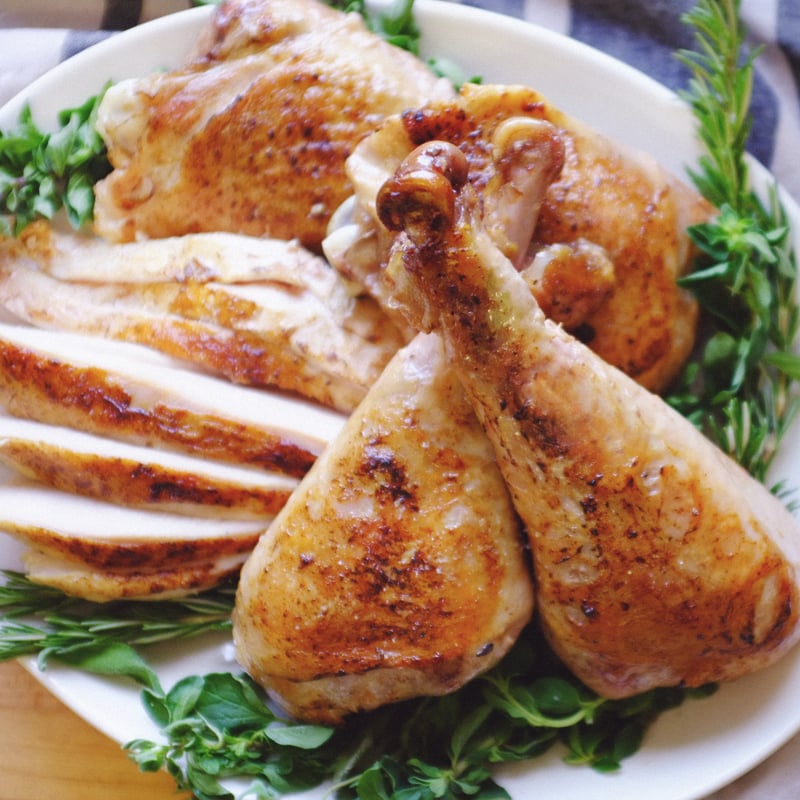 Sous vide turkey is outrageously juicy and delicious. It will be the best bird you've ever eaten in your life. But if you need any other reasons as to why to sous vide this holiday, here they are:
The turkey can be cooked up to a week in advance and stored in the refrigerator.
It opens up the oven space for other dishes.
It's quicker than roasting a turkey, and safer too.
The herbs and seasonings will infuse right into the meat.
The turkey will stay juicy and flavorful without having to brine! (We know non-brining is counterintuitive, but keep reading to see why we chose not to. We also consulted our network of chefs, and reached out to Harold McGee.)
We're using a heritage turkey from Heritage Foods USA — order NOW, before they run out — they only have a limited supply of their amazing birds! Heritage turkeys are truly one of a kind. According to the United States Department of Agriculture, Frank Reese, the man responsible for breeding these birds, remains the only farmer allowed to use the name "heritage" on his USDA label, thanks to certification by the oldest agricultural organization in North America, the American Poultry Association. His turkeys are the purest breeds in America (absolutely no crossbreeding), meaning they are the best-tasting turkeys available on the market.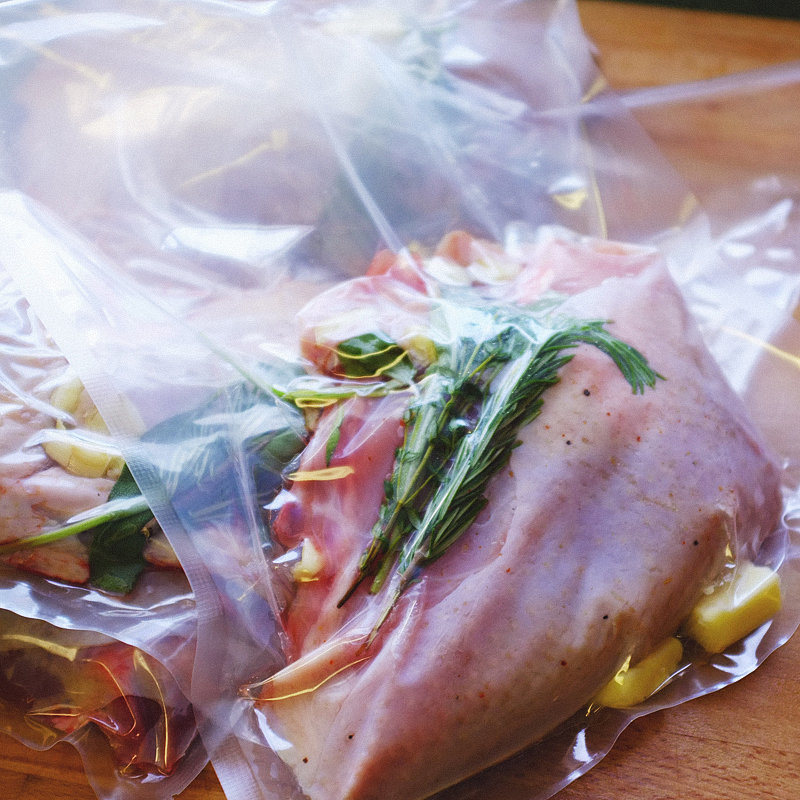 When cooking this scrumptious turkey, we really want the turkey flavors to shine. Studies show that brining will rob us of genuine turkey flavors and will turn the meat rubbery — much like a deli turkey texture. With the sous vide method, all you need to do is moderately salt and season.
Notes
On Thanksgiving Day, you can bag the dark and light meat separately, start the dark meat in the morning, and drop the light meat in a couple of hours before dinner.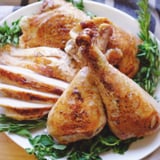 Ingredients
14-pound turkey (we used a heritage turkey)
Salt (we used Omnivore Salt)
1 stick of unsalted butter
8 cloves garlic, smashed
4 sprigs sage
4 sprigs thyme
4 sprigs rosemary
Directions
Defrost turkey as needed, according to the instructions on the packaging.
Set Nomiku water bath and turn temperature to 65°C (149°F).
On a clean cutting surface, using a chef's knife or boning knife, remove the thighs and drumsticks. Next, remove the wings of the turkey. Remove the packaged gizzards inside the body cavity (if applicable) and set aside for another use, such as gravy. Using your kitchen shears, cut out the rib cage and save it for stock or gravy. Using a butcher's knife, cut the breast in half down the middle — keep the bone in for extra juiciness when you sous vide. Season the turkey pieces moderately with salt.
Prepare 4 gallon-sized vacuum-seal bags or 4 zip bags. Place the thighs and wings in one, making sure they do not overlap, and add in 2 smashed cloves of garlic, 1 sprig of each herb, and 2 tablespoons of butter.
Put drumsticks in another bag with 2 smashed cloves of garlic, 1 sprig of each herb, and 2 tablespoons of butter. You may need 2 bags depending on the size of the drumsticks. In the final 2 bags, place 1 turkey breast in each, with add in 2 smashed cloves of garlic, 1 sprig of each herb, and 2 tablespoons of butter. Seal with a vacuum sealer or use the water displacement method. Take care that turkey inside the bags are completely submerged during sous vide.
Sous vide the breast and thigh meat for 2 1/2 hours. The legs should stay in the water bath for a minimum of 2 1/2 hours and becomes most tender at 4-6 hours (recommended time). Larger legs that are 2 pounds or larger will need the extra time to reach proper internal temperature.
To serve immediately, remove meat from bags, pat skin dry with a paper towel, and crisp up in a heavy pan with grapeseed oil on high heat until brown and crispy, around 3 minutes each side. If reheating from the fridge, put entire bags back in the water bath at 55°C (131°F) for 1 hour to retherm, then crisp up skin according to directions above. To store, remove bags from the water bath and into a large bowl of ice water, chill for 30 minutes, and then transfer to the refrigerator.
Information
Category

Main Dishes

Cuisine

North American

Yield

Serves 6