Spinach and Ricotta Gnudi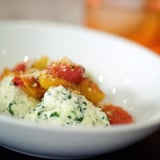 Ingredients
To make tomato sauce:
2 tablespoons extra virgin olive oil
1 clove garlic, thinly sliced
1 teaspoon crushed red pepper
1 teaspoon dried oregano
1 tablespoon fresh basil, sliced
1 cup cherry tomatoes, halved
A pinch of salt
2 tablespoons tomato sauce
To make the gnudi:
1 pound ricotta
1/4 cup cooked and chopped spinach
1/2 cup grated parmesan
1 egg plus 1 egg yolk
1/4 teaspoon grated nutmeg
1/4 cup all-purpose flour
3 tablespoons breadcrumbs
Salt
1 tablespoon olive oil
1 tablespoon butter
Directions
Make the tomato sauce: Add olive oil to a skillet set over medium heat; once hot, add the garlic and sauté garlic for 30 seconds. Add crushed red pepper, oregano, fresh basil, cherry tomatoes, salt, and tomato sauce. Toss until coated and the cherry tomatoes are heated through. Transfer the sauce to a small saucepot, cover with a lid, and set on a low heat to simmer for 8-10 minutes.
Make the gnudi: Mix together the ricotta, spinach, parmesan, egg, egg yolk, nutmeg, flour, breadcrumbs, and a little salt in a large bowl until combined.
In a large pot, bring water to a boil and salt well. Drop a small ball of the mixture into the boiling water and cook for about 2 minutes or until they float. Test the texture. If they are too soft and do not hold their shape, add a little bit of flour and breadcrumbs and test again, until they hold their shape.
Using two spoons, portion the gnudi into balls and cook for 4-4 1/2 minutes, or until they float.
Add olive oil, butter, and a splash of the gnudi cooking water to a pan set on a medium-high heat and melt. Carefully remove gnudi from the boiling water and add to the pan. Toss to coat.
Divide the gnudi between two bowls, and top with tomato sauce and parmesan cheese. Serve immediately.
Information
Category

Pasta, Main Dishes

Cuisine

North American

Yield

Serves 2