Squash Casserole Recipe
Make Southern Squash Casserole With a West Coast Twist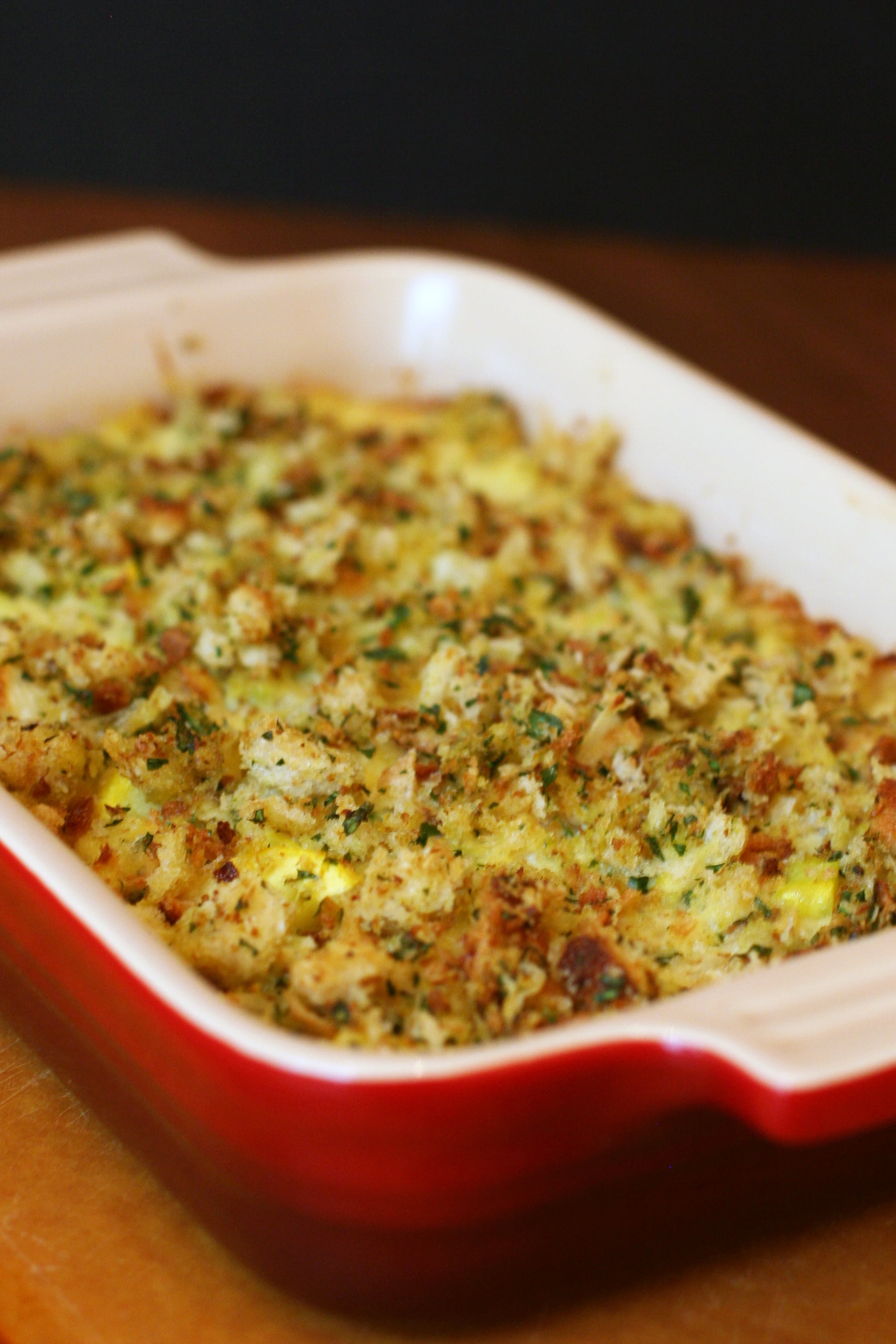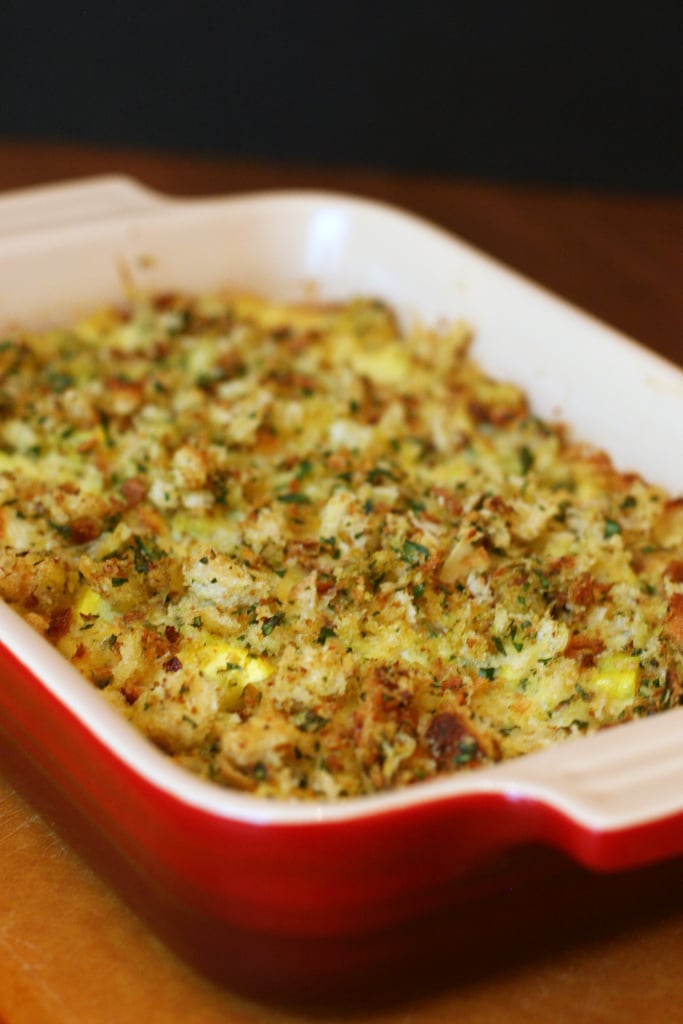 During my childhood, I spent most Thanksgivings in Mississippi and enjoyed the same casserole dishes that my relatives did a century ago. One of my favorite Thanksgiving casseroles is my great-grandmother Mama Dale's squash casserole. In the traditional recipe, the squash, covered in buttery Ritz crackers, cheddar cheese, and eggs, bakes into a custardy casserole that is the best "vegetable" side dish that a kid can ask for.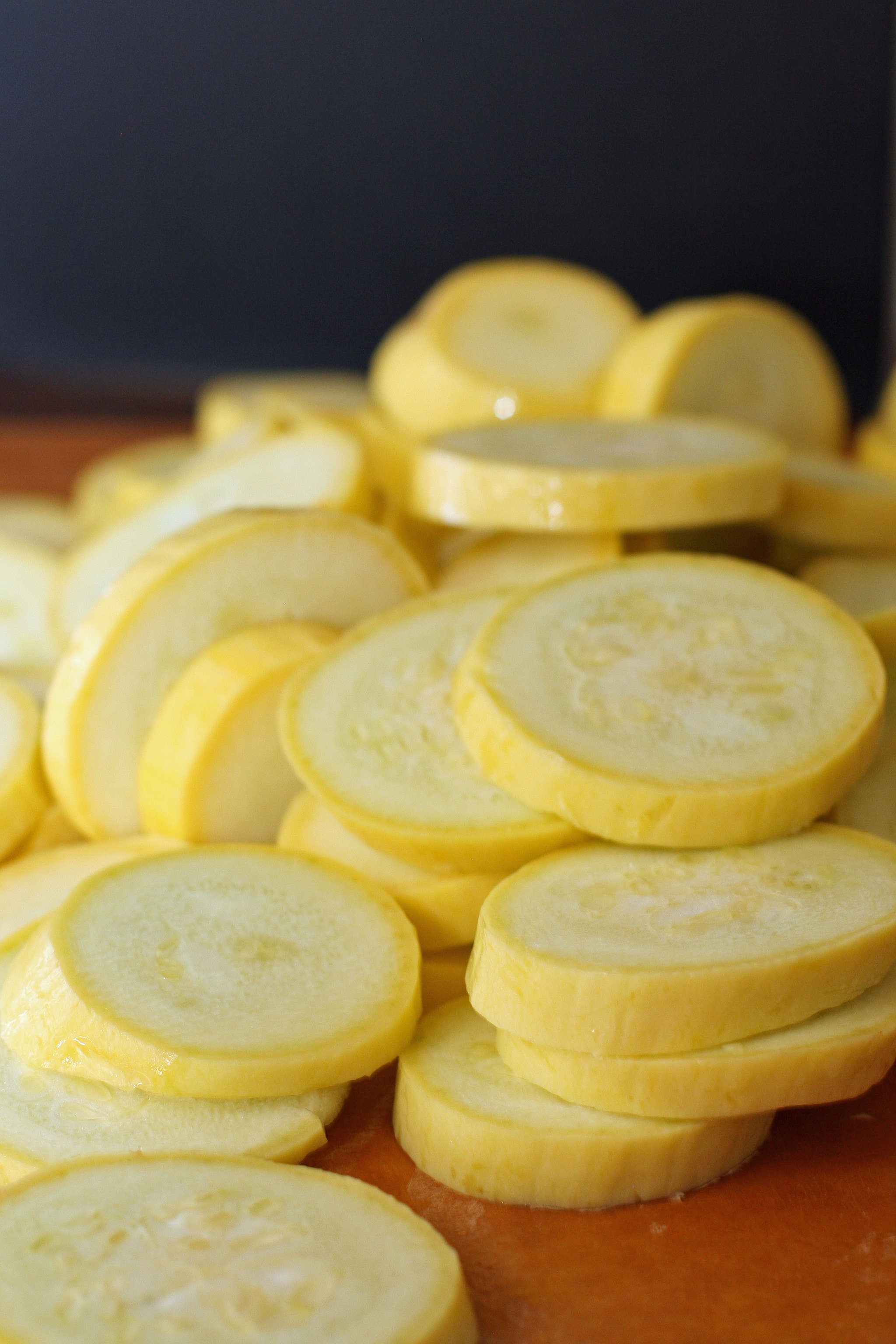 I still anxiously await digging into the pillowy, yellow fluff during the holidays, but this year I wondered how the casserole would fare with the addition of California ingredients. Living in San Francisco, I've become accustomed to the amazing variety of local cheeses, sourdough bread, Meyer lemons, and flourishing parsley.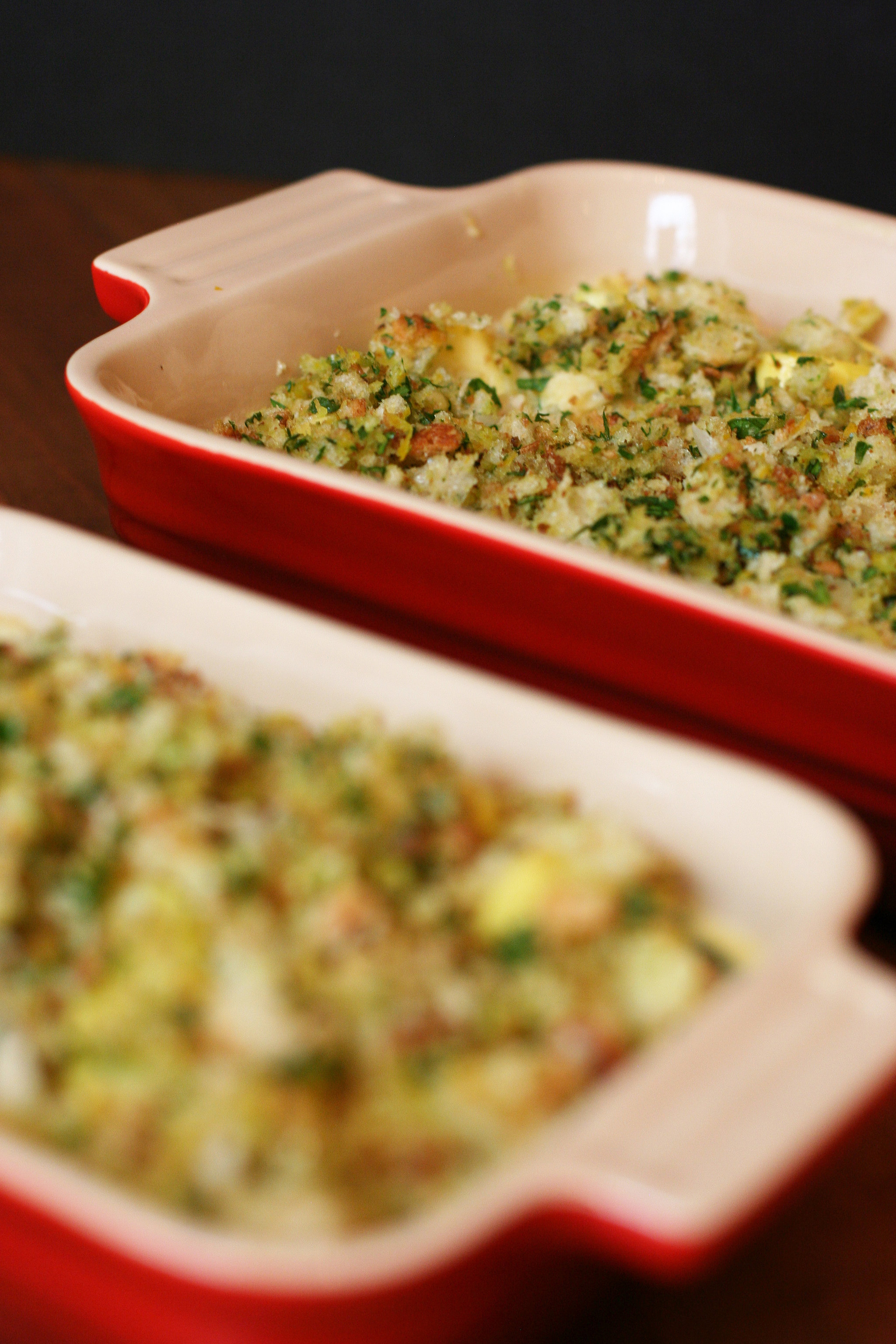 Using these ingredients as inspiration, I sought to remake my great-grandmother's recipe. I used the same ratios of cheese, egg, vegetables, and starch, so this casserole echos Mama Dale's original Southern recipe but with a California twist.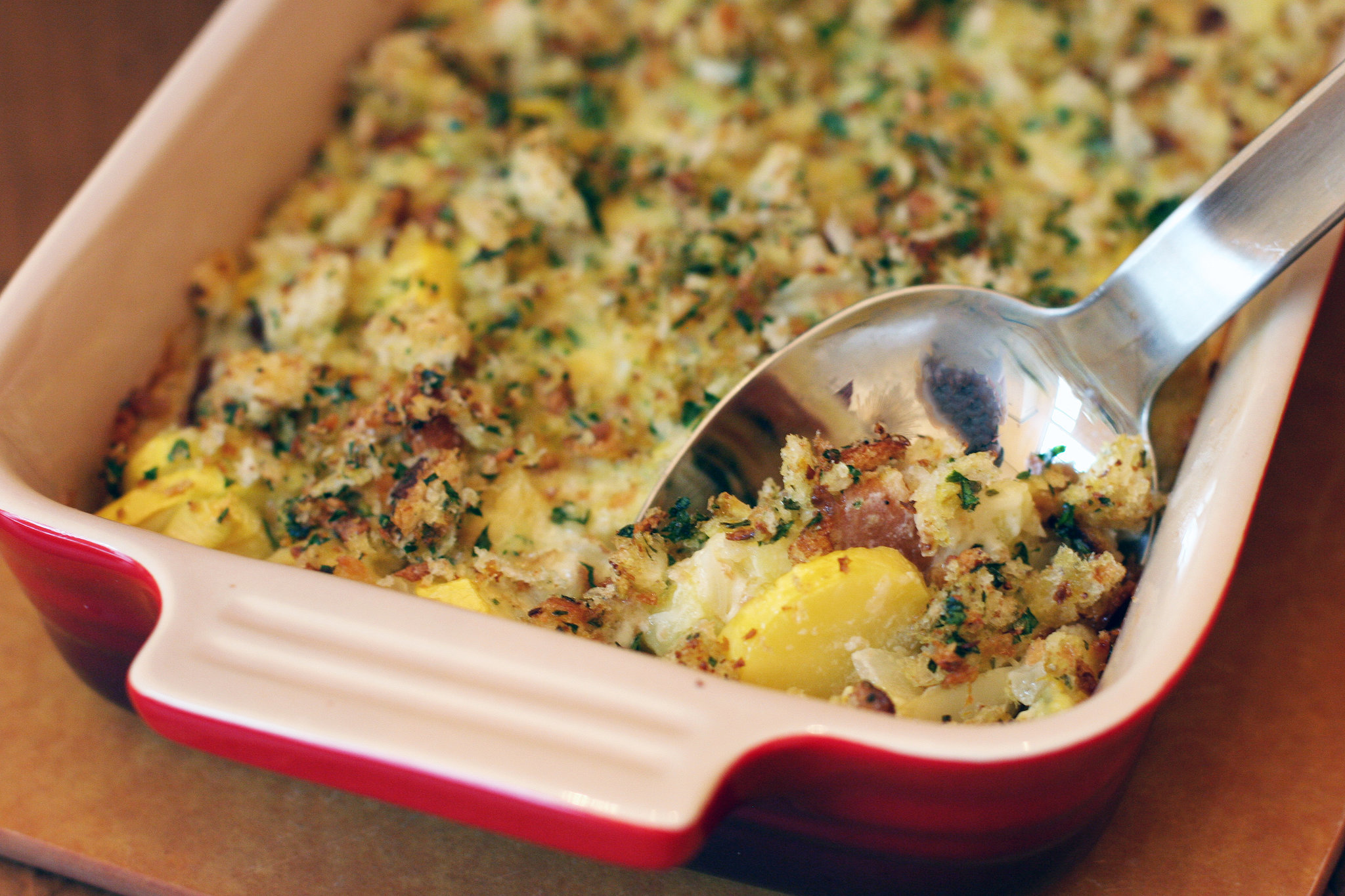 It's startling how gremolata boosts the overall flavor of the casserole. The garlic, hint of lemon, and fresh parsley lighten up the flavors of the rich sourdough breadcrumbs soaked in butter, eggs, and milk. I used Cowgirl Creamery's Wagon Wheel cheese for its sweet, mild, and buttery flavor, but if you don't have access to that cheese, I've included several other viable options, so you can get your oozy cheesiness with each bite. This casserole goes fast, so double or triple it to make sure everyone gets their proper serving of vegetables!
South-Meets-West Squash Casserole
Adapted from Alma Roger Dale
Notes
If you can't locate Cowgirl Creamery's Wagon Wheel, substitute it with a semifirm melting cheese, such as young asiago, havarti, or provolone.
This casserole will keep in the fridge for several days. However, if you plan to freeze it ahead of time, undercook it slightly. Let it cool to room temperature, then wrap it in plastic wrap, and store it in the freezer for up to 3 months. Thaw it out in the fridge before reheating it in the oven.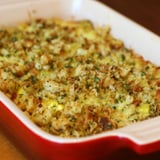 Ingredients
2-3 garlic cloves
Zest of 1 Meyer lemon
1/3 cup loosely packed parsley leaves
2 cups yellow squash, cut in 1/4-inch slices
1 onion, small dice
1 cup semifirm melting cheese, such as Cowgirl Creamery Wagon Wheel, shredded
2 tablespoons butter
1 teaspoon sugar
1 cup milk
2 cups sourdough breadcrumbs, separated
2 eggs
Salt and pepper, to taste
1 tablespoon olive oil or melted butter
Directions
Make gremolata topping: On a cutting board, mince garlic, then add lemon zest on top of garlic, and place parsley leaves on top of lemon zest. Chop everything until the parsley is finely cut, and the mixture almost resembles a paste. Set aside.
Make casserole: Preheat oven to 350°F. In a double boiler with the lid on, steam squash and onions for about 5 minutes, or until centers of squash become transparent and tender.
Remove from heat, drain if necessary, and transfer to a large metal bowl. Mash with a potato masher or fork. Stir in cheese, butter, sugar, milk, 1 cup breadcrumbs, and eggs. Season with salt and pepper.
Assemble casserole: Mix remaining breadcrumbs with gremolata and 1 tablespoon olive oil or melted butter. Place squash mixture in a buttered casserole dish, and evenly sprinkle gremolata breadcrumbs on top. Bake for 25-30 minutes or until eggs set. Let sit out for 20-30 minutes before slicing and serving.
Information
Category

Vegetables, Side Dishes

Cuisine

North American

Yield

Serves 4
Image Source: POPSUGAR Photography / Anna Monette Roberts