Starbucks Cherry Pie Frappuccino Recipe
Now You Can Hack Starbucks's New Cherry Pie Frappuccino at Home
It seems like Starbucks is making an exciting menu announcement every couple of days — it can be hard to keep up! When we saw the news about the limited-edition American Cherry Pie Frappuccino only available in Japan, we knew we had to find a way to try it ASAP. Now you can get a taste of Summer with this copycat recipe and taste the tangy cherry compote, sweet vanilla Frapp, and flaky pie crust lid. There's never been a Frappuccino this fun before! For more delicious Starbucks recipes, you need to try these secret menu Frappuccinos.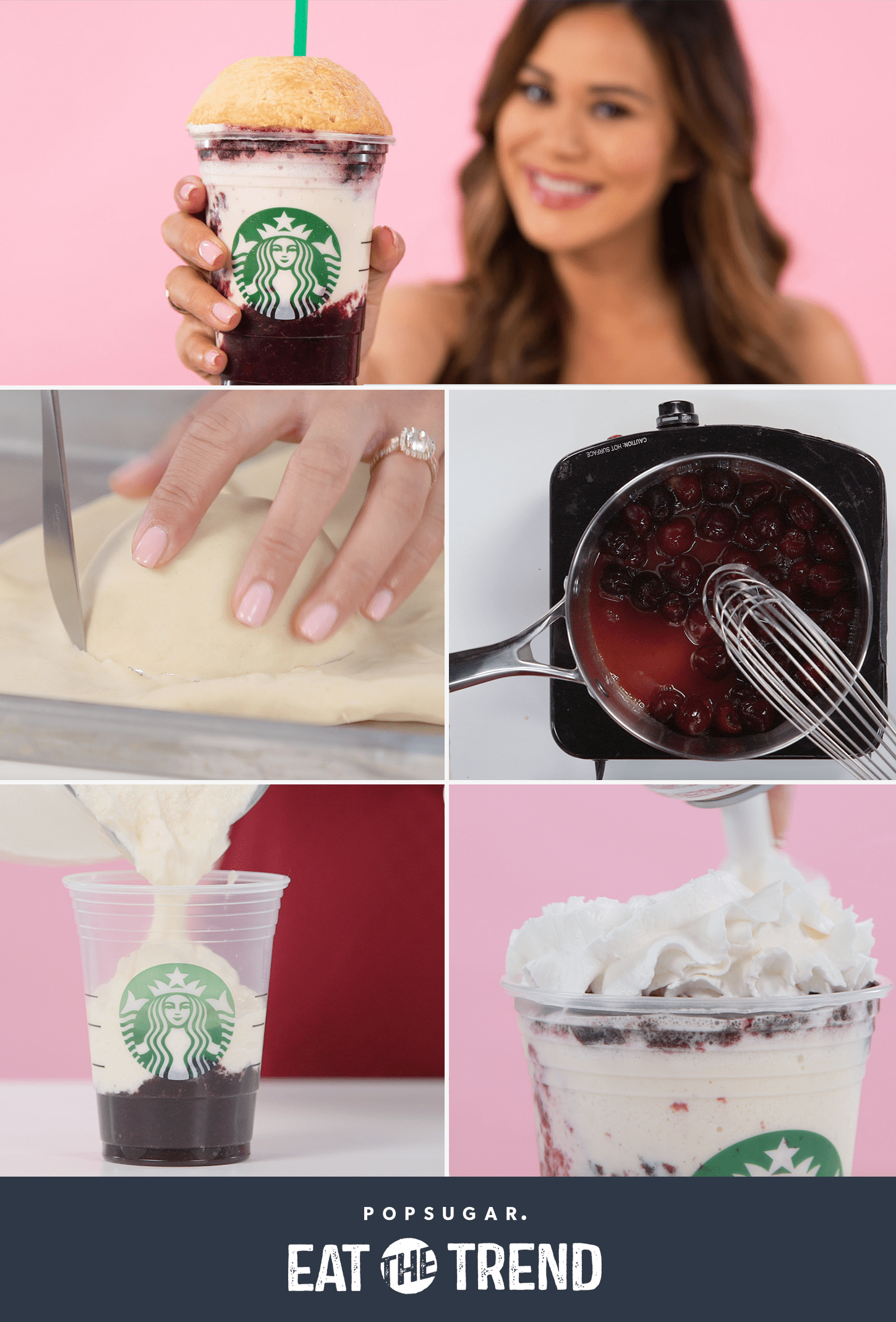 DIY

Starbucks Cherry Pie Frappuccino

From Kevin Smith, POPSUGAR Food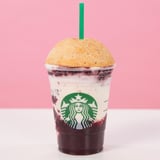 Ingredients
Pie dough, homemade or store-bought
Flour, as needed
Cherry compote:
2 cups frozen cherries
1/4 cup sugar
1/3 cup orange juice
2 teaspoons almond extract
Vanilla Frapp:
1 cup ice
1 cup milk
1 cup vanilla ice cream
1 tablespoon sugar
2 teaspoons vanilla extract
Whipped cream, to garnish
Directions
For the pie crust lid: Preheat oven to 400°F. Make a dome with aluminum foil, using a Starbucks lid as a guide. Roll out your pie dough on a floured surface until about 1/4-inch thick. Lift it and place on top of the aluminum dome, forming it to fit. Trim off any excess around the bottom. Using a small round cookie cutter, remove a circle from the top of the dome. Then skewer tiny holes across the pie dough dome.
Bake the pie dome in the oven for about 10-15 minutes, until lightly golden brown.
To make the cherry compote: Place cherries, sugar, and orange juice in a pot and cook over medium-high heat for 10-15 minutes, stirring frequently. Remove from heat and add almond extract.
Pulse in the blender for a few seconds, just enough so the chunks of cherry can fit through a straw and place in the fridge until chilled.
For the vanilla Frapp: Add the ice, milk, vanilla ice cream, sugar, and vanilla extract in a blender and puree until all the ice is crushed.
To assemble: Pour 1/4 of the cherry compote into each cup. Fill each cup with 1/2 of the vanilla Frapp. Add the rest of the cherry compote on top. Top with whipped cream and place the pie crust dome on top.
Information
Category

Drinks, Shakes

Yield

2 Frappuccinos

Total Time

39 minutes, 59 seconds
Image Source: POPSUGAR Photography / Tatsuya Kawauchi