Steak and Grapefruit Lettuce Wraps by Aarti Sequeira
Aarti Sequeira's Quick Way to Amp Up the Flavor of Any Dish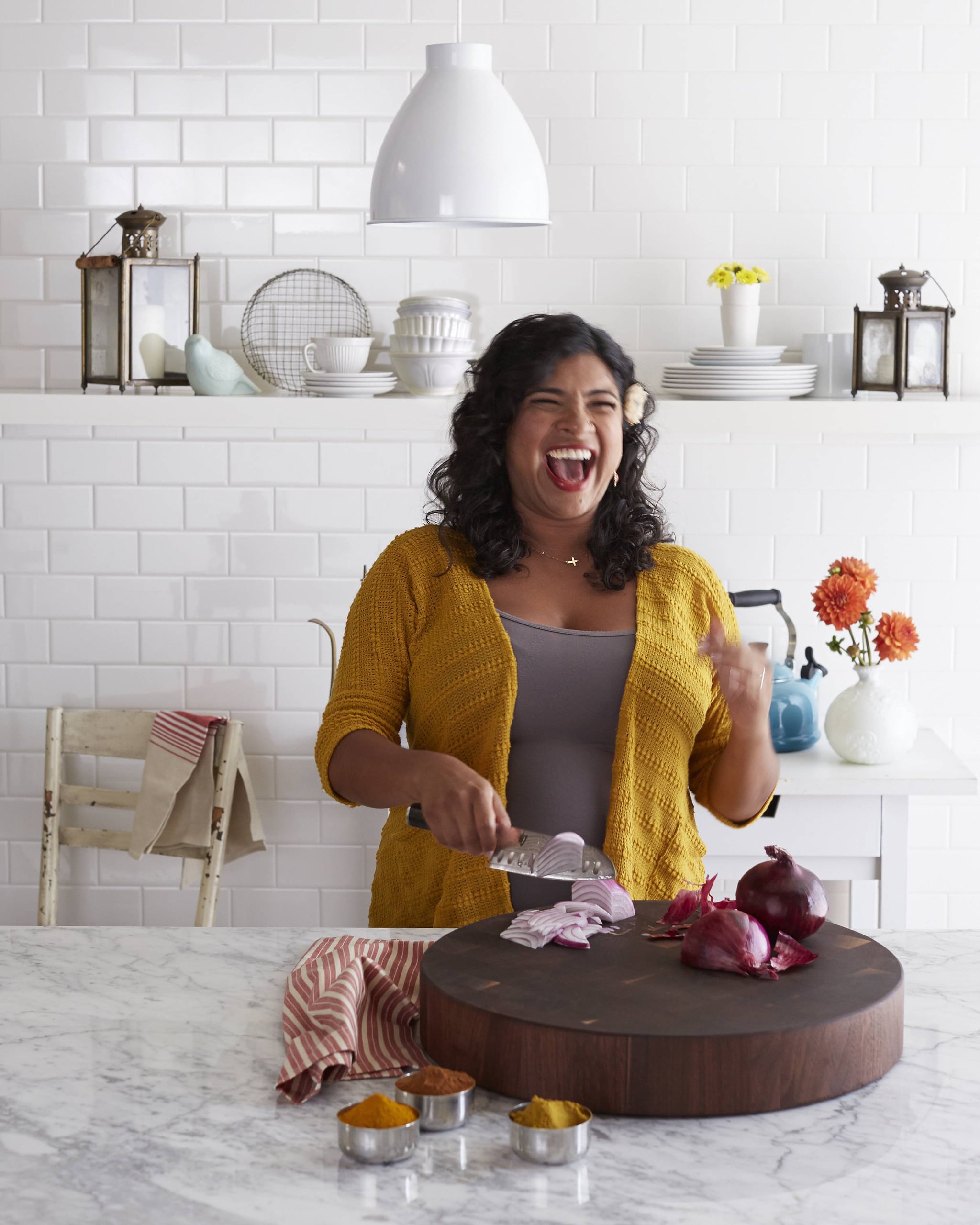 Source: Aarti Sequeira
If you aren't already a huge fan of Indian chef Aarti Sequeira, then just a few minutes browsing through her Instagram account should do the trick. The season-six winner of Food Network Star and host of Aarti Party shares pictures of dreamy comfort food, hilarious real-life moments (burnt food happens to the best of us), and, of course, utterly sweet moments with her adorable baby. Just before becoming a new mom, she wrote her first, yet-to-be-released cookbook, Aarti Paarti: An American Kitchen With an Indian Soul ($28), and is currently busy with a Florida Grapefruit campaign. Amid baby babbles, we chatted with Aarti on the phone about the cookbook, her favorite food trend, and a quick way to amp up the flavor of any basic dish.
POPSUGAR: Tell us more about your cookbook.
Aarti Sequeira: It's due out this Autumn [Sept. 23]. Everything's written, and now all the photos are taken, including the cover, which was interesting to take photos of myself while I was pregnant. It'll be a cool thing to show my daughter once she can actually understand what I'm saying.
The cookbook is kind of an amalgam of things. It's an introduction to Indian food but a fresh take on it. Not just the traditional Indian recipes, but just showing people how to take advantage of the spice cabinet in an Indian fashion so that they can turn everyday meals into something special.
PS: What recipe are you especially proud of?
AS: One of my favorites is a masala shrimp-and-grits recipe, because to me, that's really such an example of the way I cook and such a reflection of who I am. It's the Indian side of me but mixed up with my new home here in the States.
PS: What trendy ingredient are you really into?
AS: I specifically love when really humble ingredients become really trendy. You know what I think is kind of big at the moment? Sauerkraut. I'm really into cauliflower and cabbage sauerkraut with a little curry powder in it. That pickling liquid? Don't throw it away. I put that into a salad dressing.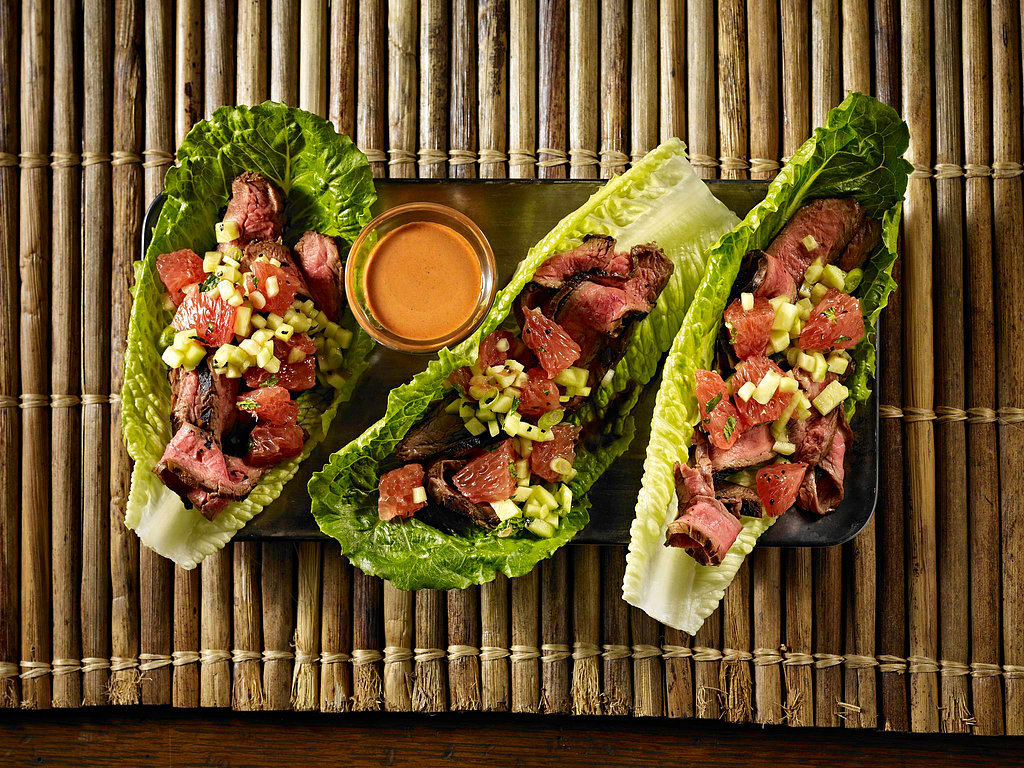 PS: What other condiment are you really into?
AS: The other ingredient at the moment that I'm really into is Indian-style lime pickle or mango. You're only really meant to have a little bit of it, a little teaspoonful on the side of the plate. But it's so spicy, just a really nice, big bite of flavor — so that if you're having something simple, it can really jazz it up.
PS: What's another really simple, quick way to jazz up a meal?
AS: A little relish. I think that that's the sort of thing that you can have on hand for any meal. A very simple relish of cucumbers, grapefruits, and some cilantro [or mint]. That's the kind of thing you can have with chicken; heck, you can have it with eggs. . . . I'm really into having savory breakfasts at the moment, so quinoa, eggs, and some of that relish would be delicious.
Take a look at Aarti's recipe for her grapefruit relish (paired with tandoori steak) below!
Tandoori Steak-Grapefruit Lettuce Wraps
From Aarti Sequeira, Florida Grapefruit Taste of Zing campaign
Notes
Tandoori powder is an intoxicating blend of several spices used by Indians whenever they cook in the tandoor, a scorching-hot clay oven. You can find it at Indian markets and fine grocery stores.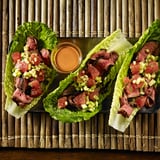 Ingredients
Steak
1/2 cup grapefruit juice
1/4 cup soy sauce
2 large cloves garlic, minced
Freshly ground black pepper
2 pounds flank steak, trimmed of excess fat and silver skin
Tandoori sauce
1/2 cup 2 percent Greek yogurt
1/4 cup plus 2 tablespoons grapefruit juice
3 large cloves garlic, minced
1 tablespoon honey
2 teaspoons tandoori powder
1 teaspoon ginger, grated
Kosher salt and freshly ground black pepper
Filling
2 ruby-red grapefruits, peeled, removed of the pith, segmented, and coarsely chopped into 1/4-inch pieces
2 english cucumbers, peeled, finely diced
2 green onions, finely sliced
4 sprigs mint, minced
1/4 cup extra-virgin olive oil
Assembly
1 head romaine lettuce, leaves pulled apart
Directions
To make steak marinade: Whisk together grapefruit juice, soy sauce, garlic, and freshly ground black pepper. Pour over steak, and marinate at room temperature for 10 to 30 minutes while you make the sauce and filling.
To make tandoori sauce: Whisk together yogurt, grapefruit juice, garlic, honey, tandoori powder, and ginger. Salt and pepper to taste. Pour into a small saucepan with 1/4 cup water. Cook over low heat, about 10 minutes, until thickened. Set aside.
To make filling: Toss grapefruit, cucumbers, green onions, and mint with extra-virgin olive oil. Salt and pepper to taste. Set aside.
To cook steak: Cook steak in a very hot cast iron skillet, about 3 to 5 minutes per side. Remove it from the pan, and let it rest for 5 minutes. Slice thinly against the grain.
To assemble wraps: Place lettuce leaves on a plate. Place a couple of pieces of steak in a romaine leaf, top with grapefruit filling, and drizzle with tandoori sauce. Serve immediately.
Information
Category

Main Dishes, Beef

Cuisine

Indian

Yield

4 servings