Steak-Stuffed Potato Chip Recipe
Bet You Can't Eat Just One of These Steak-Stuffed Potato Chips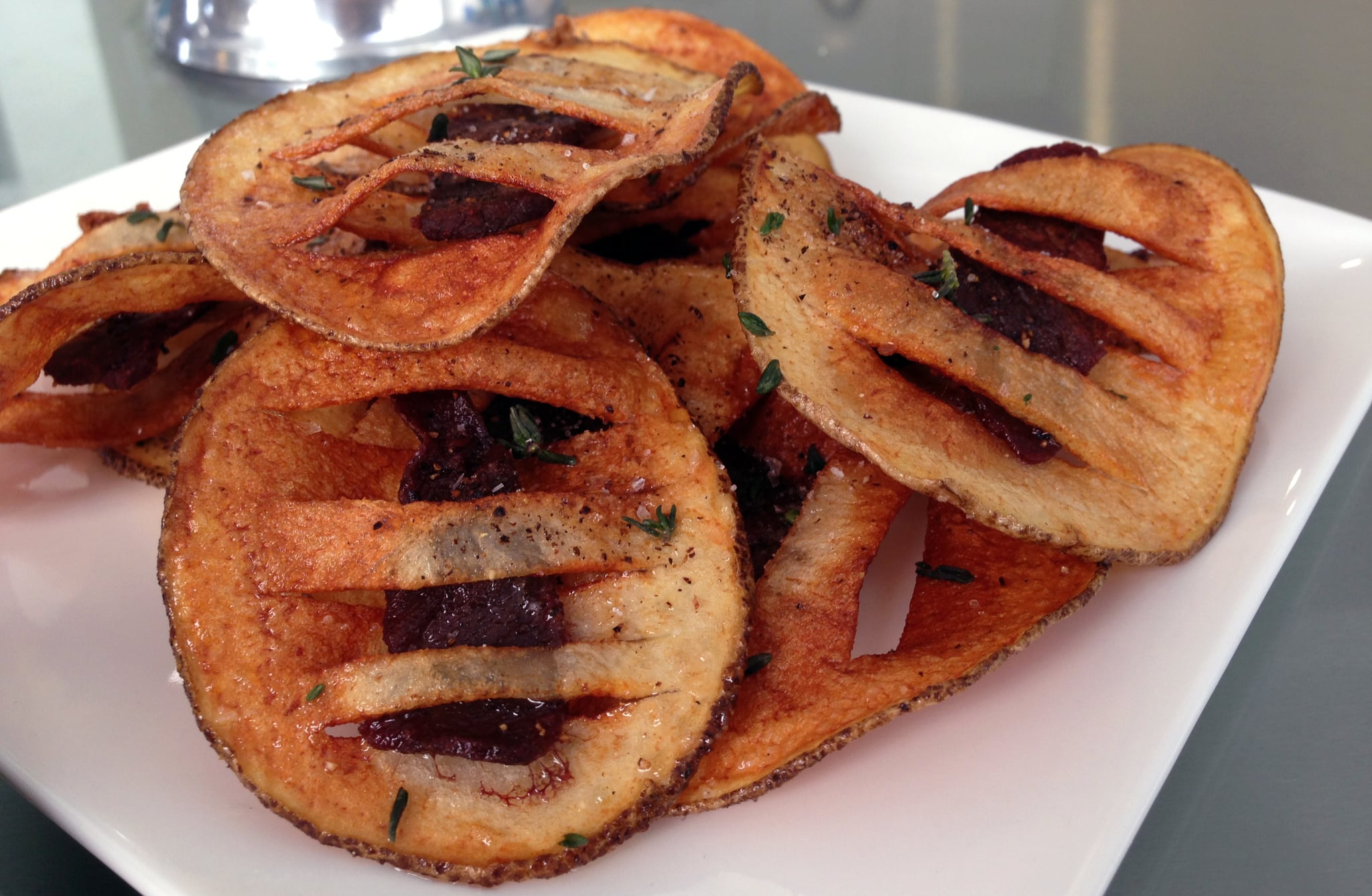 Boldly flavored potato chips are all the rage right now with Lay's Do Us a Flavor contest crowd-sourcing creations like Sriracha, Chicken & Waffle, and Cheesy Garlic Bread. But it was the Ruffles limited-edition Flame-Grilled Steak potato chips that whet our appetite for crispy, carnivore-friendly chips. Inspired, we took it one step further, and instead of just flavoring the potatoes, we put a juicy, tender, melt-in-your-mouth piece of steak inside each chip. Trust us: these little savory snacks are sure to impress any meat-loving friend.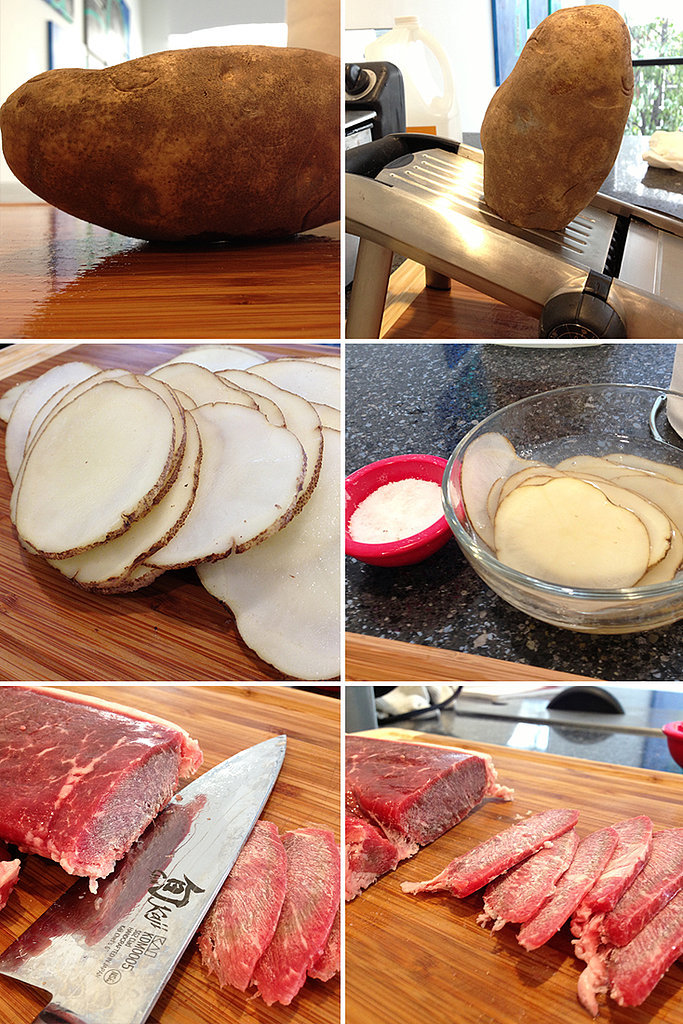 There are a few tricks to making this treat, but like with any good potato chip, it all starts with the potato. Mandolins make slicing potatoes quick and easy, but having good knife skills and a little patience will render the same results. When handling the steak, you'll want to make sure to freeze it the night before, so it's easy to slice with a sharp knife. This is a great way to turn a sirloin into a mouthwatering Philly cheesesteak or, in this case, make evenly thin strips that thread perfectly into chips.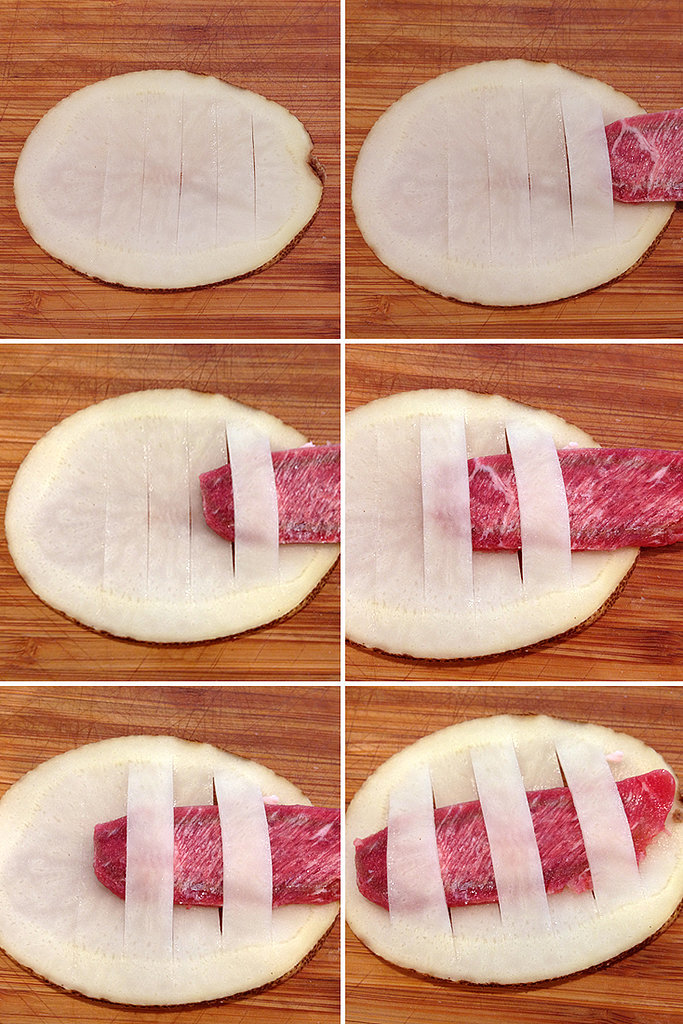 Here's where the fun comes in: using the tip of a sharp knife, make an even number of slits down the length of the potato. Then, take the frozen slice of steak, and carefully weave it into your potato. Voilà! Steak-stuffed potato chips. From here, you're going to want to season the chips and freeze them one more time before frying them up.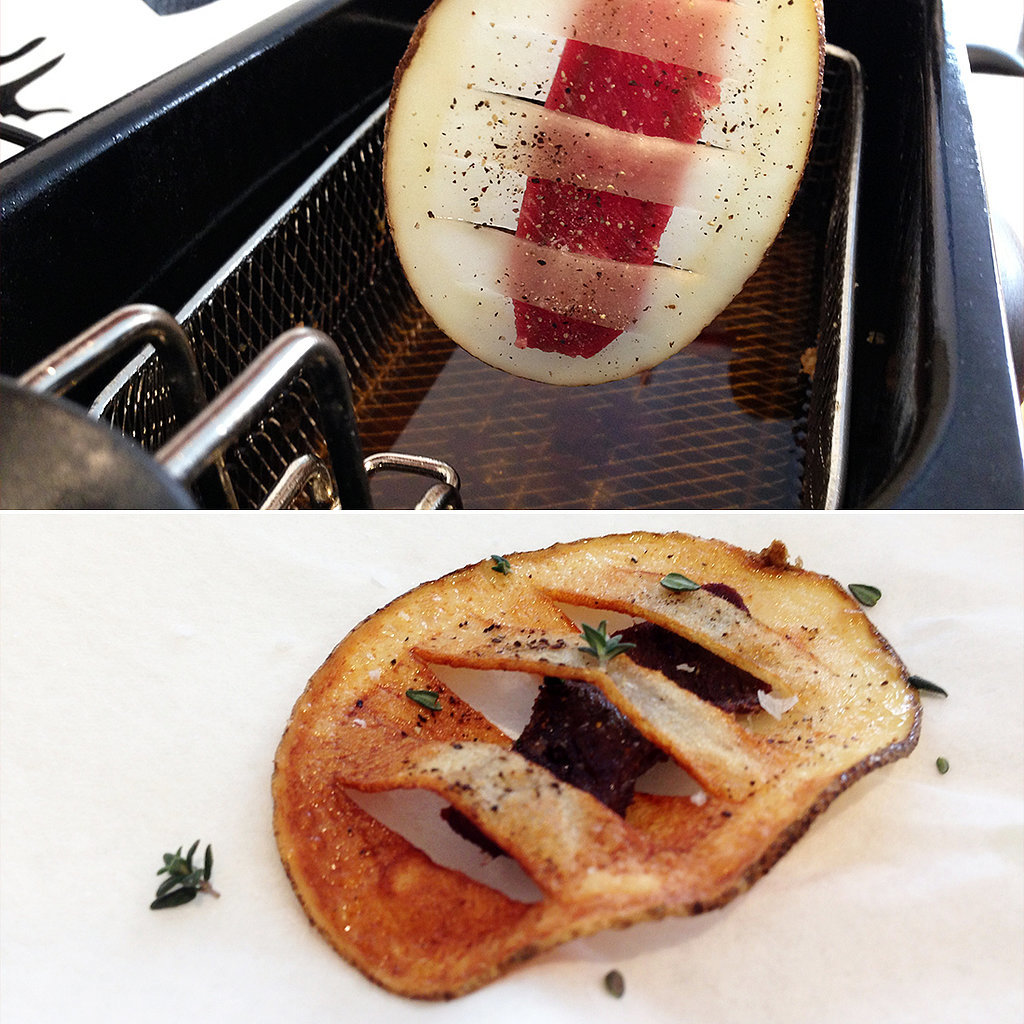 Give the chips a quick bath in a deep fryer until they're crispy and golden brown, and then hit them with another dusting of seasoning while they're still hot. These are fantastic on their own, but dip them in a little steak sauce to really have your mind blown.
Steak-Stuffed Potato Chips
From Nicole Iizuka, POPSUGAR Food
Notes
Use a deep fryer for this recipe, or fill a stockpot with at least 3 inches of oil so that the potatoes will fully submerge in the oil as they fry.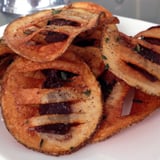 Ingredients
1 large russet potato
Salt and pepper, to taste
1 10-ounce ribeye steak, fat trimmed and frozen overnight in an airtight container
High-heat oil, such as peanut, for frying
1 bunch fresh thyme, leaves only
Directions
Use a mandoline or sharp knife to thinly slice the potato; place the slices into a bowl filled with cold salted water.
Using a sharp knife, thinly slice the frozen steak into strips, and place them on a sheet of wax paper. If the steak starts to thaw, then return it to the freezer.
With the tip of the knife, make 6 horizontal cuts down the length of each slice of potato. Weave the frozen slice of steak into the potato, and dust it with salt and pepper. Place the chips on a sheet of wax paper, and keep them in the freezer until you're ready to cook.
Heat the oil to 370°F. Working in batches, deep-fry the chips until they are golden brown. Lay them on a paper-towel-lined baking sheet to drain excess oil.
While they're still hot, give the chips a second dusting of salt and pepper. Garnish with fresh thyme leaves.
Information
Category

Snacks

Cuisine

North American

Yield

2-3 dozen chips