Thug Kitchen's Vegan Cauliflower Tacos Recipe
Make Drunken Cauliflower Tacos For Dinner Tonight
Matt Holloway and Michelle Davis are the duo behind the vegan blog Thug Kitchen. With the tag line "Eat like you give a f*ck," they won't ask you nicely to eat your veggies. Instead, they use perfectly hilarious profanity to get their point across. They're joining us to make "corn-ve-lopes: a corn tortilla folded up to deliver tasty taco mail directly to your taste buds. These roasted cauliflower tacos are a special f*cking delivery." So crack open that beer, and let's get to work making tasty vegan tacos.
Roasted Beer-and-Lime Cauliflower Tacos With Cilantro Coleslaw
From Thug Kitchen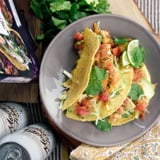 Ingredients
For the slaw:
1/2 head of green cabbage (about 1/2 pound)
1 small carrot
2 tablespoons lime juice
2 tablespoons rice vinegar
1 teaspoon olive oil
1/8 teaspoon salt
1/3 cup cilantro, chopped
For the tacos:
1 head cauliflower (about 1 pound)
3/4 cup beer
1/4 cup vegetable broth
1 tablespoon lime juice
1 1/2 teaspoons tamari or soy sauce
1 1/2 tablespoons chipotle hot sauce
1 to 2 garlic cloves, sliced
1 1/2 teaspoons chili powder
1 teaspoon smoked paprika
1/4 teaspoon ground cumin
1/4 teaspoon garlic powder
Pinch of salt
1 tablespoon olive oil
1/2 yellow onion, chopped
6 corn tortillas
1 avocado, sliced
Salsa, for serving
Directions
To make the slaw: Cut the cabbage into the thinnest strips you can, and make sure those pieces are no longer than 2 inches. This is a great time to get good with your knife if you are looking for a silver f*cking lining in all that chopping. Chop the carrot into thin matchsticks of the same length. Got that sh*t down now, right? In a small bowl, mix together the lime juice, vinegar, oil, and salt. Add the dressing right before you are going to eat and toss that sh*t well. Fold in the cilantro just before serving.

To make the tacos: Crank your oven to 400°F. Grab a rimmed baking sheet. Chop the cauliflower into small florets no bigger than a quarter. In a saucepan over medium heat, warm the beer, broth, lime juice, tamari, hot sauce, and garlic. Add the cauliflower, and simmer for about 1 1/2 minutes. Drain.
Toss the spices, salt, and olive oil together in a large bowl. Add the cauliflower and onion, and stir till those f*ckers are coated. Dump it on a rimmed baking sheet, and bake until browned, stirring halfway, about 20 minutes.
To assemble the tacos, warm the tortillas in the oven or microwave for a hot minute, and then pile them high with the cauliflower filling, slices of avocado, some of the slaw, and plenty of salsa.
Information
Category

Main Dishes

Cuisine

North American

Yield

About 6 tacos
Image Source: POPSUGAR Studios