Trader Joe's Boatswain American IPA
Trader Joe's New IPA Is Gloriously Tasty and Ridiculously Cheap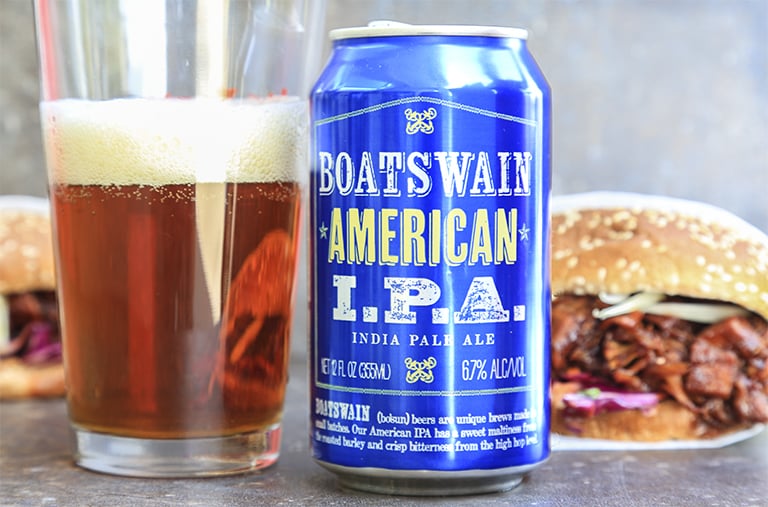 Put the PBR and Tecate cans down, folks. There's a hoppier, boozier brew option that's easy on the wallet and taste buds. Trader Joe's newly released Boatswain American IPA comes in a six-pack of 12 ounce cans for only $5, and it's actually good!
My IPA-loving husband couldn't resist picking up a pack after spotting them during his last Trader Joe's run. We cracked open a can that evening while waiting for friends and our pizzas to arrive and instantly regretted not picking up more. The bold flavor of the hops was tamed with a heavy dose of malt, resulting in a mellow IPA with traces of bittersweet floral and citrus notes. Despite being easy to drink — even with heavy food like pizza — this beer has a boozy kick. I felt surprisingly buzzed after the first can, which makes sense when you consider the 6.7 percent alcohol volume. After friends arrived, we noticed that the Boatswain American IPA cleared out of the fridge faster than some of the stronger, more classic IPAs, like Sierra Nevada.
If you're looking for a cheap beer with big flavor and high alcohol level, you'll want to add this to your list of new Trader Joe's products to try. At just $5 for a six-pack, the risk factor is pretty low. It's the perfect beer to keep on hand for hosting BBQs but is also good for camping, poolside drinking, and any other Summer BYOB occasion you can think of.