Truffle Macaroni and Cheese Recipe Video
Go Meatless With Truffle Mac and Cheese
Comfort food lovers, listen up: we've got a recipe for truffle macaroni that takes pasta and cheese to a whole new level. This velvety stove-top version, which includes three types of cheese and truffle butter, is the most umami-packed mac we've ever had. To find out all the tips for getting the texture just right — including our secret cheese for extra creaminess! — watch our video.
Truffle Mac and Cheese
From Anna Monette Roberts, POPSUGAR Food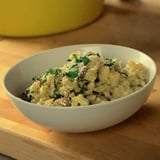 Ingredients
Salt
1/2 pound elbow pasta
4 tablespoons salted butter, divided
3 cups cremini mushrooms, cleaned and sliced
2 cups whole milk
2 tablespoons truffle butter
1/4 cup all-purpose flour
3/4 cup gruyère, grated
1/2 pound brie, rind removed, coarsely chopped
Black pepper, freshly cracked
Parsley, coarsely chopped, for garnish
Directions
In a large stockpot, bring water to a boil. Generously salt the water, then add the pasta and cook until it's al dente, about 5 and 7 minutes. Strain and rinse with cold water to stop the cooking process. Set pasta aside. Wipe stockpot clean.
In the same stockpot, set over medium-high heat, melt 2 tablespoons butter. Once butter begins to look foamy, add the mushrooms, and cook for 6 minutes, flipping mushrooms once, until mushrooms appear wilted and lightly browned. Transfer mushrooms to a small bowl, and set aside. Wipe stockpot clean.
In a small saucepan, heat the milk over low heat until small bubbles begin to form, about 7 to 10 minutes. Turn off the flame immediately, but keep the pan on the stove for later use.
In the stockpot, heat 2 tablespoons truffle butter and 2 tablespoons salted butter over low heat. Add flour, and whisk constantly for 2 minutes, until a smooth paste forms. Slowly stir in milk in 1/4 cup increments. Be careful as it will bubble. Stir with each addition of milk, so no clumps form in the sauce. Continue to stir and cook 1 to 2 minutes more, until it thickens and is smooth. Add the brie and gruyère, and whisk until the cheese melts completely into the sauce. Stir in the cooked mushrooms, mushroom juices, and pasta. Continue cooking until mixture is heated through and simmering. Season with salt and pepper to taste. Garnish with chopped parsley.
Information
Category

Pasta, Main Dishes

Cuisine

North American

Yield

4-6 servings