What to Do With Asparagus Ends
Waste Not: How to Salvage the Woody Ends of Asparagus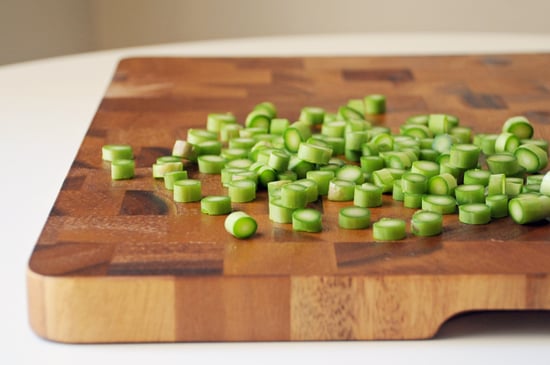 Wasting food in general is frustrating but particularly irksome when working with precious and pricey asparagus. Fed up with throwing away nearly half the snappy stalks in the name of more palatable results, I was thrilled to find a simple solution from food scientist Harold McGee. After prepping asparagus per usual, reserve the woody ends; much more can be utilized than conventional wisdom suggests.
How to Salvage Asparagus Ends
Trim away the last inch of irretrievably dried-out, extrawoody ends.
Slice the remainder of the asparagus ends into thin (between 1/8- and 1/4-inch) coins. Slicing these less-tender parts breaks up the fibrous grain, much like thinly slicing celery; the coins become nearly as tender as the tips.
Sauté, steam, blanch, roast, or even serve the coins raw as part of a salad. They can be used in nearly any application one would use the tips; just make certain to reduce their cook time, if heating them at all.