What to Know Before Making Fried Chicken
A Guide For Triumphant Fried Chicken
There's no need to be chicken about frying chicken! Lee Schrager, founder of South Beach and New York City Wine & Food Festival, has pulled together a cookbook devoted to the single subject of demystifying every which way of battering and frying the bird. Fried & True ($18, originally $23) includes infamous recipes from hole-in-the-wall Southern institutions to high-end chefs like Thomas Keller. To confidently prepare you, this excerpt from the book tackles all the most important things to note, so your fried chicken turns out finger-licking good.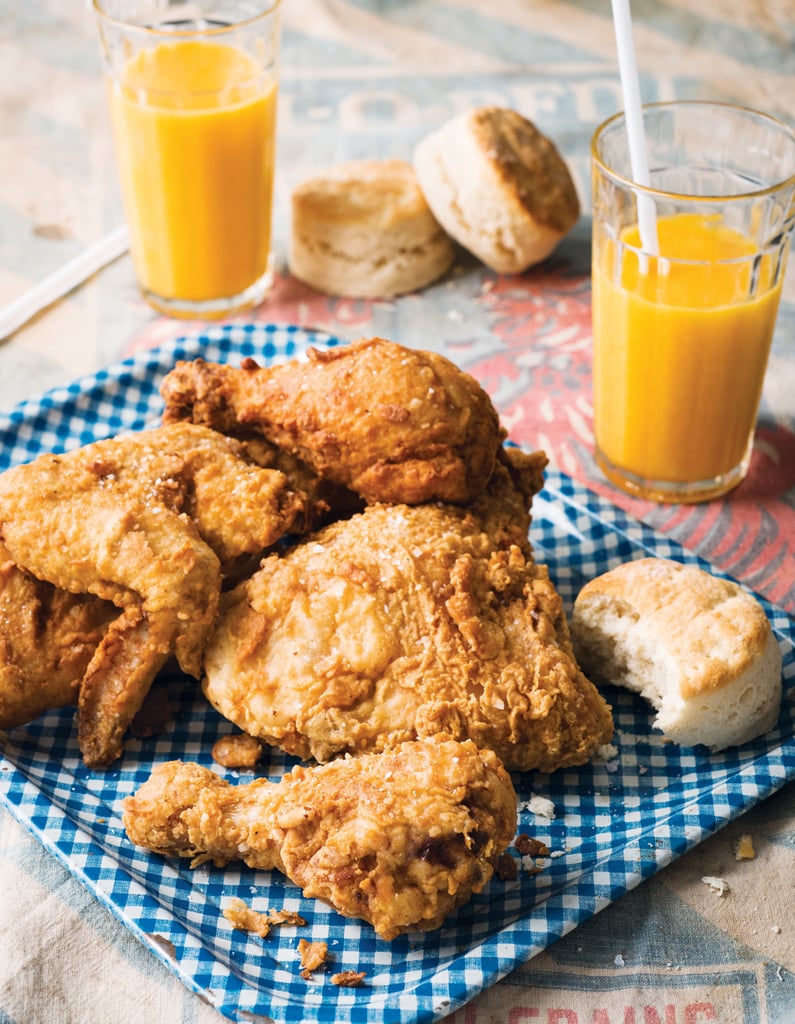 Making fried chicken isn't as hard as it may seem; it just takes preparation and organization. Before you get started, first consider these suggestions, so you have the basic principles of the freedom to fry in mind:
Be prepared: An organized kitchen and a game plan are a fryer's best friends. Everything will go more smoothly if you read each recipe from start to finish and prepare all of the elements in advance, making sure everything's ready before you start.
Clear the fridge: For recipes that require brining or marinating, clear the proper amount of shelf space and adjust shelf height in your fridge for whatever vessel you are using.
Brining: Brining may seem like a labor-intensive extra step, but it really does add a whole 'nother layer of goodness to the finished product. Like most foods, chicken benefits from a healthy dose of sodium, which ups the flavor considerably. Typically the number one ingredient in brines (other than water), salt performs double duty, both tenderizing the meat by breaking down its cellular structure and helping enhance the tastiness of the chicken itself. Brines can range from two hours to two days and can also contain sugar, buttermilk, herbs and spices.
Seasonings: Incorporating a variety of herbs, spices, and seasonings is one way to really make this process your own.
Chill for the "shrink-wrap" effect: As we tested the recipes for this book, we noticed that many cooks—most notably all from New Orleans—specified using well-chilled chicken for frying, believing that it promotes a crispier crust.
Skillet frying: For the true Southern experience, nothing beats frying in a cast-iron skillet, which cooks chicken evenly and helps develops a crispy, perfectly burnished crust. Many cooks have a collection of skillets, some passed down from generation to generation. Start with a new or vintage Lodge brand 12-inch skillet.
Use a thermometer: A deep-fry thermometer will make this process much easier. You'll know exactly when your oil is ready for frying and be able to easily monitor the process, adjusting the flame as needed as the oil temperature rises and falls with the process. Both old-fashioned mercury and newfangled digital models do the trick.
Don't crowd: Though the temptation to fry more pieces at once gets the best of us, crowding your deep-frying or skillet environment can lead to uneven cooking and longer-than-necessary frying times.
Give each piece time: Different pieces of the bird take different amounts of time to cook. Note that when frying a mix of breasts, wings, and thighs, the smaller pieces will cook faster than the breasts, so watch for the ideal color of crust to be sure each piece is done.
Discard safely: Once you're finished with your oil and ready to discard it, cool it completely and pour it carefully into a shatter-proof container with a tight-fitting lid. You can throw it away with the rest of your trash, or seek out a location in your area that recycles cooking oil for biodiesel.
Reprinted from Fried & True by Lee Schrager with Adeena Sussman. Copyright (c) 2014 by Lee Schrager. Published by Clarkson Potter/Publishers, a division of Random House, LLC.
Photo: Evan Sung