Where to Get a Taco Bell Biscuit Taco
Biscuit Taco: Taco Bell Is Testing a Shell That Is Entirely Biscuit
Our partner Foodbeast shares breaking food news, trendsetting recipes, and more with us. Today, Eli Ayrouth headed over to the Taco Bell test kitchen to try its latest Biscuit Taco.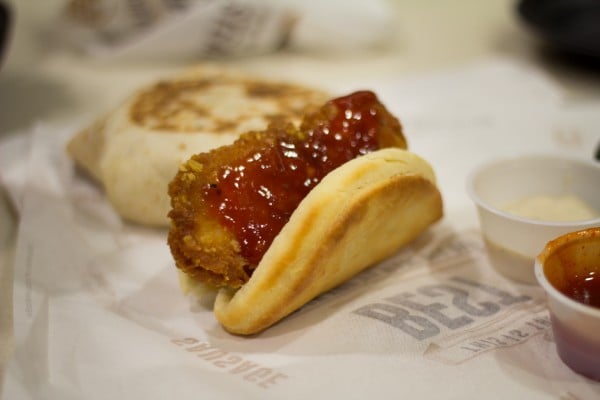 The ubiquity of Taco Bell's Doritos Locos Taco has done some weird s*** to Taco Bell's innovation team — they are now testing a Biscuit Taco.
Yes, a taco made entirely of biscuit. Or, a biscuit . . . in the shape of a taco shell — if you will.
Taco Bell seems to have a new eery confidence, a sense of innovation rivaled only by a 4-year old with a cooking license. We were invited out to Taco Bell's test kitchen to catch a look at some of its new items coming out this year. From what we saw, the brand continues to put a major emphasis on innovating its breakfast menu.
Its new Biscuit Taco touts a "warm, flakey, golden brown biscuit that happens to be shaped in the form of a taco."
The biscuit was good, albeit rich (real butter, real buttermilk), and its fried chicken variety is oddly unique, as they've made use of a tortilla chip batter for a delicious crisp.
Here is the product shot: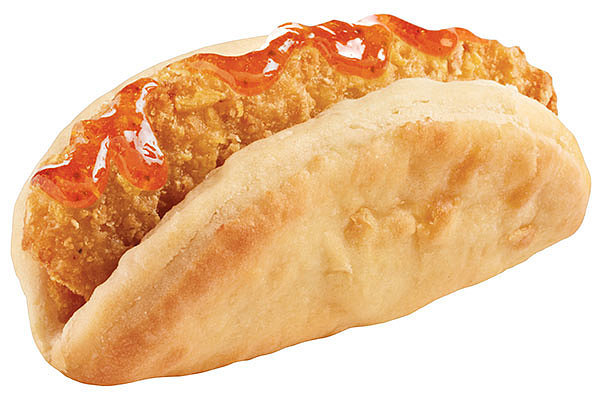 Seen above is one of seven new variations they're testing: chicken with jalapeño honey sauce.
Here's a quick list of all the ways you can get the Biscuit Taco:
Sausage, egg, and cheese
Bacon, egg, and cheese
Sausage and cheese
Egg and cheese
Sausage and gravy
The jalapeño honey sauce and gravy sauces are available for pairing with any of the seven taco styles you choose.
Taco Bell mentioned to us that the Biscuit Taco went through a test in San Antonio, TX and Atlanta, GA, markets they desperately seek the approval of.
The taco is currently in testing in Orange County and Los Angeles areas for another week, so if you want to get your paws on them and judge for yourself, here's where you can do it:
Brea (303 West Imperial Highway)
Fullerton (131 E. Orangethrope Ave.; 3000 Yorba Linda Blvd.)
La Mirada (15006 La Mirada Blvd.)
Santa Fe Springs (10551 Carmenita Rd).
More stories from Foodbeast: