Who Is Better: Gordon Ramsay or Bobby Flay?
Will Someone Please Let Gordon Ramsay Battle Bobby Flay in a Cook-Off?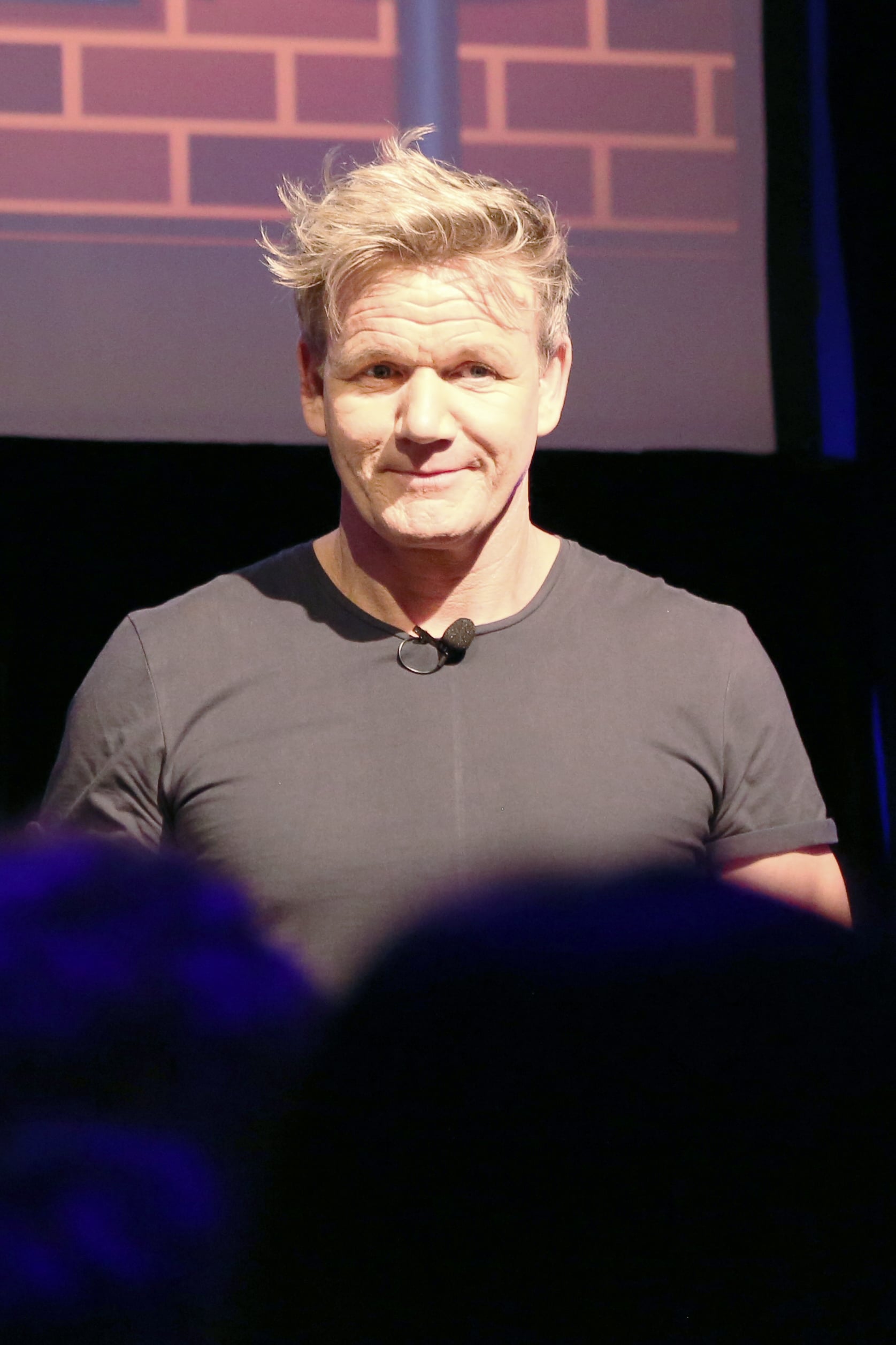 Gordon Ramsay has told the world at least three times that he wants to battle Bobby Flay, but is this epic chef-off going to happen? He first mentioned the concept back in March at a press event to promote his new game, Gordon Ramsay Dash. Chef duels are a big feature in the game; in fact, it's one of Gordon's favorite details. He told me in an interview, "Any question of opening your own territory and your own domain is a kick-up-the-ass for anyone. I love a chef battle, a duel, because that's what makes [the game] a little bit more real." He then applied it to his own life: "I would give Bobby Flay a 20-minute head start tomorrow morning in a one-hour cook-off. That's not because I'm blowing smoke up my own backside, I just know my f*cking craft, so I would go up against anybody."
"I just know my f*cking craft."
In May at Vegas Uncork'd, he hinted there would be a showdown at the end of the year between the two chefs. So when I had a chance to talk to the chef again at the opening party for Gordon Ramsay Dash, I had to ask him if the game is on! He replied, "I hope so. I can't do any more. Bobby Flay is an amazing chef, let's get that right. I'm so keen to have that final cook-off. Bobby, we're always going to rub each other up, but it's about competitive edge. You know, I want and need a challenge. He's my number one prime candidate." Snapping his fingers, chef Ramsay continued, "Sign the deal. I'll pay him."
Funny enough, Alton Brown recently shared with his Facebook fans that he would "never compete against Bobby Flay," because he's "an amazing cook and very, very good under pressure." Alton joked, "The only way that I could beat Bobby Flay in a cooking competition is if he was like blindfolded or had his hands tied behind his back. And then still it would be really, really tight."
And yet, a win or a loss isn't going to devastate chef Ramsay. Rather, Gordon sees a chef duel as no more than a sports game. "It's the same in basketball; trust me. It's the same in soccer, and in football," he assured. So what does it take to win a chef duel or . . . to really "know the f*cking craft" of cooking as well as chef Ramsay? Gordon claims:
"My first condition, from a chef's point of view, is to never to be faced with an ingredient that you never know what to do with it, whether it's golden caviar or dragon fruit from the back end of Asia. I never, ever wanted to be faced and in a position of not knowing what to do with it. So once you've gone on that journey and lived it, you take that knowledge away."
Take heed, future MasterChef/Hell's Kitchen contestants. Take heed.
Image Source: POPSUGAR Photography / Anna Monette Roberts