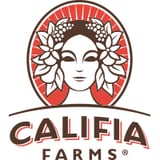 We've partnered with Califia Farms (the company behind that curvy bottle you know and love) to help you find the energy to get through those sticky Summer situations – all with a little help from their smooth-tasting, lower-to-no sugar cold brew coffees made with 100-percent ethically sourced Arabica beans. Now that's better coffee for all.
There are some people who can spring out of bed in the morning ready to go, whether they got a full night's sleep or not. And then there are others for whom a cup of coffee (or two) is pretty much a requirement to get the day started.
If you fall in the latter camp, you know your daily caffeine fix isn't optional. It's a crucial component of any day, especially for those moments when you need a little extra energy. That's when Califia Farms Cold Brew — like their XX Espresso — comes in handy. This perfectly portioned, dairy-free and vegan cold brew is already mixed with almond milk — all you have to do is twist off the lid, sip, and let the caffeine course through your veins. Though cold brew is always a good idea, it's downright necessary when you find yourself in any of these sticky situations.