Air-Fryer Caramelized Bananas Recipe With Photos
These Air-Fryer Caramelized Bananas Only Require 3 Ingredients and Take Less Than 10 Minutes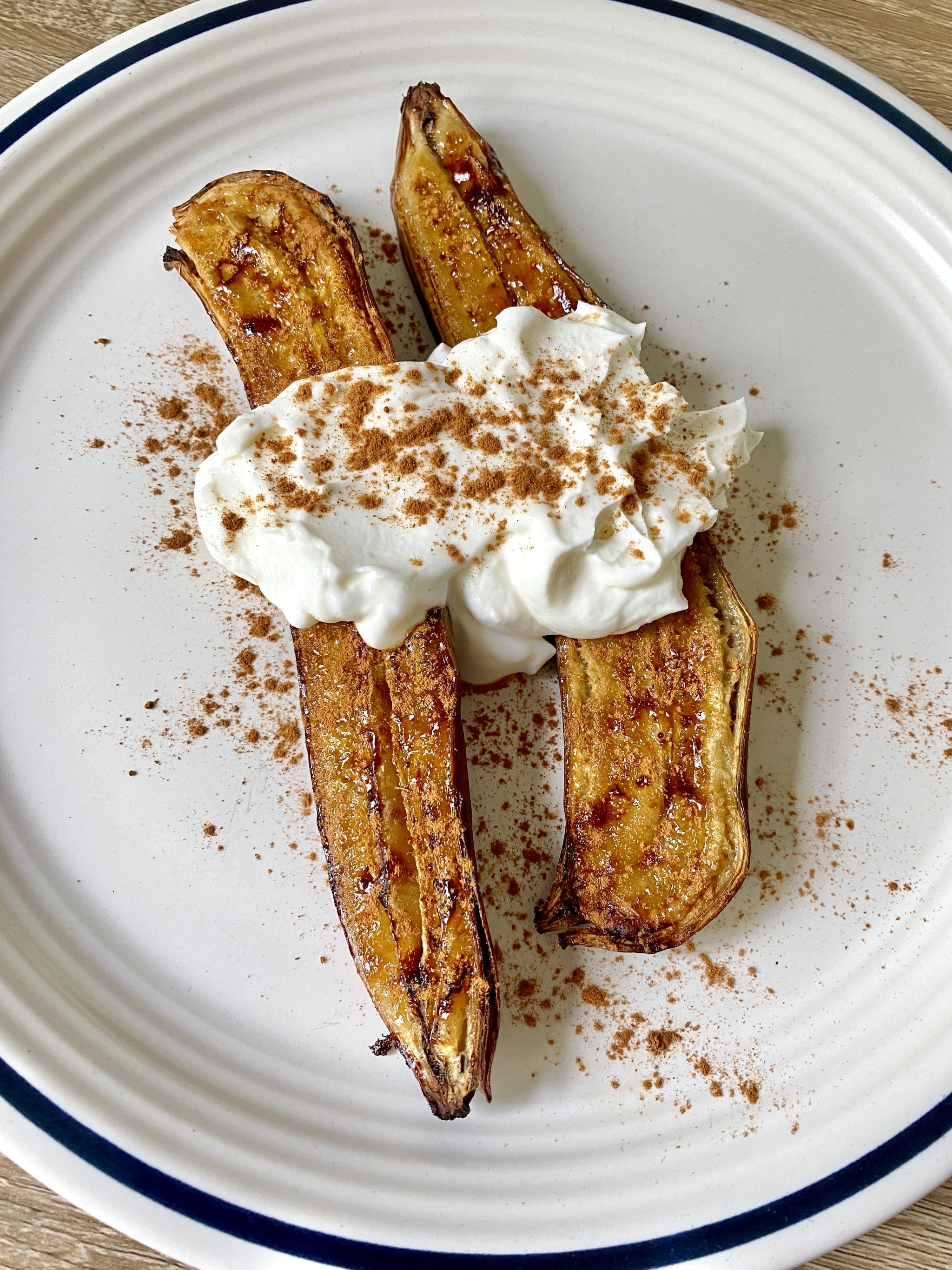 I've never been a huge fan of banana-heavy desserts (except banana bread) — that is, until I tried these air-fryer caramelized bananas. Created by Lisa Kitahara of Okonomi Kitchen, the recipe is simple to make and tastes exactly like an indulgent dessert (or breakfast!) with only a little bit of added coconut sugar. The finished texture is unreal — soft and caramel-y, almost like a crème brûlée. Basically, as someone who doesn't even like banana pudding, this three-ingredient recipe yields one of the most delicious treats I've ever had.
To make this recipe, you'll just need bananas, coconut sugar, and lemon juice (seriously, that's it!). And I love that, unlike other desserts, it's easily scalable, since you can make as many or as few bananas as you'd like. Depending on the size of your air-fryer basket, you may want to seek out smaller bananas; luckily, large bananas fit in my Ninja Foodi perfectly.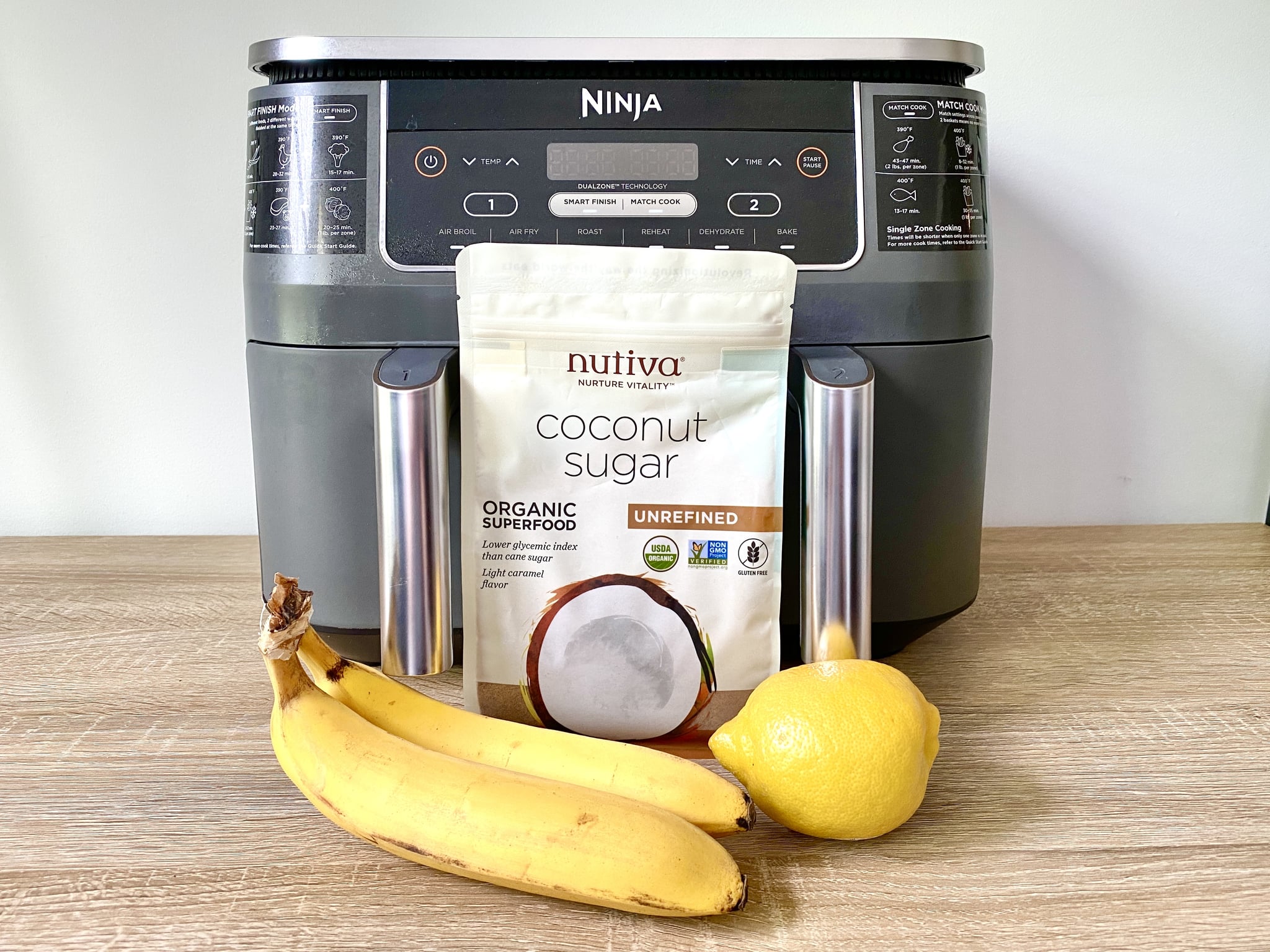 While you preheat your air fryer, slice the bananas in half from top to bottom and leave the peel on. Sprinkle with lemon juice, then coconut sugar, and place in your air fryer.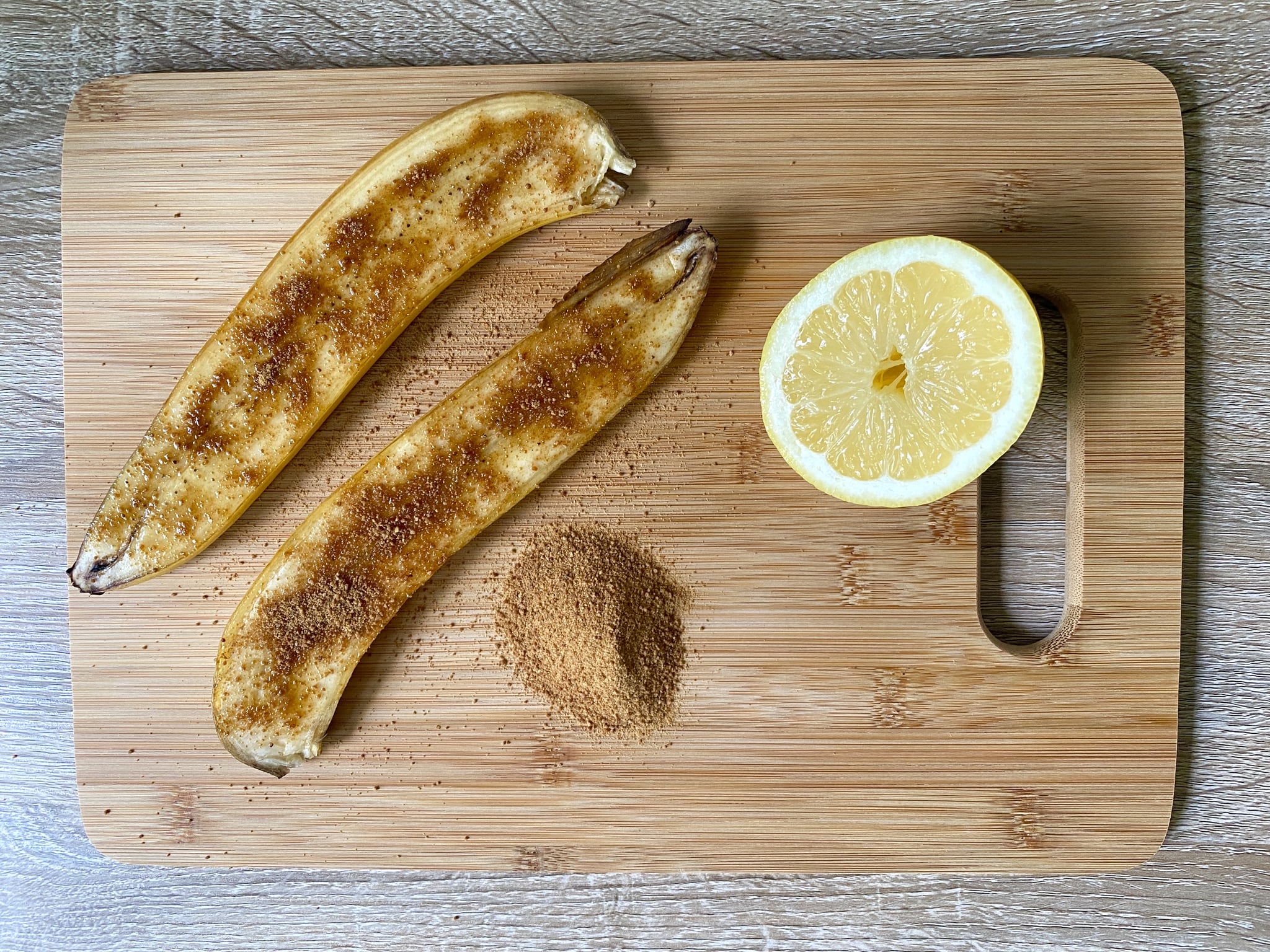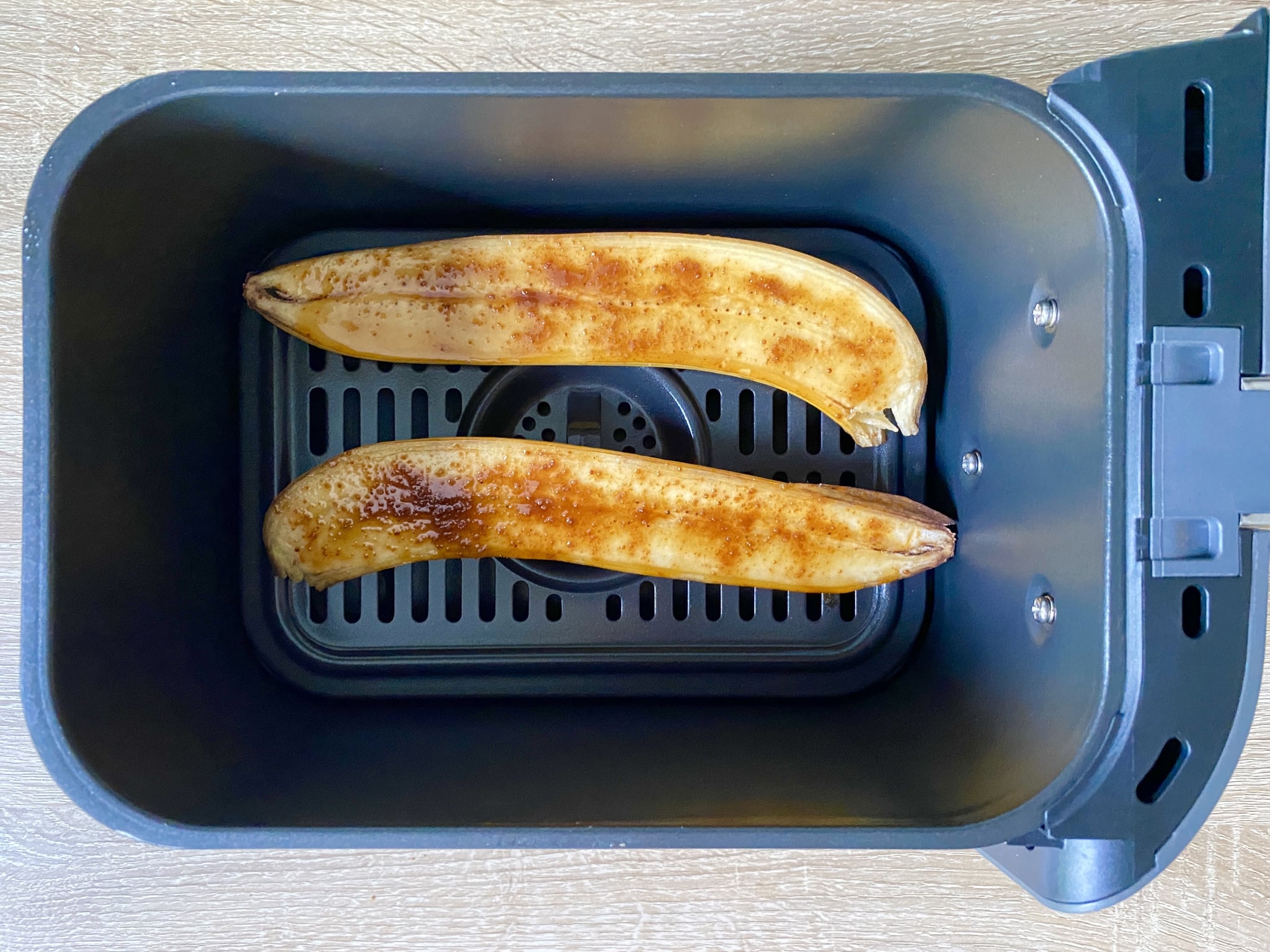 Once they're done (mine took exactly six minutes), they'll look something like this: bubbly, caramelized, and golden brown.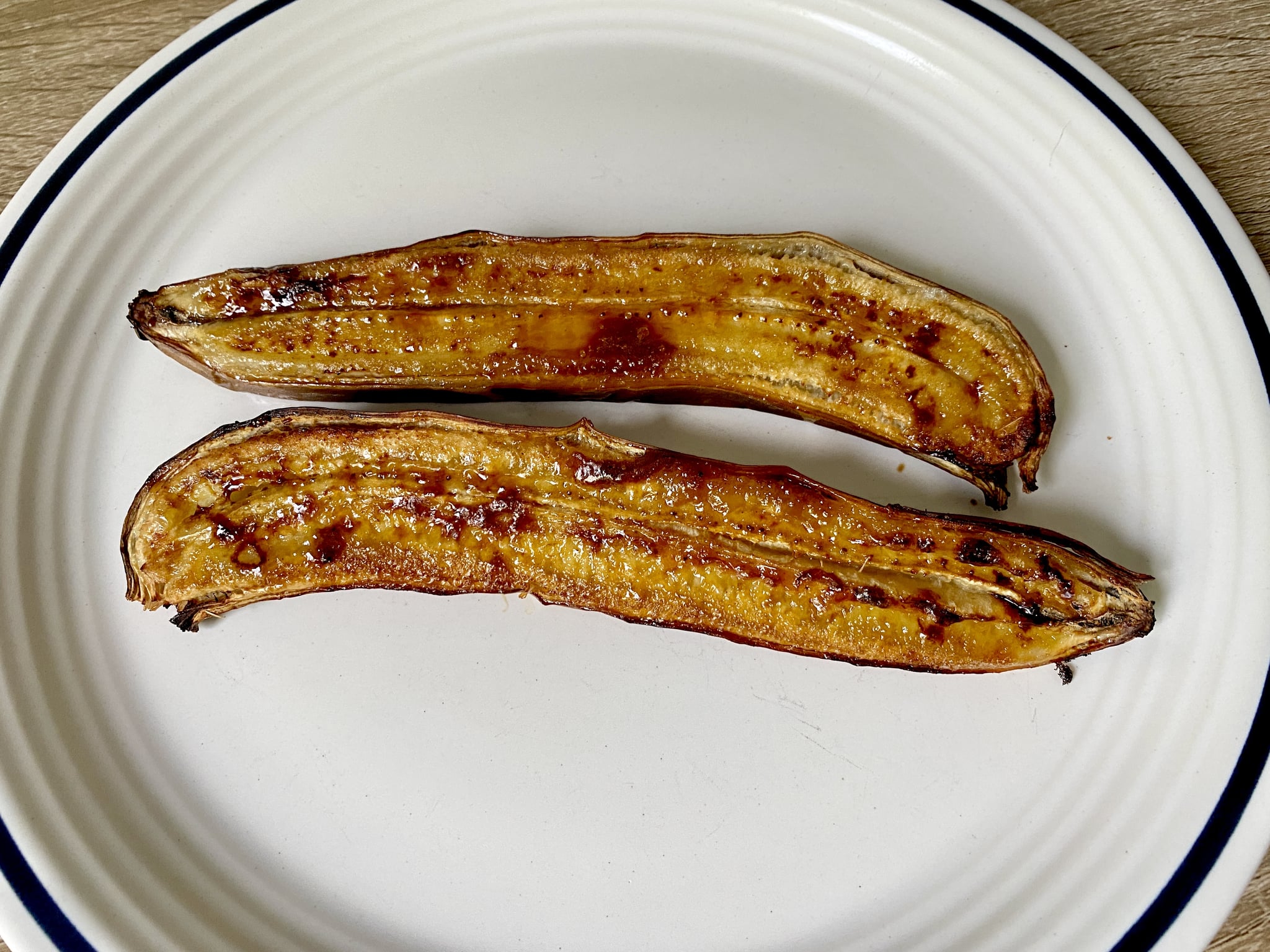 I topped them with cinnamon and Greek yogurt for an extra delicious treat, but you can eat them however you like. The texture is slightly crunchy on the outside thanks to the sugar and soft on the inside. And if you want even more crunch, feel free to also add things like crushed nuts on top.
Air-Fryer Caramelized Bananas
Okonomi Kitchen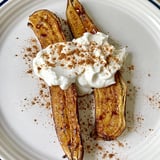 Ingredients
2 bananas
1/4 of a lemon, juiced
1 tablespoon coconut sugar
Optional toppings: cinnamon, yogurt, nuts, etc.
Directions
Preheat the air fryer to 400 degrees F.
Slice the bananas lengthwise from top to bottom.
Sprinkle each banana with lemon juice and coconut sugar.
Place in the air fryer and bake for 6-8 minutes or until caramelized and golden brown.
Serve with your favorite toppings and enjoy!
Information
Category

Desserts

Yield

2 bananas

Total Time

4 minutes, 59 seconds
Image Source: POPSUGAR Photography / Kaley Rohlinger