Air Fryer Churro Recipe and Photos
These Air Fryer Churros Are the Easiest Homemade Churros I've Ever Made, and They're Abuela-Approved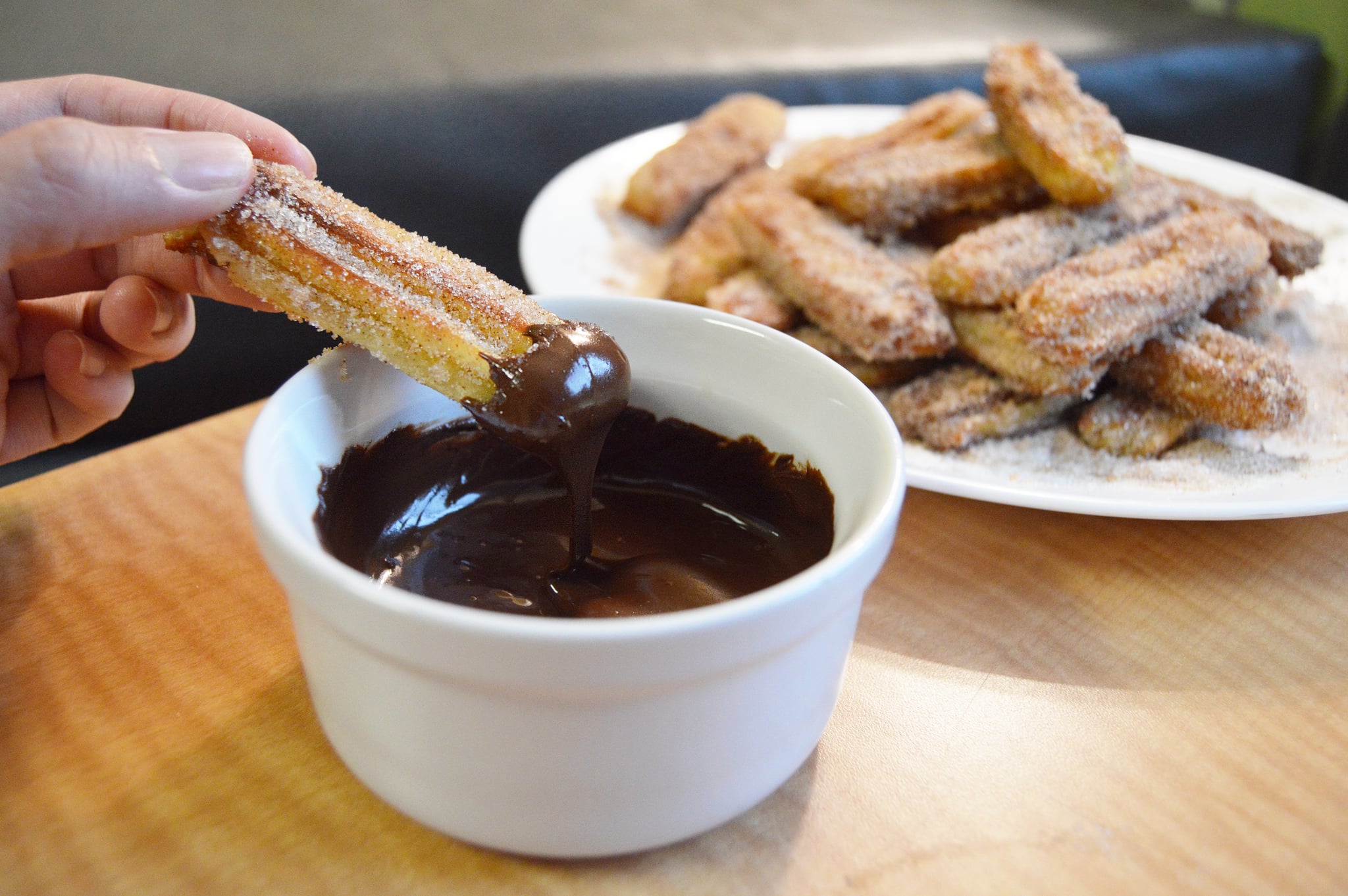 From Oreo Churros to Cinnabon Churro Chillatas to Cinnamon Toast Crunch Churro Cereal, no matter how you tweak the recipe, they always seem to hit the spot, whether you're eating one at Disney World or in your abuela's kitchen. Traditionally deep-fried, it's no secret that churros aren't exactly the lightest pastry, but who says they have to be just a once-in-a-while indulgence? If you're in a pinch, put away that big gallon of oil and take out your air fryer instead, because this recipe is the answer to all of your churro cravings.
Making this recipe only takes about 20 minutes, and despite them being made in the air fryer, these churros do not lack in flavor or texture. They have a beautifully crunchy shell that's covered in cinnamon sugar and a warm and soft inside that's just the right amount of chewy. The entire process is probably easier than you think, and the ingredients are pretty standard. The only thing that might be a little tricky is getting the churro batter just right, as you have to stir your ingredients constantly until the dough properly comes together (you'll also get a nice arm workout in!). And once you pipe the batter onto the baking mat, make sure you cut the churros so they're not too big and can fit in the air fryer.
If you're ready to air fry your churros and taste your new favorite dessert, keep reading for the full recipe.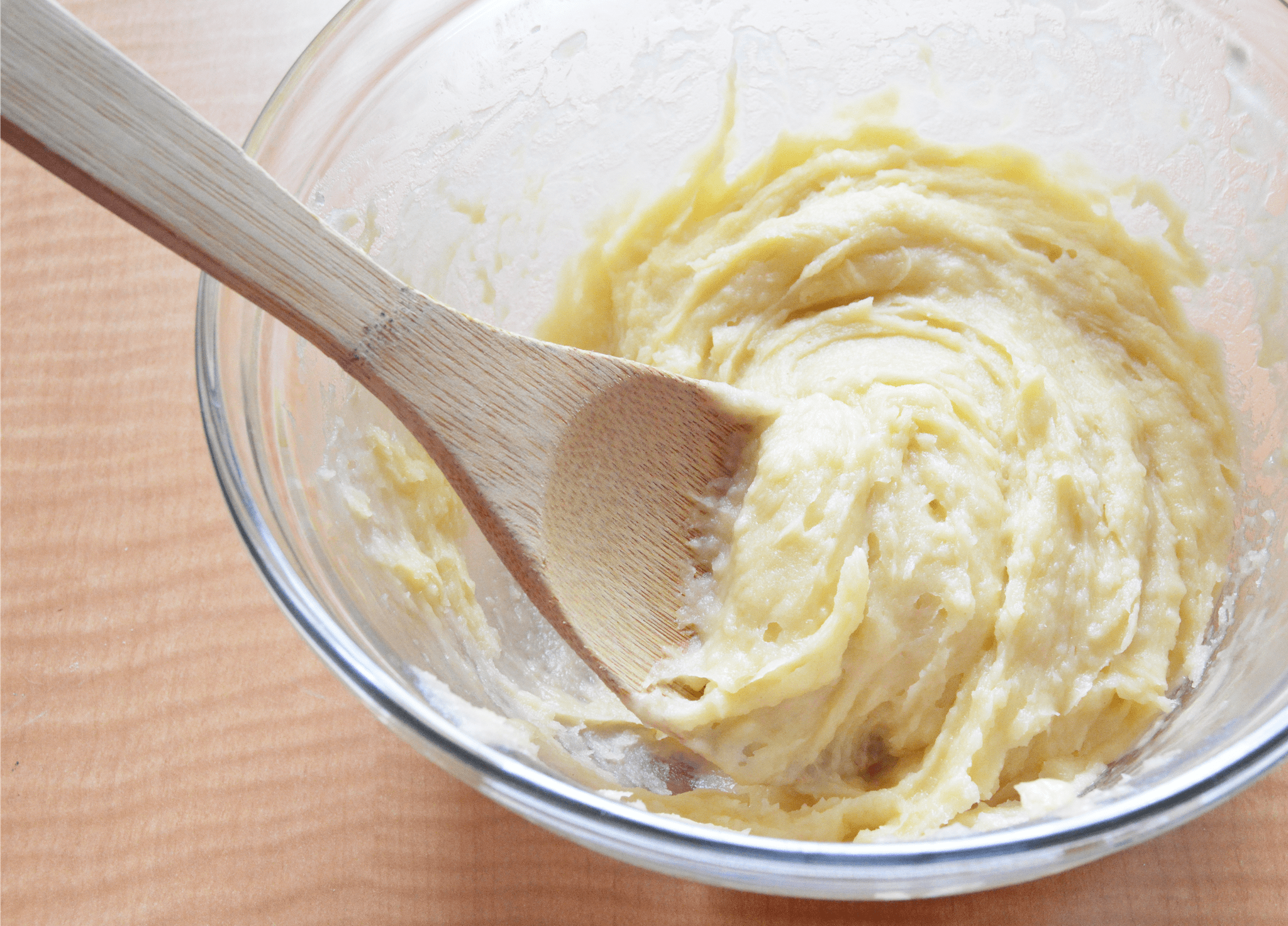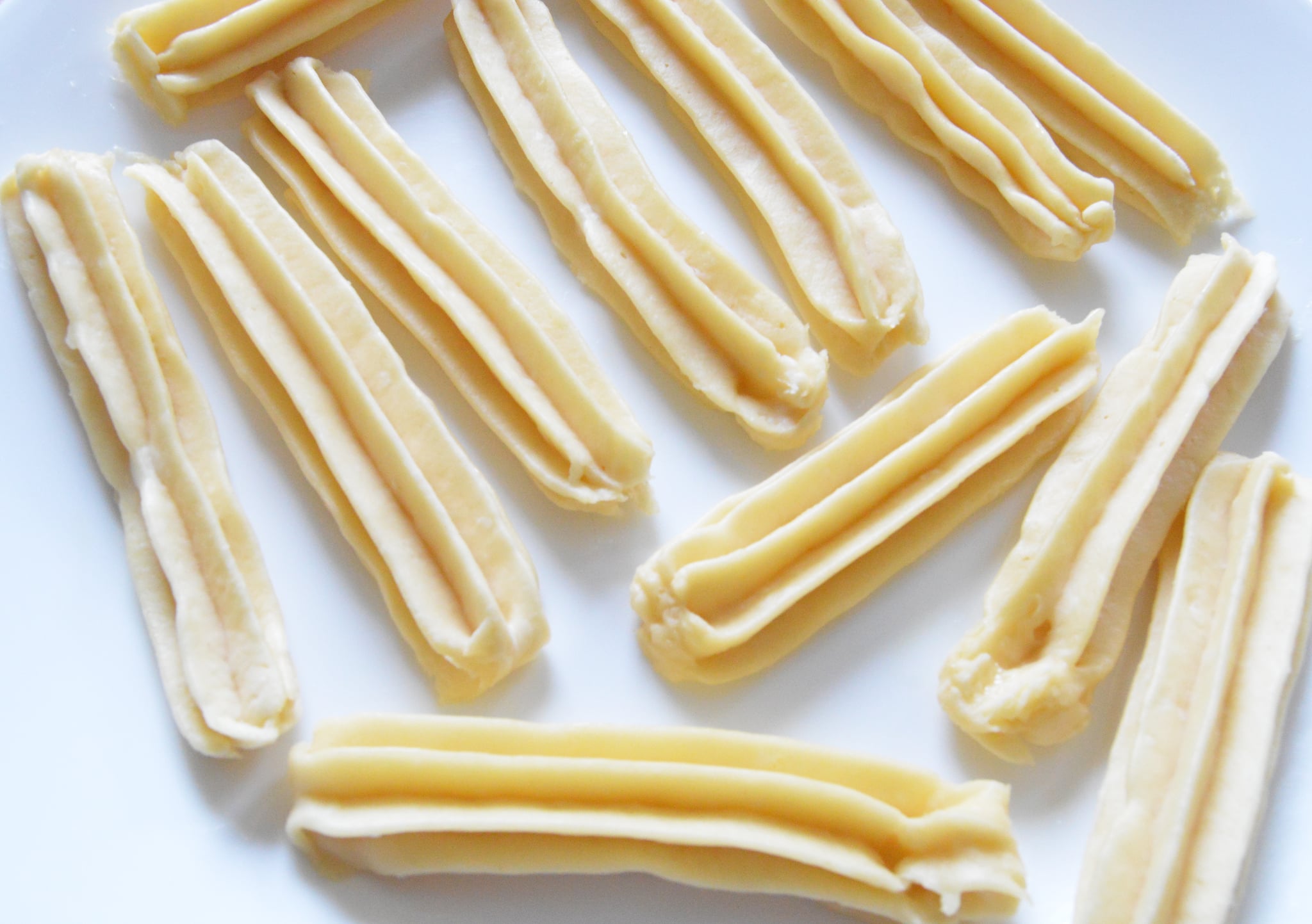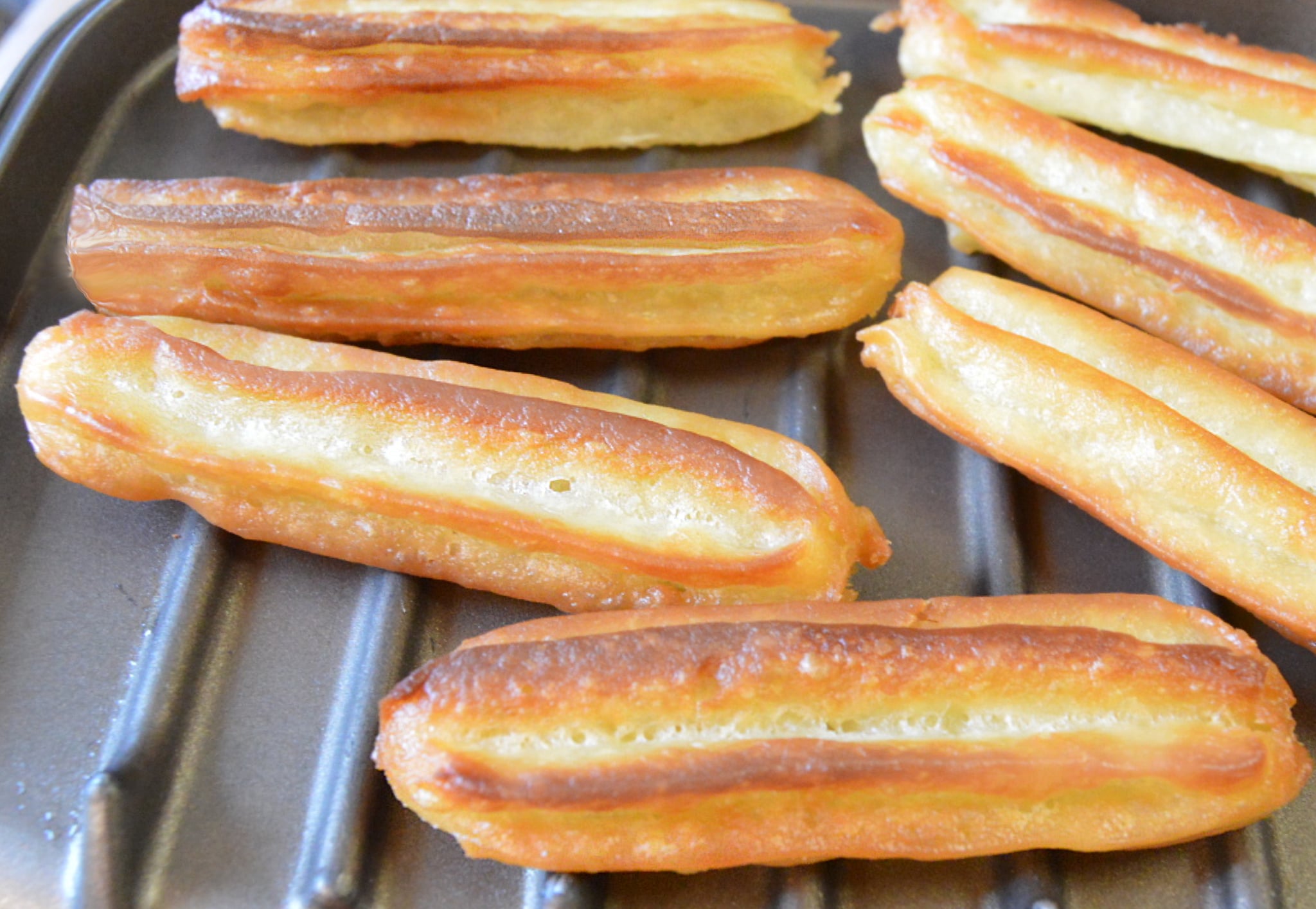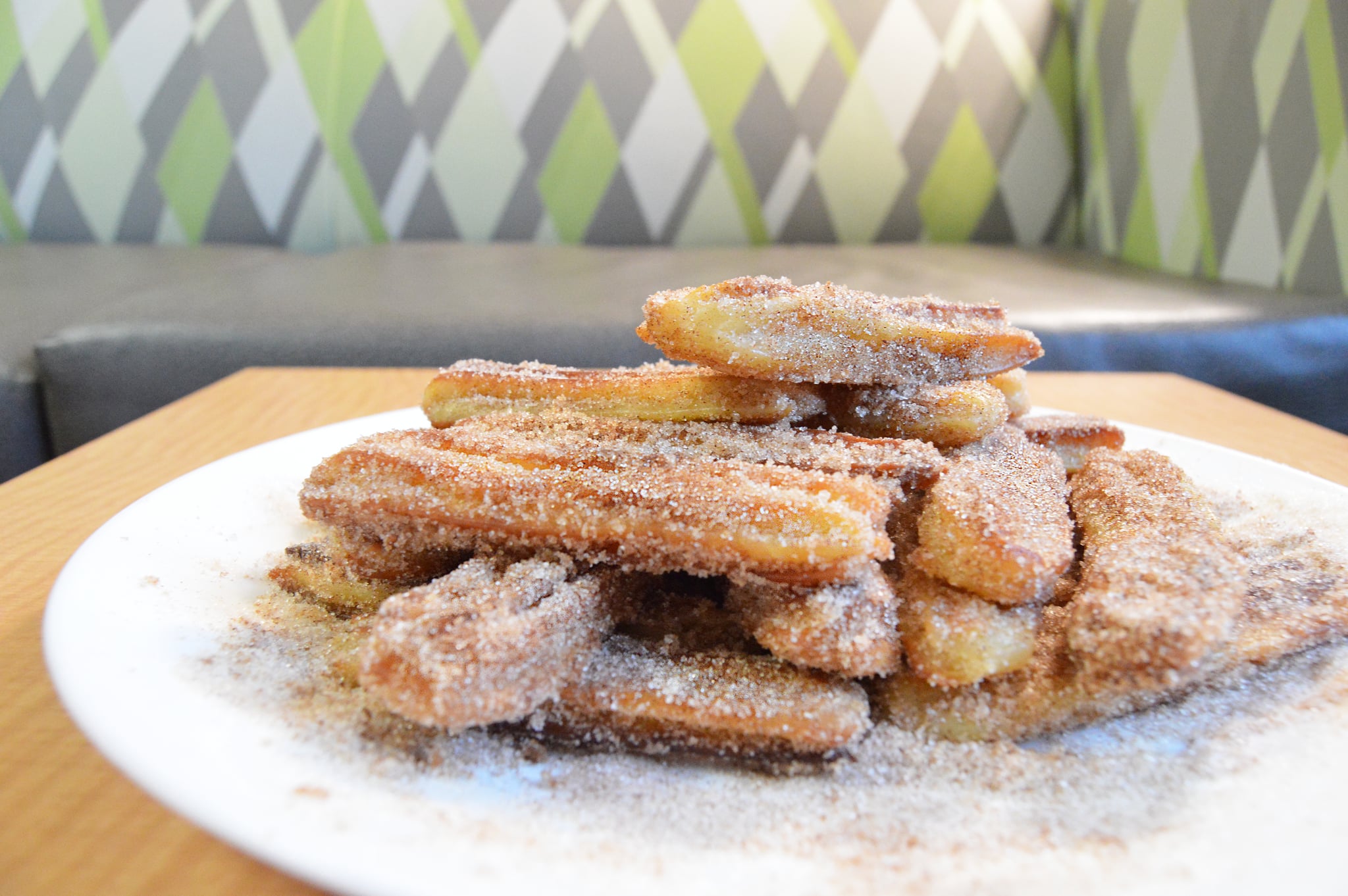 Air Fryer Churros
Plated Cravings
Notes
Don't refrigerate the piped churro batter longer than one hour or it will dry out.
Use a 1M piping tip for best results.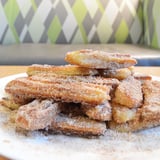 Ingredients
For the Batter:
1 cup water
1/3 cup unsalted butter, cubed
2 tablespoons granulated sugar
1/4 teaspoon salt
1 cup all-purpose flour
2 large eggs
1 tsp vanilla extract
Oil spray
For the Cinnamon Sugar Coating:
1/2 cup granulated sugar
3/4 teaspoon ground cinnamon
For Serving:
Warm Nutella or chocolate dipping sauce
Directions
Put a silicone baking mat on a baking sheet and spray with oil spray.
In a medium saucepan, add water, butter, sugar, and salt. Bring to a boil over medium-high heat.
Reduce heat to medium-low and add flour to the saucepan, stirring constantly with a rubber spatula until the dough comes together and is smooth.
Remove from heat and transfer the dough to a mixing bowl. Let cool for four minutes.
Add eggs and vanilla extract to the mixing bowl and mix using an electric hand mixer or stand mixer until dough comes together. The mixture will look like gluey mashed potatoes. Use your hands to press lumps together into a ball and transfer to a large piping bag fitted with a large star-shaped tip.
Pipe churros onto the greased baking mat, into four-inch lengths and cut end with scissors.
Refrigerate piped churros on the baking sheet for one hour.
Carefully transfer churros with a cookie spatula to the air fryer basket, leaving about 1/2-inch space between churros. Spray churros with oil spray. Depending on the size of your air fryer you have to fry them in batches.
Air fry at 375 degrees for 10-12 minutes until golden brown.
In a shallow bowl, combine granulated sugar and cinnamon.
Immediately transfer baked churros to the bowl with the sugar mixture and toss to coat, working in batches. Serve warm with Nutella or chocolate dipping sauce.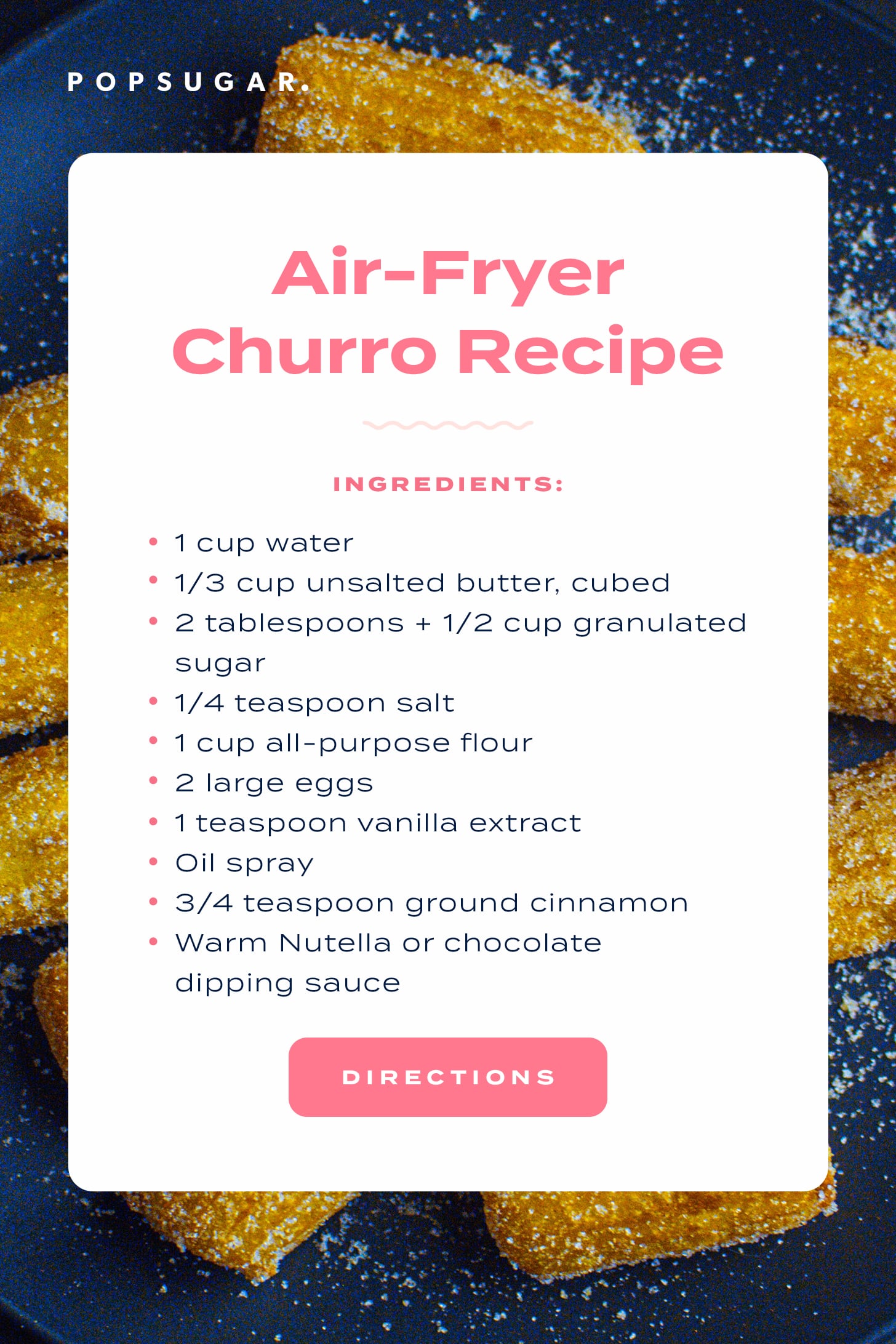 Information
Category

Desserts

Yield

35 mini churros

Prep Time

10 minutes

Cook Time

10 minutes

Total Time

19 minutes, 59 seconds
Image Source: POPSUGAR Photography / Kalea Martin