4-Ingredient Air Fryer Doughnut Recipe and Photos
These 4-Ingredient Doughnuts Are Made in an Air Fryer, and Wow, Are They Good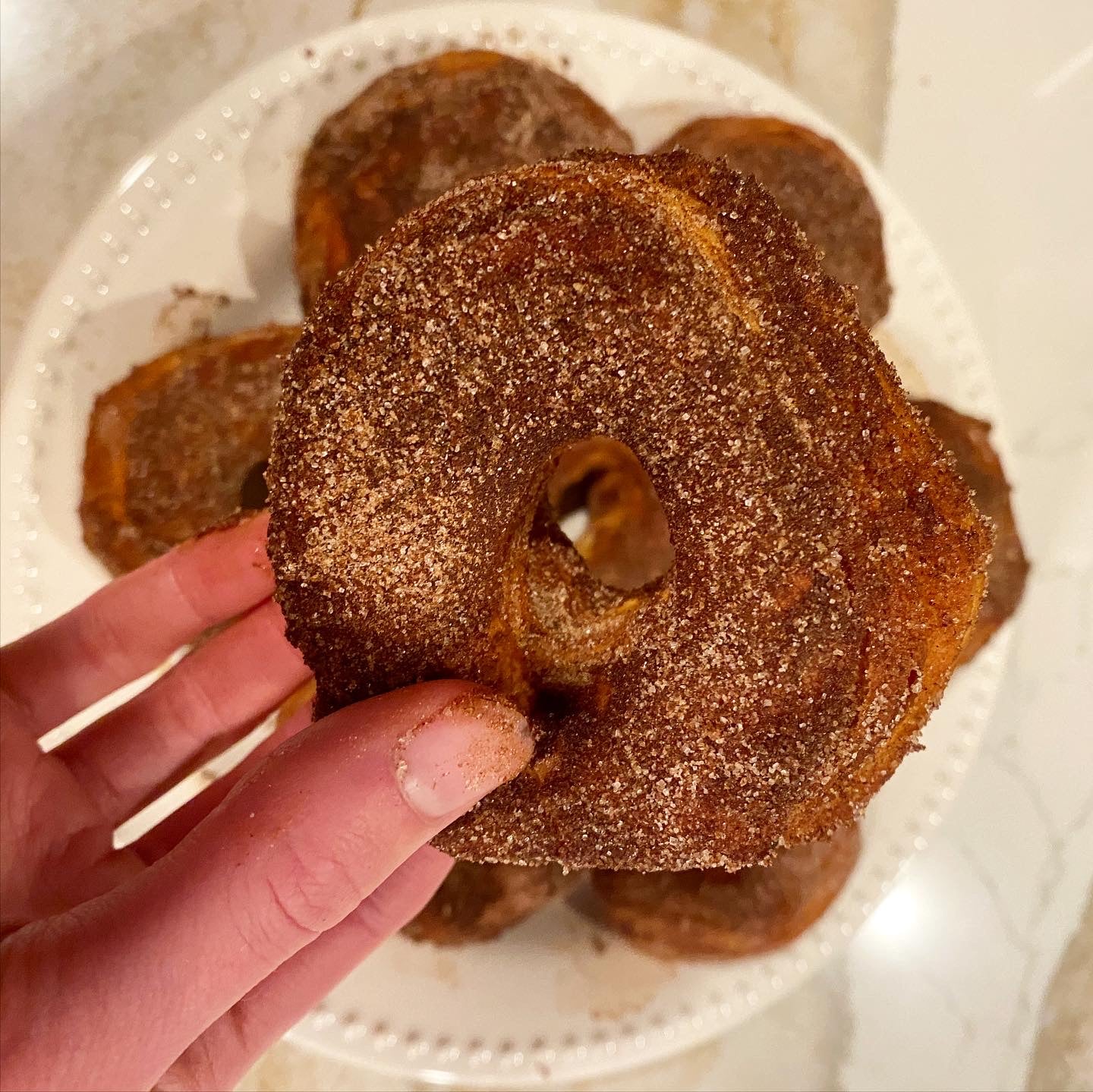 I recently acquired a Ninja Foodi two-basket air fryer, and I was thrilled to find that it came with a recipe book to help me get started. One of the recipes that immediately caught my eye was the four-ingredient air fryer doughnuts. Um, what?! I adore doughnuts but don't have the storage space to invest in doughnut pans (and let's be honest, baked doughnuts just aren't the same). So when I discovered I could make them in my air fryer with only four ingredients, I was en route to the store immediately.
The secret ingredient to these tasty treats is canned biscuit dough. I used Pillsbury Grands, but any kind will work, as long as they're round and flaky. You simply cut a hole out of the biscuit dough, cook them in the air fryer for ten minutes, then dunk them in melted butter and cinnamon sugar. It's that easy, and these are seriously a bite of heaven, especially when they're warm. You also get the added bonus of doughnut holes with the sections you cut out of the biscuit dough!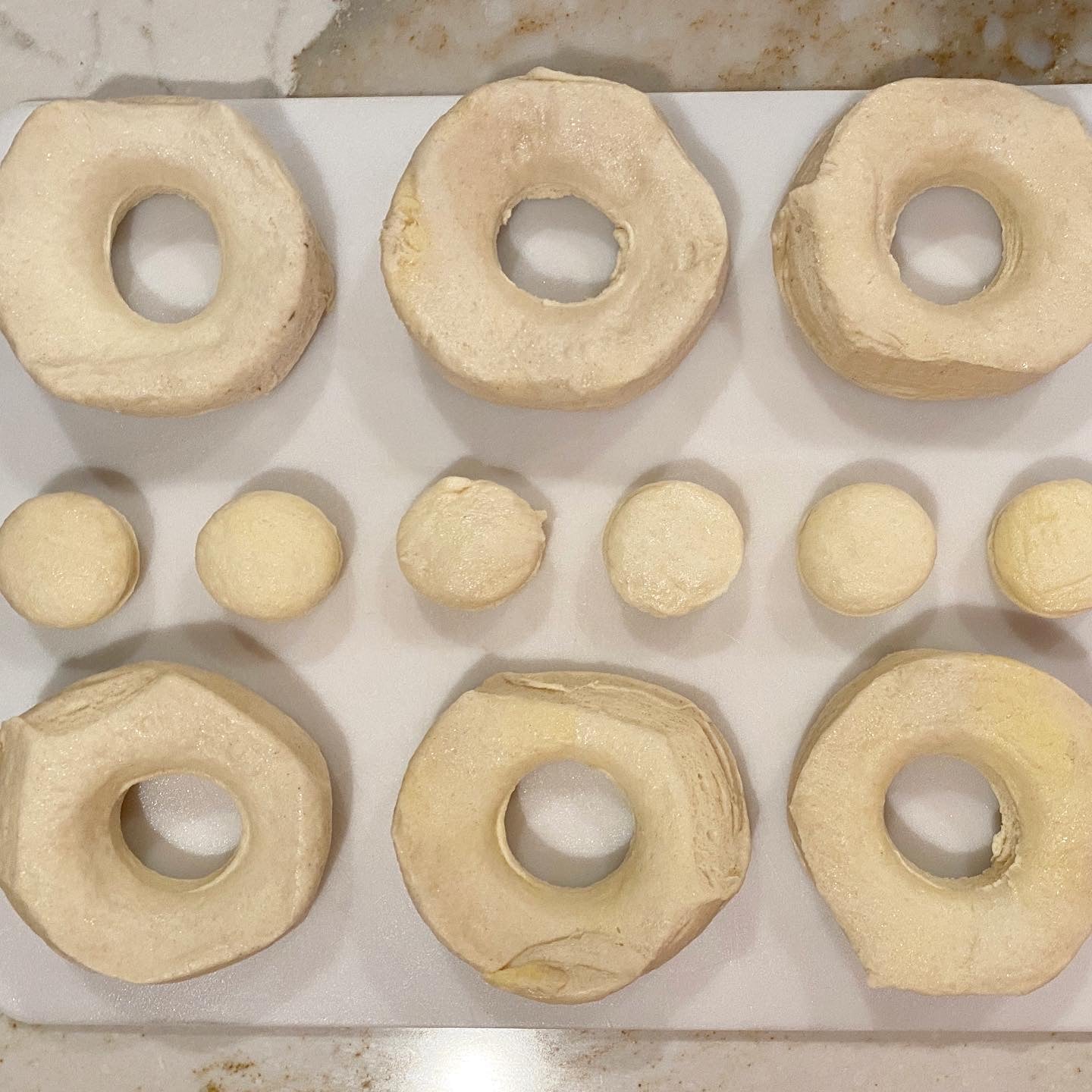 You'll need to stack the donuts in a single layer in order for them to cook properly, so you might need to make these in two separate batches. I love the dual-basket Foodi, because I could make these in one batch, although it did lead to me eating more of them . . .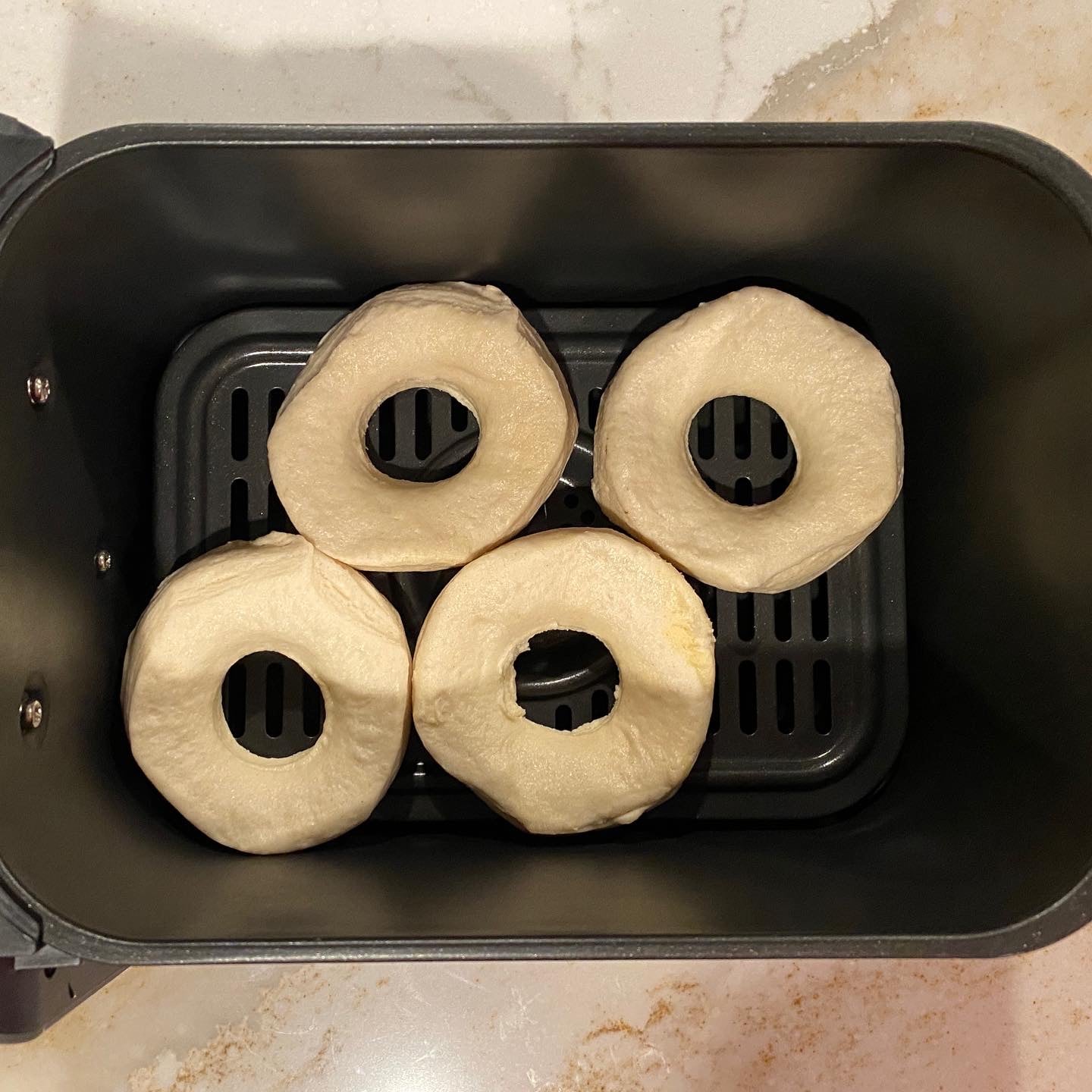 The doughnuts cook for 10 minutes at 360 (not a typo, that's 360) degrees, or until they're golden brown. Just make sure you get them all dipped in butter and covered in cinnamon sugar before you start to devour them, as these are best when warm! They're definitely my new favorite easy dessert.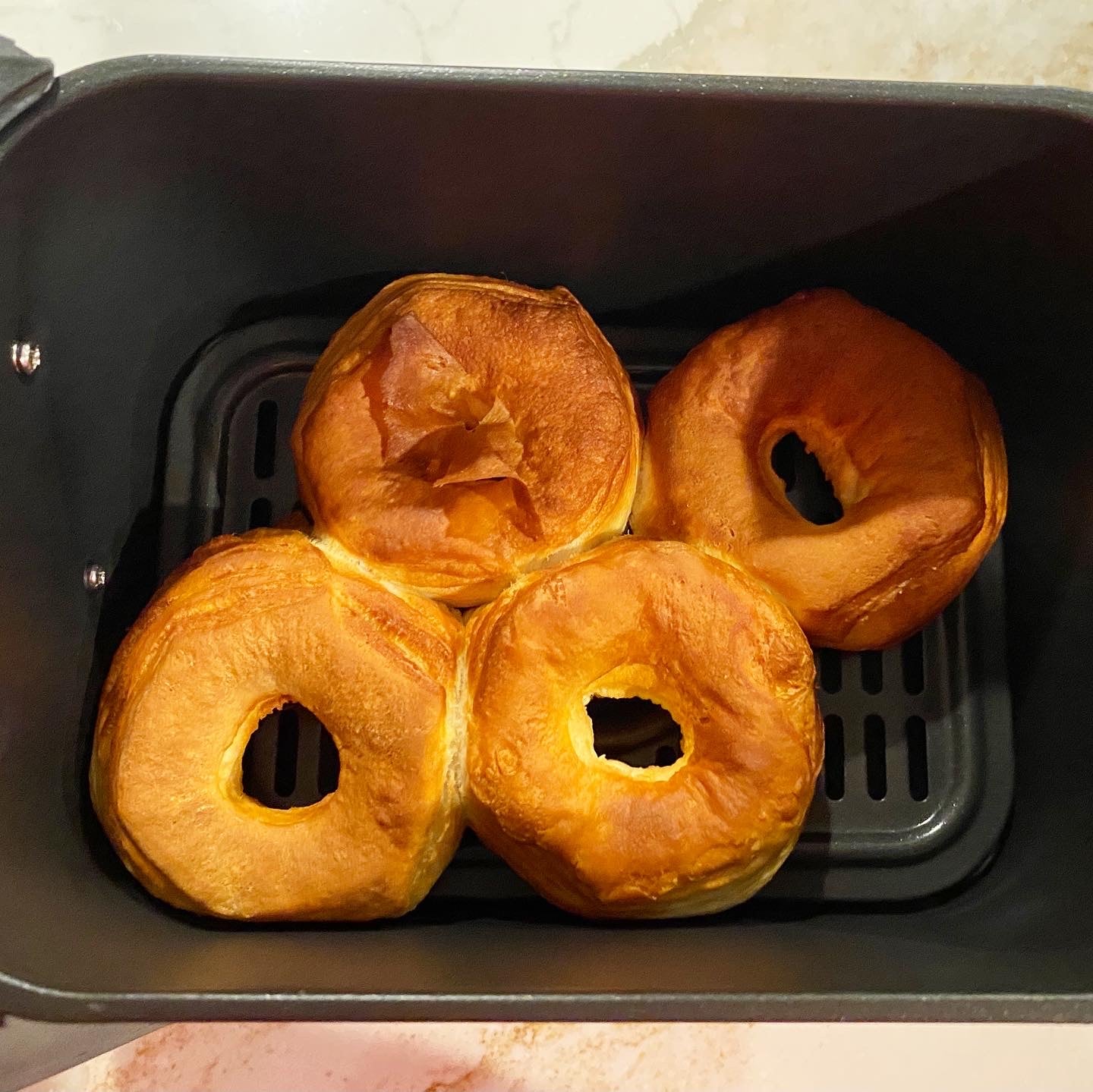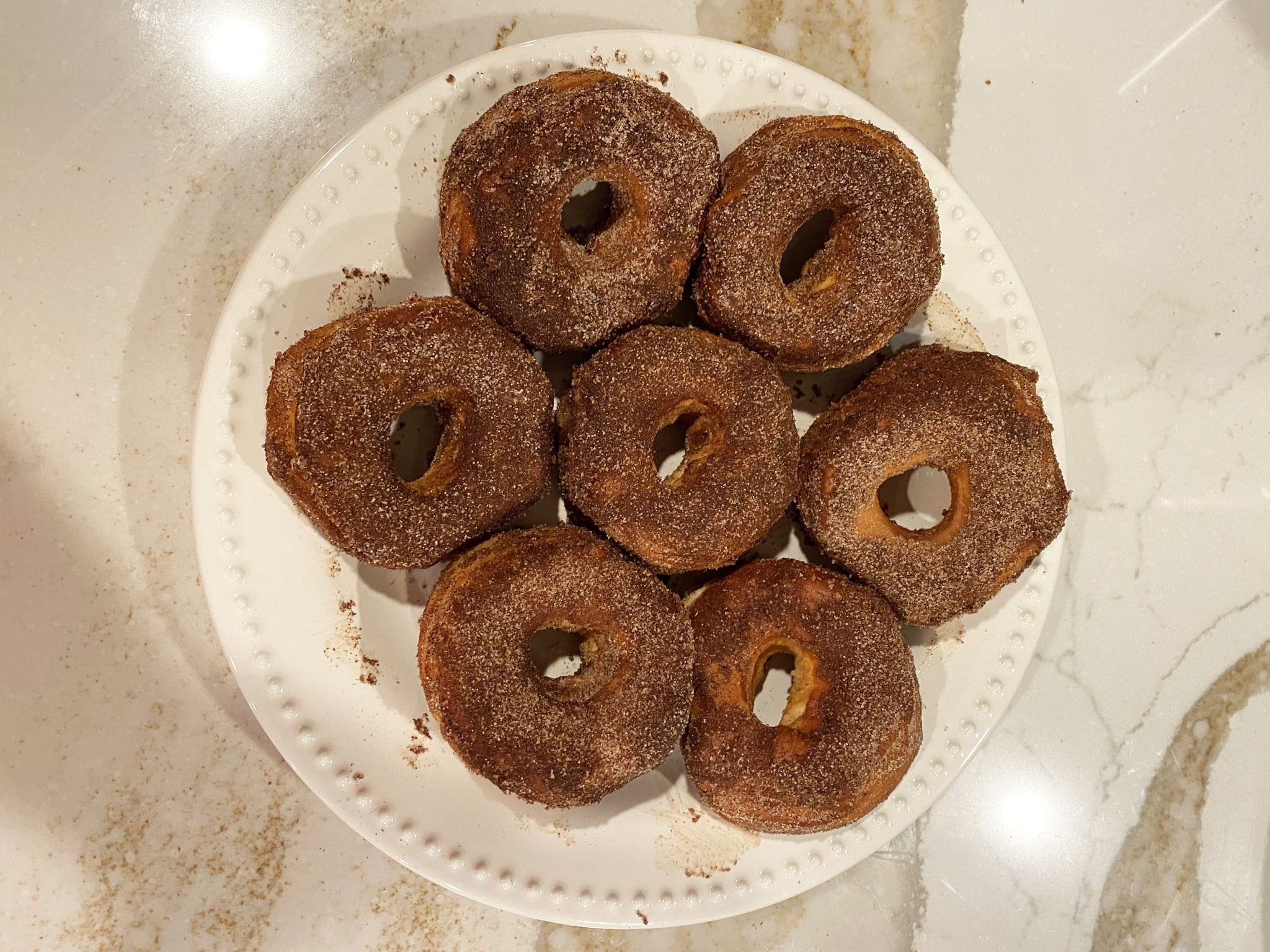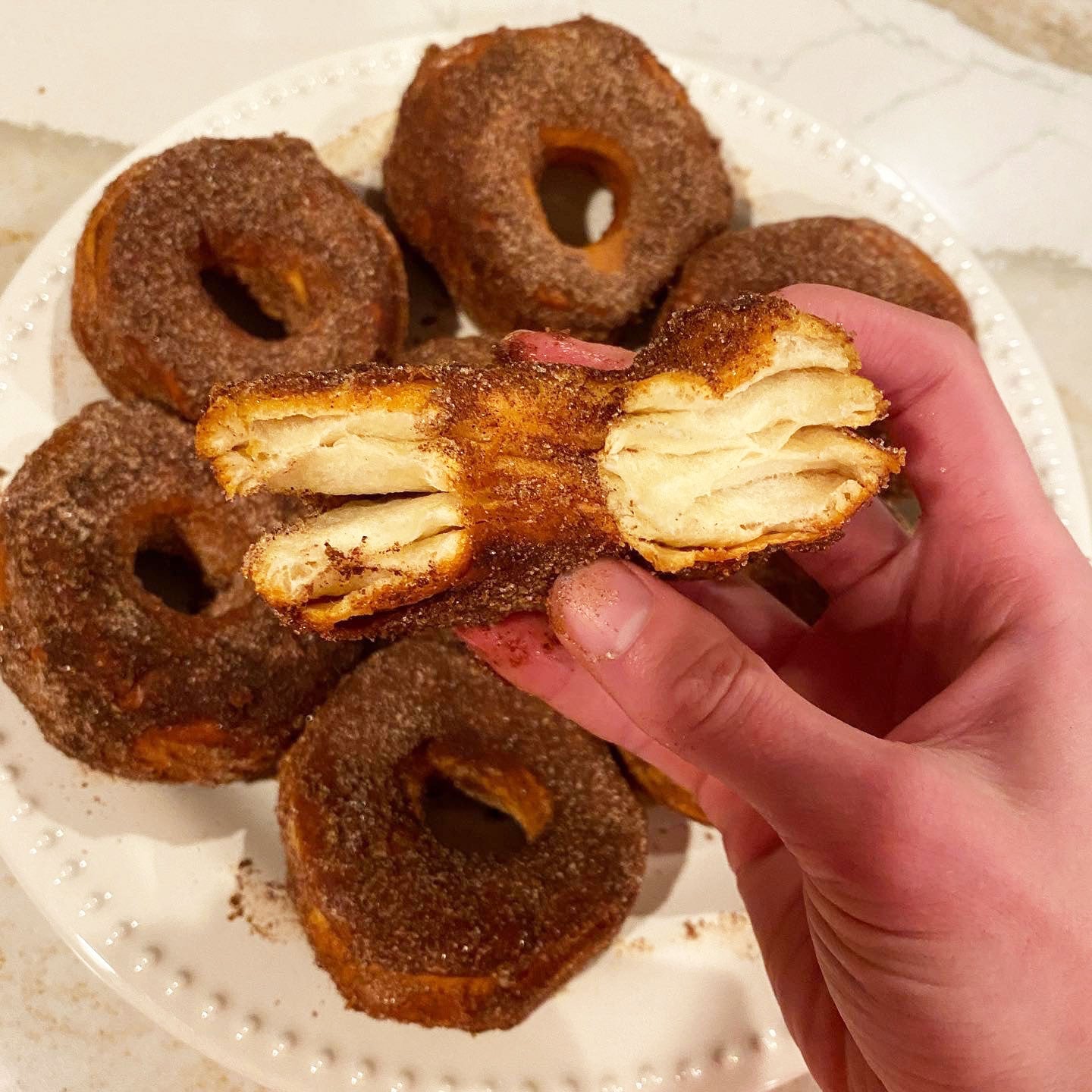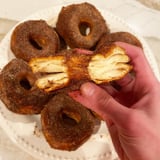 Ingredients
1 can flaky biscuits (such as Pillsbury Grands)
1/4 cup butter, melted
1 cup white sugar
2 tablespoons ground cinnamon
Directions
Unwrap and separate the biscuits, and use a biscuit cutter to cut out the center. If you don't have a biscuit cutter, you can use a shot glass or other small-rimmed glass.
Arrange the biscuits in a flat layer in your air fryer and bake at 360 degrees for 10 minutes on the air fryer setting (no need to flip).
While they bake, prep the melted butter and cinnamon sugar in two large bowls for dipping.
When the biscuits are done, dip them in melted butter, then coat them in cinnamon sugar.
Repeat this process with the leftover donut holes, baking at 360 degrees for 5 minutes, then dipping in melted butter and cinnamon sugar.
Enjoy while they're warm!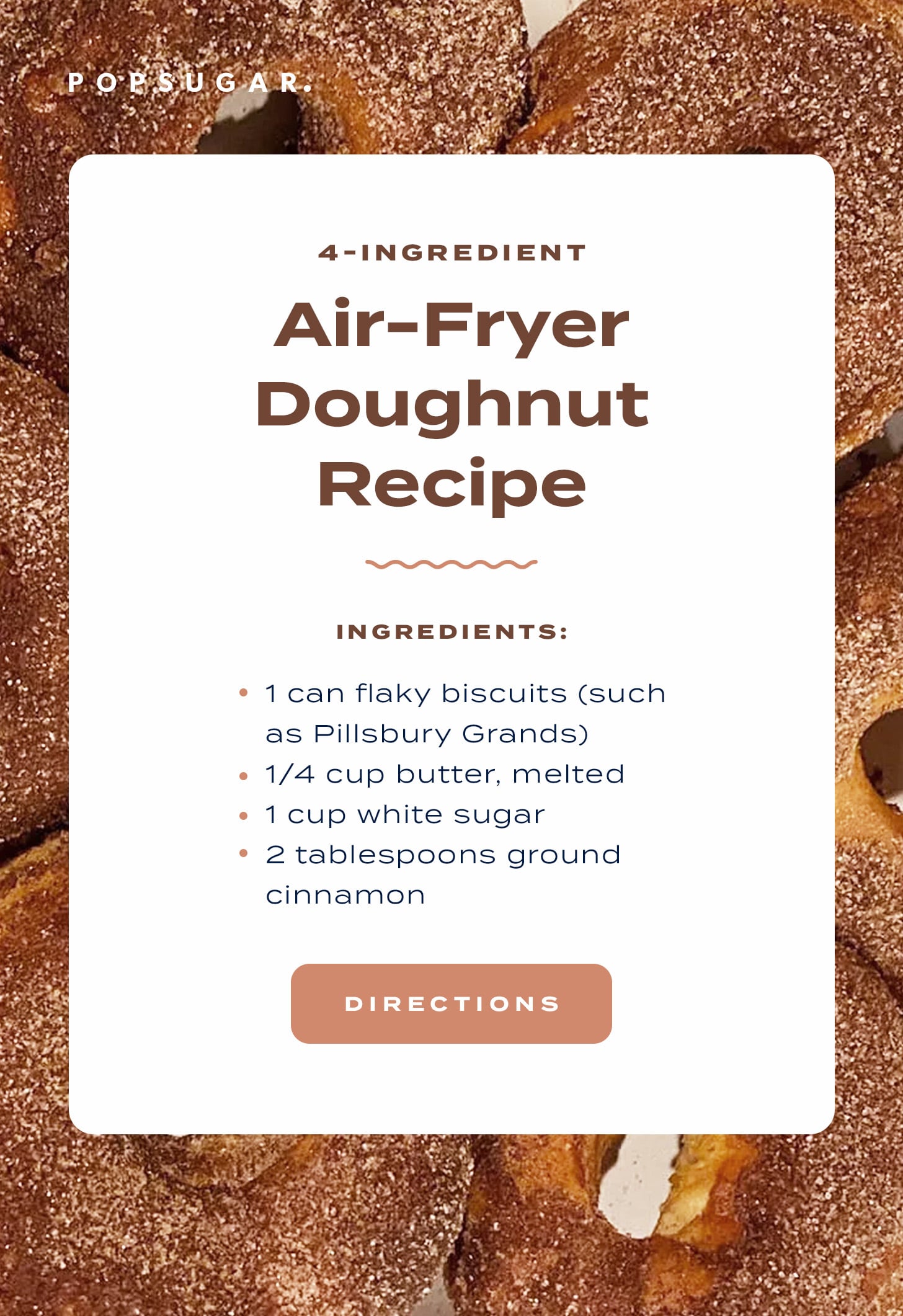 Information
Category

Desserts, Doughnuts

Yield

8 doughnuts (depending on the canned dough)

Prep Time

5 minutes

Cook Time

10 minutes

Total Time

14 minutes, 59 seconds
Image Source: POPSUGAR Photography / Kaley Rohlinger