Apple Strudel Croissant Recipe + Photos
These Apple Strudel Croissants Are the Perfect Thing to Warm You Up on a Cold Winter Morning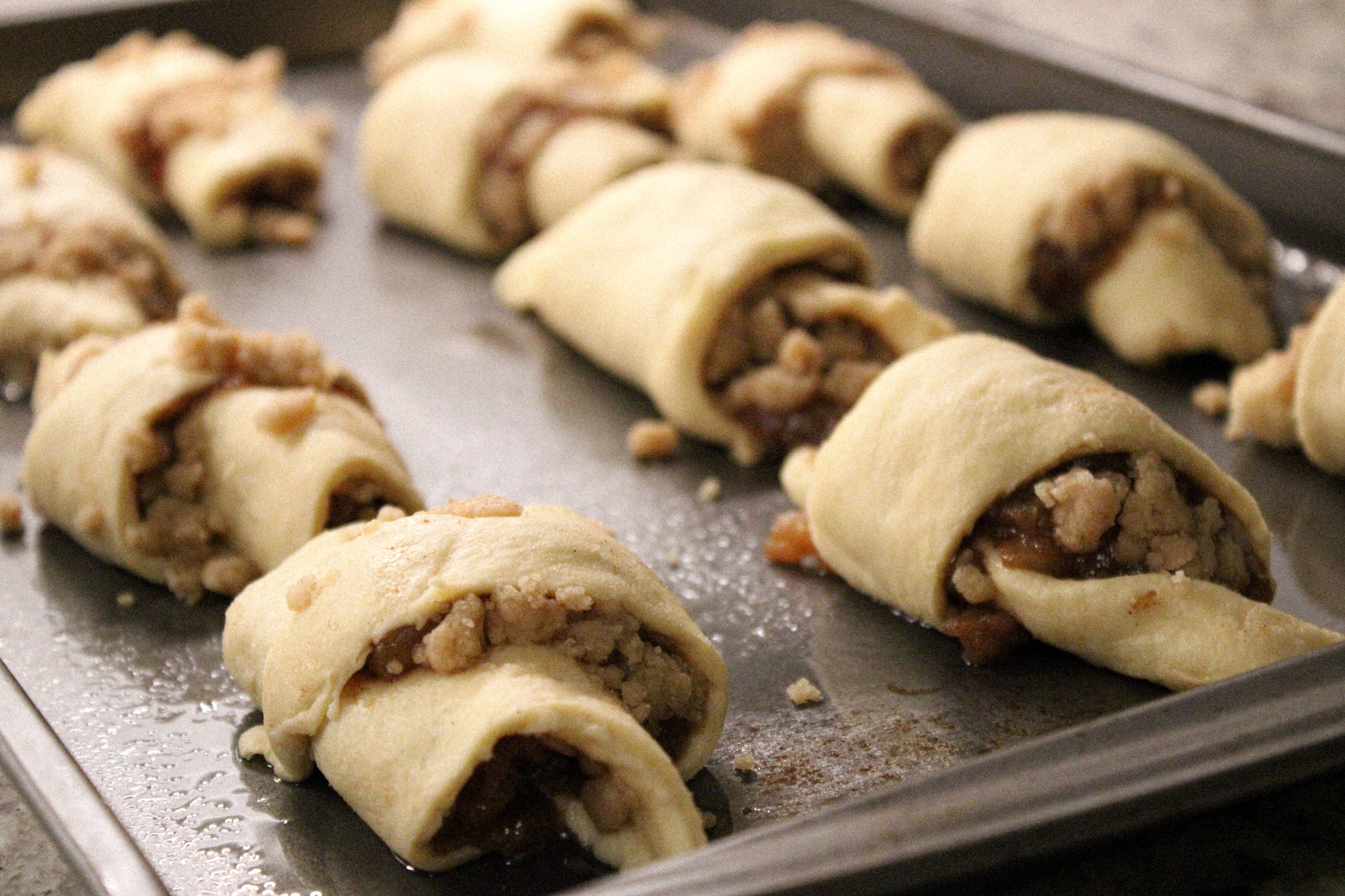 These apple strudel croissants are like a mini apple pie without having to use a fork! They're so simple and easy to prepare, using pre-made pastry dough that cuts your prep time in half. And you end up with a big batch at the end, so you can enjoy these all week long. I recently made them for my family and now my parents have requested them for every birthday, anniversary, and special event.
Make sure to skin your apples before slicing and cooking down, otherwise you'll be picking out apple skins from your filling. In a medium sauce pan or pot, load in your apples, butter, water, sugar, and cinnamon, and cook on medium-high heat. Mix periodically to make sure the apples evenly cook and the ones on the bottom don't burn. If your apples seem to dry out add a little bit more water, about a tablespoon at a time. I suggest cooking your apples down, letting them cool, and putting them in the fridge for 24 hours. Letting the mixture sit overnight creates a strong apple cinnamon flavor.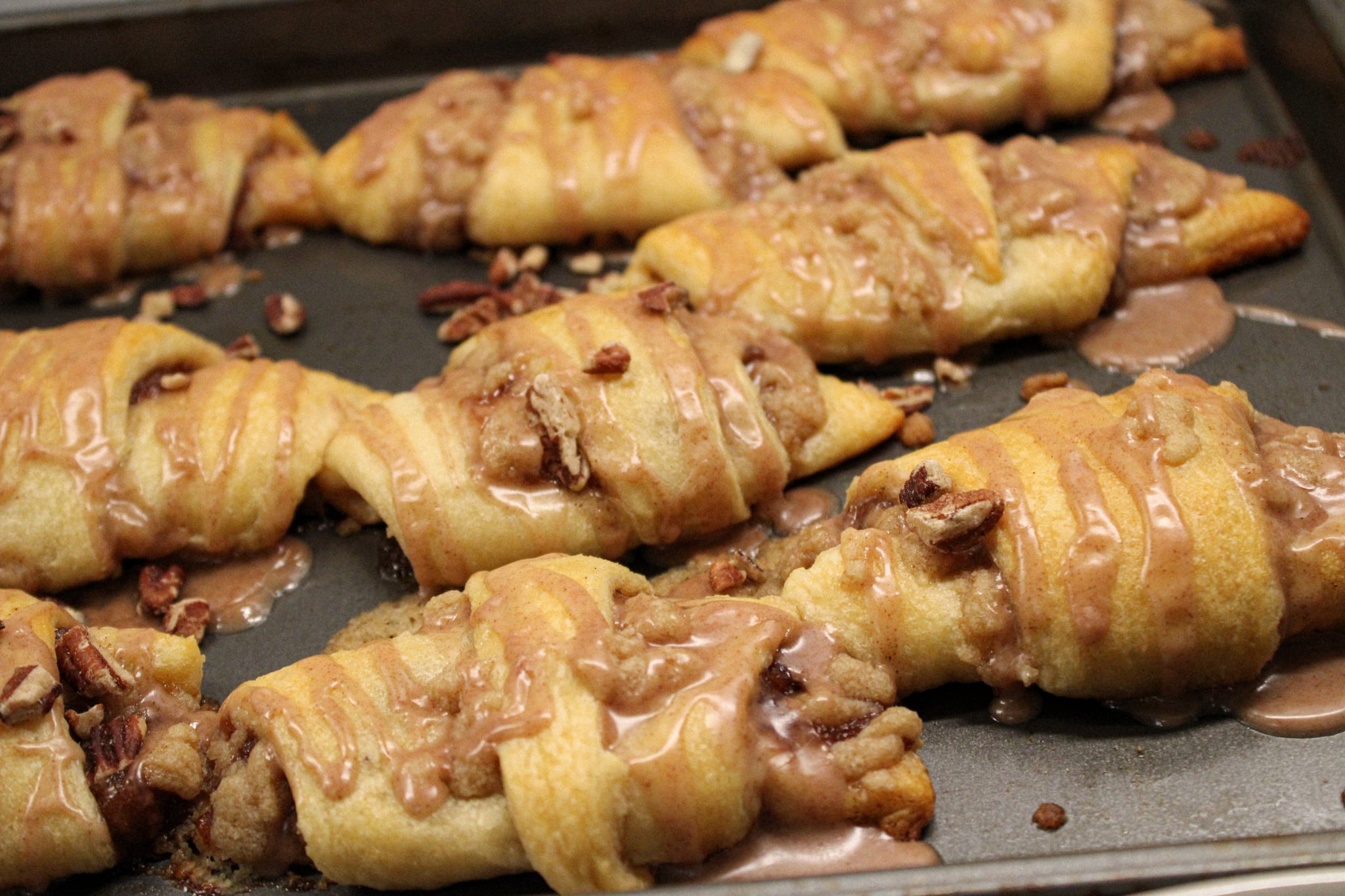 The crumb filling is my favorite part, as it adds a buttery and crumbly texture to the croissants. You'll want to use softened butter to create your crumble, as fully melted butter will only make it into more of a batter consistency. To achieve quick softened butter, just slice your six tablespoons of butter and lay them on a plate. Microwave for 10 seconds, flip each butter slice over and microwave for another four seconds and you should have the perfect softened butter malleable enough to create your crumble.
Finishing these croissants with a glaze is the icing on the cake. I also sprinkled chopped pecans for a bit of a crunch and nutty flavor, but that's totally optional!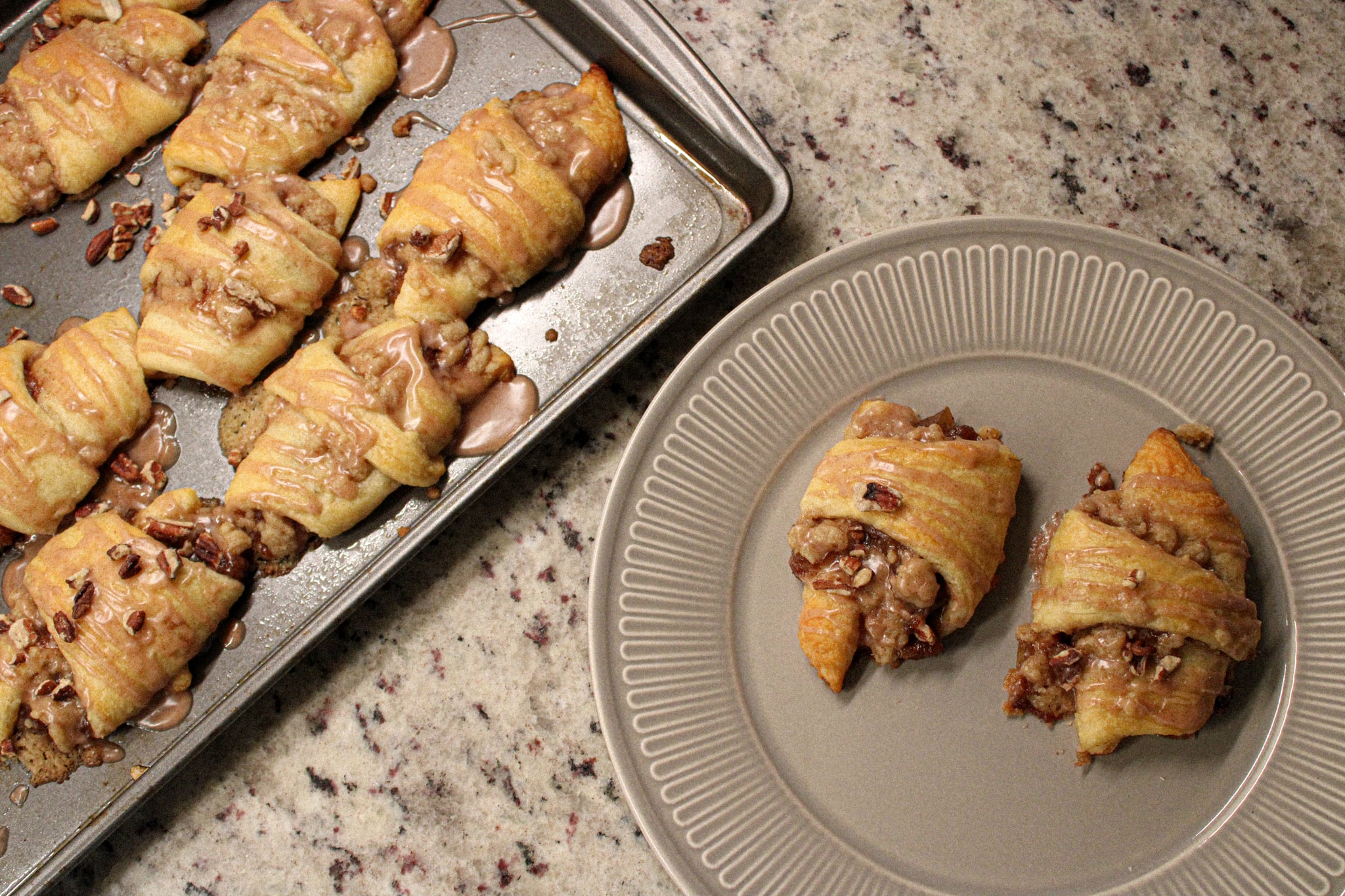 Apple Strudel Croissants
Original Recipe by Taylor Celentano
Ingredients
For the Croissants:
2 tubes of crescent roll dough
4-5 apples (skinned and sliced)
2 tablespoons of butter
2 tablespoons of water
1/2 cup of brown sugar
1 tablespoon of cinnamon
For the Crumb Filling:
6 tablespoons of butter softened
2 1/2 tablespoons brown sugar
2 1/2 tablespoons of organic cane sugar
3/4-1 cup of all-purpose flour
For the Glaze:
1 cup powdered sugar
1 teaspoon cinnamon
A few drops of almond extract
1+ tablespoons of unsweetened almond milk (I used 1 1/2)
Chopped pecan pieces (optional)
Directions
Skin and slice all of your apples, discarding the core.
In a medium saucepan or pot, add in your apples, water, butter, cinnamon, and sugar. Mix often and cook on medium heat for about 12-15 minutes, or until apples are soft and cooked down into mostly mush.
Let your apple mixture cool completely.
Mix together your crumble and let sit in the fridge for 10-15 minutes. Preheat your oven to 375 degrees.
Unroll your pastry dough squares and cut on the perforated lines, creating triangles of dough.
Spread your apple mixture on each, followed by a small handful of crumble, and then roll each and place onto your baking sheet. Repeat for all croissants.
Bake for 17 minutes.
Mix together your glaze. Drizzle generously once the croissants are cooled, sprinkle with pecan pieces, and enjoy!
Information
Category

Breakfast/Brunch

Yield

16 small croissants

Prep Time

30 minutes

Cook Time

17 minutes

Total Time

46 minutes, 59 seconds
Image Source: POPSUGAR Photography / Taylor Celentano