Butternut-Squash Carbonara Recipe and Photos
This Easy Butternut-Squash Carbonara Is Topped With Honey-Glazed Bacon Chips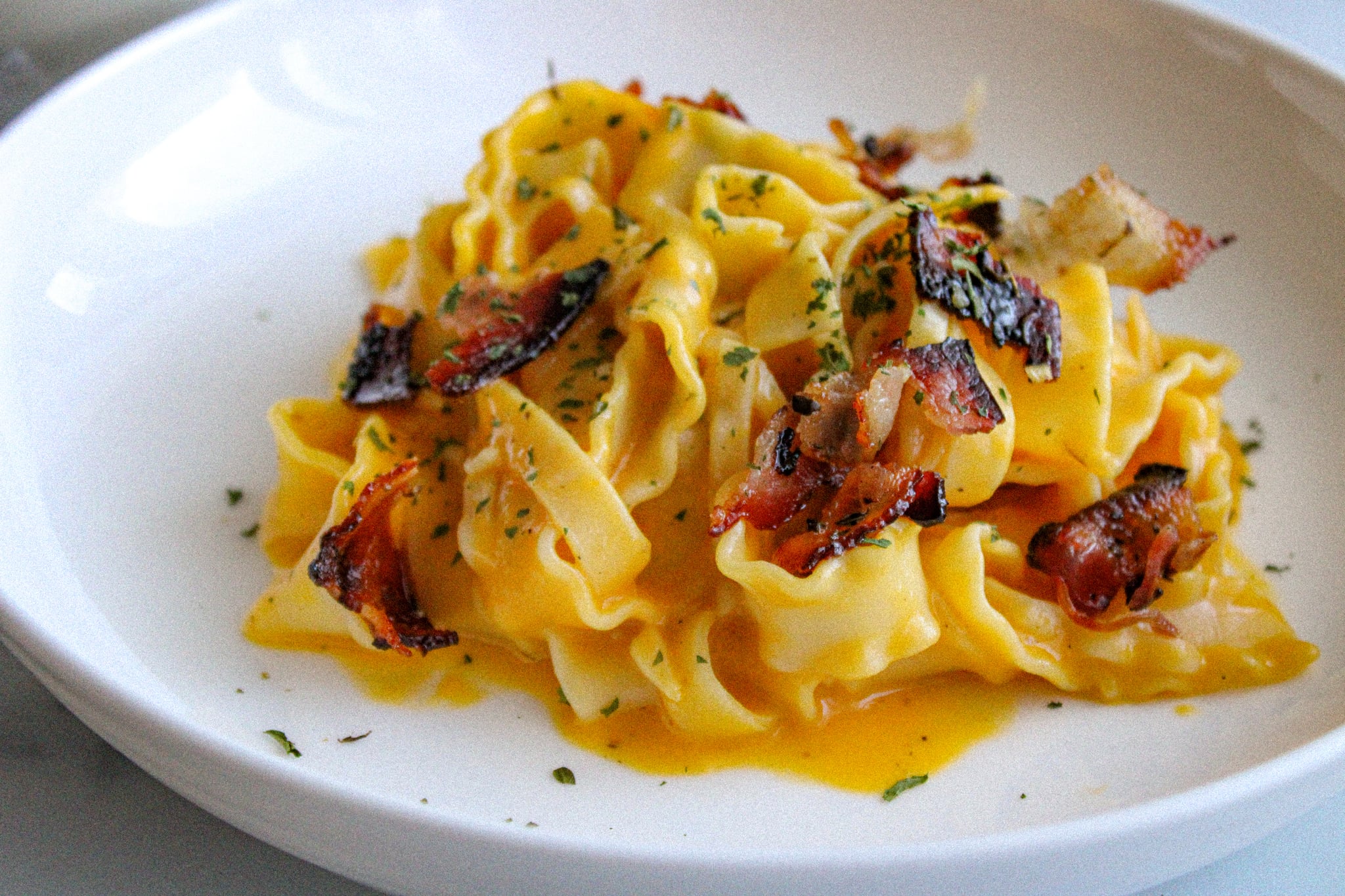 During this time of year, when the days are shorter and the cold temperatures have me dressed in three layers, above all else, I crave cozy comfort food. A warm end-of-day meal is something I look forward to after I shut my laptop for the night and kick my feet up to relax on the couch, and this easy butternut squash carbonara is just that, with a velvety layer of sweet butternut squash sauce that wraps itself around every noodle. And the whole dish is topped with honey-glazed bacon and thyme, so it's truly the coziest of pastas and pairs great with a glass of red wine.
Carbonara is an egg- and cheese-based sauce, and including the pureed butternut squash adds an extra layer of sweet flavor and creates an even smoother texture. Because butternut squash is the MVP of this dish, preparing it is the most important part of this recipe and is the bulk of the prep. Slice your butternut squash down the center (halving it) and, using a spoon, scrape out the seeds and pulp, much like cleaning out a pumpkin. Once your butternut squash is cleaned out, lay both halves on your baking sheet, drizzle with olive oil, and rub the olive oil into your squash. This step will keep the oil from just dripping off and helps to hold your spices in place so they roast into each half properly, which creates layers of delicious flavor.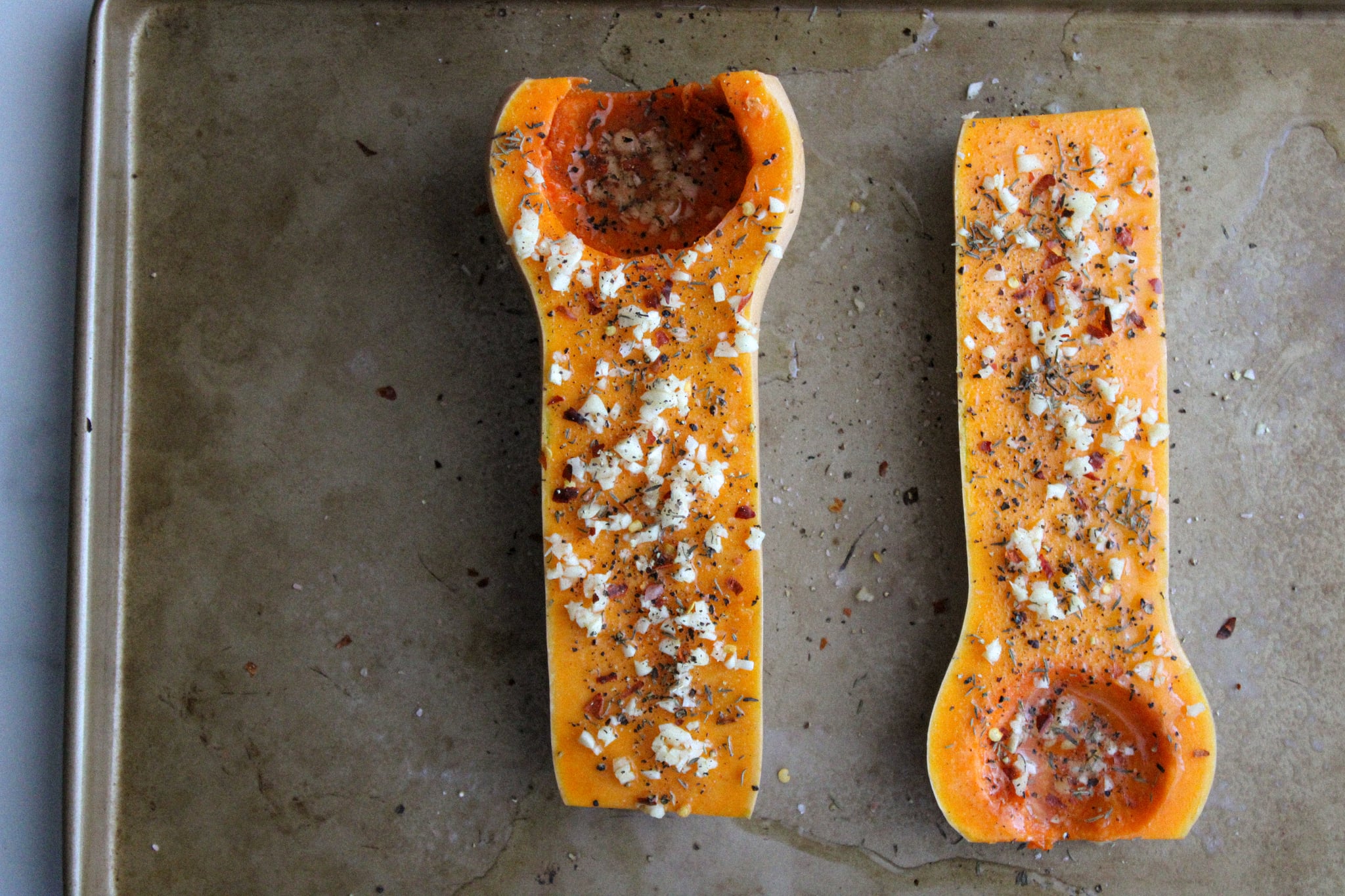 Next, you'll want to layer on your minced garlic and spices evenly. All of these will roast into your squash and give it a full-bodied flavor when you puree it into your sauce. The final step is layering on your bacon, honey, and thyme. Make sure the bacon strips don't overlap; you want them all to cook evenly and to crisp up. Drizzle them with honey and sprinkle your thyme, and roast for about 20-25 minutes. Once your bacon is cooked, remove it from the oven and set it aside. Then put your squash back in for another 20-25 minutes to finish cooking until it's soft. Break your bacon into chips, as you'll be topping your pasta with it later.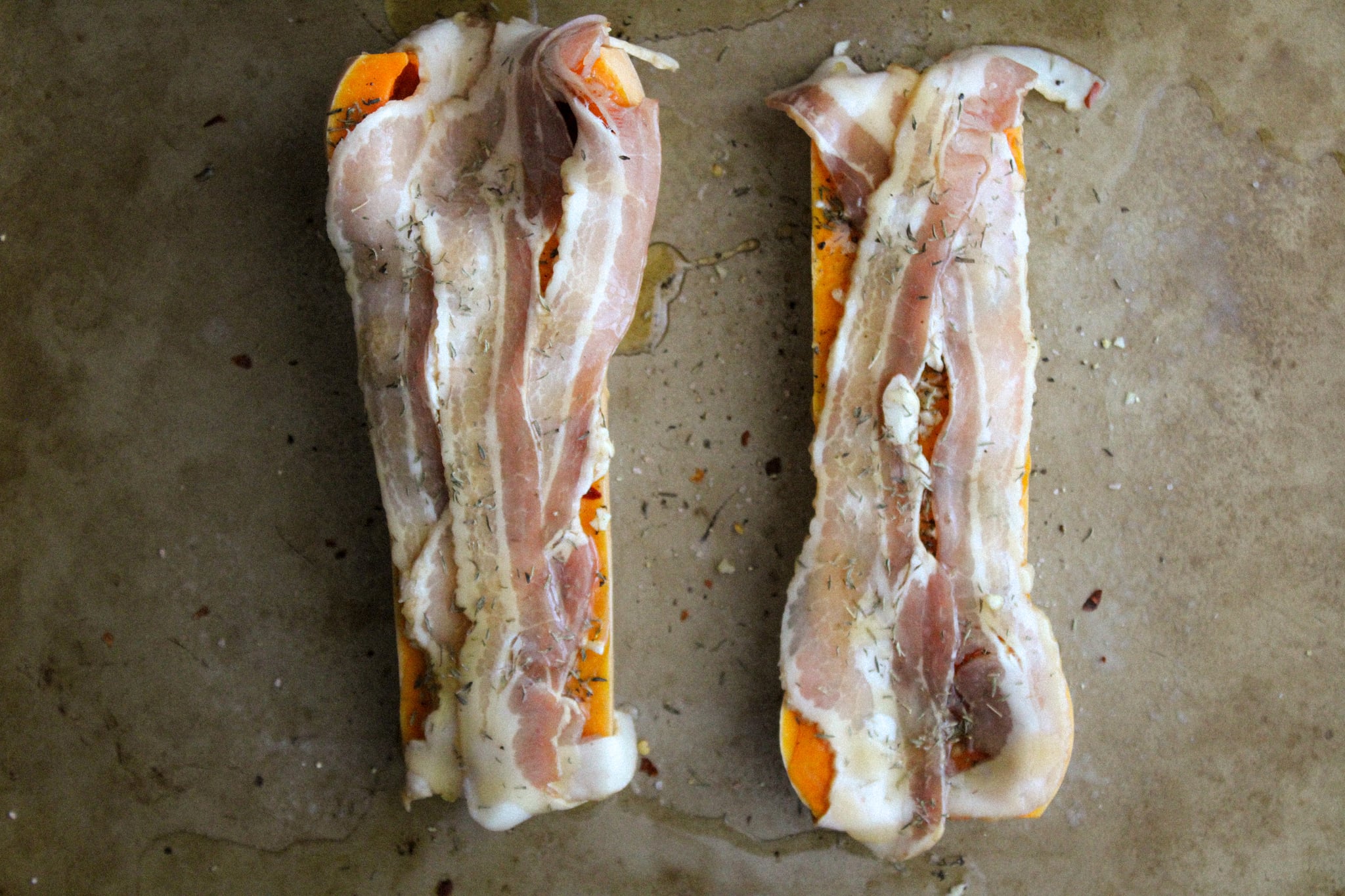 Once your squash is done roasting, carefully scoop it from its outer skin, making sure to include all of the roasted minced garlic, and it place into your blender. Blend together with 1/4 cup of chicken broth until smooth. Depending on what kind of blender you use (I used my Ninja Bullet), you might have to do two rounds of blending to puree all of your squash. Once you've added your egg and cheese mixture for the base of the sauce, follow with your squash puree. Thin out your sauce with a little bit of reserved pasta water until silky smooth. Scoop a big helping onto your plate, top with your honey-glazed bacon chips, and dig in!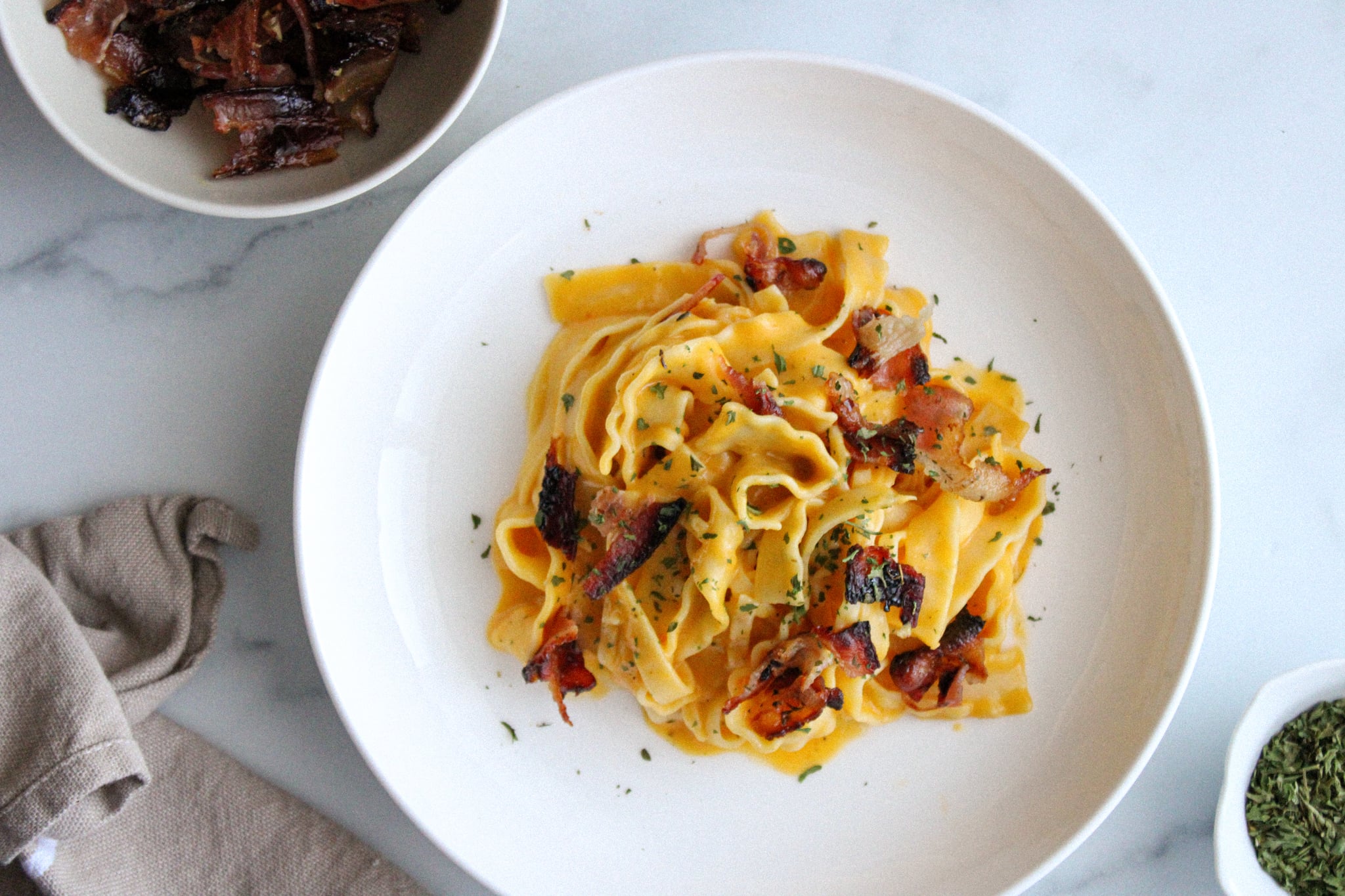 Butternut Squash Carbonara
Original Recipe by Taylor Celentano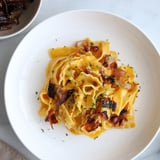 Ingredients
1 tablespoon olive oil
1 small butternut squash, halved
2 tablespoons of thyme, fresh or dried
1/2-1 teaspoon red pepper flakes, optional for added heat
1 teaspoon ground black pepper
4 cloves garlic, finely minced
5-6 slices bacon
2 teaspoons onion salt
2 tablespoons honey
1 pound linguini or spaghetti
2 eggs, scrambled and cooled to room temperature
1 cup grated parmesan
2 tablespoons butter
1 cup pasta water
1/2 cup organic free-range chicken broth
Directions
Preheat your oven to 400 degrees.
On a baking sheet, drizzle each half of your butternut squash with olive oil, then sprinkle your finely minced garlic and spices onto your squash.
Lay your slices of bacon on top of each side of your squash, drizzle your honey evenly, and sprinkle with a little more thyme. Roast for 10 minutes.
Pull your tray out, flip your bacon, and roast for another 10-12 minutes (until your bacon is fully cooked).
Take bacon off and set aside. Return your squash to the oven and roast for another 20-25 minutes, or until you can stick a fork into each side and it's soft.
Scoop the squash and garlic out of the skin and into your blender. Pour in your chicken broth and blend until smooth.
Break your bacon into small chunks and set aside.
Whisk together your eggs and grated parmesan cheese.
Boil your pasta until it's cooked (note: make sure to save one cup of pasta water).
Drain your pasta and return it back to the hot pot. Immediately add the egg/cheese mixture, tossing quickly (ensure the eggs do not scramble) until the eggs thicken and create a sauce.
Add the butternut squash puree and the butter, tossing to combine. Thin the sauce with the reserved pasta water until it reaches your desired consistency.
Plate and sprinkle with a little parsley and honey-glazed bacon chips. Enjoy!
Information
Category

Pasta, Main Dishes

Cuisine

Italian

Yield

4 servings

Prep Time

5 minutes

Cook Time

50 minutes

Total Time

54 minutes, 59 seconds