Copycat Cheesecake Factory Louisiana Chicken Pasta Recipe
I May Have Just Fallen in Love With This Copycat Cheesecake Factory Louisiana Chicken Pasta
If ever a bowl of pasta has deserved to be called exquisite, it's this copycat Cheesecake Factory Louisiana Chicken pasta that includes a spicy Cajun cream sauce. TikTok chef Hajar Larbah (aka @moribyan) shared exactly how to make the cheesy dish at home in just over half an hour, and I'm already adding all of the ingredients to my shopping list.
The dish, which looks and sounds like a mouthful of deliciousness, calls for an array of spices — lemon pepper, Cajun seasoning, parsley, red chili flakes, etc. — and a ton of parmesan, which I'm definitely not complaining about. See the full spicy pasta recipe ahead to whip up a bowl for the whole family, and don't forget to sprinkle some basil on top at the end for the 'gram!
Copycat Cheesecake Factory Louisiana Chicken Pasta
Hajar Larbah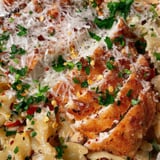 Ingredients
For the Veggies:
1 tablespoon olive oil
2 cups mushrooms
1/2 red bell pepper (diced)
1/2 green bell pepper (diced)
2 teaspoons minced garlic
Diced onions (optional)
For the Sauce:
1 cup heavy cream
1/2 cup chicken stock
2 tablespoons Cajun seasoning
1 tablespoon lemon pepper
1 tablespoon chopped parsley
1/2 teaspoon onion powder
1/2 teaspoon oregano
1/4 cup shredded parmesan
Salt (to taste)
Dried or fresh basil (optional)
For the Chicken Pasta:
2 large chicken breasts (halved)
3/4 cups Italian breadcrumbs
1/4 cup grated parmesan
1 tablespoon Italian dressing
Pasta of your choice
1 large egg
Pepper
Salt
Red chili flakes (optional)
Directions
Add the olive oil and minced garlic to a medium skillet and cook the bell peppers, mushrooms, and onions until softened.
Next, add all of the sauce ingredients to the pan, including the heavy cream, chicken stock, Cajun seasoning, lemon pepper, parsley, onion powder, oregano, salt, basil, and parmesan.
Bring the mixture to a boil until thickened and remove from the heat.
In a small bowl, whisk the egg, salt, and pepper. Set aside.
In a separate bowl, stir together the Italian breadcrumbs, parmesan, and Italian dressing.
Next, set your pasta to boil in a pot of salted water.
While the pasta is cooking, coat each halved chicken breast in the wet egg mixture, followed by the dry breadcrumb mixture. Repeat this step until all the chicken breasts are coated.
Fry the chicken breasts in a thick layer of oil until golden brown on both sides and cooked all the way through.
Toss the drained pasta in the thickened cream sauce.
Slice the chicken into strips and lay it flat across the top of the pasta.
Add a sprinkle of parmesan and chili flakes for garnish and enjoy!
Information
Category

Pasta, Main Dishes

Yield

Serves 4

Prep Time

15 minutes

Cook Time

25 minutes

Total Time

39 minutes, 59 seconds