Chrissy Teigen's Minestrone Soup Recipe and Photos
Chrissy Teigen's Minestrone Soup Recipe Includes Thick Slices of Crispy Chili Toast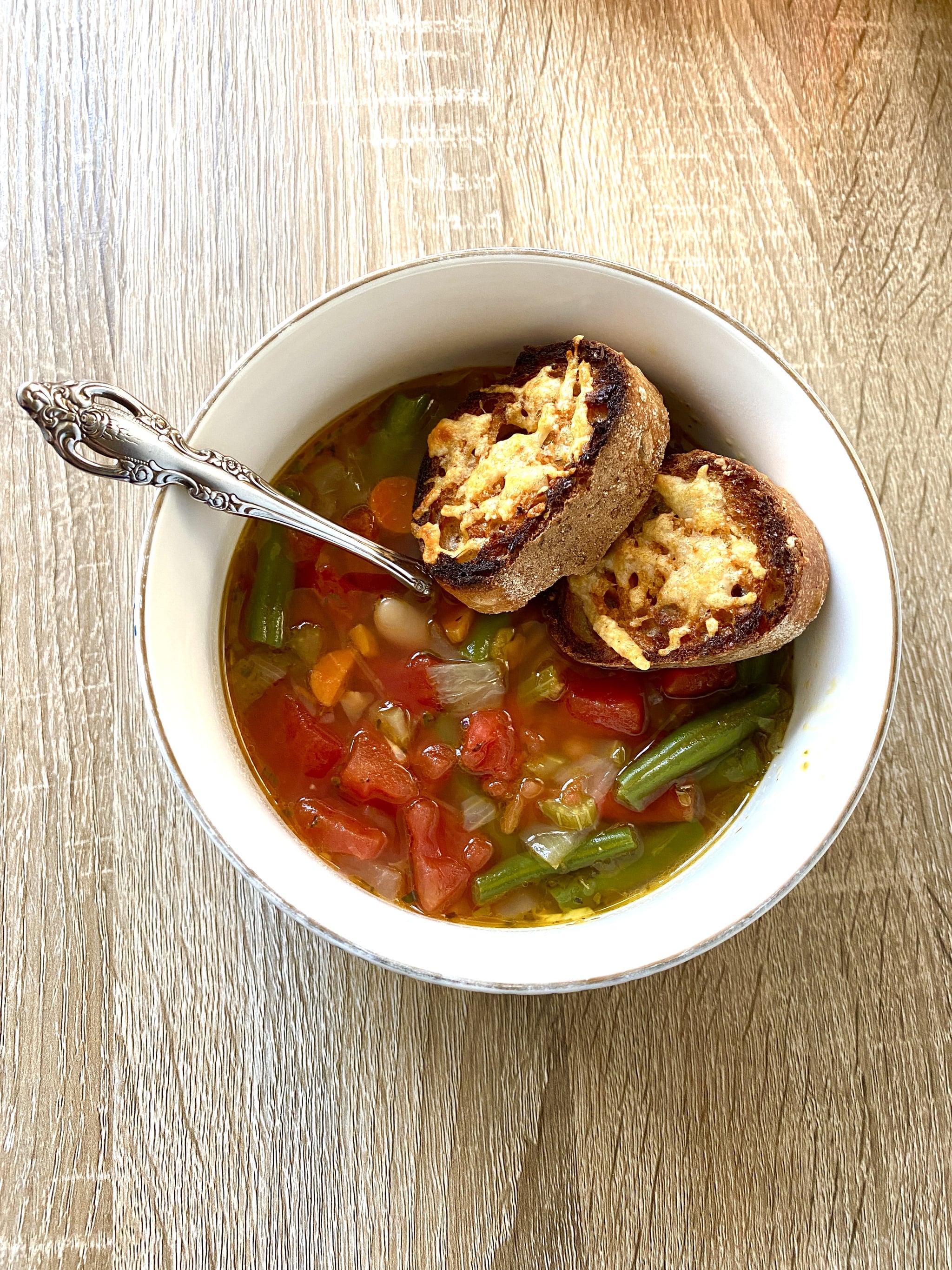 Chrissy Teigen's recipes have never let me down. From her banana bread to her drunken noodles, everything of hers I make I love, so when I discovered her minestrone soup recipe, it seemed like the perfect hearty, cozy, and healthy recipe to try in February. I already love minestrone, but her addition of chili mayo toasts take this recipe from simple to downright restaurant-quality. My boyfriend isn't a soup person, but we were practically fighting over the toasts!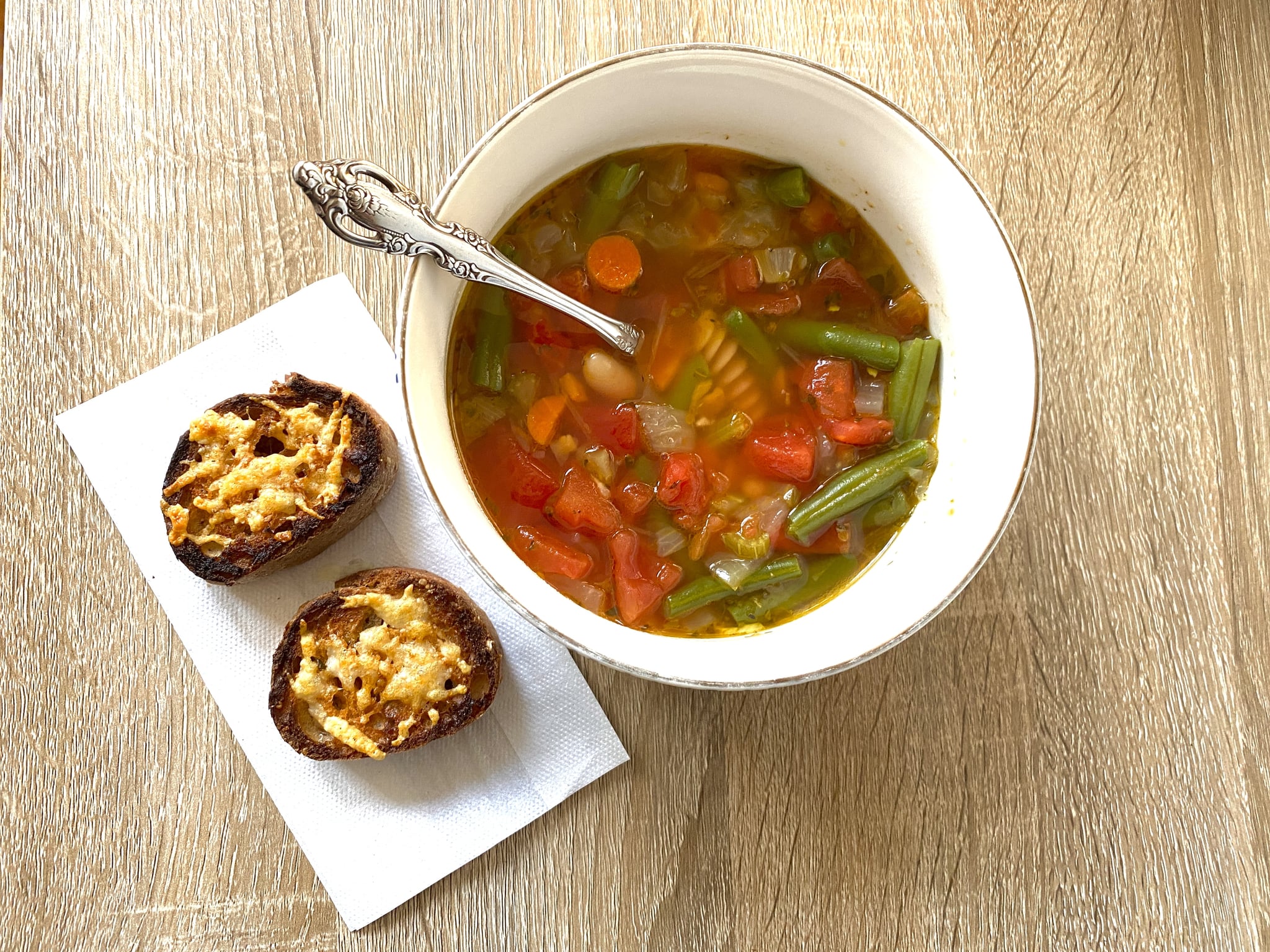 The soup itself is fairly straightforward: you start with a base of onions, carrots, and celery, then add canned ingredients (thanks for the easy recipe, Chrissy!) like green beans, diced tomatoes, and cannellini beans. Read the recipe carefully, because only certain canned ingredients need to be drained. Bring everything to a boil, toss in some pasta, and cook until the pasta is tender. I'd never made soup with pasta in it, but now that I know how well noodles can absorb the flavor of the broth, I'm never going back.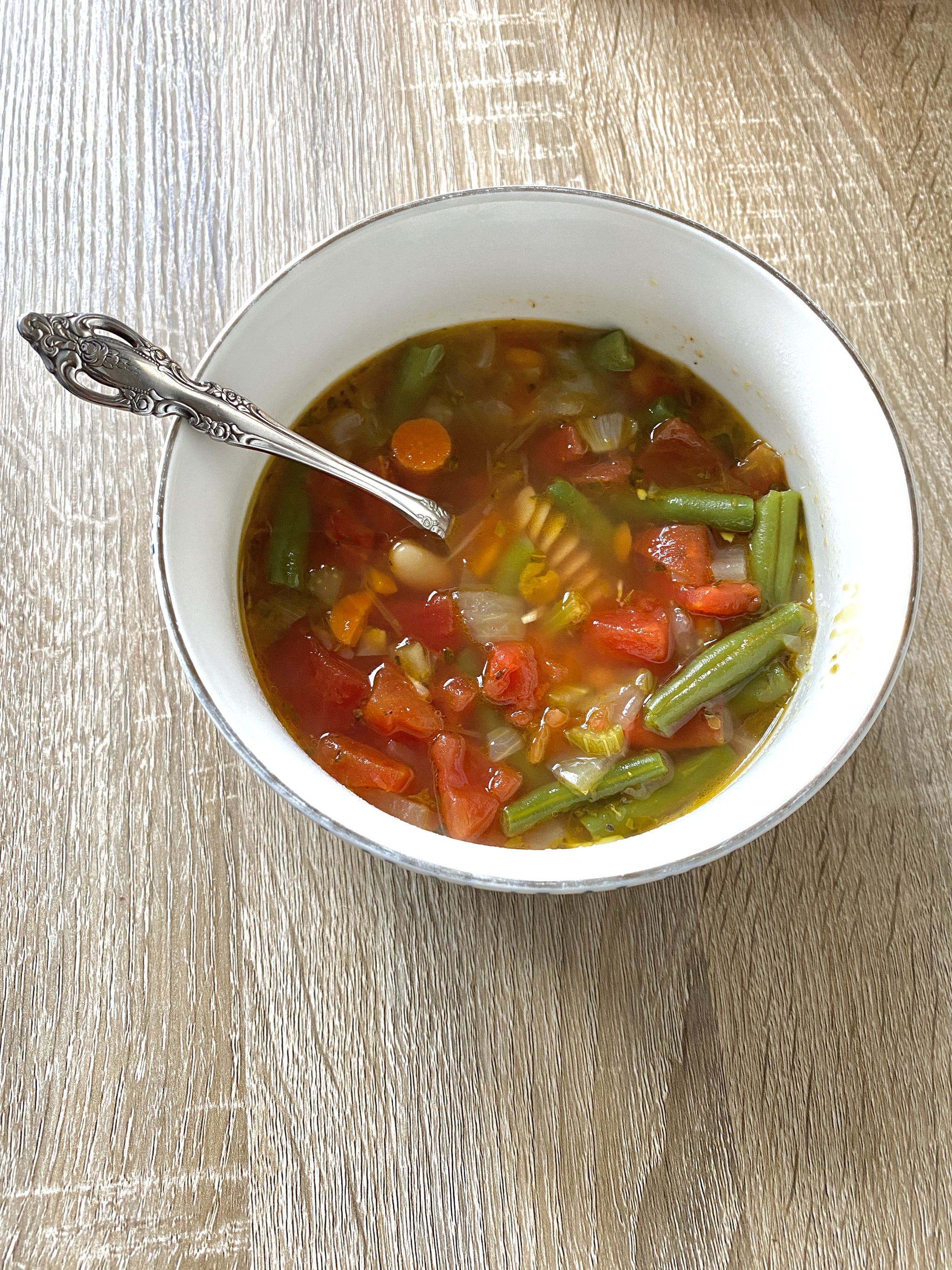 The chili mayo toasts are also easy: you brush baguette slices with chili oil and mayo, then broil until toasty. If you can't find chili oil, Chrissy's recipe is wonderfully simple: just simmer one cup of vegetable oil with two tablespoons of red pepper flakes for five minutes, then let it cool.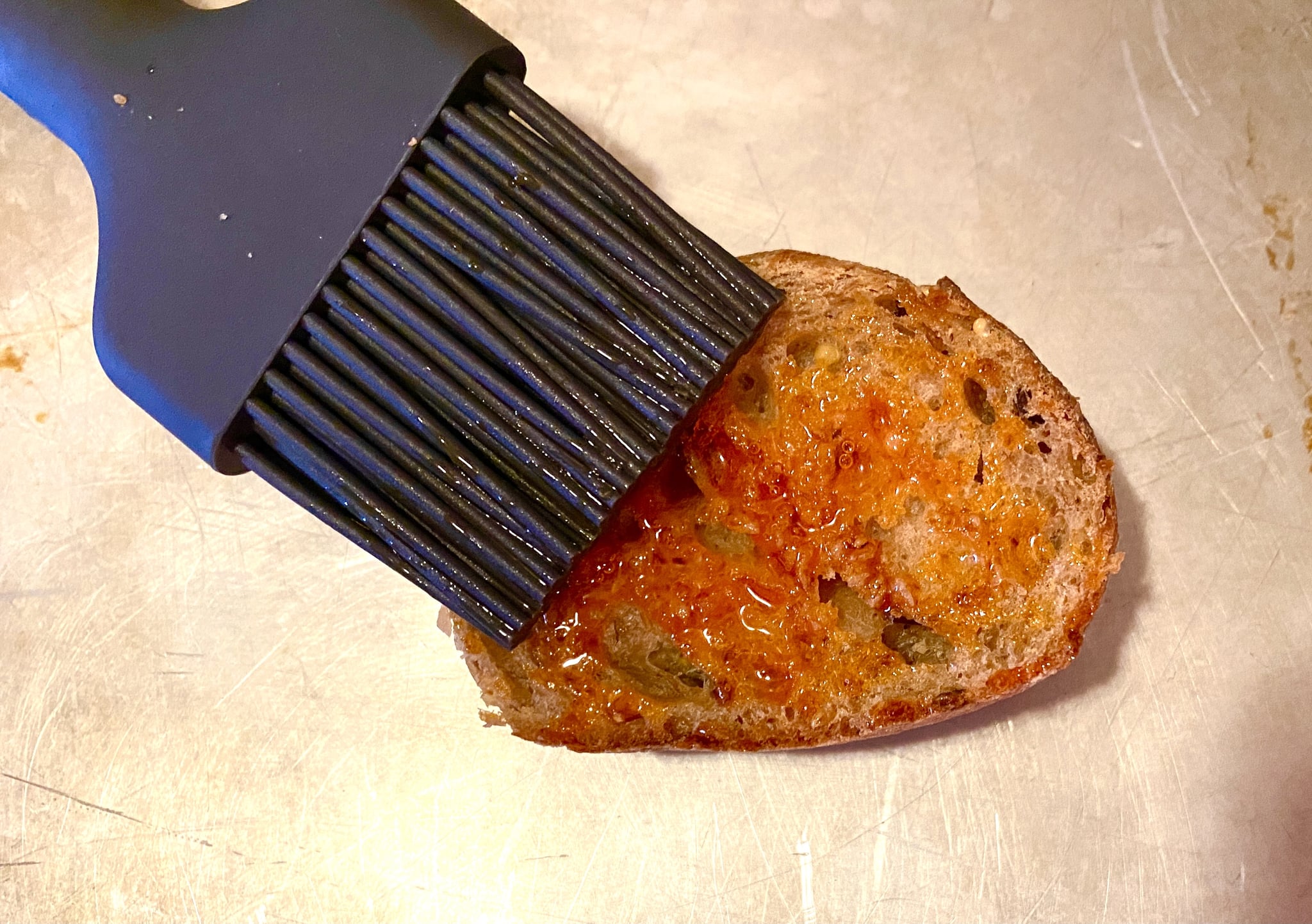 I love the creative twists that Chrissy puts on traditional recipes, and her chili mayo toasts are no exception. I also tried using parmesan in place of the mayo, and those toasts were equally amazing. I'd definitely recommend this soup if you need a cozy meal, or to feed a crowd! It's easy, thanks to the canned ingredients, and sure to impress, thanks to Chrissy's creativity.
Chrissy Teigen's Parmesan Minestrone with Chili Mayo Toasts
Food 52
Notes
For the short pasta, Chrissy uses wheels; I used rotini because I couldn't find wheels. Make sure you keep a close eye on the chili mayo toasts, as mine cooked quickly!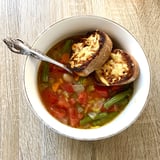 Ingredients
For the Parmesan Minestrone:
3 tablespoons olive oil
1 large onion, cut into 1/2-inch dice
6 cloves garlic, minced
2 medium carrots, cut into 1/2-inch dice
2 celery stalks, cut into 1/2-inch dice
7 cups vegetable or chicken broth
1 (28-ounce) can diced tomatoes in juice
1 (15-ounce) can cannellini beans, drained and rinsed
1 (15-ounce) can green beans, undrained (or use 1 1/4 cups fresh green beans cut into 2-inch lengths, plus 3/4 cup water)
1 teaspoon dried basil
1 teaspoon dried oregano
1 pinch kosher salt, plus more to taste
1 pinch freshly ground black pepper, plus more to taste
1/4 teaspoon red pepper flakes
2/3 cup short pasta
1 cup finely grated Parmigiano-Reggiano cheese, plus more for garnish
For the Chili Mayo Toasts:
16 thin slices baguette
2 tablespoons chili oil, plus more to taste
1/2 cup mayo, plus more to taste
Directions
First, make the soup. In a large soup pot, heat the oil over medium heat. Add the onion and cook until tender and translucent, about eight minutes.
Add the garlic and cook one additional minute.
Add the carrots and celery and cook until slightly softened, about four minutes.
Add the broth, diced tomatoes, cannellini beans, green beans (with the liquid from the can), basil, oregano, salt, black pepper, and red pepper flakes. Increase the heat to high, bring to a boil, then reduce to a simmer and cook until the liquid thickens slightly, about 20 minutes.
Add the pasta and cook until tender, another 10 minutes or so. Stir in the Parm and season to taste with salt and black pepper. Garnish with more Parm. (If the soup cools completely, it'll thicken a lot because of the starch in the pasta. If it's too thick for you, add a little water or broth when you reheat it.)
For the chili mayo toasts, preheat the broiler to low (or if you just have one broiler setting, position the oven rack so it's not right under the broiler).
Brush one side of the toasts with a bit of chili oil (the bread will drink in the oil), then spread each toast with a light layer of mayo and season with salt and pepper to taste. Broil on a baking sheet until golden and toasty, watching the broiler so the bread doesn't burn, 1-3 minutes depending on the broiler. You can also add cheese if you prefer.
Serve the soup with a few toasts and enjoy!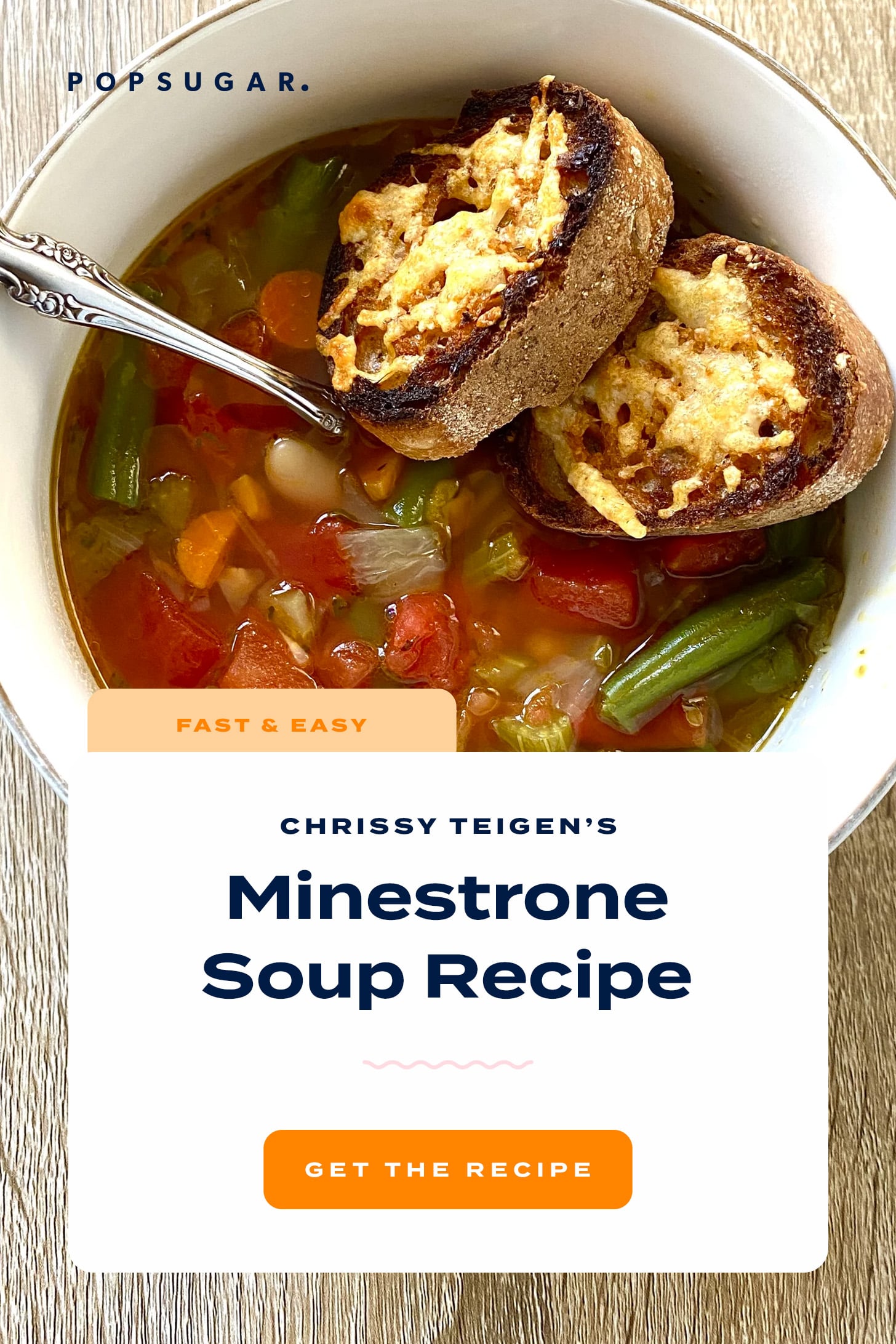 Information
Category

Main Dishes, Soup

Yield

Serves 8

Prep Time

25 minutes

Cook Time

1 hour

Total Time

1 hour, 24 minutes, 59 seconds
Image Source: POPSUGAR Photography / Kaley Rohlinger