Chrissy Teigen's Pulled Barbecue Chicken Recipe
Chrissy Teigen's Easy Pulled Barbecue Chicken Is My Favorite Go-To Meal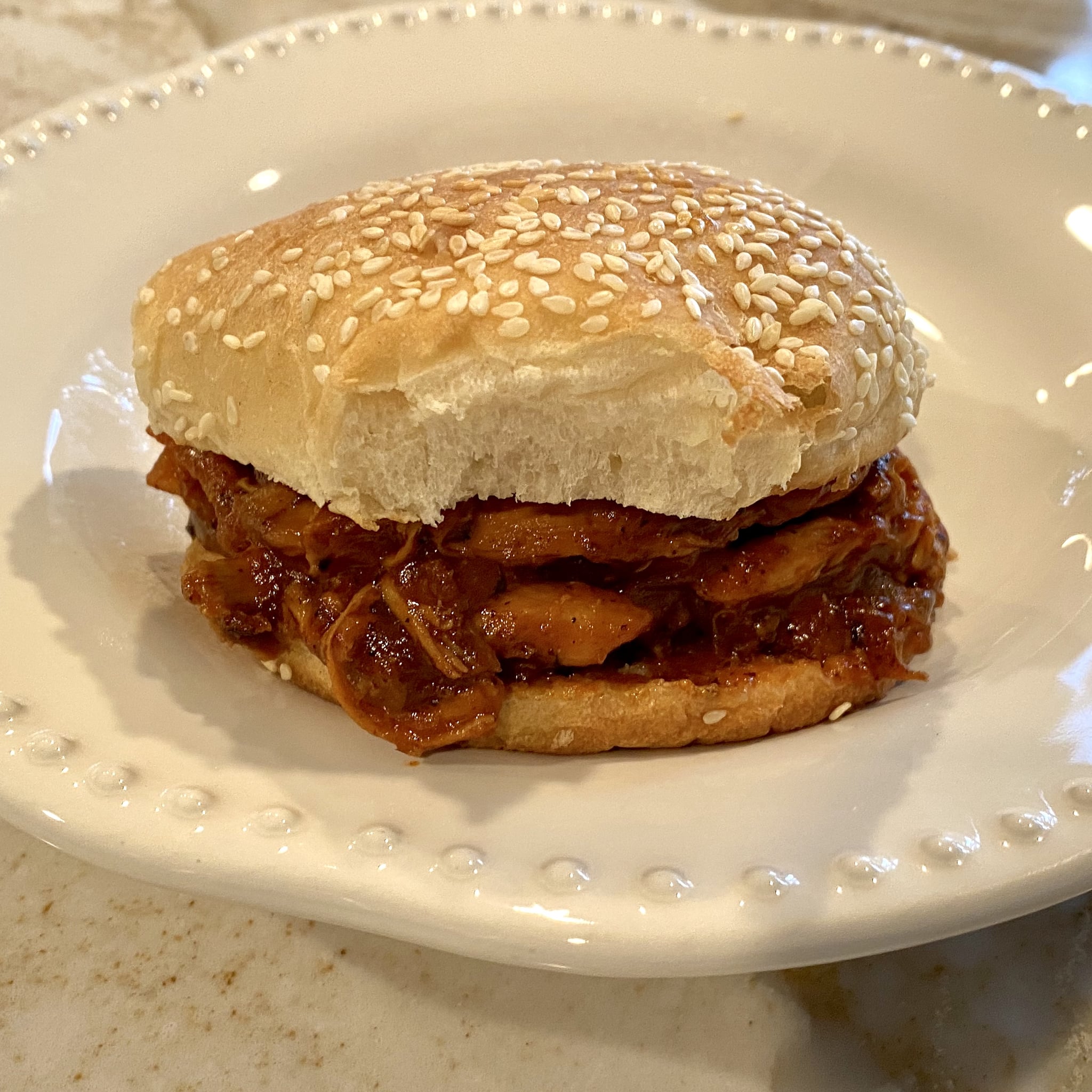 Pulled barbecue chicken doesn't get the love it deserves compared to beef and pork. While they're all delicious, chicken can dry out more easily, but as someone who isn't a big fan fan of beef or pork, I was thrilled to find a recipe for pulled barbecue chicken — especially one that came from Chrissy Teigen! Her recipes are as delectable as her tweets, so I was so excited to try this one.
Chrissy's answer to dry barbecue chicken? Chicken thighs. Plus a lot of sauce, simmering, and love. Chicken thighs have more fat, and therefore more flavor, than chicken breasts. To make this recipe, you start by browning the chicken thighs, then remove them from the skillet to make the barbecue sauce. Once the sauce is ready, add the thighs back in: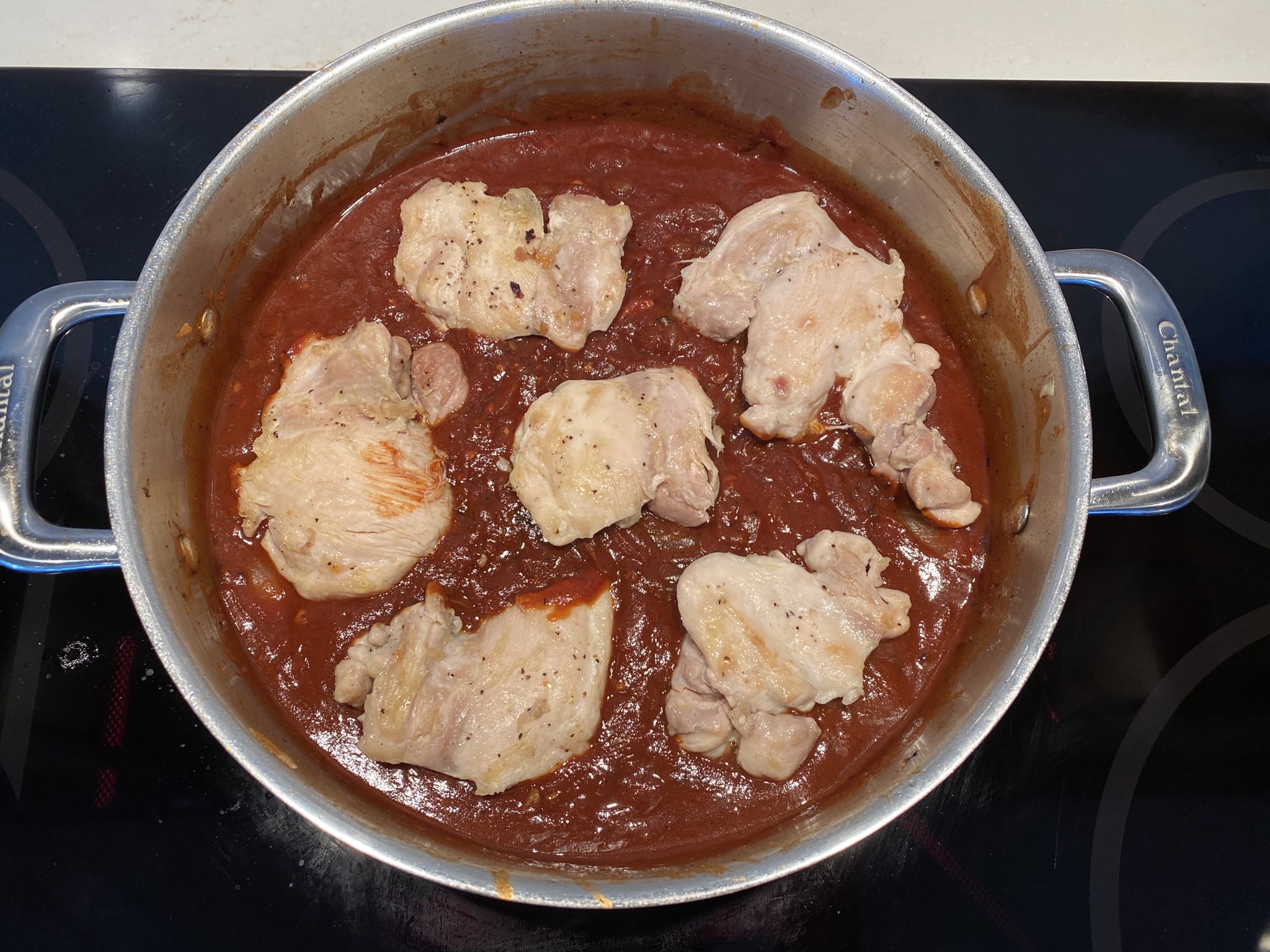 Then simmer for an hour, and shred with two forks.
This recipe is super simple for how delicious it is, and I love that you can prep it in advance and let it simmer until you're ready to eat. You can then enjoy it as is or on a bun for a delicious sandwich. And while it doesn't necessarily photograph well, I promise it's so, so delicious. Besides, when you're following Chrissy's clearly-written and personality-packed instructions, what could go wrong?
Chrissy Teigen's Pulled Barbecue Chicken
Cravings: Hungry for More
Notes
If you can't find chipotle peppers canned in adobo sauce, you can substitute hot sauce to taste.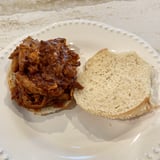 Ingredients
1 1/2 pounds boneless, skinless chicken thighs
Kosher salt and freshly ground black pepper
2 tablespoons canola oil
1 small yellow onion, thinly sliced
3 cloves garlic, minced
2 tablespoons tomato paste
1/2 cup ketchup
1/3 cup tomato sauce
1/4 cup apple cider vinegar
2 tablespoons dark brown sugar
1 tablespoon finely chopped canned chipotle pepper in adobo sauce
1 teaspoon mustard powder
Directions
Season the chicken thighs generously with salt and pepper.
In a medium dutch oven (I don't have a dutch oven, so I used my largest skillet), heat the canola oil over medium-high heat until shimmering hot.
Add the chicken and brown it until golden all over, about 3 to 4 minutes each side.
Transfer the chicken to a plate once it's browned and set aside.
Add the onion to the same skillet or dutch oven and cook, stirring until golden, about 9 to 10 minutes.
Add the garlic and cook 2 more minutes.
Add the tomato paste and cook, stirring for 2 minutes.
Add the ketchup, tomato sauce, 1/4 cup water, vinegar, brown sugar, chipotles, mustard powder, 1/2 teaspoon salt, and 1/2 teaspoon pepper.
Bring to a boil, then reduce to a simmer and cook uncovered until the sauce is thick, about 4 to 5 minutes.
Return the chicken and any juices to the pan, cover, and simmer until the chicken is very tender, about one hour.
Shred the chicken with two forks, and keep covered in the dutch oven until ready to serve.
Information
Category

Main Dishes

Yield

Serves 6

Prep Time

1 hour, 30 minutes

Cook Time

30 minutes

Total Time

1 hour, 59 minutes, 59 seconds
Image Source: POPSUGAR Photography / Kaley Rohlinger