Dash Pumpkin Mini Waffle Maker Review
I Tried the Viral $20 Kitchen Tool That Makes Mini Waffles Shaped Like Pumpkins
As POPSUGAR editors, we independently select and write about stuff we love and think you'll like too. If you buy a product we have recommended, we may receive affiliate commission, which in turn supports our work.

Image Source: walmart.com
Fall is hands down my favorite time of year. That said, you can best bet that I go all out when it comes to getting festive — from piling on the cozy blankets and lighting all of the autumn-scented candles to experimenting with buzzy food and drink, like Trader Joe's Pumpkin Oat Milk and the grocery chain's new Pumpkin Joe-Joe's.
But my latest obsession is unlike the others. Enter the Dash Pumpkin Mini Waffle Maker ($29) that I found on Walmart's website and couldn't resist. I had heard about the kitchen-appliance brand before, as its Mini Pie Maker recently went viral on TikTok, but this version was entirely new to me. After a quick Google search of the product, I uncovered that it has nearly perfect reviews across the board, so naturally, I added it to my virtual shopping cart.
When the tiny waffle maker arrived in my mailbox a few days later, I was so excited that I admittedly decided to make them for dinner (brinner, if you will). I pulled a box of Trader Joe's Gluten Free Pumpkin Pancake Mix (yes, I do, in fact, have a pumpkin problem) out of the cupboard and whipped up the batter.
From there, I poured three tablespoons of batter into the waffle maker, which, per Dash's suggestion, is the recipe for a "perfect pumpkin." The brand wasn't wrong. Just about two minutes later, the light on the device flashed green, and I opened up the waffle maker to find a perfectly crisp waffle. I repeated the process three times before taking some photos and then finally digging into the sweet treat.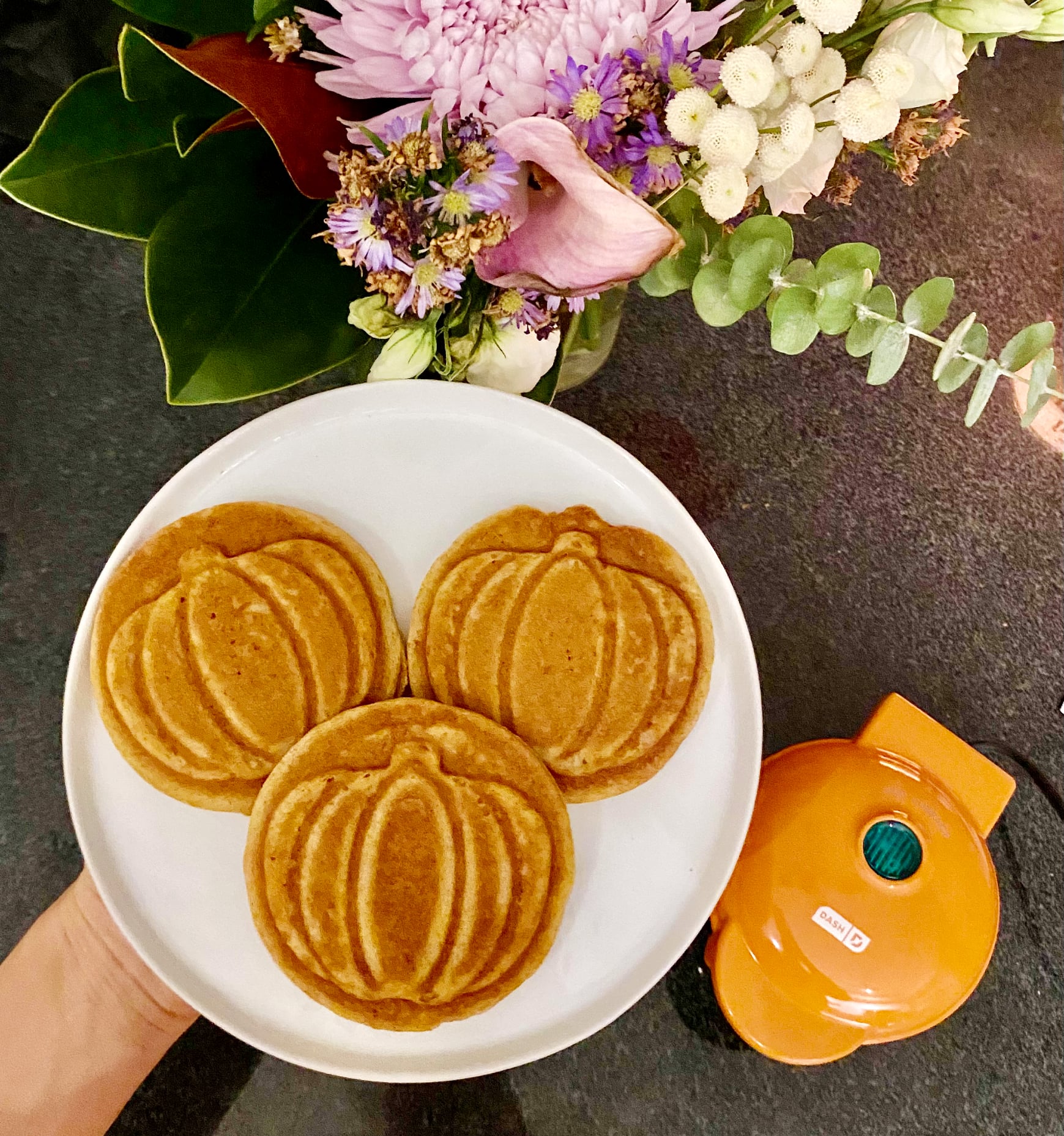 My *only* complaint/warning to potential buyers is that it would take quite a long time to make a large order of these pumpkin-shaped pancakes. Nevertheless, you won't be disappointed if you're using it to make a snack or a breakfast (brinner?) for one or two.
The takeaway? I have no regrets about adding this kitchen appliance to my cart. Since it's so tiny, I love that I can store it away for next fall without having to worry about making any room for it in my apartment's cabinets.
In the meantime, though, I intend to continue using my pumpkin waffle maker religiously (perhaps more than I should). And when, er, if that gets old, I'll heed the brand's recommendation to try making mini paninis and hash browns in it because, let's face it — everything tastes better when it looks like a pumpkin. Shop the Dash Pumpkin Mini Waffle Maker at Target ($13), Nordstrom ($13), and Amazon ($15).
Image Source: POPSUGAR Photography / Marisa Petrarca