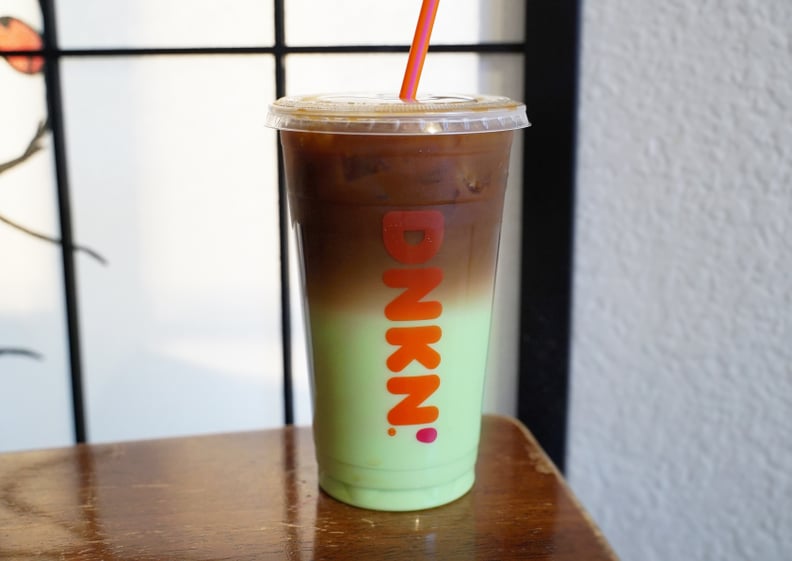 POPSUGAR Photography | Kalea Martin
POPSUGAR Photography | Kalea Martin
As someone who already drinks their fair share of Iced Caramel Macchiatos, there's not much Dunkin' has to do to get me to try a new version of the beverage. I look forward to Pumpkin Spice Macchiatos every year, and I'm still holding out hope that the Sugarplum Macchiato will one day make its way back to the menu. In the meantime, however, I've been excited to try the coffee chain's newest seasonal item, the Shamrock Macchiato.
The Shamrock Macchiato bears a striking resemblance to the McDonald's Chocolate Shamrock Shake, being that it is also half green, half brown. After trying it, though, it's, dare I say, so much tastier. The milk layer at the bottom is the most artificial shade of green you can imagine, but the flavor fortunately is not. In fact, it's neither mint nor lime as you might expect; instead, just as the menu promises, it simply tastes of the chain's Irish Creme — an add-in that you can actually get in your macchiato year-round. The Irish Creme is a lot like their unsweetened vanilla but with a hint of Irish cream liqueur, and it's really good.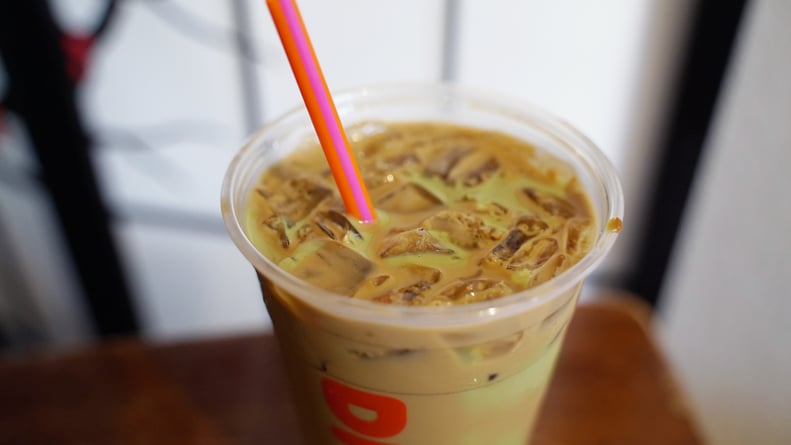 Dunkin's Shamrock Macchiato is definitely catered toward coffee-lovers, because the espresso flavor is far more intense than the green stuff, but even those who take their coffee sweet might want to add some sugar. Though it almost looks like a milkshake, this drink (if you order it as it comes) is definitely not one of Dunkin's sweeter offerings — it's still a macchiato, after all. But because iced macchiatos are my go-to anyway, I personally ended up enjoying this one and would order it again.
To be fair, the actual flavor isn't anything out of the ordinary, but drinking a festive, spring-themed drink with a bit of green food coloring certainly makes for a great pick-me-up, and of course the espresso in it helps with that, too. If you'd like to try the Shamrock Macchiato for yourself, just make sure to stop by a Dunkin' before St. Paddy's Day is over. I'd say it's worth the five bucks, and who can turn down the extra bit of luck?