Gatsby Chocolate Editor Review
I Taste-Tested This New Low-Cal Chocolate, and Wow, It Did Not Disappoint
Chocolate is a staple in my house. Growing up, my parents would keep a one-pound bar of dark chocolate in the pantry, breaking off a piece or two after dinner or whenever they needed a pick-me-up. The habit — and a serious sweet tooth — stuck with me into adulthood.
So when I heard about Gatsby Chocolate — the lowest calorie chocolate on the market with half the calories of other premium chocolate — I immediately volunteered to taste-test it. Created by the cofounder of Halo Top, this chocolate has just 60 to 70 calories per serving, depending on the flavor, and about a quarter of the sugar in a typical chocolate bar. The secret, patent-pending recipe uses MCT oil, and all the bars are keto-friendly. Plus, people are absolutely raving about it: There are thousands of reviews, with reviewers calling it "absolutely amazing chocolate that I want to eat every day" and saying "I've stopped buying any other chocolates." Gatsby Chocolate has also been all over my For You Page whenever I scroll TikTok — it seems like everyone is obsessed with it.
With more than 1,000 five-star reviews online, I had to try it for myself. For a chocolate lover like me, the idea of a treat that I can eat more of without thinking twice about the calorie count is undoubtedly appealing. I taste-tested three Gatsby Chocolate bars, as well as the brand's take on peanut-butter cups, and my sweet tooth was definitely satisfied. Keep reading for my full review of each flavor.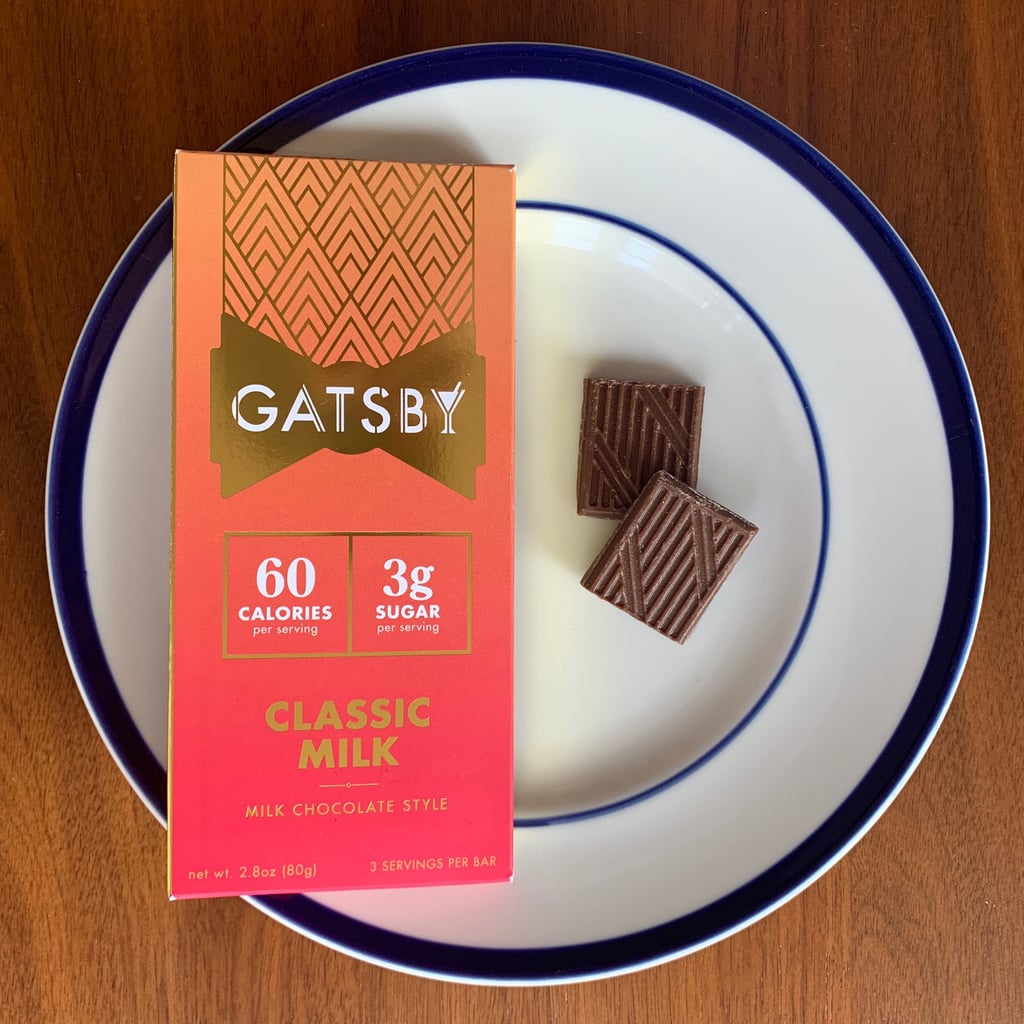 Image Source: POPSUGAR Photography / Annalise Mantz
Classic Milk
I'm usually a dark-chocolate girl, so I was surprised at how much the Classic Milk Chocolate Style bar impressed me. The sweet, creamy flavor was what I'd expect in a typical bar of milk chocolate. Milk chocolate feels a bit more indulgent than dark chocolate, with a hint of nostalgia for childhood candy bars. It's hard to believe one-third of this chocolate bar has only 60 calories and 3 grams of sugar.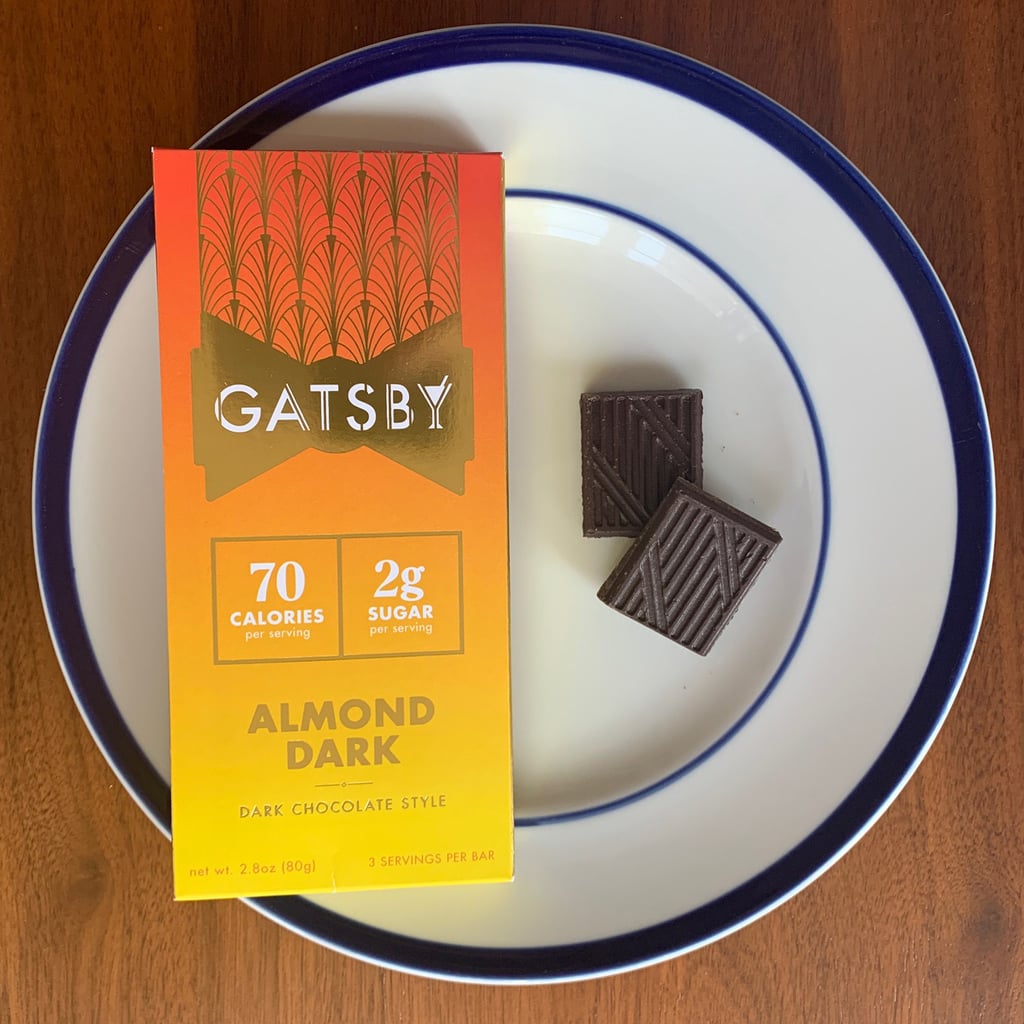 Image Source: POPSUGAR Photography / Annalise Mantz
Almond Dark
Chopped roasted almonds are folded into melt-in-your-mouth dark chocolate in the Almond Dark Chocolate Style bar. The almost buttery nuttiness of the almonds is a lovely complement to the more intense dark-chocolate flavor. I found myself reaching for another piece as soon as I'd finished the first square of this bar — and I didn't feel any guilt, since it has half the calories of other premium chocolate brands.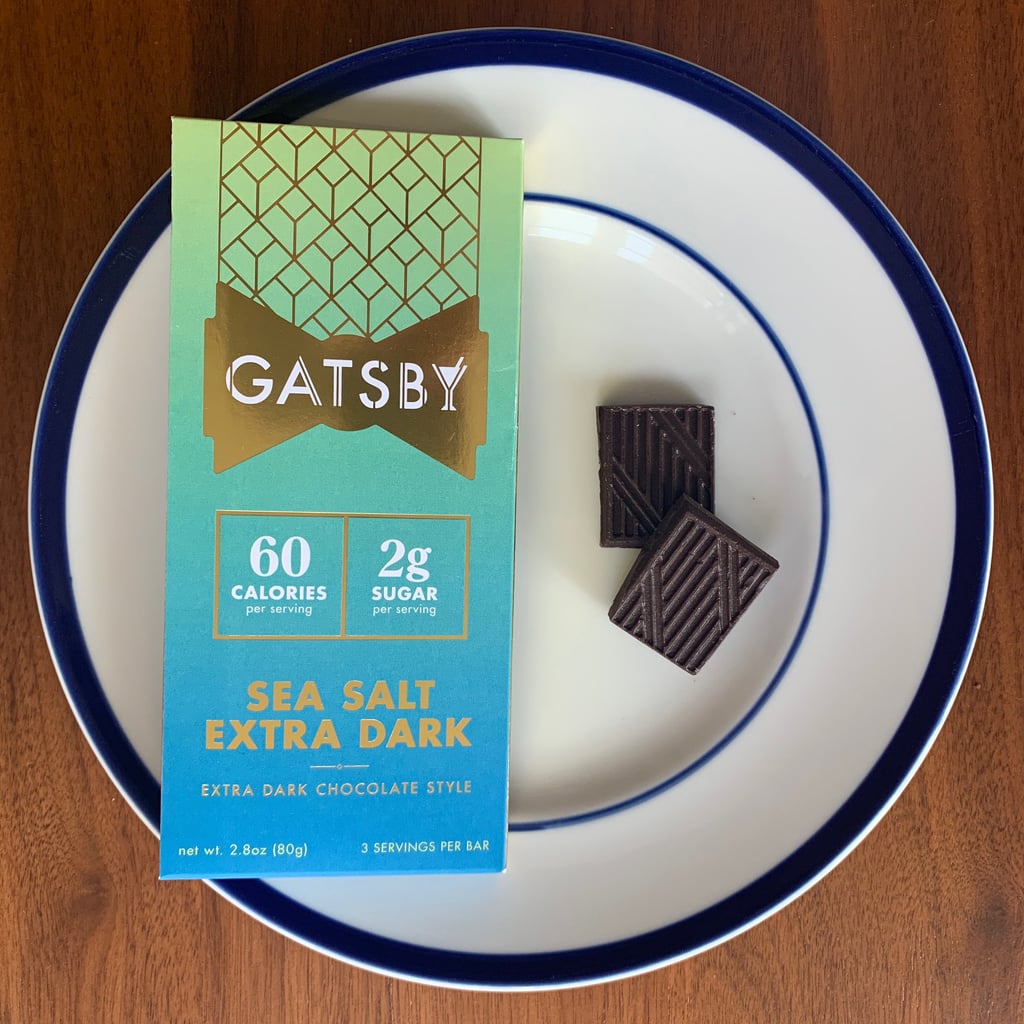 Image Source: POPSUGAR Photography / Annalise Mantz
Sea Salt Extra Dark
With an even more intense flavor than the almond dark chocolate bar, the Sea Salt Extra Dark Chocolate Style bar is ideal for dark-chocolate lovers. You taste the decadent dark-chocolate flavor first, followed by a pop of saltiness. The flavor is so indulgent, I found myself totally satisfied after just one square of this bar — though I could definitely keep munching on it, since there's only 60 calories per serving. My husband, on the other hand, kept going back for more.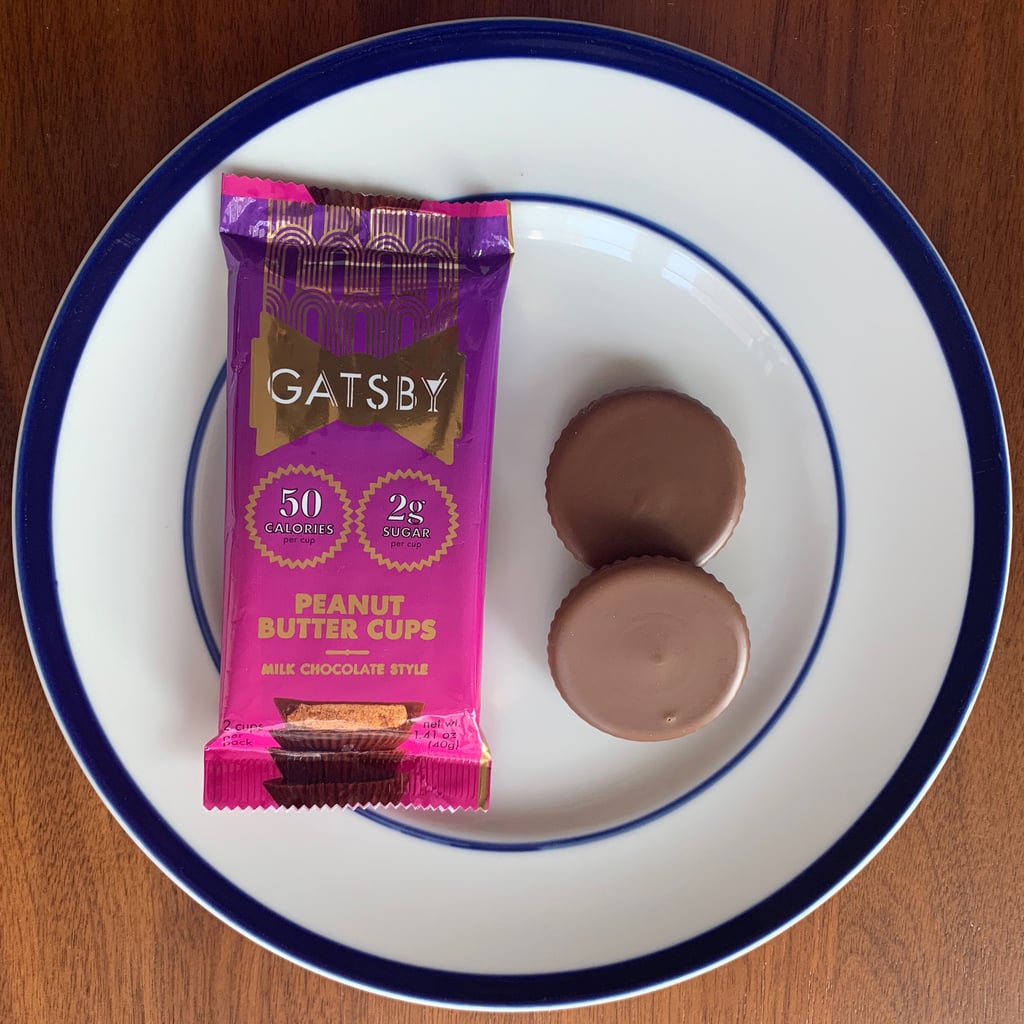 Image Source: POPSUGAR Photography / Annalise Mantz
Peanut Butter Cups
If you ask me, peanut butter and chocolate are a match made in heaven — and Gatsby Chocolate Peanut Butter Cups did not disappoint. While they have just 50 calories per cup — that's fewer than half the calories in a traditional peanut-butter cup — you'd be hard-pressed to taste the difference. The salty-sweet peanut-butter filling goes beautifully with the creamy milk-chocolate coating — a downright irresistible combination. And since these peanut butter cups are a low-calorie treat, I didn't have any qualms about eating both in one sitting.
Overall, Gatsby Chocolate is an excellent option for chocolate lovers everywhere. Thanks to the low calorie counts and super low sugar content, you can feel good about breaking off a piece after lunch — or even eating the whole bar. Gatsby Chocolate even fits into specialized diets: All of the products are keto-friendly, and both the Almond Dark Chocolate and Sea Salt Extra Dark Chocolate bars are vegan. The brand also just came out with Gatsby Gems, candy-coated milk chocolate pieces with only 70 calories per bag — yes, that's 70 calories for the entire bag, not for just one serving.
Ready to try Gatsby Chocolate for yourself? Enter the code POPSUGAR50 at checkout for 50 percent off your purchase.