Baked Chicken and Protein Waffles Recipe
This Chicken-and-Waffles Recipe Puts a Slightly Healthier Spin on a Southern Classic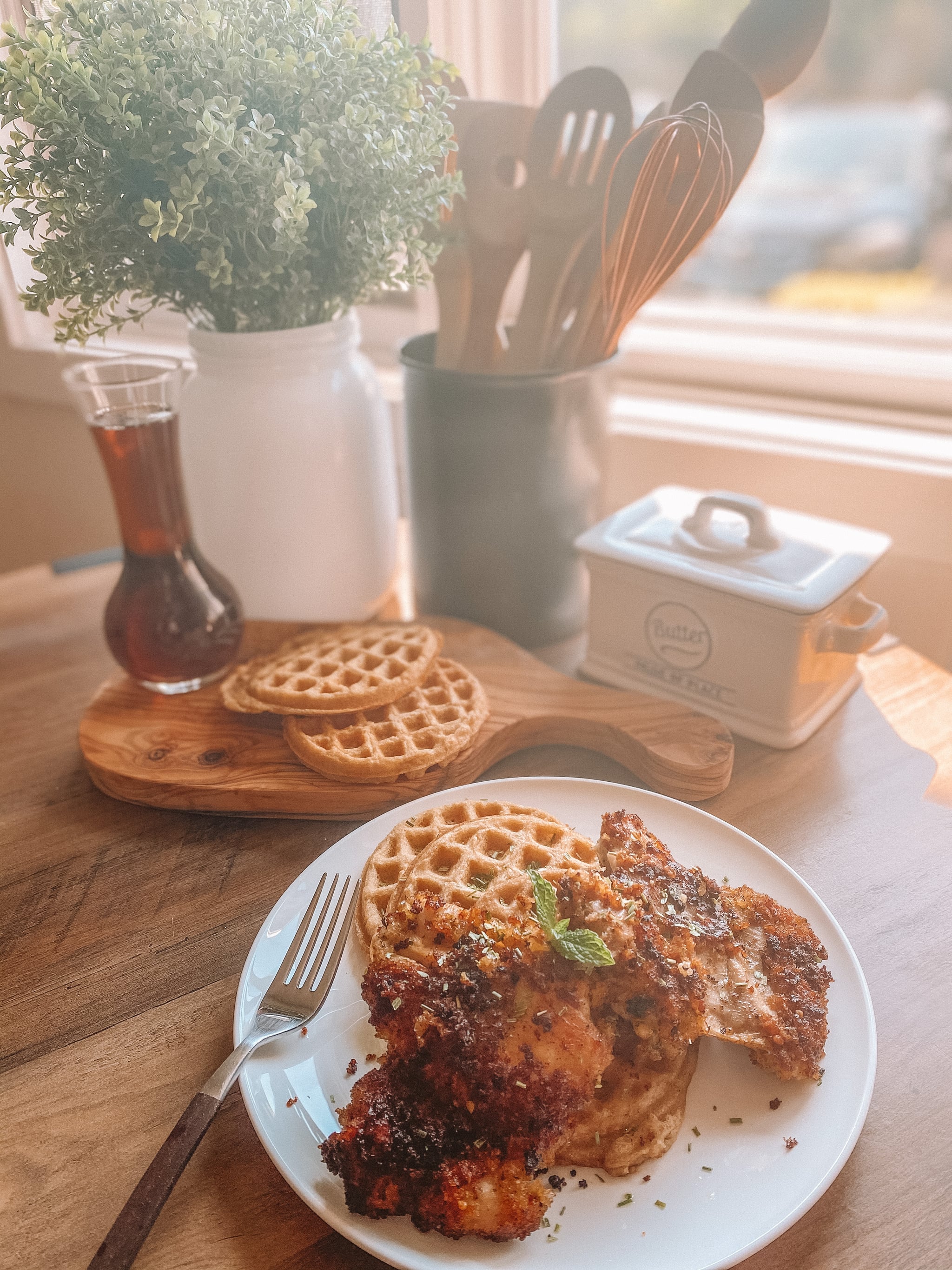 Some of my favorite childhood memories are of nights when my mom would make breakfast for dinner. It was usually a mid-week pick-me-up where we chose between omelets, pancakes, french toast, or waffles. I've carried that tradition into my adult life, and that's where the inspiration for this chicken-and-waffles recipe came from.
I tweaked the southern classic a bit by opting to bake my chicken rather than frying it, and by making protein waffles instead of classic waffles, which makes this *slightly* healthier and easier to cook at home. The protein waffle mix is packed with 14 grams of protein and five grams of fiber, making it a great alternative.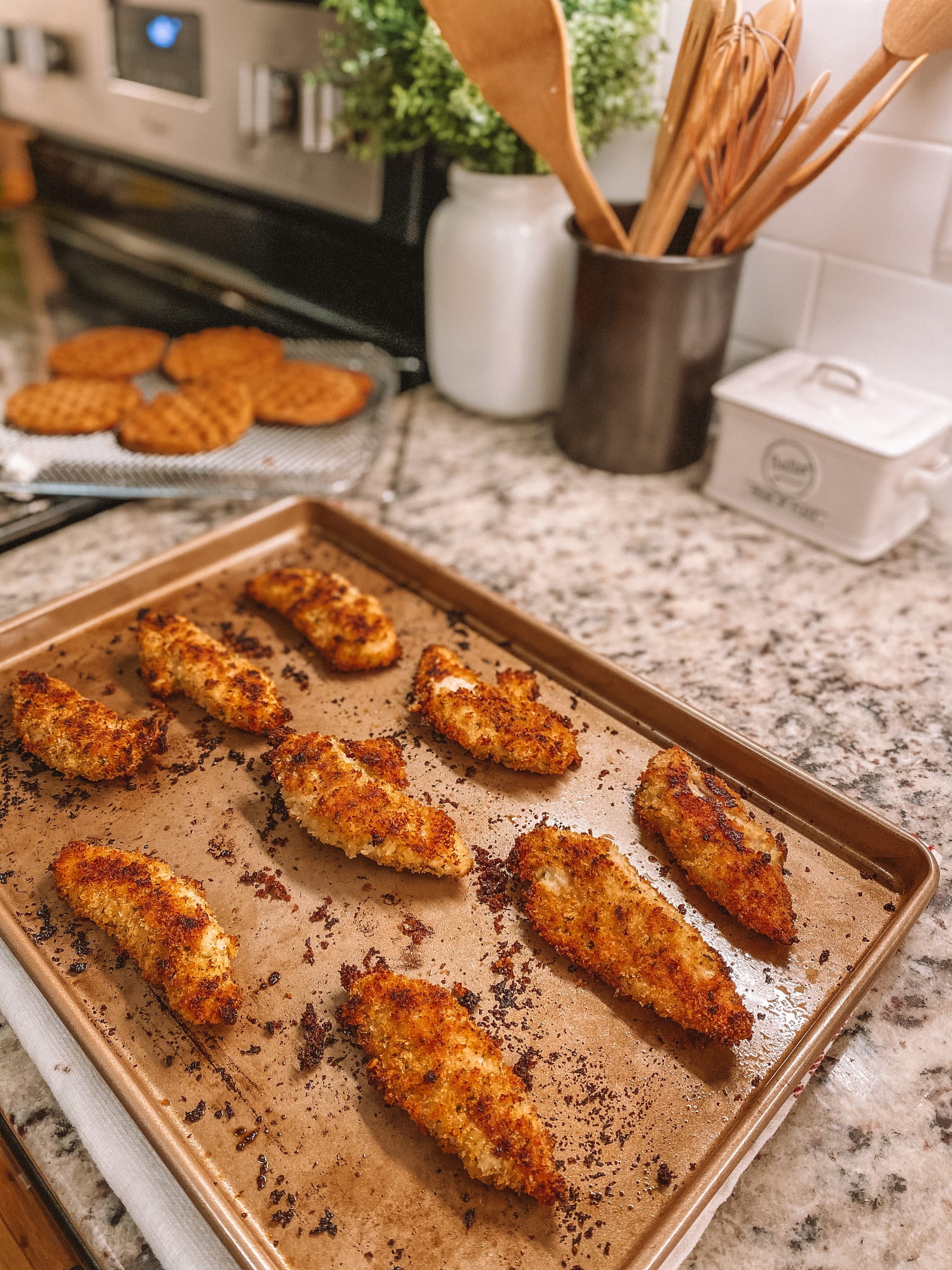 Baking the chicken with just a drizzle of avocado oil produces a much less greasy "fried" chicken dupe that does not lack in crispiness. The crisp breading shell on the chicken comes from simply broiling for a few minutes after cooking. I use whole grain panko breadcrumbs that I pair with a mixture of spices which gives a great crunch and the best finger lickin' flavor.
The fluffy, sweet, melt-in-your-mouth waffle pairs perfectly with the savory chicken and becomes a perfect marriage of flavor and texture when drizzled with maple syrup and chopped chives. Every forkful will have you swooning for another bite!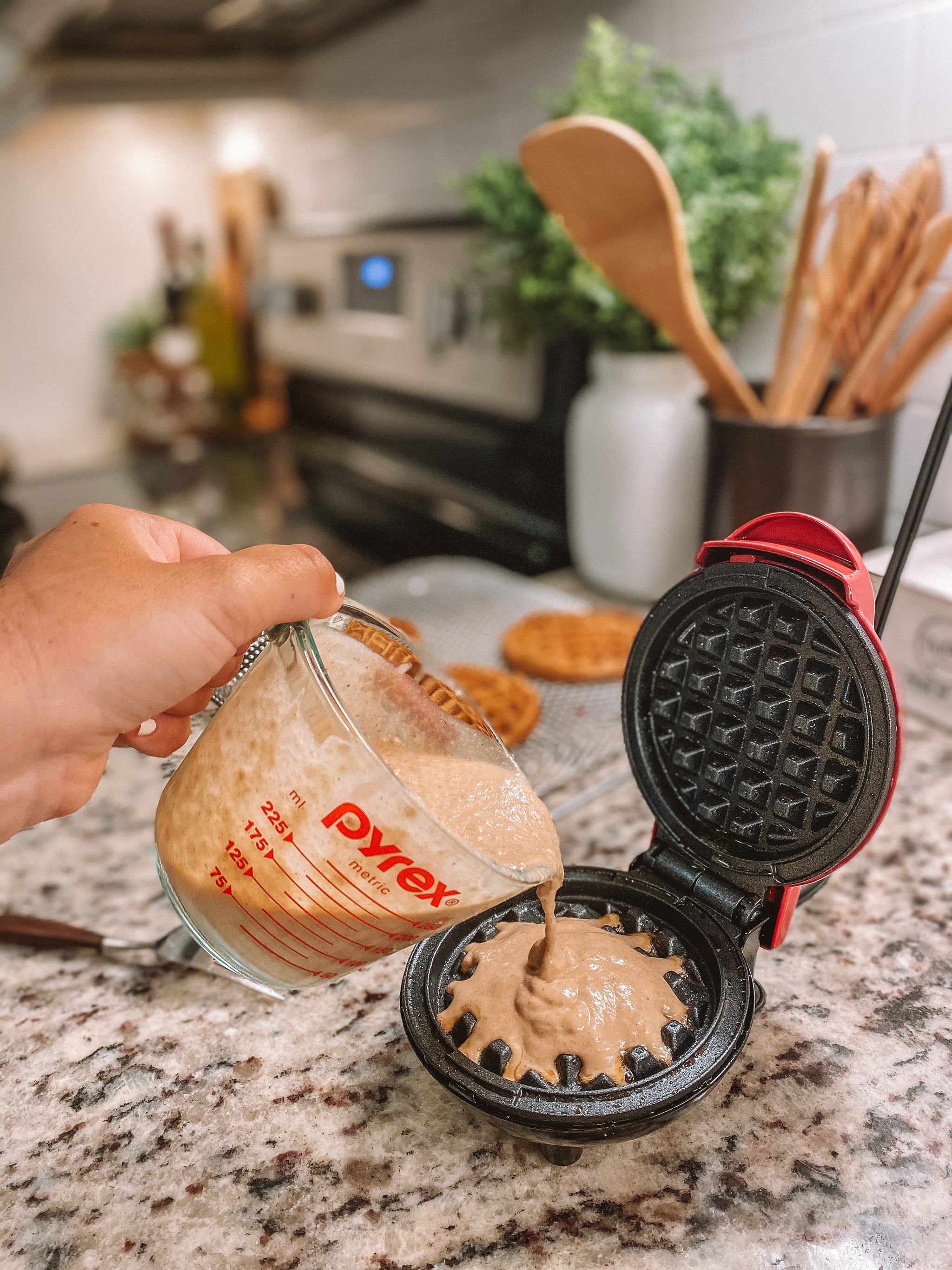 I recently bought a mini waffle maker on Amazon, but feel free to use any waffle iron you have on hand. If you have a waffle iron that makes four waffles at once, that will easily cut down your cooking time. I recommend laying your cooked waffles out on a baking rack to cool so they keep their firm shape and do not get soggy.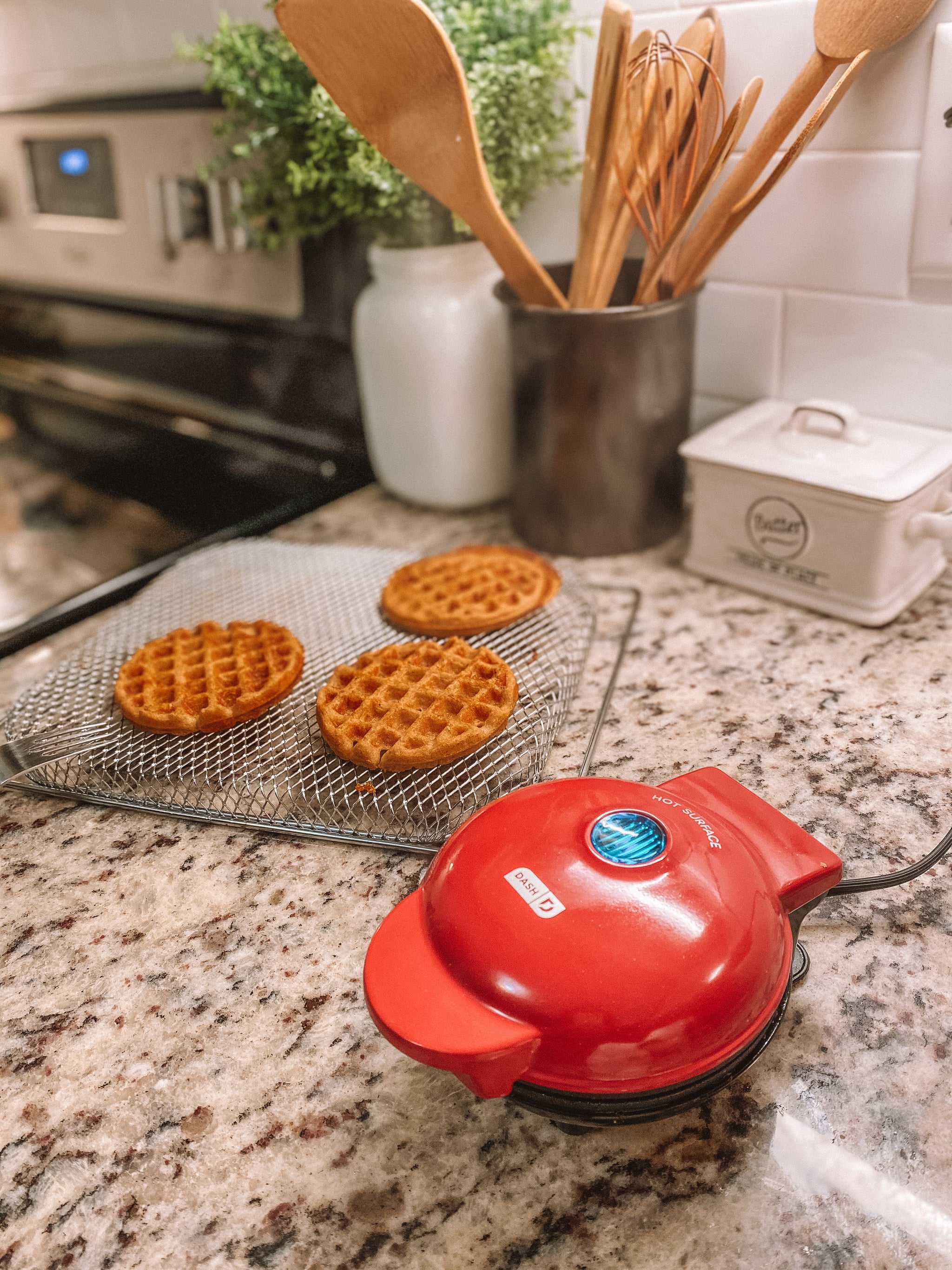 This recipe is perfect for a family dinner, or even if you're thinking about hosting an at-home brunch with your friends. Pair this with fruit salad and mimosas and it's a perfect party food.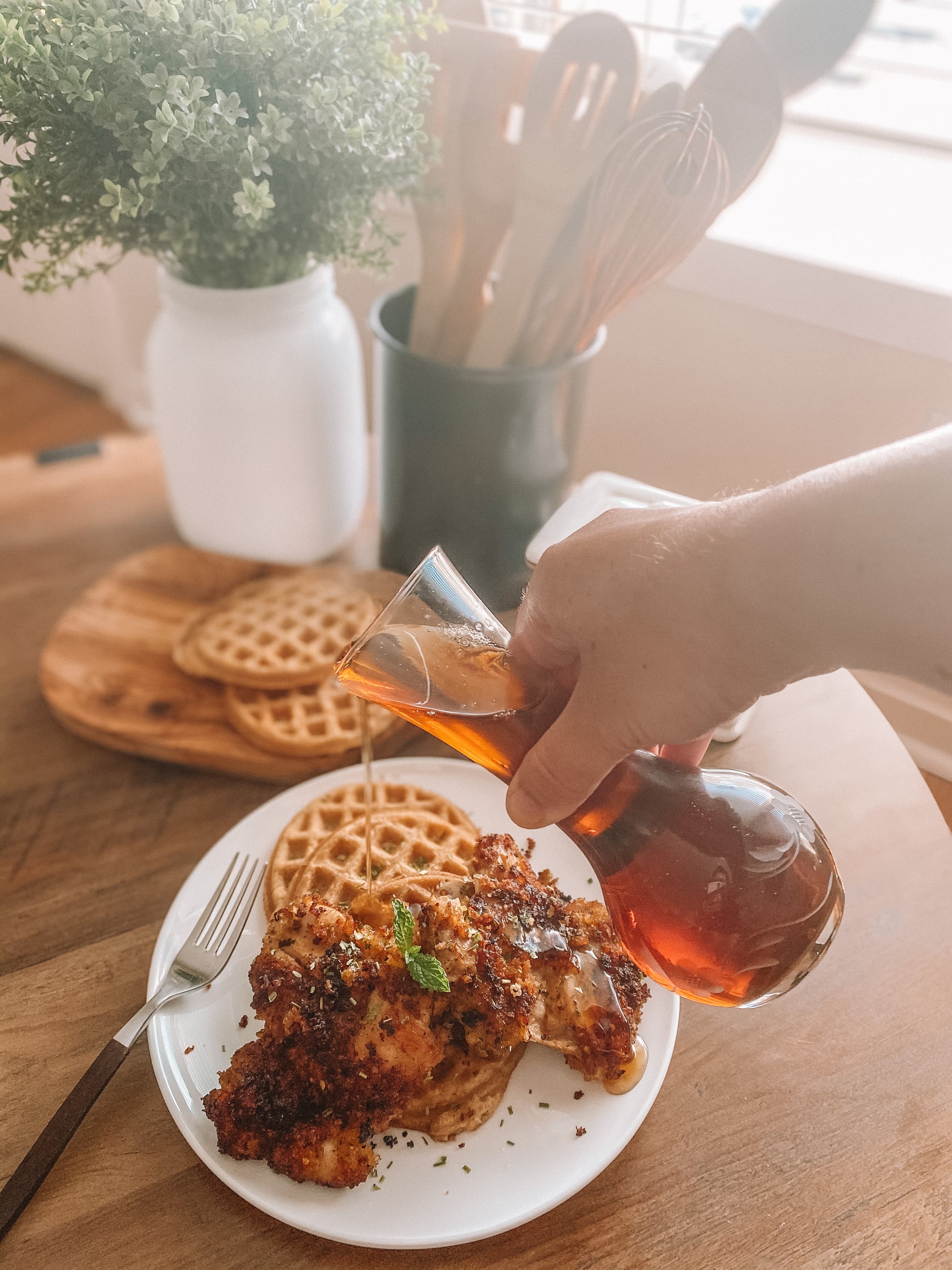 Baked Chicken and Protein Waffles
Original Recipe by Taylor Celentano
Notes
This recipe requires a waffle iron.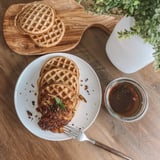 Ingredients
For the Waffles:
1 cup Kodiak Cakes Buttermilk Power Cakes mix
1 cup unsweetened vanilla almond milk
1 tablespoon vegetable oil
2 teaspoons vanilla extract
For the Chicken:
1 pound raw boneless skinless chicken thighs or tenders
2 cups whole-wheat panko bread crumbs
2 tablespoons Trader Joe's 21 seasoning salute
1/2 tablespoon garlic powder
1/2 tablespoon onion powder
2 eggs
Avocado oil
2 tablespoons chives (chopped)
Organic pure maple syrup (to top with)
Directions
Preheat your oven to 420 degrees and coat your baking sheet with nonstick spray.
Whisk two eggs together in a bowl and mix together your breadcrumbs and seasonings in a separate bowl.
Dunk and coat each piece of chicken in your egg bowl, then coat in your breadcrumb mixture, and place on your baking sheet once both sides are completely coated in bread crumbs.
Once all of your chicken has been breaded and laid out on your baking sheet, drizzle each piece lightly with avocado oil.
Put your chicken in the oven to cook for 22 minutes.
Plug in your waffle iron and mix all waffle ingredients to make your batter.
Once heated to cooking temperature, spray your waffle iron with nonstick spray and pour your batter carefully onto the iron.
Let your batter sit in your waffle maker (lid closed) for about 6-7 minutes (or until fully cooked); your batter should make about 5-6 waffles (depending on the size of the waffle maker you are using).
Turn your oven on broil at 400 degrees. Move your chicken to the top wrack in your oven and let broil for 4 minutes.
Once chicken is done broiling, place two waffles onto a plate, place a piece of the chicken on top, sprinkle with a small handful of chopped chives, drizzle with maple syrup, and enjoy!
Information
Category

Main Dishes

Cuisine

Other

Yield

4 servings

Prep Time

10 minutes

Cook Time

30 minutes

Total Time

39 minutes, 59 seconds