Image Source: Splendid Spoon
Let's just start out by listing my dietary needs: I'm lactose intolerant and sensitive to sugar, and while I don't have celiac disease, I suspect I have a slight allergy to gluten. Plus, I just generally have a sensitive stomach that's prone to bloating and acid reflux. And while I love to cook, I find myself always falling back on the same recipes — especially during a busy workday. When it comes down to it, those recipes aren't always the healthiest for my gut, and when left to my own devices, I'll sometimes get a little, um, carried away with my sugar intake.
Then I found Splendid Spoon, a ready-to-eat, plant-based meal delivery service. Here's why this program stood out to me over other meal delivery services: First, everything is plant-based. I've noticed that when I eat a fully plant-based, whole-food diet, my bloating is significantly reduced, I have more energy, and my skin is less likely to break out. Eating a plant-based diet can also help your body fight off infections and diseases, lower your risk of heart disease and type 2 diabetes, as well as improve your cholesterol and lower your blood pressure.
Second, the meals are premade and ready to eat — which is so helpful when you are in back-to-back meetings all day and can only carve out 20 minutes at your desk for lunch. Not to mention it adds a welcome variety to my diet and lets me try things I likely would never have made myself.
Finally, the food is actually good. I'm a super-picky eater, especially when it comes to things like smoothies or soups, and the range of options at Splendid Spoon is honestly the best I've ever seen from a meal plan. There are hearty noodle bowls, juices that aren't solely focused on leafy greens, and a variety of soups ranging from low-cal and light to hearty and with added grains.
Because I was so excited about the lineup, I decided to only eat Splendid Spoon meals and drinks for an entire week. The results: a happy, nongassy stomach; clear skin; and deep, restful sleeps. In fact, I decided to keep going with the 21-Day Splendid Reset program to help me kick off 2022 with wellness front and center. Sign up for any of their starting meal plans, and receive weekly deliveries along with tools and resources to help you glow from the inside out. Plus you'll receive exclusive offers from wellness brand partners HUM, True Botanicals, and Parsley Health.
Keep reading to learn about some of my favorite meals from Splendid Spoon and how I felt after eating or drinking each.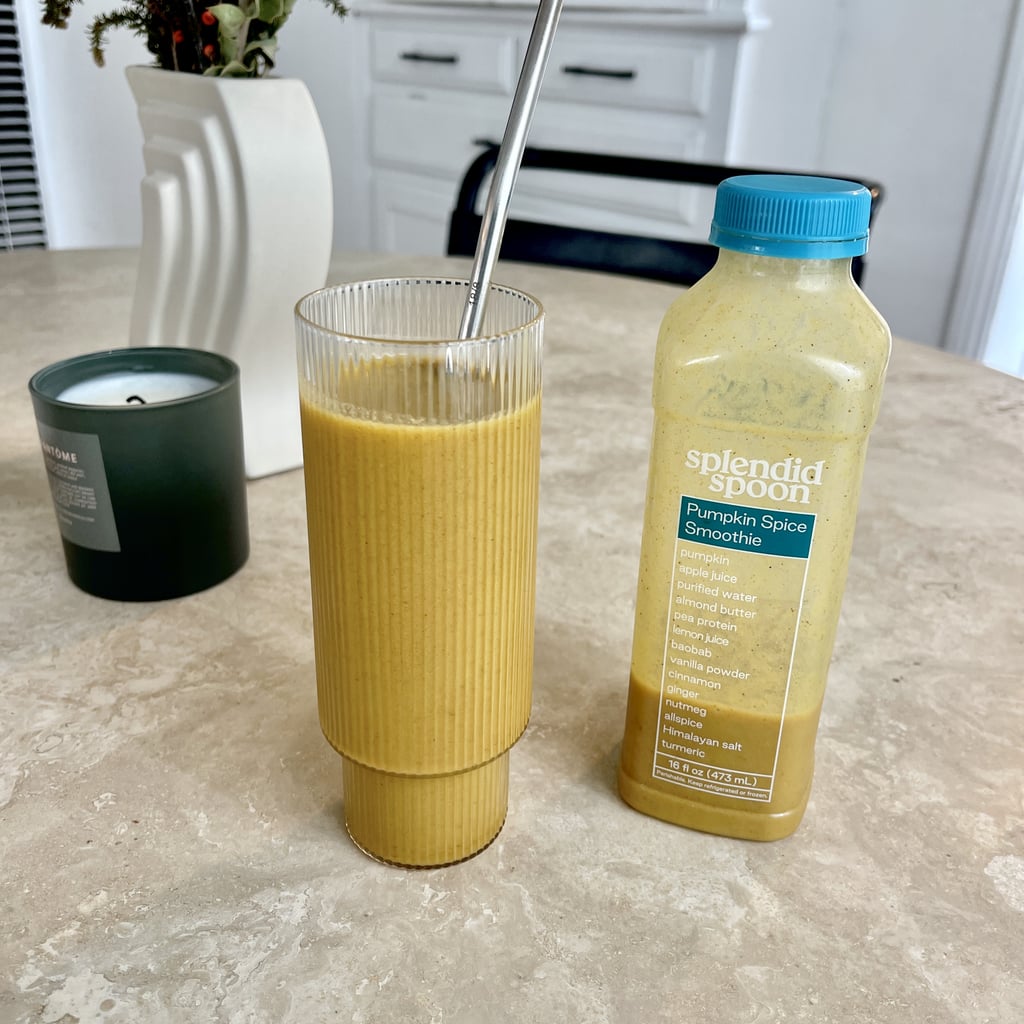 Image Source: POPSUGAR Photography / Aviel Kanter
Smoothies
To be honest, you're never going to get me to give up my morning coffee, so I'll caveat that I did continue this morning ritual during my week of eating plant-based. However, instead of eating my normal breakfast of something like toast, a bagel, or cereal, I grabbed one of the Splendid Spoon smoothies.
Each smoothie has an impressive lineup of ingredients and looks like something you'd get at your local juice shop — each is made with a balance of plant-based protein, fiber, and carbs to boost energy levels and keep blood sugar stable. And I have to point out that while the ingredients were chosen for their health benefits, the flavors were totally on point as well.
My favorites were the Pumpkin Spice smoothie, which was a nice seasonal option instead of a PSL, and the Dragon Fruit Berry smoothie.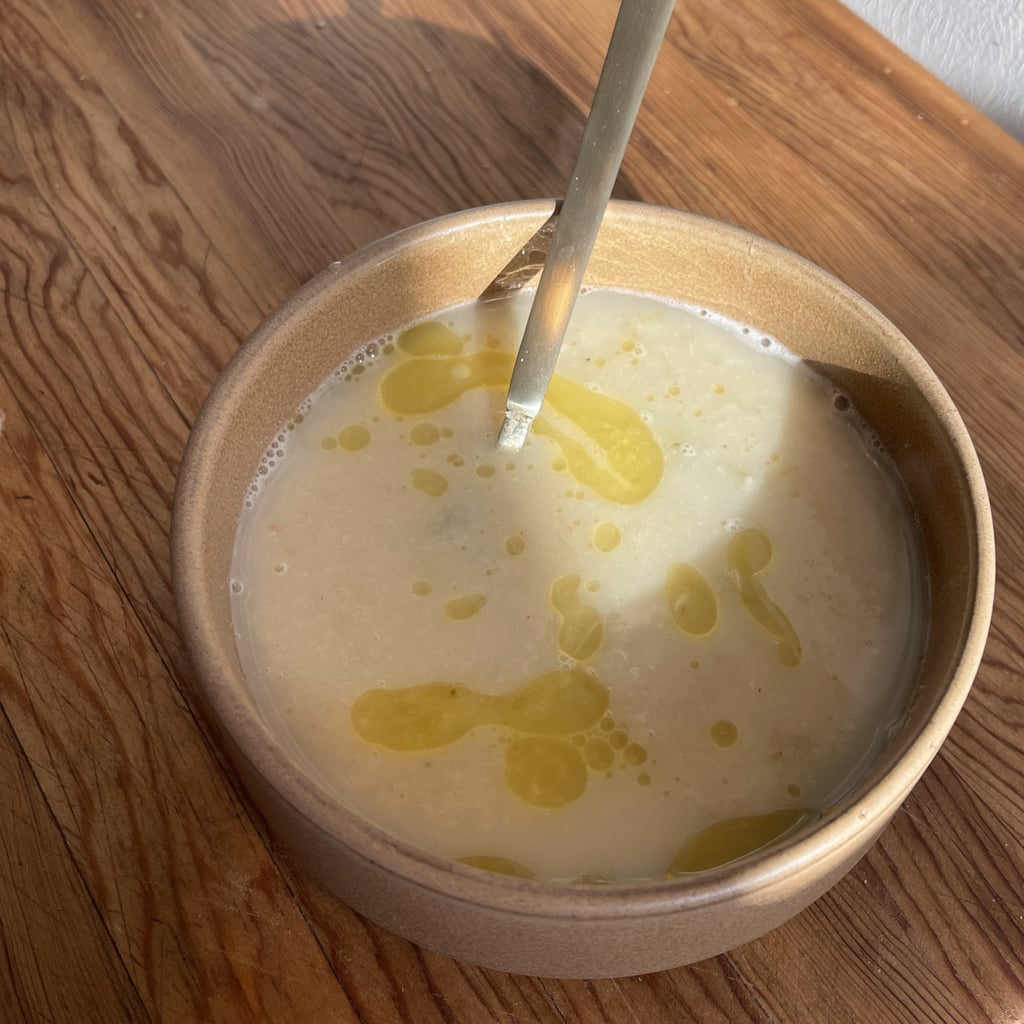 Image Source: POPSUGAR Photography / Aviel Kanter
Soups
There are two categories of soups at Splendid Spoon: lighter soups to help you reset and heartier soups and stews. I personally am not a huge fan of thin, broth-based soups, so I was excited to see that the lighter soup options were actually rooted in flavors that I can get behind.
My favorite was the Cauliflower Potato Chowder soup. While it was light enough to not make me feel overly full and bloated (like most chowders do), it was yummy enough that I ate the entire bowl. I just topped it with a splash of EVOO and flaky salt, and I was a happy gal.
For the more substantial offerings, I loved the Red Lentil Dal soup. While this type of soup is definitely packed with veggies and lentils, it felt like just the right type of lunch to keep me feeling energized rather than overfull and sleepy, so I could tackle the rest of my workday with ease.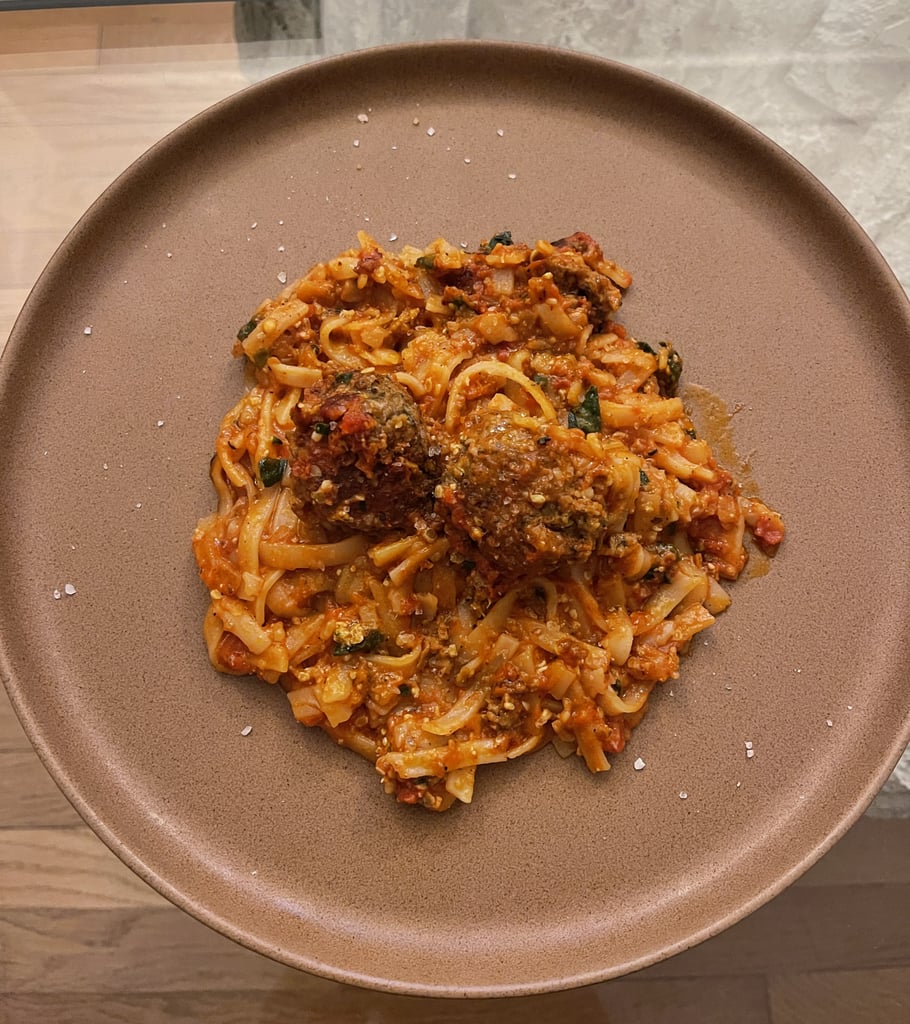 Image Source: POPSUGAR Photography / Aviel Kanter
Grain & Noodle Bowls
Perhaps my favorite meals from my Splendid Spoon box were part of this category. The bowls, whether dominated by noodles or grains, were standouts. Honestly, they reminded me of bowls I would get from nearby restaurants back when I was in an office setting. Things like the Kimchi Fried Quinoa Grain Bowl and the Brown Rice Taco Bowl could hold up on any restaurant menu.
I was especially impressed by the Vegan Meatballs and Marinara Noodles. I'm always a little wary of plant-based recipes that are intended to taste like meat, so I was pleasantly surprised at these "meatballs." What I loved most about them was that they weren't pretending to be meat — the texture instead was more like falafel, with lovely spices that took cues from traditional spaghetti and meatballs. The noodles weren't soggy, and the tomato sauce was juicy — all the things you look for in the Italian classic.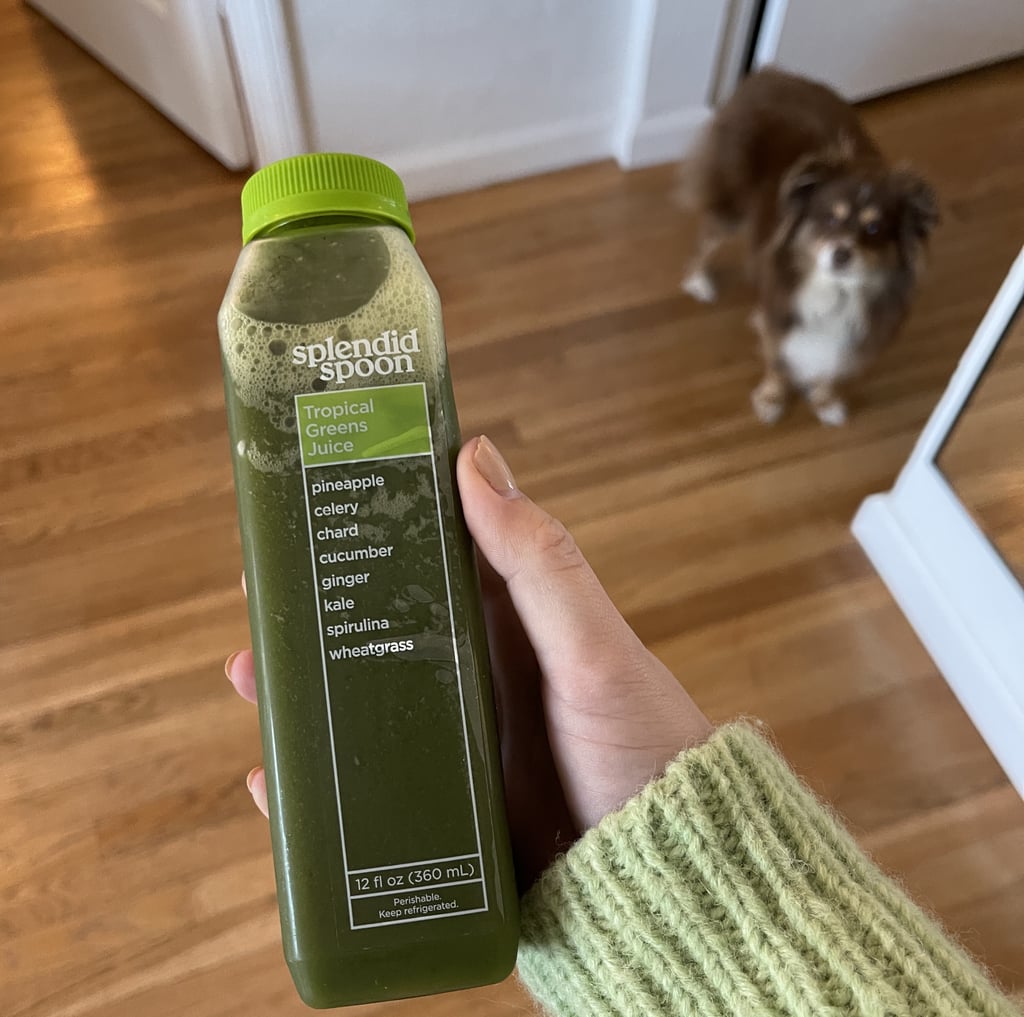 Image Source: POPSUGAR Photography / Aviel Kanter
Juices & Shots
I know some people are all about the green juice, but I've never really been able to stomach them. That's why I was happy to see that the Splendid Spoon juices include some other ingredients besides your traditional greens to help enhance flavors while still giving you the benefits of a green juice. The Tropical Greens Juice hit the nail on the head for me — just the addition of pineapple helped cut the bitterness of the chard and wheatgrass, making it something I actually looked forward to sipping.
I'm also totally in love with the mini bottles of juice shots catered to different needs. I'm kind of obsessed with the Recovery Shot, which has a blend of watermelon, cherry, beet, lemon, and ginger juices. I sipped this little guy while taking my before-bed bath and felt the stress of the day melt away. It was also a great thing for me to grab to satiate my sweet tooth, where I normally would have reached for a cookie.
Overall, my experience with Splendid Spoon, and eating fully plant-based in general, was totally positive. I felt noticeably less bloated and had fewer instances of heartburn. The program felt completely attainable and miles away from a fad diet — so much so that I can absolutely see myself continuing to eat plant-based into 2022 (and beyond). Plus, I loved receiving daily guides on nutrition, gut health, skincare, and mental and emotional health with the 21-Day Splendid Reset program — it left me feeling refreshed and ready to take on the new year.