Jeni's Everything Bagel Ice Cream Review
Jeni's Everything Bagel Ice Cream Is Back, and It's Even Better Than I Imagined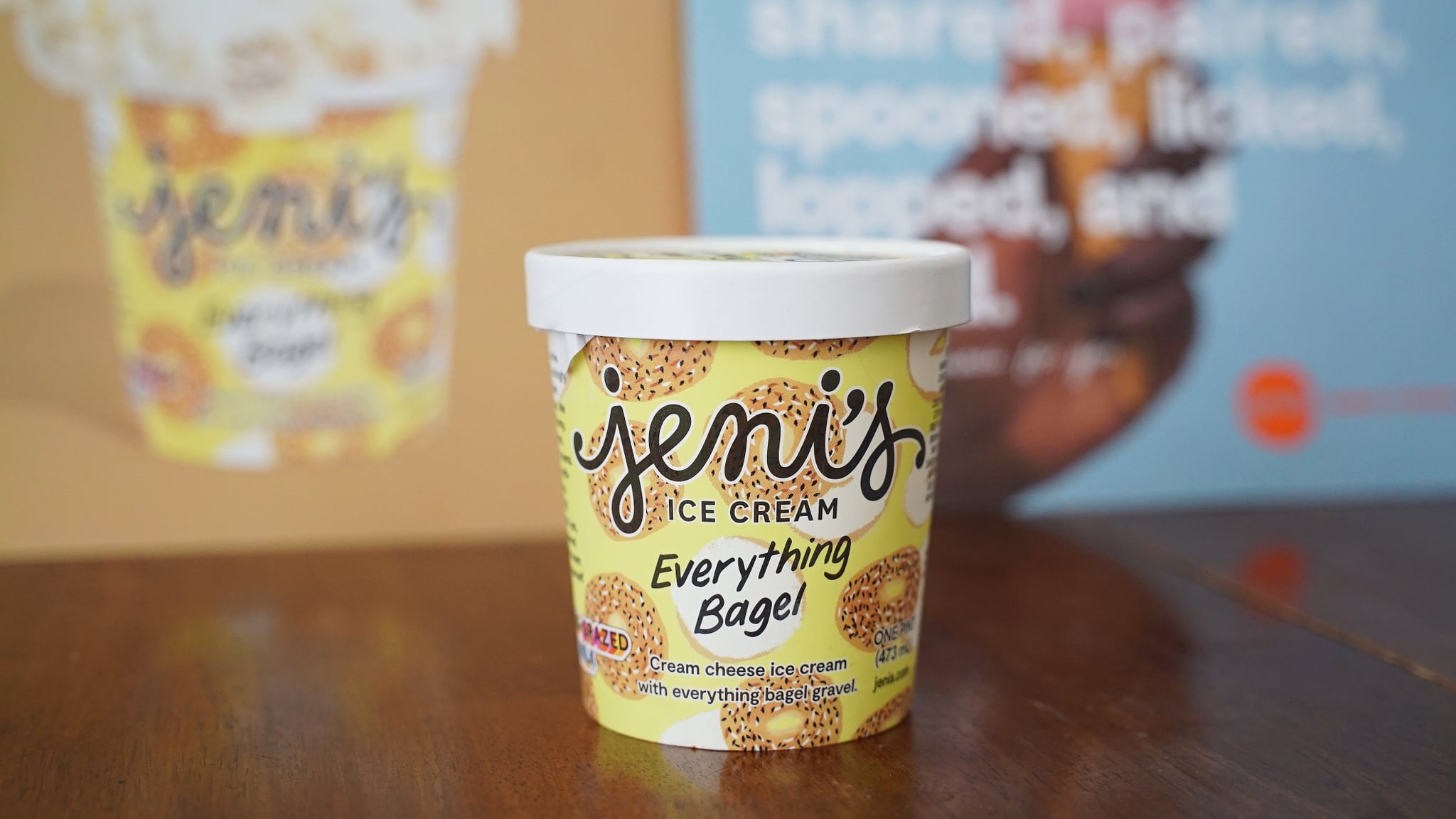 Garlic and onion are delicious on a bagel. On avocado toast, they're just as tasty. But mixed into ice cream? Well, let's just say there's a reason Jeni's Everything Bagel Ice Cream went viral. The limited-edition flavor quickly sold out back in 2021 when it was first released, and due to popular demand, Jeni's Splendid Ice Creams is bringing back the controversial favorite once again. Luckily for me, I was actually able to get my hands on a pint this time around.
As someone who is always down to try any and all ice cream flavors, I was excited to see whether I'd love or hate Jeni's Everything Bagel. According to Twitter, those are the only two options. Some have described it as the best ice cream flavor they've ever had, while others have jokingly reported it to the FBI because its very existence is apparently criminal. In my opinion, it's a brilliant concoction, one that reminded me a lot of the TikTok trend from 2020 where people would drizzle olive oil and pink Himalayan salt over vanilla ice cream. Jeni's Everything Bagel Ice Cream is unique in its own way, but it still follows that same sweet, salty, savory formula that made the TikTok hack so popular.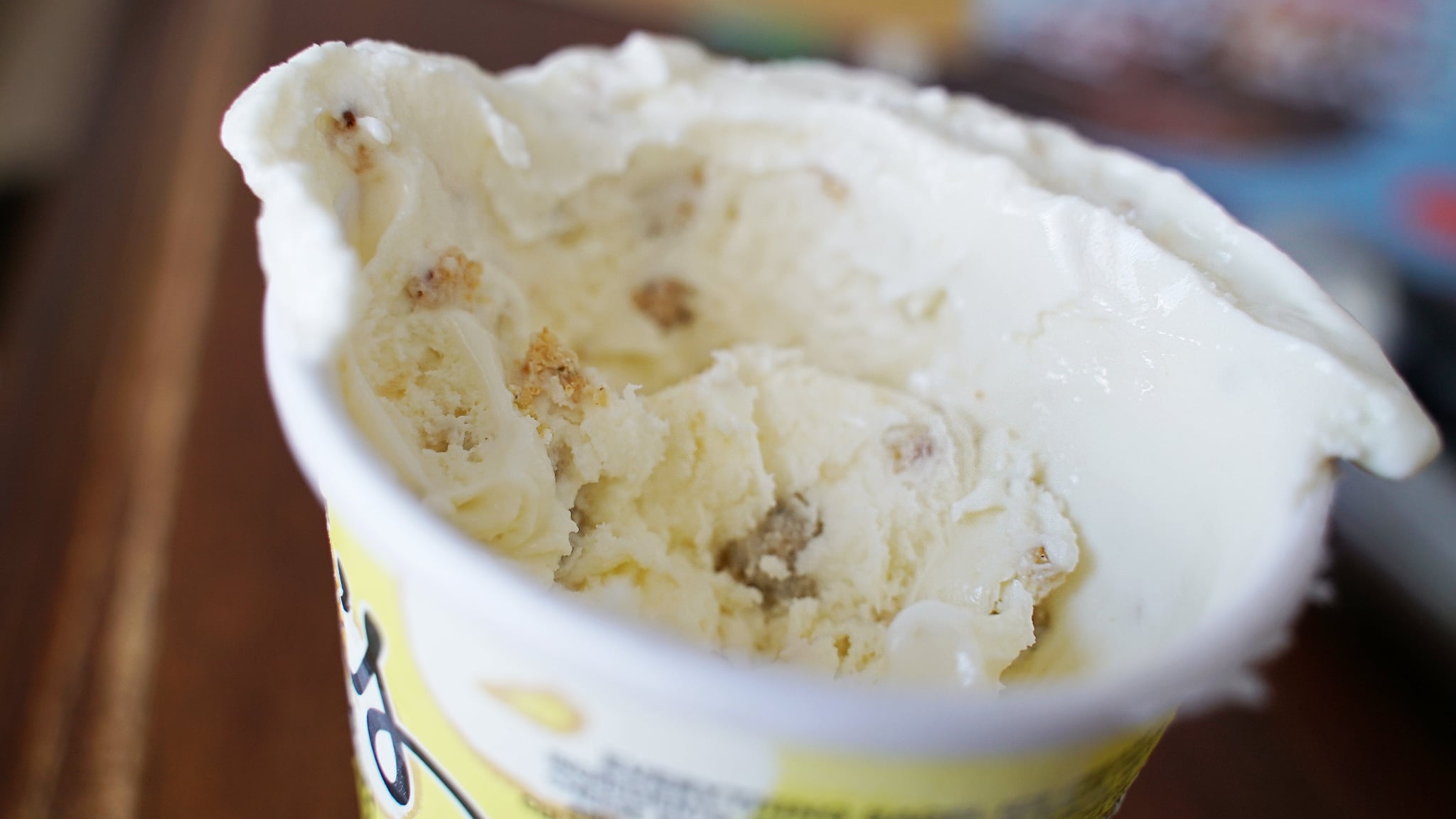 Once I got over the notion that everything bagel seasoning belongs only on a bagel, I found that the combination of flavors made sense in an ice cream, too. One reason I think it works so well is that the mix of what Jeni's calls "Everything Bagel Gravel" is slightly modified to pair better with dessert. Instead of the more familiar blend you'll find in things like Trader Joe's Everything but the Bagel seasoning, Jeni's uses a buttery streusel seasoned with onions, garlic, cayenne, sesame, and poppy seeds. If you're not familiar with streusel, it's the stuff that gets crumbled on top of coffee cake and apple pie, or in Jeni's case, mixed into ice cream.
As for the garlic and onion, well, they're definitely there, but they aren't pungent at all. I think that if the ice cream were a vanilla base, it would feel like the garlic and onion were contaminating the flavor, but because it's a cream cheese one, it creates more of a complementary balance that brings out the natural sweetness of the two ingredients. I honestly like that Jeni's didn't shy away from the garlic and onion because it does make it taste a lot like an actual everything bagel, but in a really delicious dessert sort of way. If you're a fan of bold, interesting flavors (and everything bagels), I'm sure you'd like Jeni's ice cream as much as I did.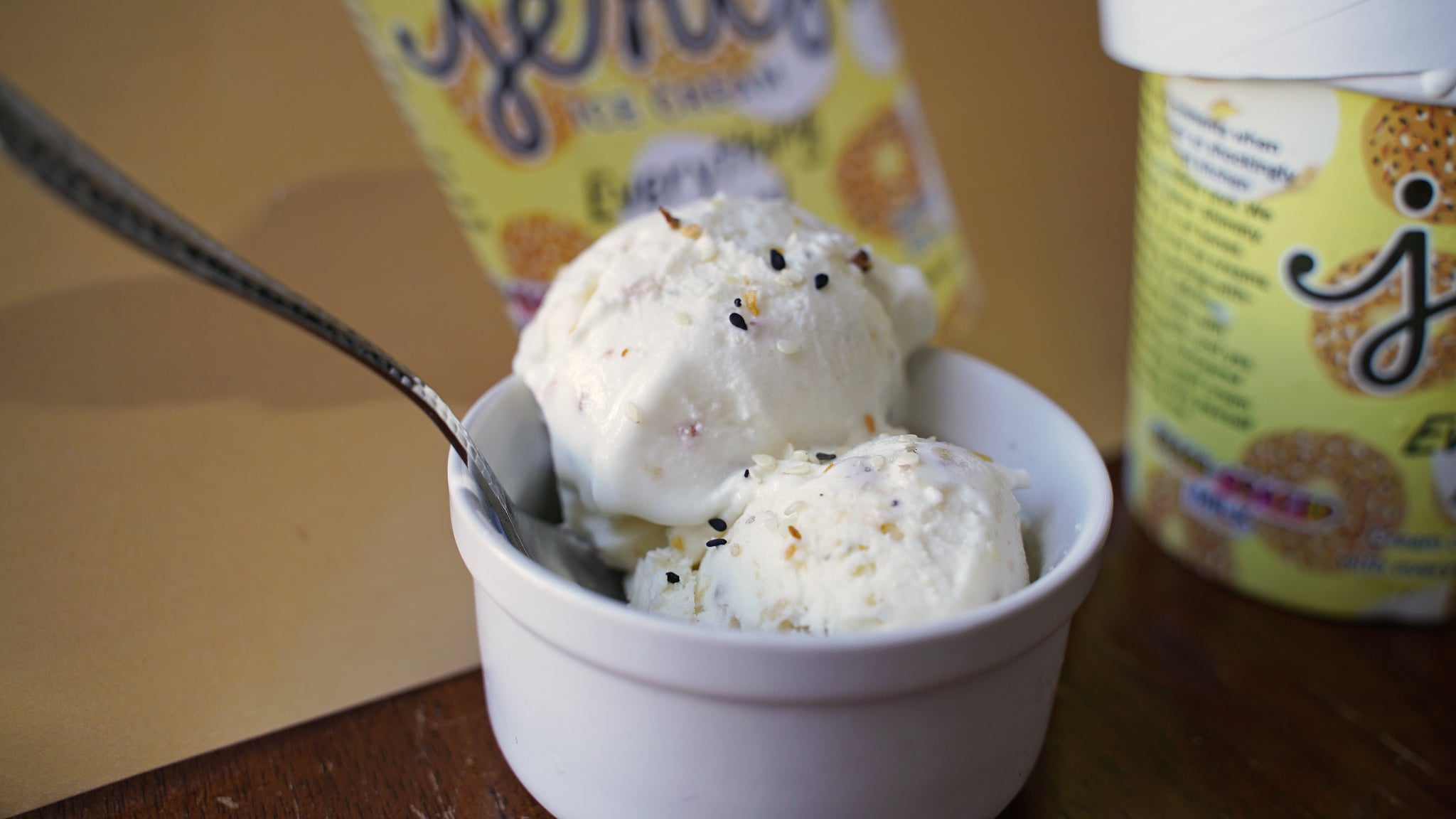 Where to Buy Jeni's Everything Bagel Ice Cream
Curious just how good (or bad) Jeni's Everything Bagel Ice Cream tastes? Well, you better act fast if you want to try it, because just like the first launch, Everything Bagel Ice Cream is only being sold for a limited time. Pints are available in person at Jeni's scoop shops across the US or online starting March 21, but only while supplies last. If you're planning to order online, be sure to enter your email on the Jeni's website to be notified of its immediate availability so you can secure your ice cream.
Image Source: POPSUGAR Photography / Kalea Martin