Joanna Gaines Hasselback Potato Recipe and Photos
Making Joanna Gaines's Hasselback Potatoes Will Leave You Feeling Like a Professional Chef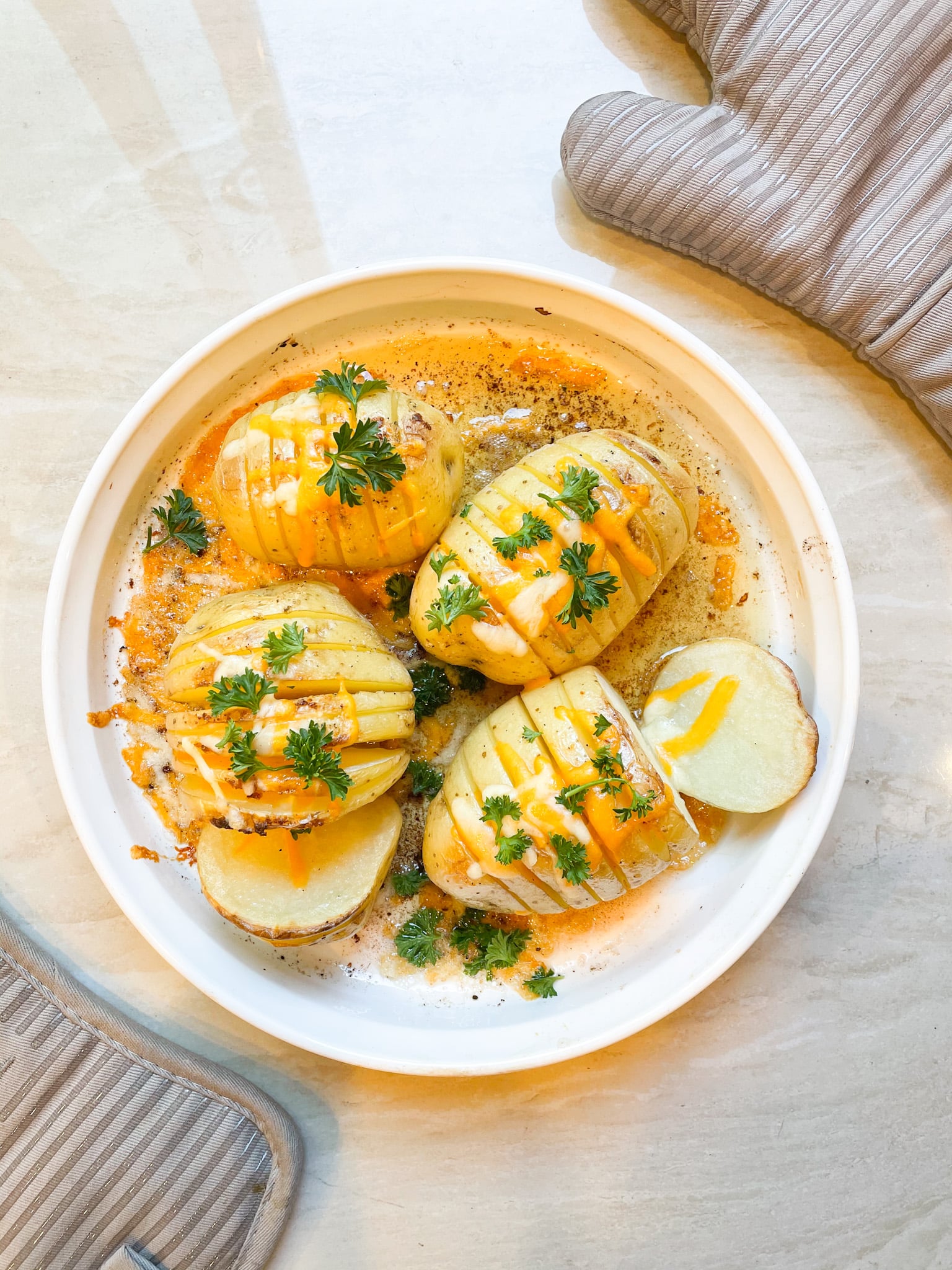 I really can't get enough of Joanna Gaines's recipes. Have you tried her cherry-almond crisp or lemon pie? How about her buttery homemade biscuits, or as I like to call them, fluffy bites of heaven? Everything she makes looks and tastes delicious, and one of her latest recipes that I couldn't wait to try myself was her hasselback potatoes, which are featured in her Magnolia Table, Volume 2 cookbook. The hearty side dish is the perfect balance of fluffy on the inside and crispy on the outside, and pairs well with so many main courses like chicken, fish, or vegetables.
In full transparency, I was a little apprehensive when I glanced at the instructions and read that I'd have to thinly slice and then attempt to fan a potato. (Excuse me, how does one fan a potato?!) I didn't think my knifing skills were up to par for the challenge, but I'm here to assure you, if I can do it, you can too! To steer clear of cutting straight through the potato (and my finger), I played it safe by slicing the wedges a little thicker. While this ended up costing me more time in the oven and making sure the butter mixture seeped into every nook and cranny, it was so worth it.
Served right out of the oven, Gaines's hassleback potato recipe is simple to make, and is a great conversation starter thanks to its unique and fun appearance. This warm side of comfort is bound to become a staple in your family household, too.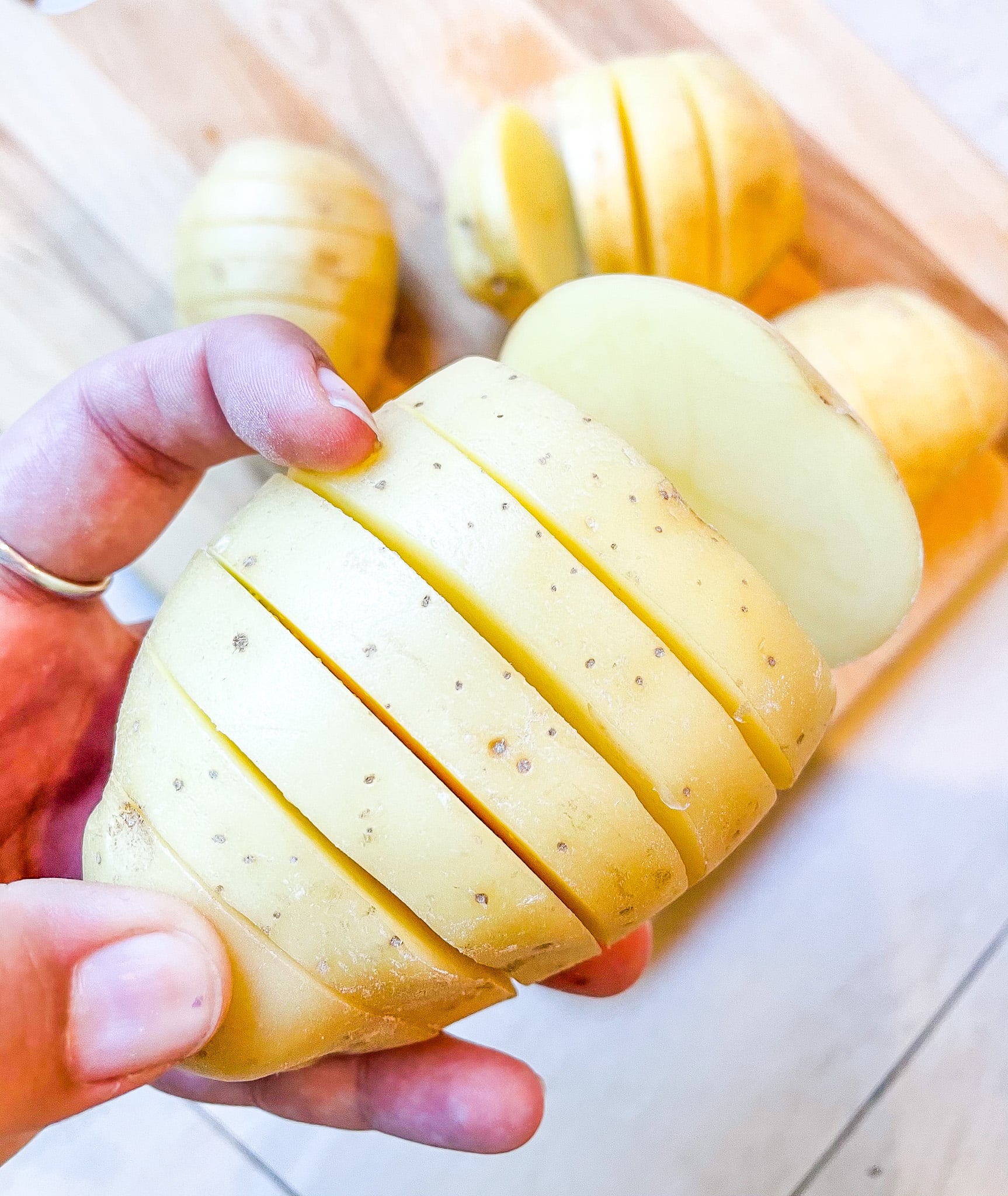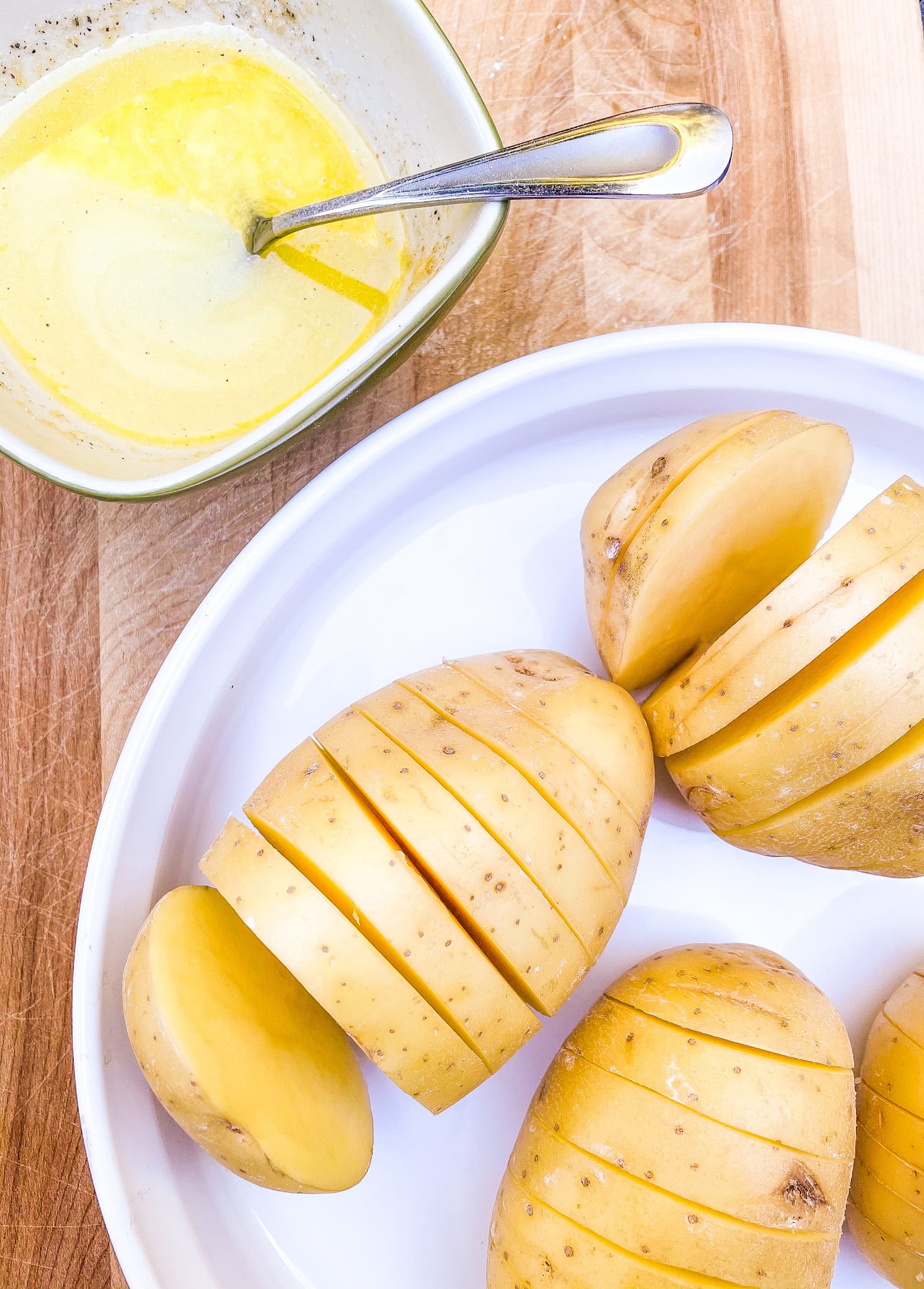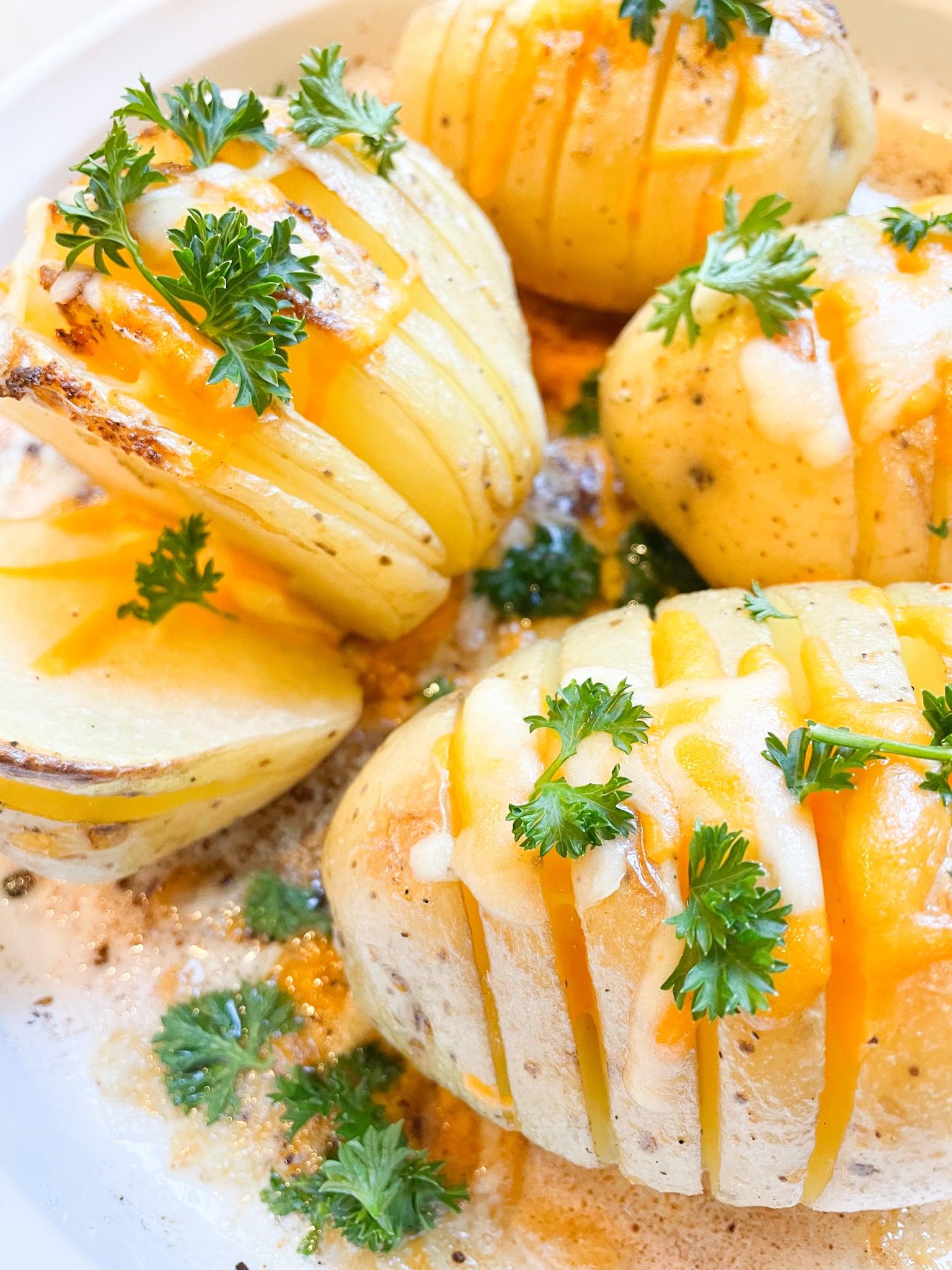 Joanna Gaines's Hasselback Potatoes
Magnolia Table, Volume 2
Notes
Joanna's tip for perfectly cut potatoes is to lay two wooden spoons or chopsticks along the sides of the potatoes as guides. This will help keep the knife from cutting straight through the potato.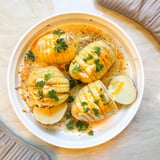 Ingredients
6 medium Yukon Gold potatoes
4 tablespoons (1/2 stick) unsalted butter, melted
2 tablespoons olive oil
1 teaspoon minced garlic
1/2 teaspoon sea salt
1/2 teaspoon freshly ground black pepper
3 tablespoons grated Parmesan cheese (cheddar works too!)
2 tablespoons chopped fresh parsley
Directions
Preheat oven to 425 degrees.
Rinse each potato and pat dry with a towel. Using a knife (doesn't have to be super sharp), carefully slice each potato crosswise into thin slices, making sure not to slice all the way through. Place the potatoes in a 9x13-inch or a 7x11-inch baking dish. Carefully fan the potatoes out; the more crevices the better!
Whisk together melted butter, olive oil, garlic, salt, and pepper in a small bowl. Spoon the butter mixture evenly over each potato. You may need to use a brush so you can get into the cuts and coat each slice.
Bake uncovered for 45 minutes. Then, sprinkle parmesan and parsley evenly over each fanned potato. Place back in the oven and bake until the cheese is melted and a little crispy, about another 15-20 minutes. Serve hot and enjoy!
Information
Category

Side Dishes

Yield

4-6 servings

Prep Time

15 minutes

Cook Time

1 hour 5 mins

Total Time

1 hour, 19 minutes, 59 seconds
Image Source: POPSUGAR Photography / Emily Weaver