This Glorious Marriott Will Deliver a 10-Pound Doughnut to Your Door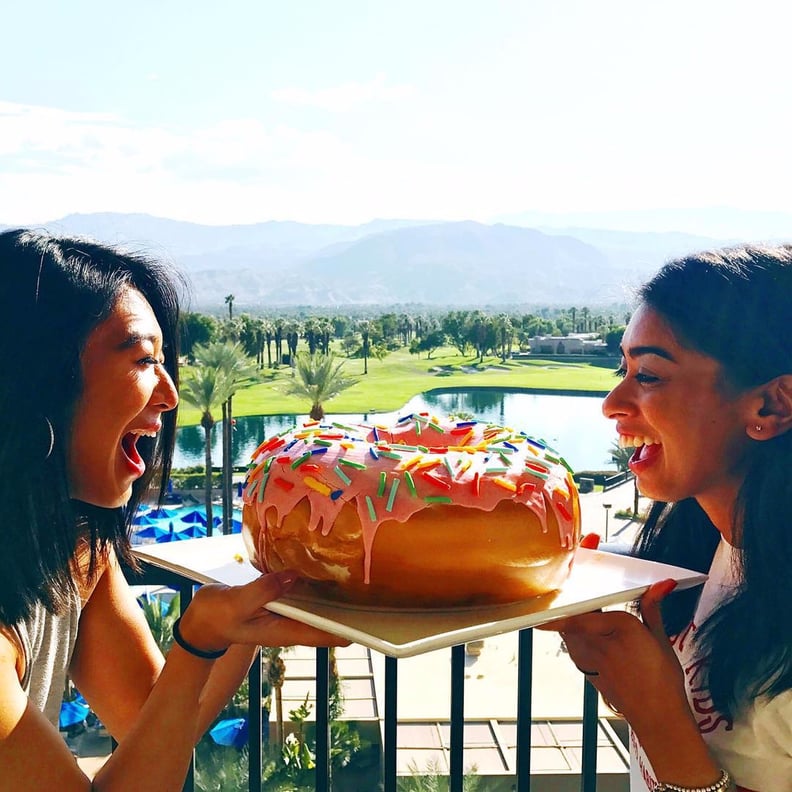 Sure, you can make your own giant Funfetti doughnut at home, but what if you could order one through room service and have it delivered to your door? JW Marriott Desert Springs Resort & Spa in California is doing just that! The hotel is now offering a "Donut Disturb" special in which a 10-pound doughnut is brought to you via room service for the reasonable price of $219. This package includes a round of milkshakes to pair with the doughnut and a $50 hotel credit to be used at the spa, golf course, or hotel dining.
How did the chefs create such a giant doughnut? It's technically cake and it's made fresh in house. Layers of vanilla chiffon cake, cream, and raspberry jam are molded into a doughnut shape and coated in fondant. A coffee lacquer is sprayed on the outside (to give it a fried doughnut appearance). Strawberry glaze is drizzled on top and then it's finally coated in large homemade sprinkles.
Luckily for us, the team at Foodbeast ordered the doughnut so we can all live vicariously. Foodbeast founder Elie Ayrouth told POPSUGAR that the doughnut tasted "[l]ike the most delicious wedding cake possible." He added, "[I]t's definitely lavish, fun to order to the room to get your weekend going and then we just had it all weekend to pick at. [O]bviously [we] didn't eat it all in one s[i]tting." After seeing all the close-ups of this humongous doughnut, you may be inspired to book a trip to Desert Springs ASAP.
The Impending Sugar Rush!
The Stunning Presentation
The Spread (Milkshakes and Forks Included)
The 100-Pounder
JW Marriott upped the ante by creating a 100-pound doughnut for all hotel guests to try. We all hope they do it again!