Kardashian Chicken Salad Recipe
I Made the Kardashians' Chicken Salad, and I Feel Like I Can Join Their Salad Talks
Twenty seasons and 14 years later, through babies, breakups, and every high and low, the Kardashians are still eating the same salad. You know, the ASMR-inducing one in the giant plastic bowl that has the ability to turn every lunchtime heart-to-heart into a main event? It's clearly a constant in the Kardashians' life, and after trying it for myself, it's easy to see why.
The salad comes from The Health Nut in LA, and if you can't get the real deal or have Kourtney Kardashian herself vigorously shake the bowl for you, it's easy to make at home, especially if you have TikTok's copycat recipe on hand. According to The Health Nut's menu, the Kardashian sisters' favorite Chinese chicken salad contains a mix of hand-torn romaine and iceberg lettuce; is served with shredded chicken breast, dry chow mein noodles, pickled ginger, and carrots; and is dressed with a sesame vinaigrette.
What really makes this salad is the dressing, and while you can buy it directly off of the salad shop's website, the ingredients are simple enough that you can re-create it yourself. It's an apple-cider-vinegar-based dressing flavored with sesame oil, soy sauce, garlic, onion, sesame seeds, and sugar. I'd suggest making more than one serving, because combined with the crunch of the toppings and the fresh lettuce, you'll want to make this for all of your future Kardashian-style salad talks. If you want to eat like a Kardashian, keep reading for all the steps to make their favorite salad.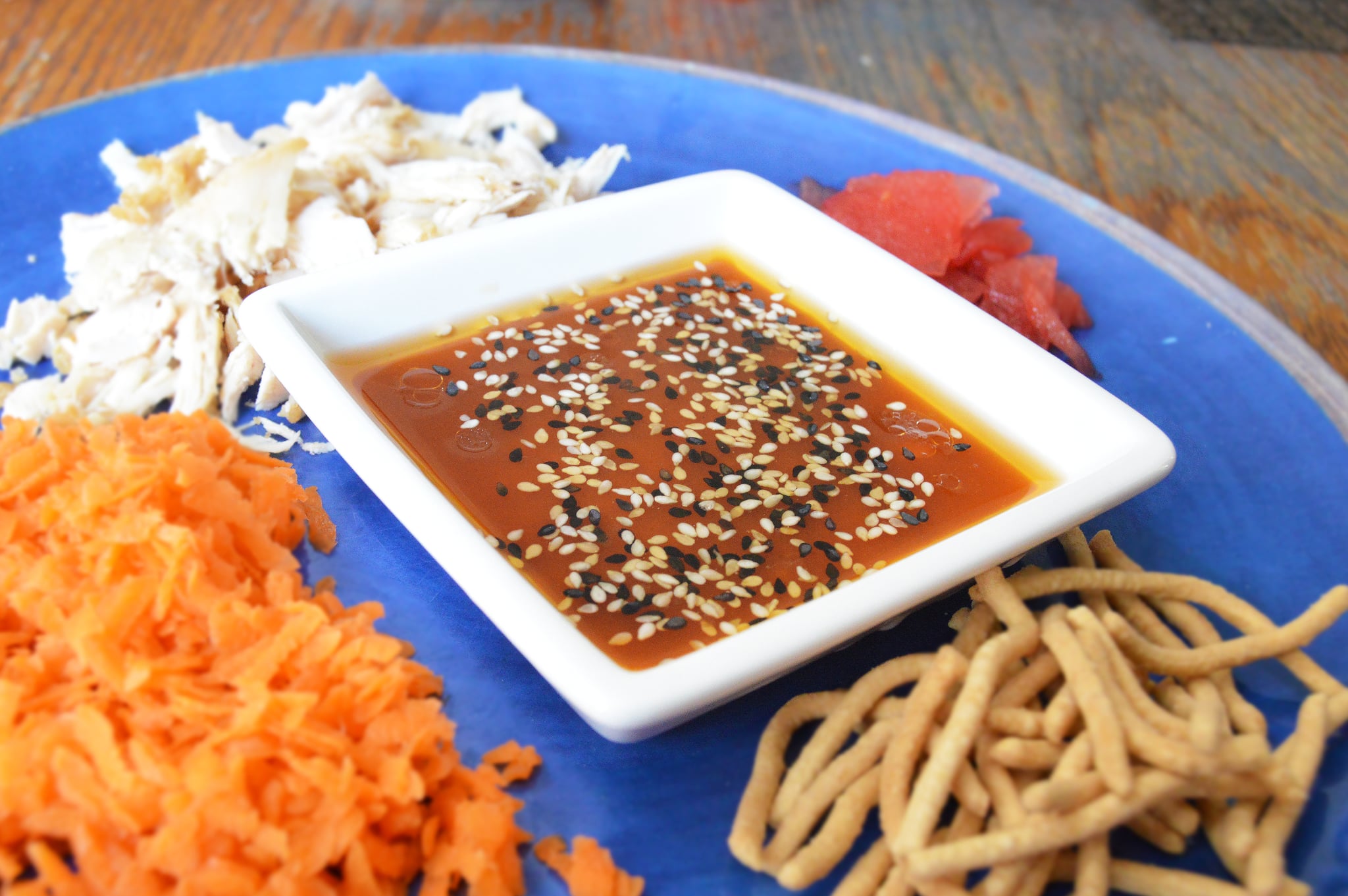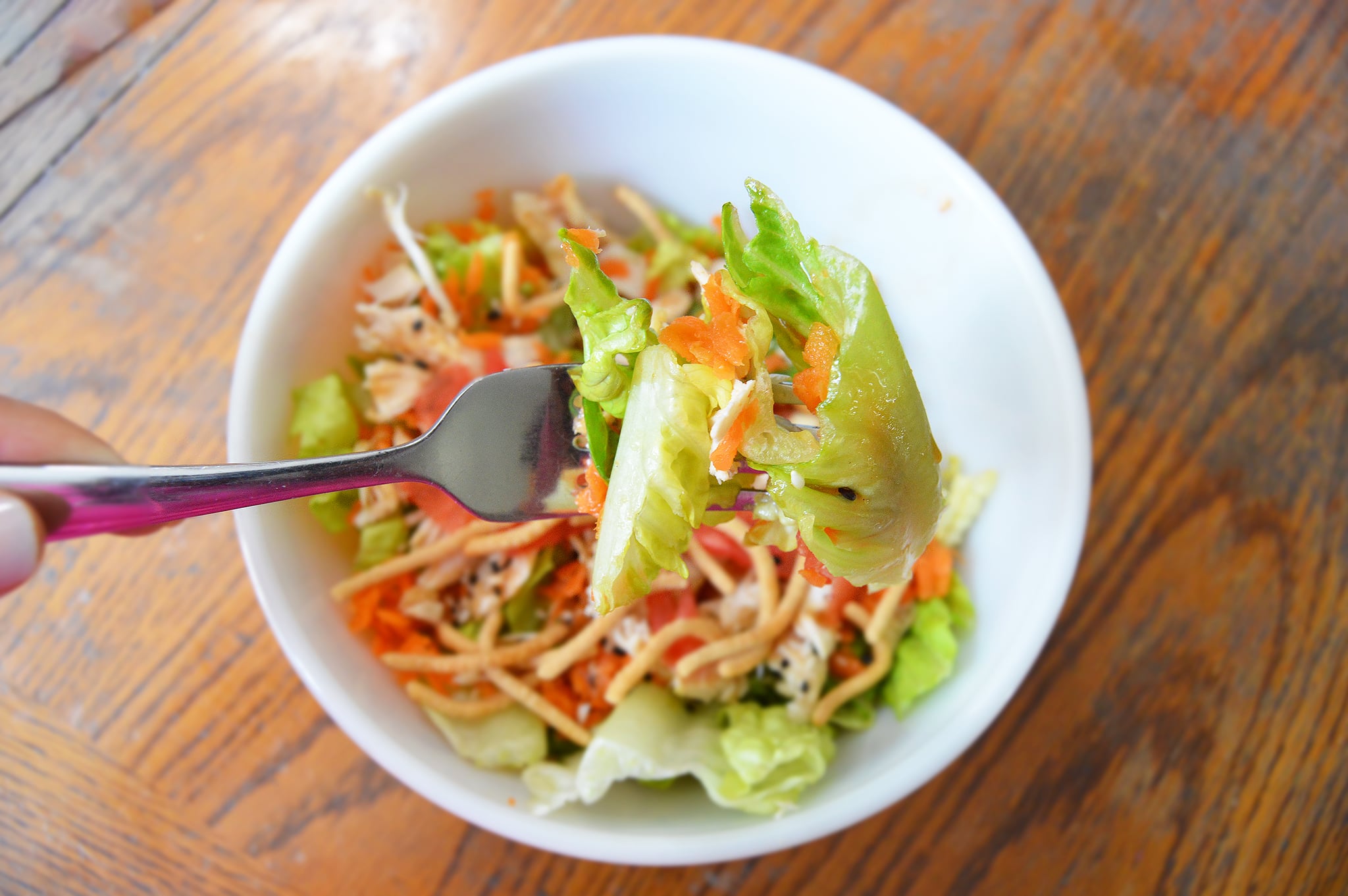 The Health Nut Copycat Chinese Chicken Salad
TikTok User @erinabeeats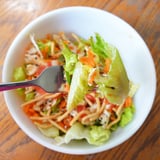 Ingredients
For the salad:
3 cups romaine and iceberg lettuce
1/4 cup shredded carrots
1/4 cup shredded chicken
2 tablespoons pickled ginger
2 tablespoons dry chow mein noodles
For the dressing:
1 tablespoon sesame oil
1 tablespoon apple cider vinegar
1/2 tablespoon sugar
1 teaspoon soy sauce
1/2 teaspoon garlic powder
1/2 teaspoon onion powder
1 teaspoon sesame seeds
Directions
1. Wash, dry, and cut lettuce, then place in large salad bowl.
2. Shred carrots and chicken.
3. Add carrots, chicken, and pickled ginger to bowl of lettuce.
4. In a separate bowl, combine sesame oil, apple cider vinegar, sugar, soy sauce, garlic powder, onion powder, and sesame seeds. Whisk together until emulsified.
5. Pour dressing over salad and toss (or shake in a covered bowl, Kourtney Kardashian style).
6. Top with dry chow mein noodles.
Information
Category

Salads, Main Dishes

Yield

1 serving

Total Time

9 minutes, 59 seconds
Nutrition
Calories per serving

266