Kimchi Jjigae Recipe With Photos
Kimchi Jjigae Was a Winter Staple During My Childhood — Here's How You Can Make It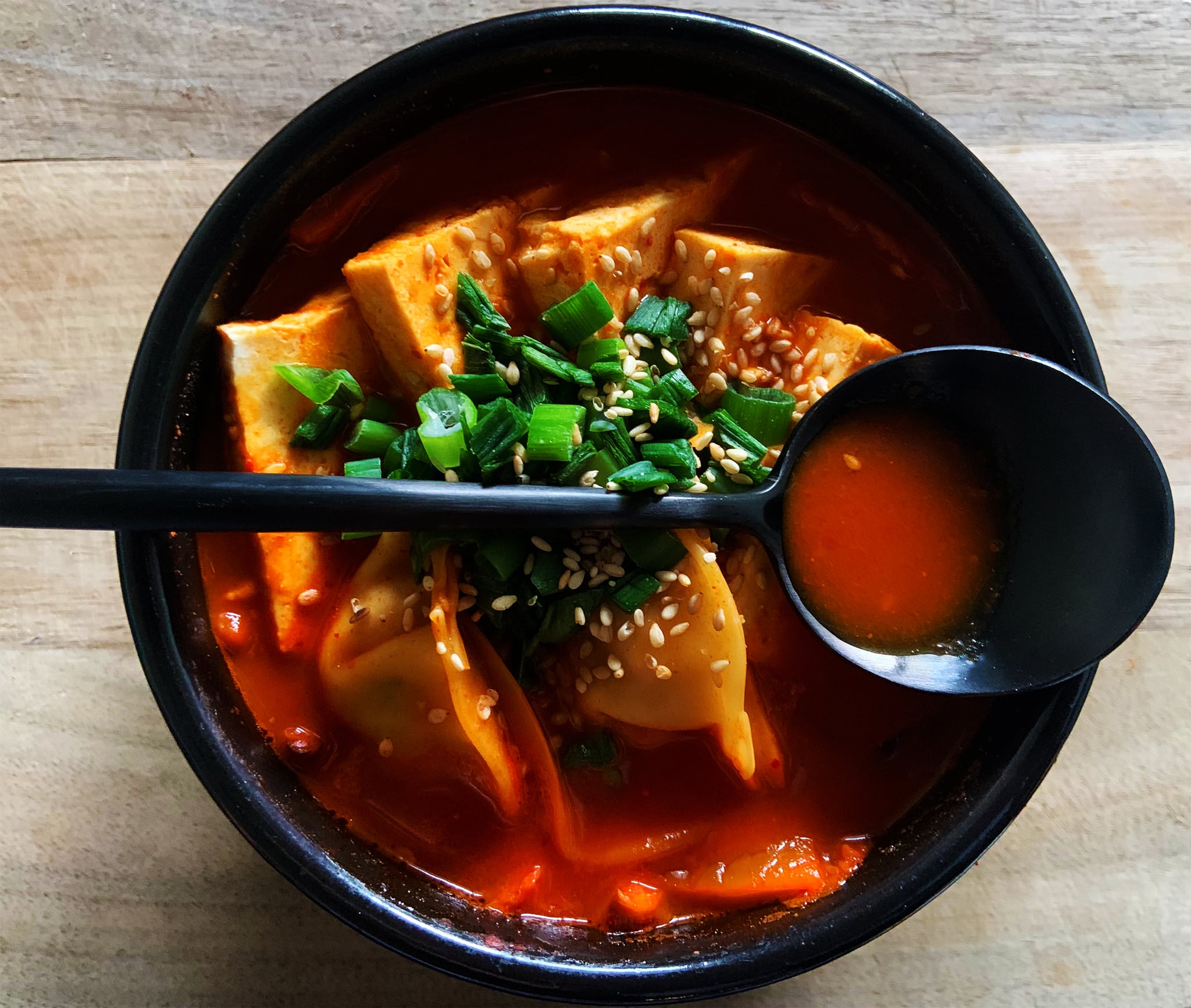 Anytime it was cold enough for us to see our breath turn into small clouds, my mom would make kimchi jjigae. Each spicy spoonful of the delicious stew acted like a heating pack that slowly warms the soul. No matter how chilly the day was, my jacket became a nonessential after finishing a bowl. To me, every bite of fluffy rice soaked in kimchi jjigae broth elicits memories of home.
What makes kimchi jjigae even better is that it can be customized to suit your taste buds or dietary needs. If you're a meat- or fish-lover, you can add tender, fatty pieces of pork belly or a can of tuna. However, for those strictly on plant-based diets, this vegan kimchi jjigae recipe relies on shiitake mushrooms, dried kelp, garlic, and green onion roots for a beautiful, rich stock. The key to a good stock is to let it simmer for at least 30 minutes, but make sure to take the kelp out at the 10-minute mark to avoid bitterness.
As for the kimchi, I suggest trying out celebrity chef Seonkyoung Longest's The BEST Vegan Kimchi recipe. Longest uses the sweet, cinnamon-y notes of persimmons to balance the spicy red pepper flakes and garlic, while a rice porridge made with shiitake mushroom and dried kelp rivals the deep umami flavor of fish sauce. Once the stock is done, making kimchi jjigae is just a matter of stir-frying the other ingredients in sesame seed oil before throwing the stock into the mix. While this stew is topped off with firm tofu and vegan dumplings, feel free to add whatever toppings you want. Once it's all done, enjoy the warm and steamy goodness!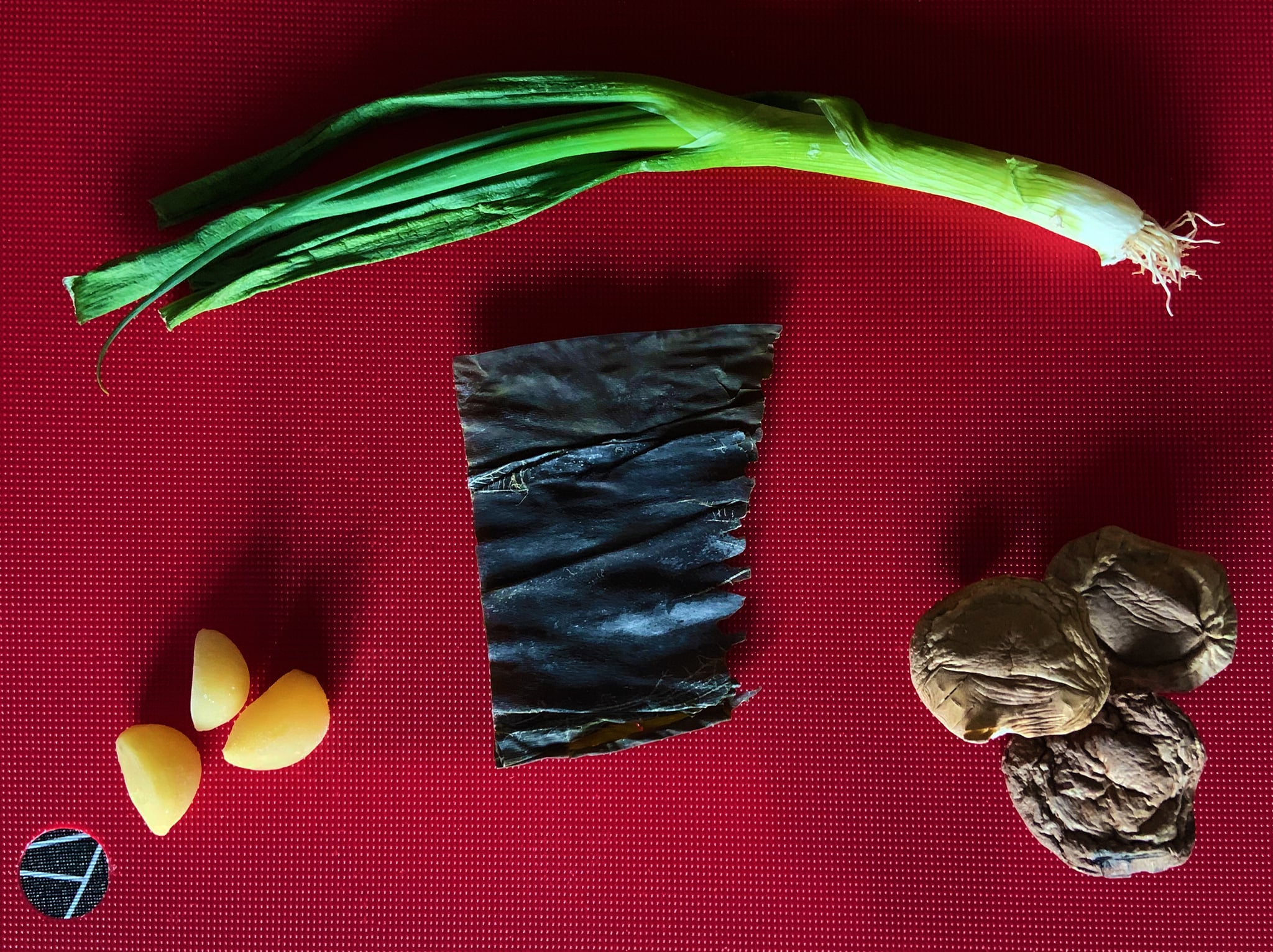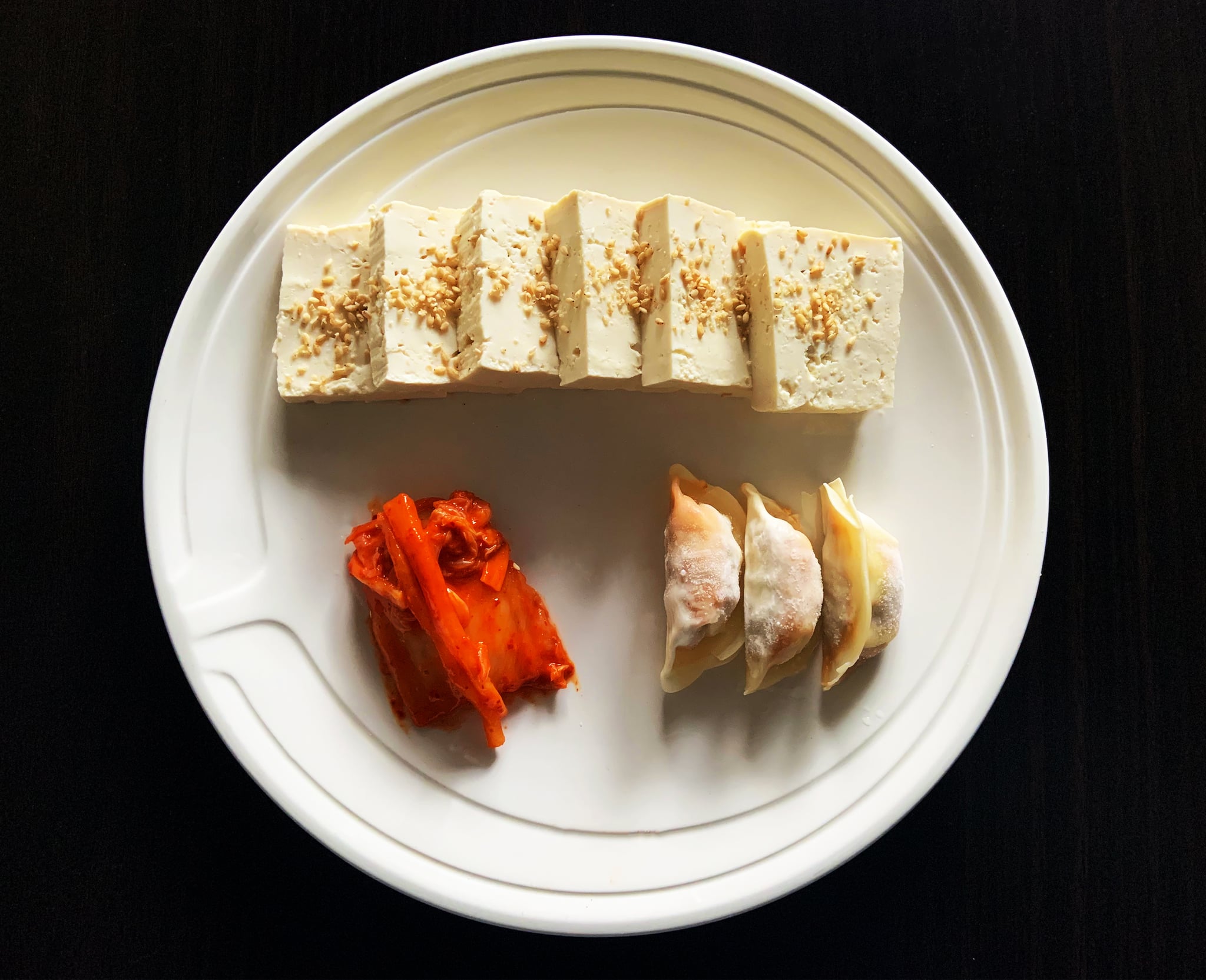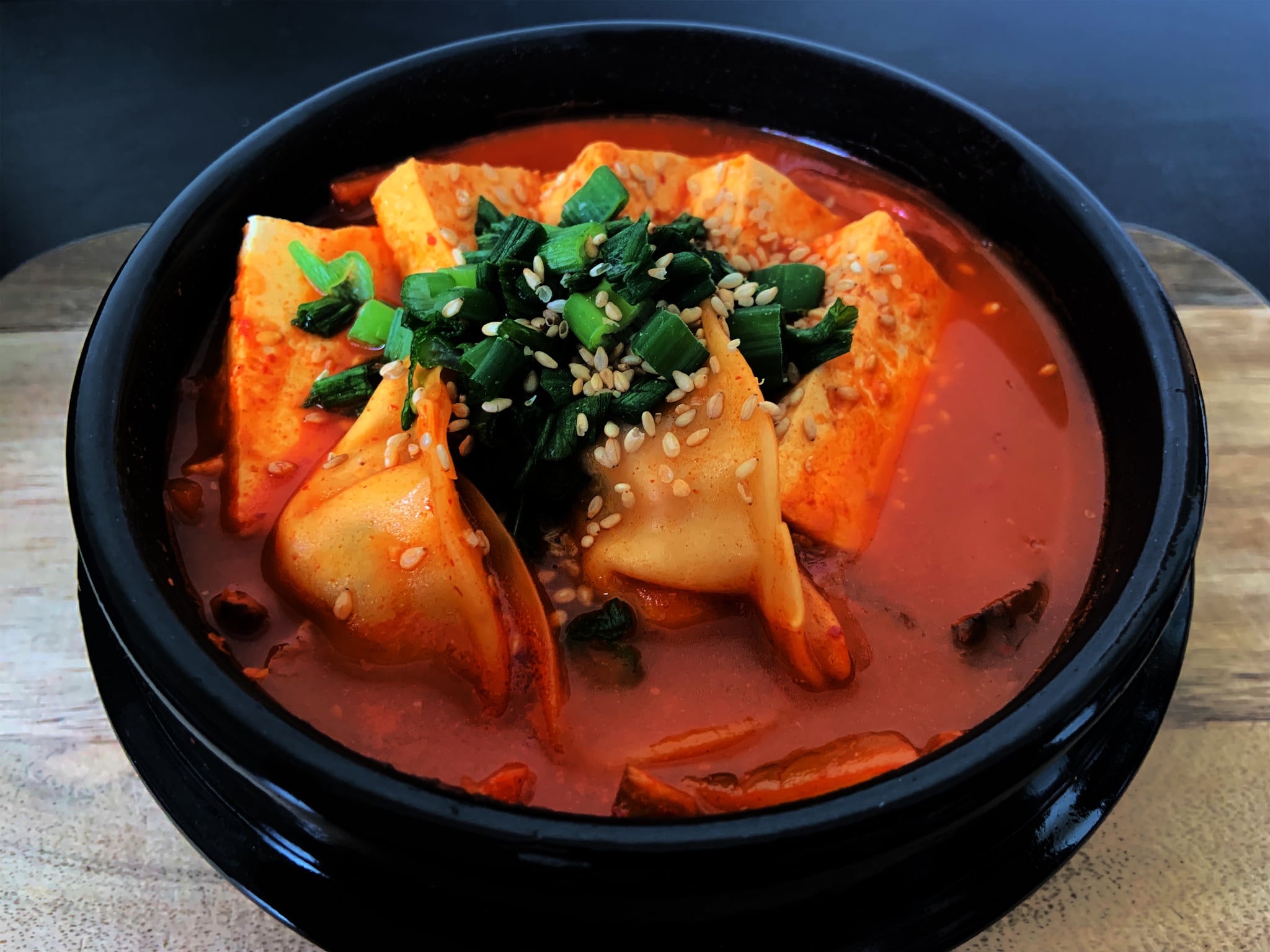 Vegan Kimchi Jjigae
Original
Notes
Save the shiittake mushrooms from the stock and add them as another topping. If you aren't vegan, feel free to substitute the tofu for pork belly or tuna.
Ingredients
Stock:
2 cups water
3 shiitake mushrooms
1/4 sheet dried kelp
1 green-onion root
3 cloves garlic
Base:
1 cup kimchi
1/2 cup kimchi juice
1 green-onion stalk
1 teaspoon sugar
1/2 tablespoon soy sauce
1 tablespoon sesame-seed oil
1 tablespoon gochujang (Korean red-pepper paste)
Toppings:
1/4 block firm tofu
3 vegan dumplings
1 tablespoon green onions
1 tablespoon sesame seeds
Sliced shiitake mushrooms (optional)
Directions
In a small pot, add 3 garlic cloves, 3 shiitake mushrooms, 1/4 sheet dried kelp, and 1 green-onion root to 2 cups water. With the lid on, bring to a boil, reduce heat to a simmer, and let it sit for 10 minutes.
After 10 minutes, remove the dried kelp and allow the stock to boil for another 20 minutes. Remember to keep the lid on, and the stock will reduce to 1 cup.
As the stock is boiling, add 1 tablespoon sesame-seed oil to another pot over medium heat.
Mince 1 green-onion stalk, put the white base into the hot oil, and stir-fry to make green-onion oil. Save the remaining green onion for garnish.
After a minute, or once the green onion becomes fragrant, add 1 cup chopped kimchi and stir-fry for 2-5 minutes.
Add the gochujang, sugar, and soy sauce, and allow the kimchi to absorb the sauce and spices for another minute. Make sure to stir frequently to avoid burning the mix.
After 1 minute, add the kimchi juice and stock, and allow it to simmer for 10 minutes.
As it finishes simmering, add the firm tofu, dumplings, green onions, and sesame seeds.
Serve alongside a bowl of fluffy rice, and enjoy with your favorite Korean side dishes!
Information
Category

Soups/Stews

Cuisine

Other Asian

Yield

1 serving

Prep Time

10 minutes

Cook Time

45 minutes

Total Time

54 minutes, 59 seconds