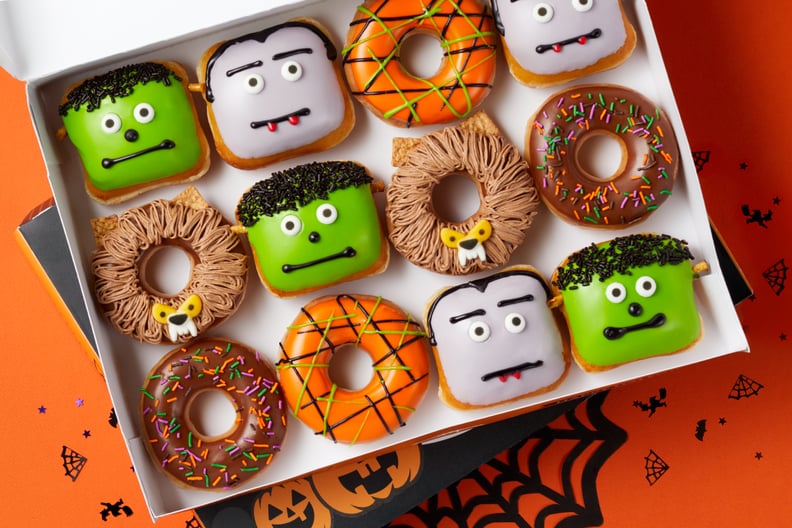 Krispy Kreme
Sure, we know food is meant to be eaten and not played with, but you won't be able to resist doing both when you see Krispy Kreme's new Halloween doughnuts. These Scary Sweet Monster Doughnuts are decorated to look like Frankenstein, a vampire, and a werewolf, and we can't wait to sink our fangs into these!
"Frank" the Frankenstein is a doughnut filled with Original Kreme and covered in neon green icing. He has black sprinkles for hair, sugar piece eyes, a black icing mouth and nose, and tiny pretzels for bolts. "Drake" the vampire is a doughnut with raspberry filling and has a face dipped in light purple icing and decorated with black icing, sugar piece eyes, and sweet, red-icing fangs (to resemble blood dripping). Finally, "Wolfie" the werewolf is an Original Glaze doughnut dipped in chocolate icing and decorated with Chocolate Kreme fur, a sugar piece face, and cinnamon sugar cereal ears. You'll be howling over how good it is! You can also get Original Glaze doughnuts dipped in chocolate with orange, purple, green, and black sprinkles, or dipped in orange icing with green and black icing swirls.
But that's not all! In order to give their loyal customers a safe treat this year, Krispy Kreme is also hosting Sweet-or-Treat Saturdays through Oct. 31, where customers can purchase one dozen doughnuts at participating stores and get a $1 Sweet-or-Treat Original Glazed dozen featuring a special edition Jack-o'-Lantern Doughnut that's decorated with orange and black icing. Yeah, we'll definitely be fighting over who gets to eat that one! And if you're planning on skipping trick-or-treating this year, you can stop by your nearest Krispy Kreme (in costume, of course) on Halloween to score one free doughnut per person.
See more of this year's Halloween doughnuts ahead.