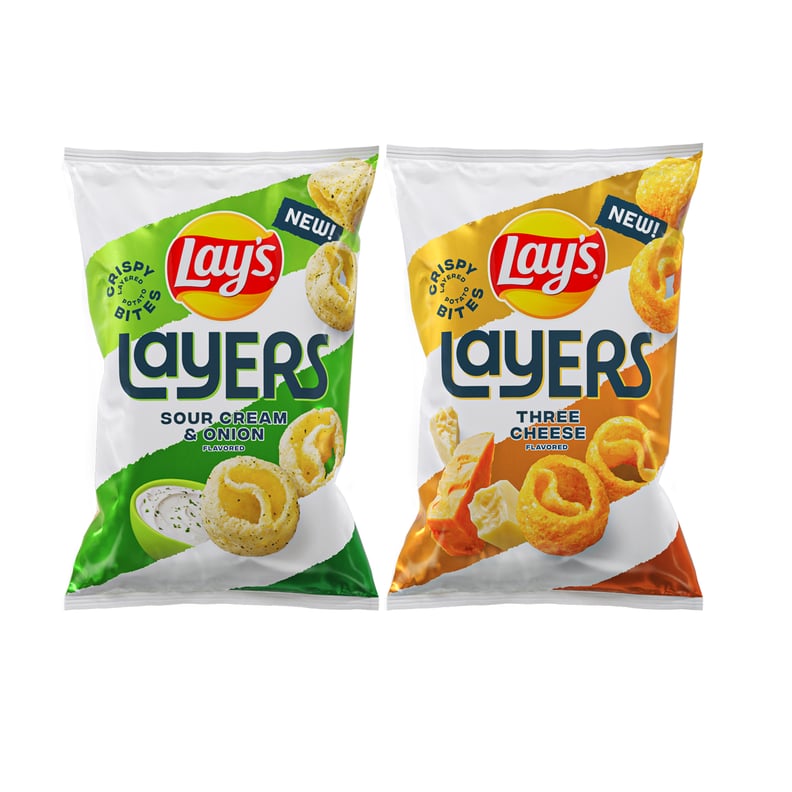 Courtesy of Lay's
Courtesy of Lay's
When people say "potato chip," the first brand that comes to my mind is Lay's, obviously. Lay's chips are a classic (shoutout to BBQ Lay's — I love you) for cookouts, hangouts, or your everyday side to a sandwich. If you pick up Lay's potato chips from your local grocery store, you know they're going to be good; even their more outlandish flavors — like grilled cheese and tomato soup and crispy taco — have struck well with my tastebuds. This is why it's no surprise Lay's new twist on potato chips, called "Layers," has caught my attention. Described by Lay's as "bite-sized, flavorful, and unlike anything Lay's has unveiled before," I'm intrigued to see what these snacks are all about. Fortunately, we'll all be able to find out soon: Lay's new Layers bites will be available nationwide come mid-January 2022.
What Are Lay's Layers?
Lay's Layers are described as "multi-dimensional, one-of-a-kind potato bites with layers of delicious crispiness." Basically, they're a rounder, puffier version of the chips you know and love with a squiggly layer of chip that runs through the circle. The snacks come in a 4.75 oz. bag for $4, a 1.75 oz. bag for $2, and a 0.5 oz. bag that you can buy two of for $1. The flavors available are sour cream and onion as well as a three-cheese — yum. To be honest, they sound like a Fritos-meets-chips collaboration to me (minus the cornmeal), but we'll see what these layered bites turn out tasting like.
Where Can You Buy Lay's Layers?
Lay's Layers should be available anywhere you normally buy your potato chips in mid-January, but if you're craving a taste right away, it appears they're available to purchase online at Walmart, Amazon, or Snacks.com for either a 4.75 oz bag or a 36-count variety pack, if you're feeling daring!