Martha Stewart Stuffing Recipe
Martha Stewart's Stuffing Recipe Only Takes 30 Minutes, So You're Welcome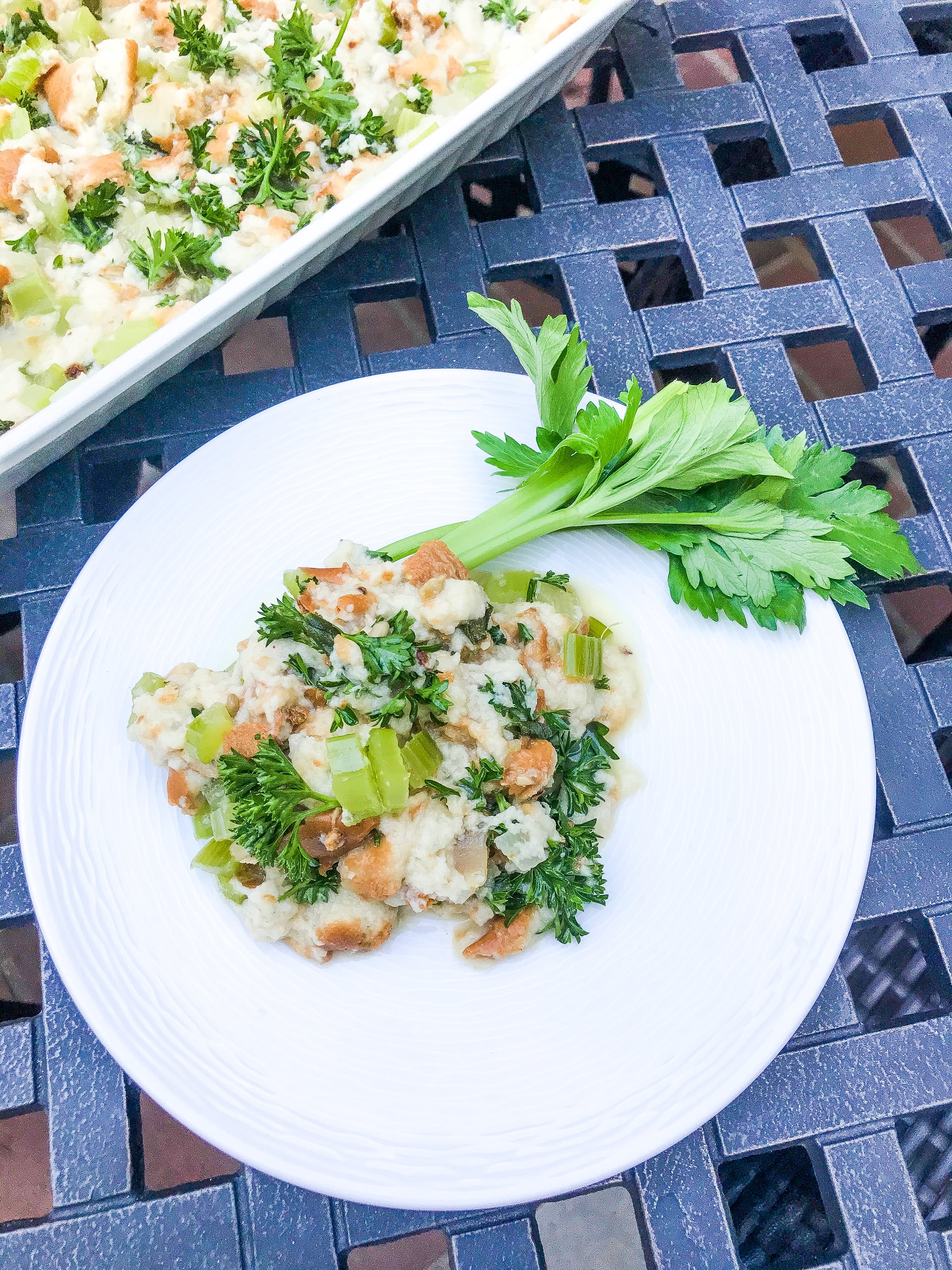 As a kid, I was always puzzled how on Thanksgiving my mom was able not only to cook a turkey, but multiple side dishes all at the same time. Like, there's only so much that you can fit in the oven at once! I've learned that the magic trick is finding the right recipes with less prep and shorter cooking times, which is why I'll be making Martha Stewart's stuffing this year. And let's be real, a Martha Stewart recipe is guaranteed to be a scrumptious hit. Because the onion, celery, and sage are sautéed in melted butter, the stuffing has an overall buttery-doughy texture, which pairs nicely with a Thanksgiving turkey.
My favorite part about this recipe is the minimal amount of work required. While you make your way through the first half of step one, you can prep the bread and parsley. I found it quicker to tear the bread slices into smaller pieces with my fingers, rather than cutting it into one-inch cubes; it may not look as synchronized, but it gets the job done! Do yourself (and your tummy) a favor, and give this side dish a spot on your holiday menu.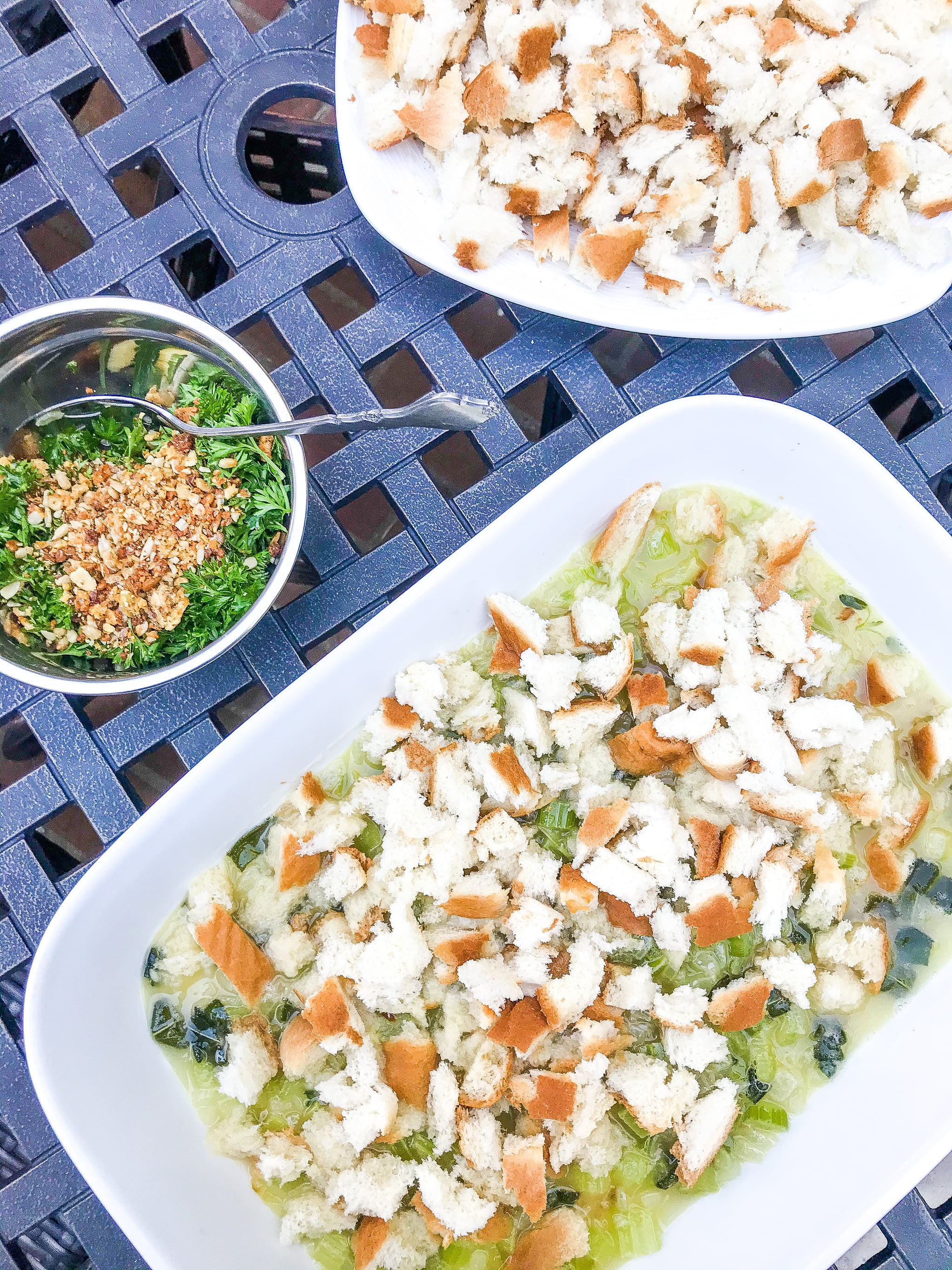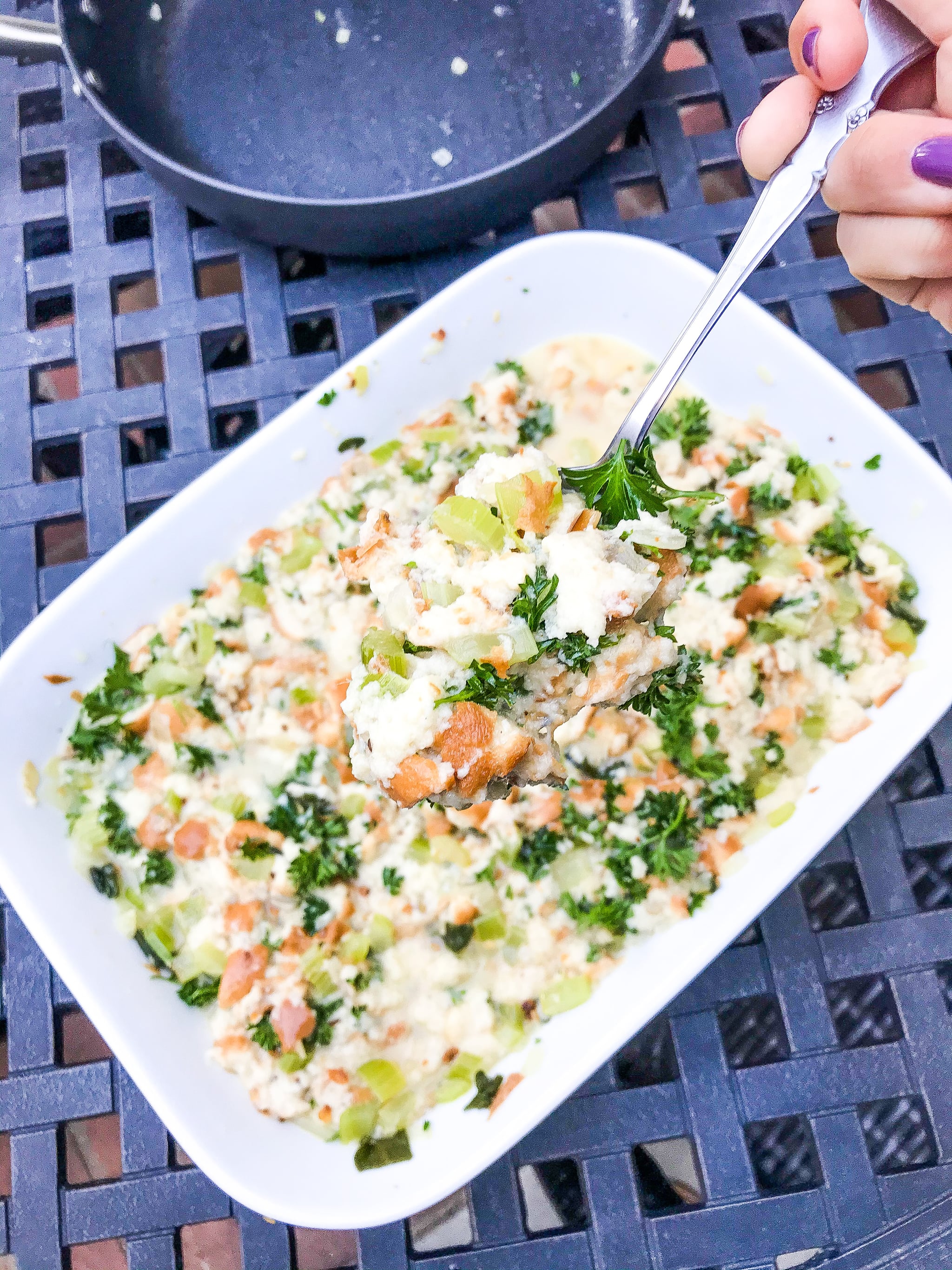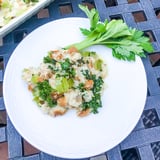 Ingredients
12 tablespoons unsalted butter
4 onions, peeled and cut into 1/4-inch dice
16 celery stalks, cut into 1/4-inch dice
10 large fresh sage leaves, chopped, or 2 teaspoons crushed dried sage
6 cups homemade chicken stock, or canned low sodium chicken broth, skimmed of fat
2 stale loaves white bread (about 36 slices), crust on, cut into 1-inch cubes
2 teaspoons salt
4 teaspoons freshly ground black pepper
3 cups (about 2 bunches) fresh coarsely chopped flat-leaf parsley
2 cups pecans, toasted and chopped (optional)
2 cups dried cherries (optional)
Directions
In a large skillet, melt butter. Add onions and celery, and cook over medium heat until onions are translucent, about 10 minutes. Add sage, stir to combine, and cook about four minutes. Add half cup stock, and stir well. Cool for about five more minutes until liquid has reduced by half.
Transfer onion mixture to a large mixing or serving bowl. Add remaining stock and all other ingredients, including toasted pecans and dried cherries if desired. Mix everything until combined, then serve.
Information
Category

Side Dishes, Stuffing/dressing

Yield

12 cups

Prep Time

5 minutes

Cook Time

25 minutes

Total Time

29 minutes, 59 seconds
Image Source: POPSUGAR Photography / Emily Weaver