No-Churn Pistachio Ice Cream Recipe and Photos
Want an Easy Green Dessert For St. Patrick's Day? Make This No-Churn Pistachio Ice Cream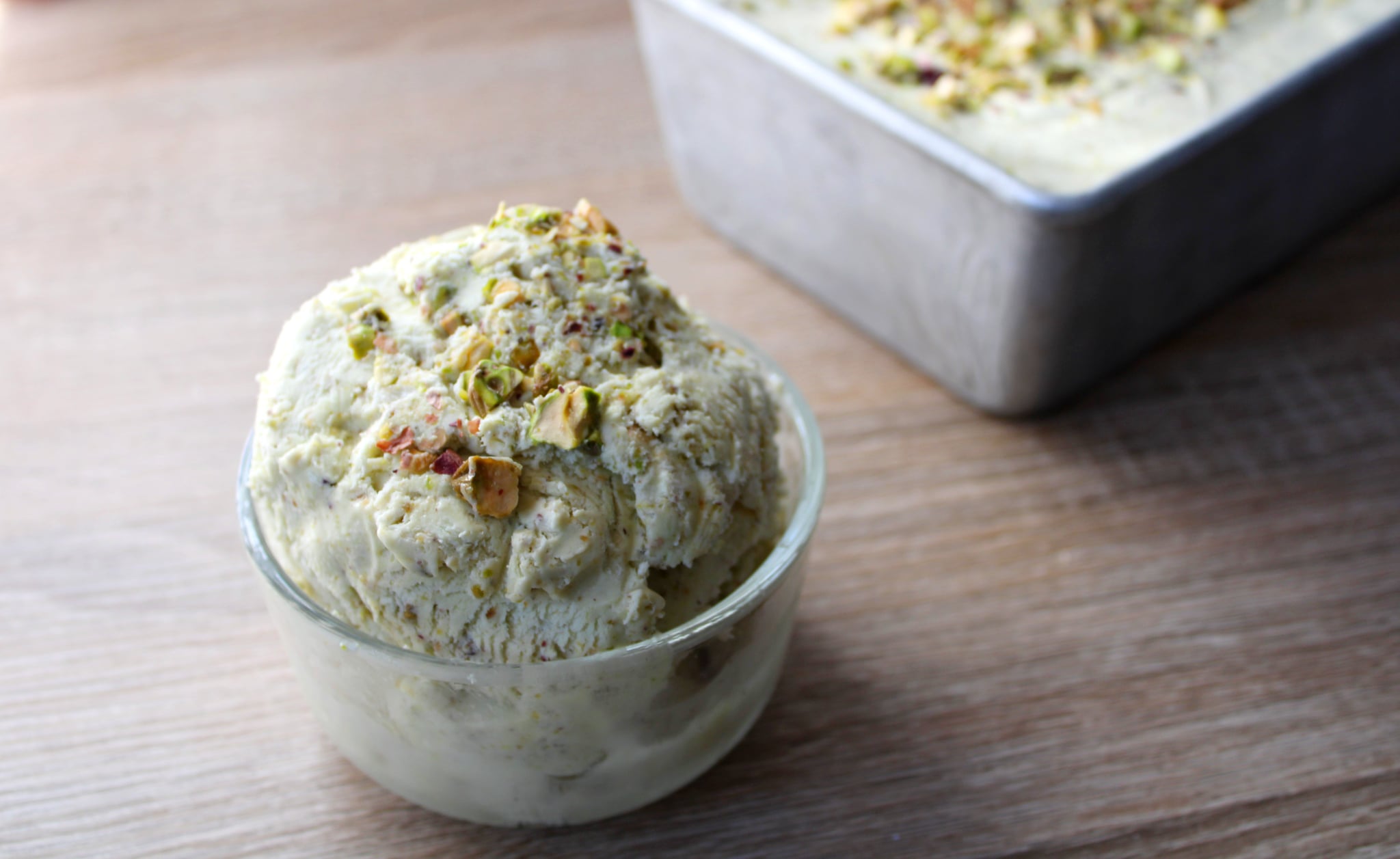 The idea of making homemade ice cream always intimidated me. That is, until I discovered no-churn ice cream, which gets made right in your kitchen with just a bowl, a spoon, and a loaf pan.
With St. Patrick's Day coming up, I've had my eye out for green desserts, which I why I was so excited to find this recipe for no-churn pistachio ice cream from Simply Scratch. I had pistachios from Setton Farms in my pantry (theirs are the best, in my opinion), I love ice cream, and I was looking for a green dessert. And with just four ingredients, this one was perfect!
The hardest part about making this recipe is that you have to use a food processor to grind the pistachios into pistachio butter. This isn't necessarily difficult, it just takes time. Once the pistachio butter is ready, you mix it with sweetened condensed milk and vanilla. The textures here are all really different, so be patient when you mix; they will come together.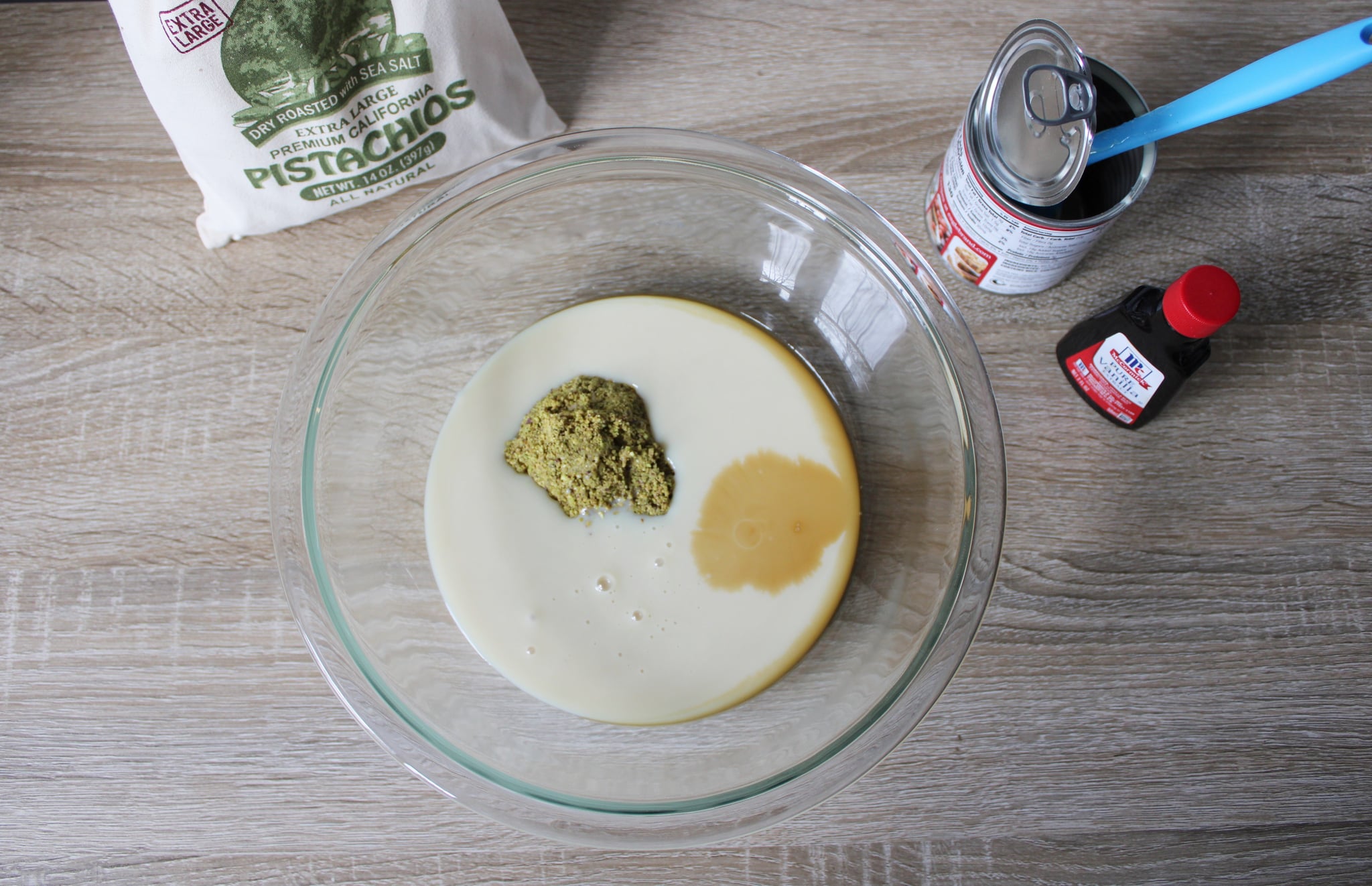 Once those are mixed, they'll look something like this: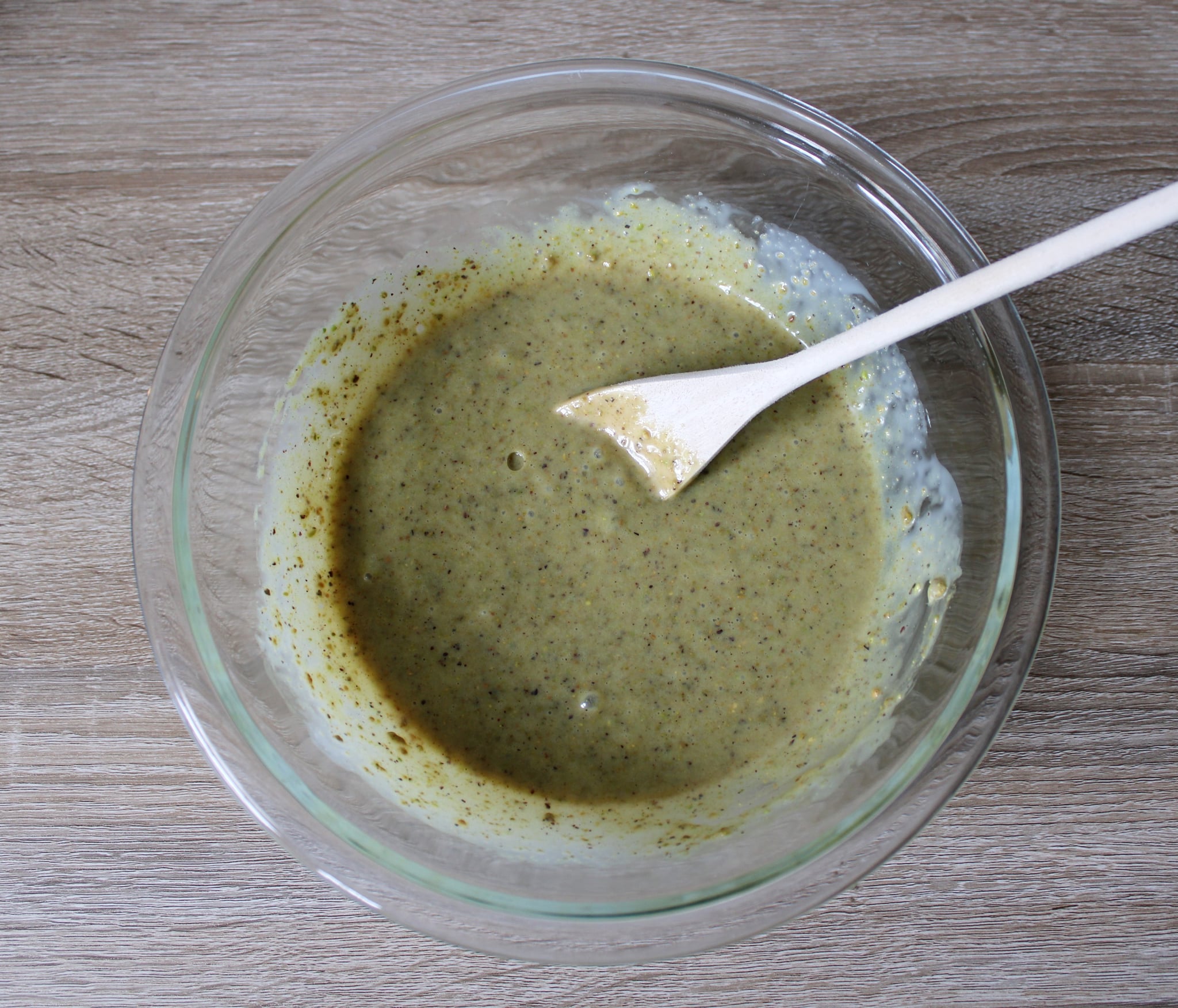 Then, simply beat heavy whipping cream in a separate bowl until stiff peaks form. That means that if you lift up the beaters, the whipped cream forms a little peak that doesn't flop over. Fold the heavy whipping cream into the pistachio butter mixture. This step also takes time, as you'll want to do it by hand. Being gentle with the folding helps keep the whipped cream fluffy and ensures that everything is properly mixed in. It should look something like this — and taste amazing — when you're done: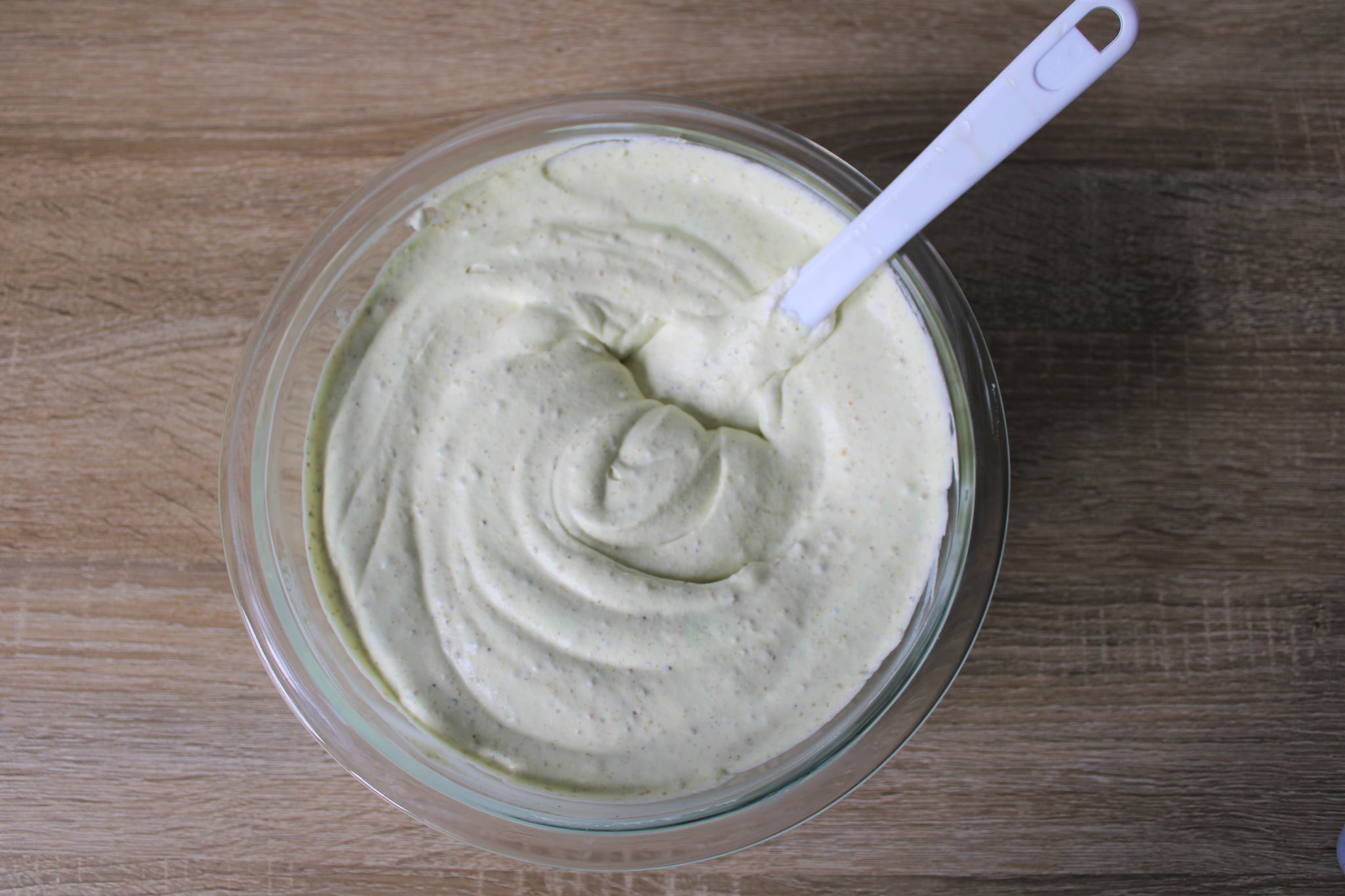 Then, just scrape the mixture into a loaf pan and pop it in the freezer for a minimum of four hours. I tested mine right at four hours — partially because I couldn't wait — and the texture was great! It was a little fluffier and easier to scoop than traditional ice cream, but overnight, it hardened to the same texture. The recipe recommends letting the ice cream sit for 20 minutes before you scoop it, but mine was fine to scoop right out of the freezer.
I was honestly shocked at how delicious this ice cream is — I wanted to eat it before it went into the freezer! It's light, refreshing, and pistachio-y and has the exact same texture as regular ice cream. St. Patrick's Day or not, I'lll definitely be making it again!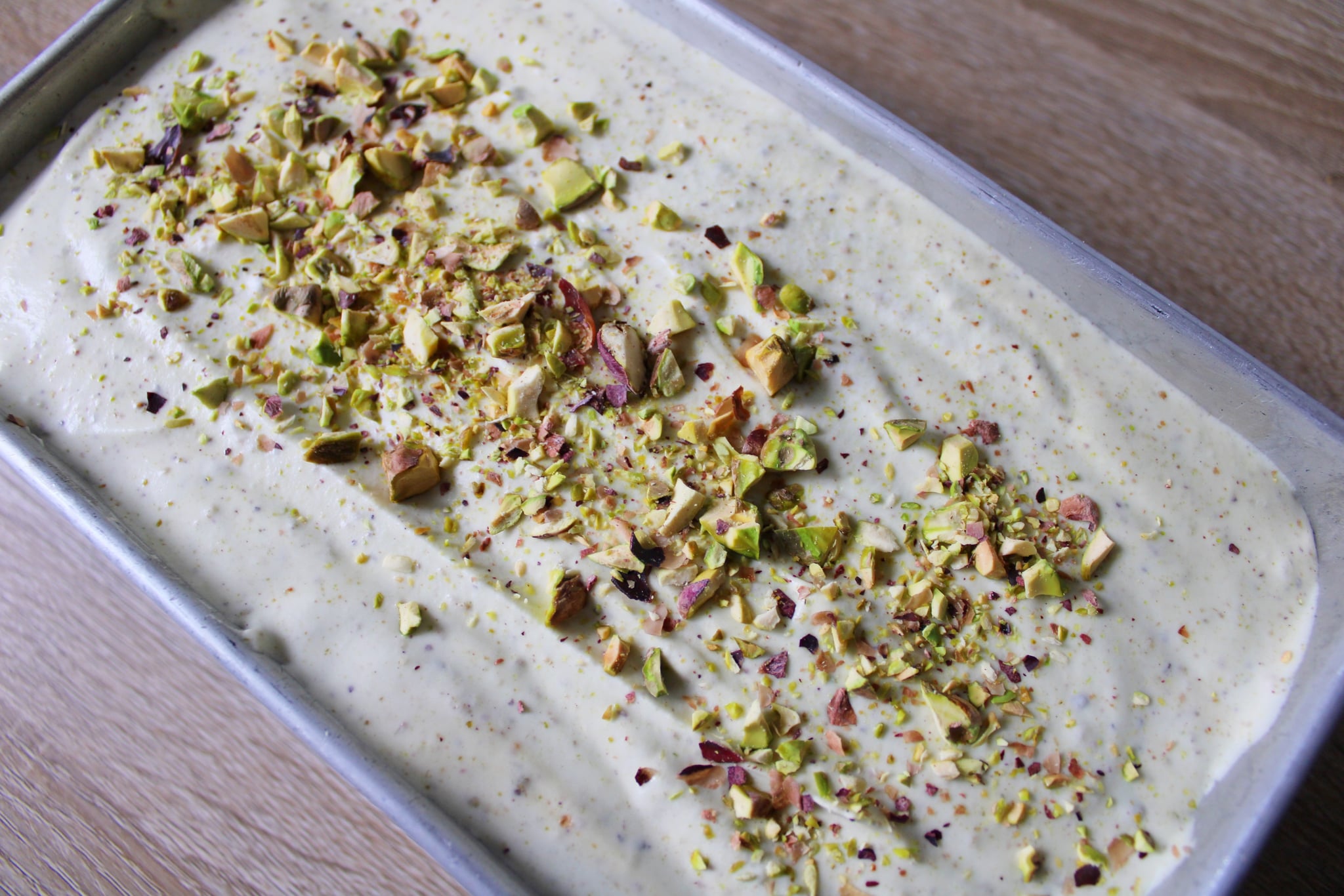 If you're looking for more ways to use up pistachios, or just love them like I do, try this copycat Starbucks Pistachio Latte recipe next.
No-Churn Pistachio Ice Cream
Simply Scratch
Notes
I used two drops of green food coloring to add some fun color.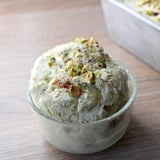 Ingredients
1 cup shelled and lightly salted pistachios, plus more for topping (I used Setton Farms)
14 ounces sweetened condensed milk
1 teaspoon pure vanilla extract
2 cups heavy whipping cream
Optional: 2-3 drops green food coloring
Directions
Add the pistachios to your food processor fitted with a blade attachment and process until a smooth butter forms. This takes a while, so scrape down the sides and keep an eye on it.
In a large mixing bowl, combine the sweetened condensed milk, pistachio butter, and vanilla. Stir (I used a wooden spoon) until thoroughly combined.
Pour the heavy whipping cream into a separate large mixing bowl. Using a handheld mixer or a standing mixer, mix on high speed until stiff peaks form. Use the whisk attachment if you're using a standing mixer. You definitely don't want to do this one by hand! This will take about five minutes.
Add the whipped cream to the pistachio mixture. Use a spatula to gently fold them together, occasionally scraping down the sides of the bowl to make sure everything is properly mixed. If you're using food coloring, add it now.
Pour the ice cream into a loaf pan or any freezer-safe dish (you don't need to cover it) and sprinkle the top with chopped pistachios. You can also fold the pistachios into the ice cream if you'd prefer. Freeze for a minimum of four hours or up to overnight.
Information
Category

Desserts, Ice cream

Yield

1 loaf pan of ice cream
Image Source: POPSUGAR Photography / Kaley Rohlinger