These Shortbread Ghost Cookies Are So Cute For Halloween
These Shortbread Ghost Cookies Are the Perfect Thing to Bake on Halloween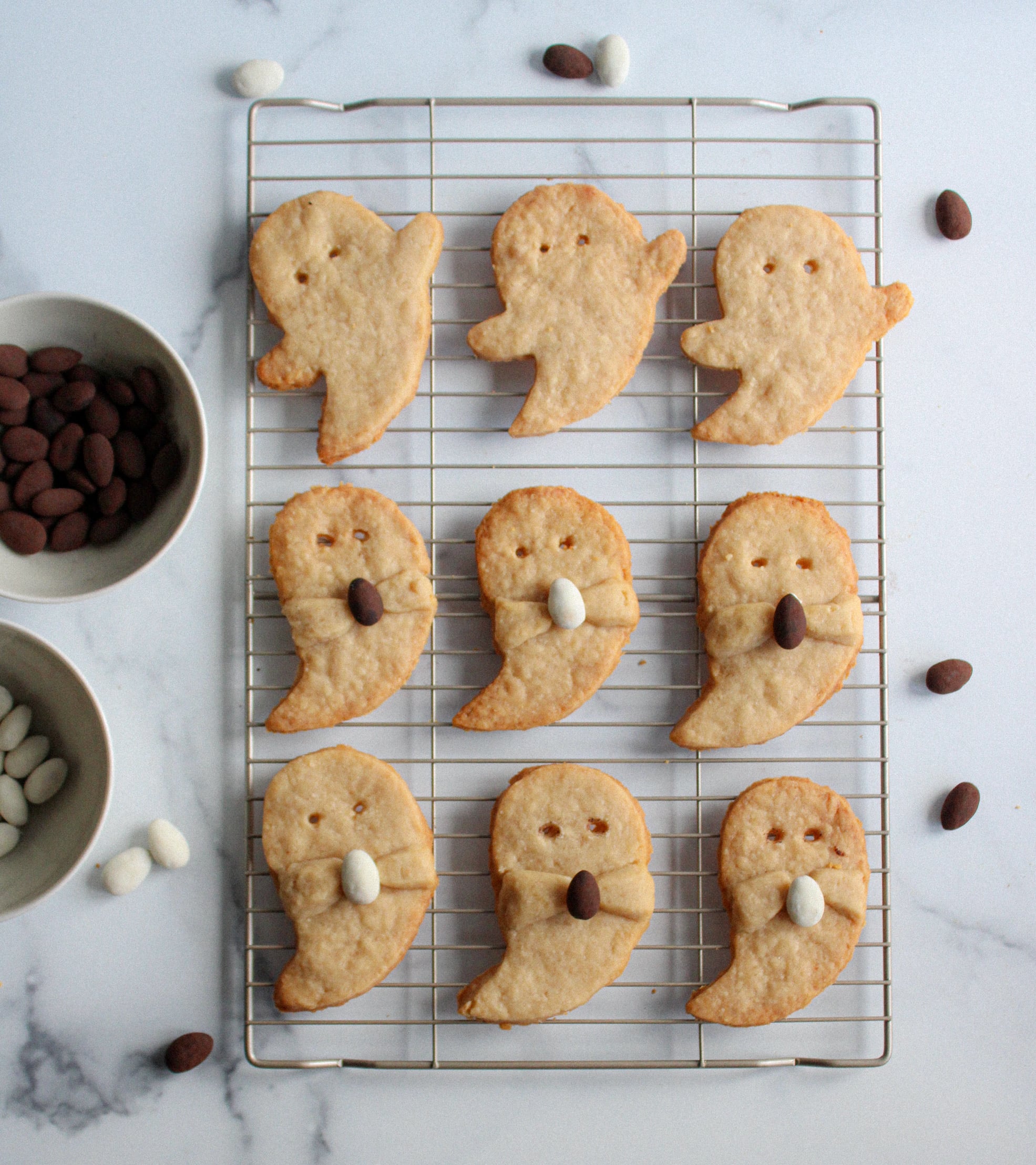 These shortbread ghost cookies are almost too cute to spook! They're buttery, sweet, and the perfect snack to enjoy on Halloween. And if you're having a few friends over this year, they're the perfect canvas to decorate together (with some boo-ze, of course). So, head to the kitchen with your family, friends, or roommates and whip up a batch of these spooky (but so stinkin' cute) ghosts!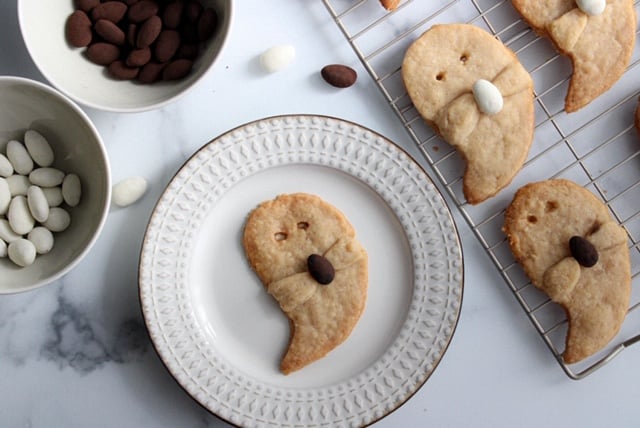 Each ghost cookie is paired with a Skinny Dipped almond, which is the perfect surprise as you get to the center of the cookie. I used two different flavors of Skinny Dipped almonds — the lemon bliss (which are to die for — get it?) and the dark chocolate-covered almonds. I love adding these because they're a high-protein, low-sugar snack made with real ingredients.
Make sure your butter is softened to room temperature before adding to your dry ingredients. If it's too cold, it will be very difficult to combine into your flour mixture, and if it's melted, the dough will not have the right consistency. I simply left my butter out on my countertop for about an hour or so to achieve the right amount of softness.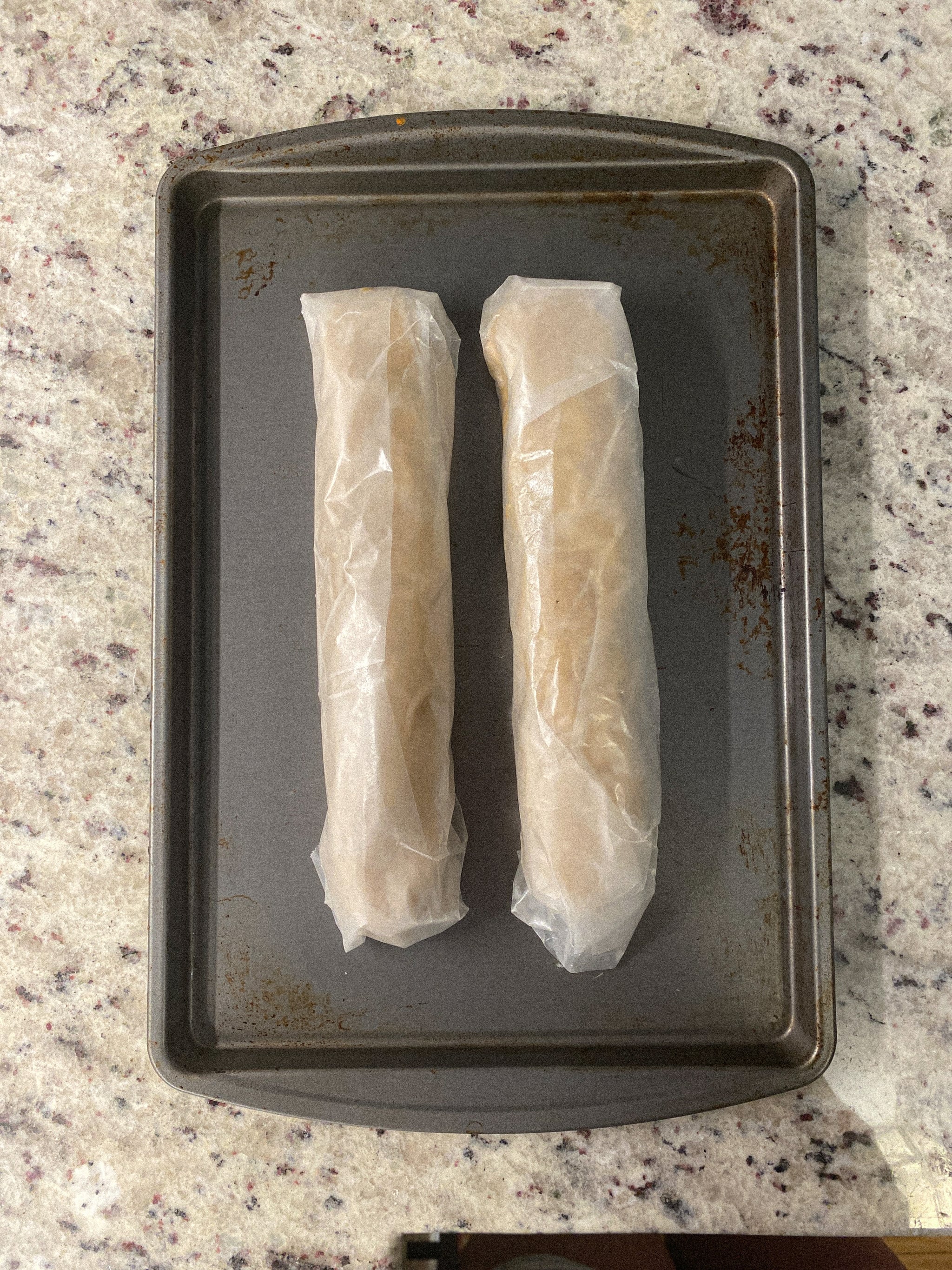 Once you combine all the ingredients and you have your cookie dough formed, cut in half and roll each into a log. Wrap each log in parchment or wax paper, and put in the fridge for about 15 minutes. This will help get the dough back to a temperature that is easier to work with, as your hands usually warm the butter in the dough and make it tricky to roll out.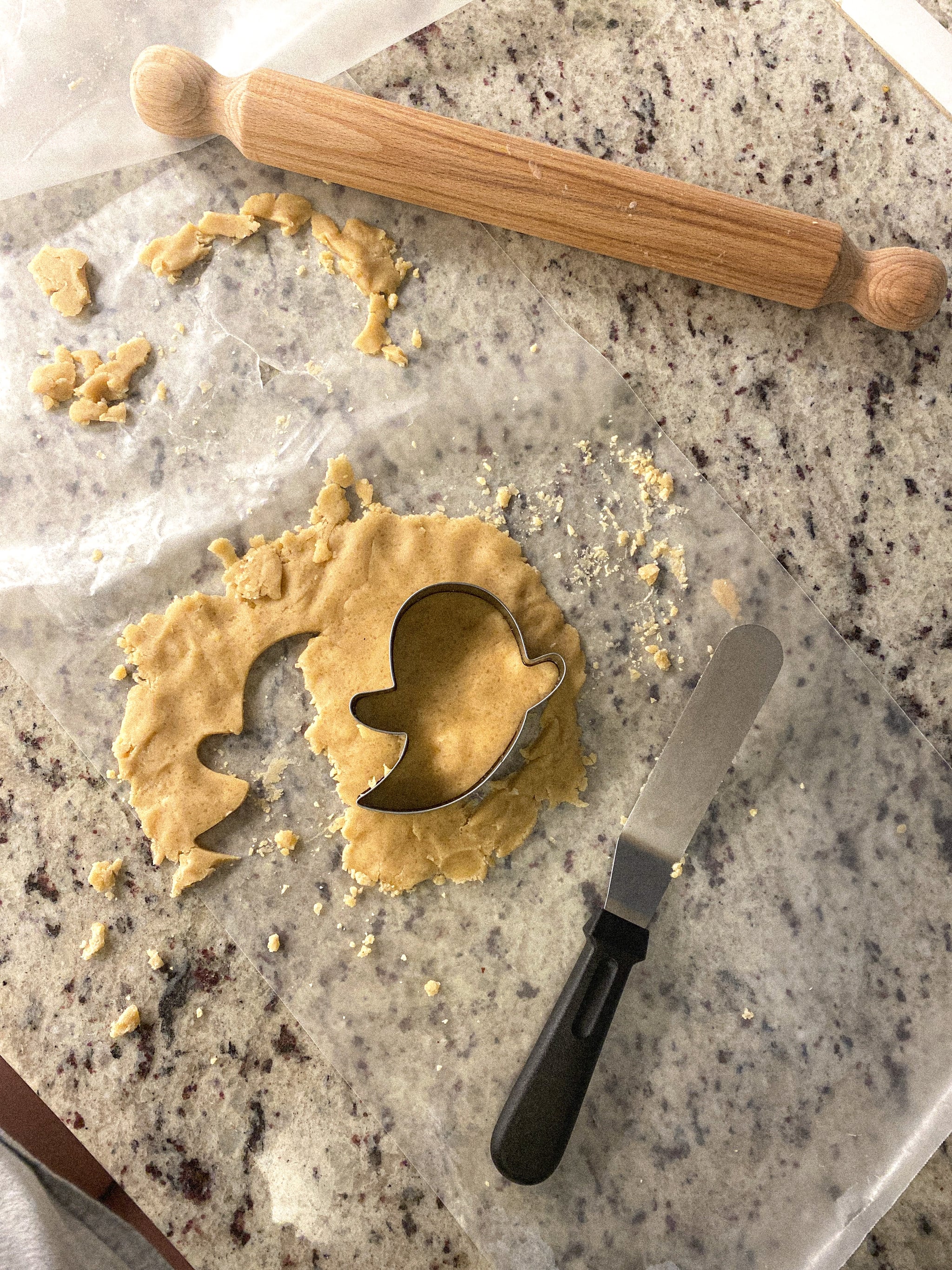 Once dough is cooled, roll out on a floured surface to about 1/2-inch thick. If you roll the dough out too thin, the cookies can be brittle and break apart. Use your cookie cutter to press down and wiggle a little to separate the dough around the cookie cutter, making it easier to pick up each ghost and lay it out on your baking sheet. Fold over the arms gently for each ghost making sure to leave space for your Skinny Dipped Almond after baking.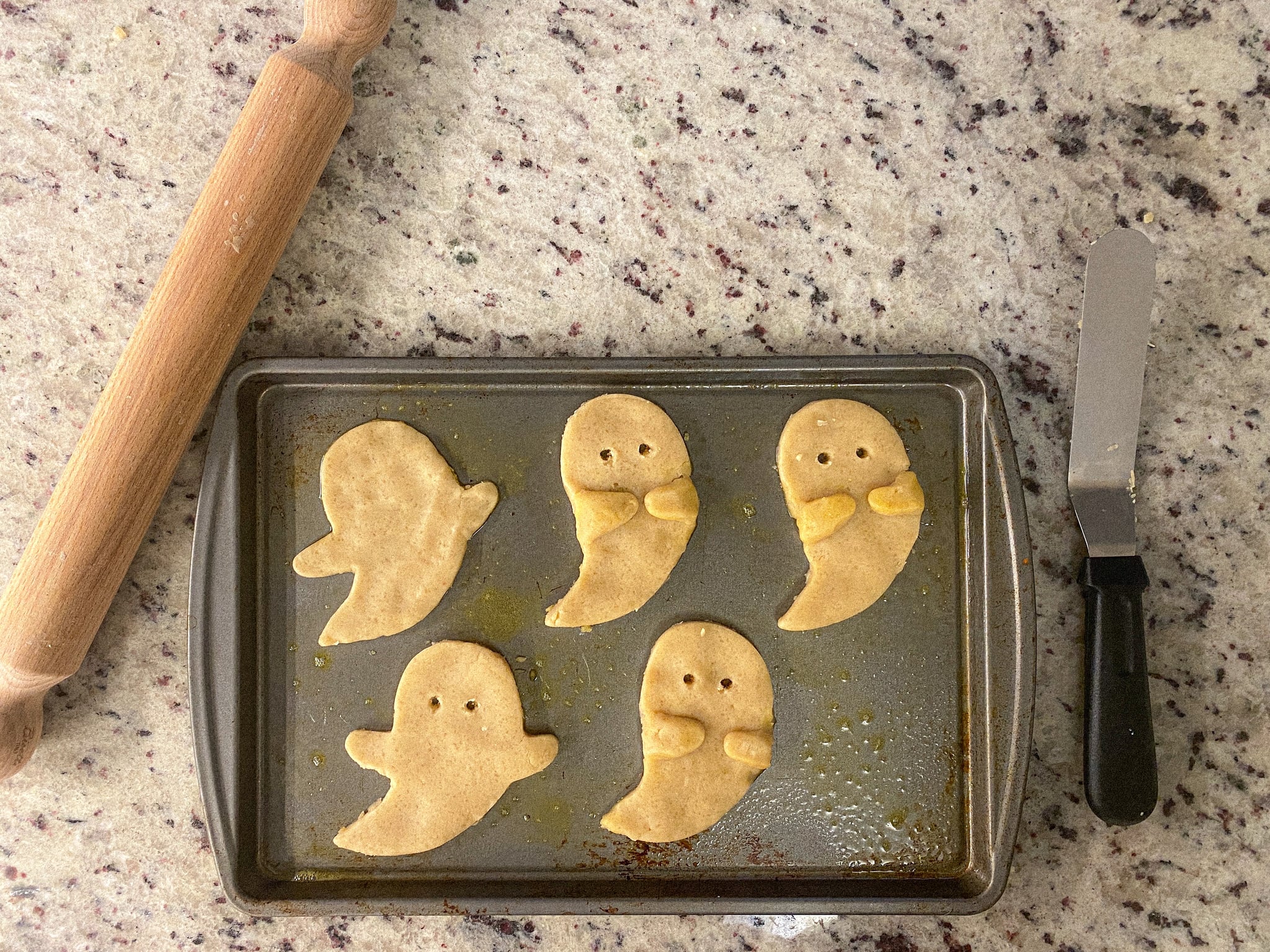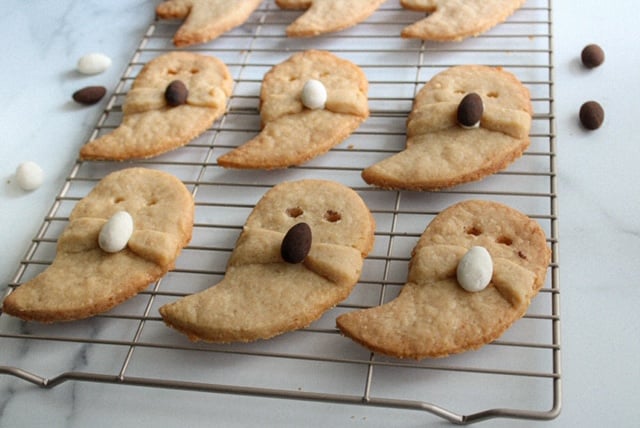 You can simply use your fingers to mend any rips at the arm joints. Once all your cookies are baked, let them cool fully for about 25-30 minutes. Then using a little bit of cake icing, stick a Skinny Dipped almond to each ghost between their hands and enjoy!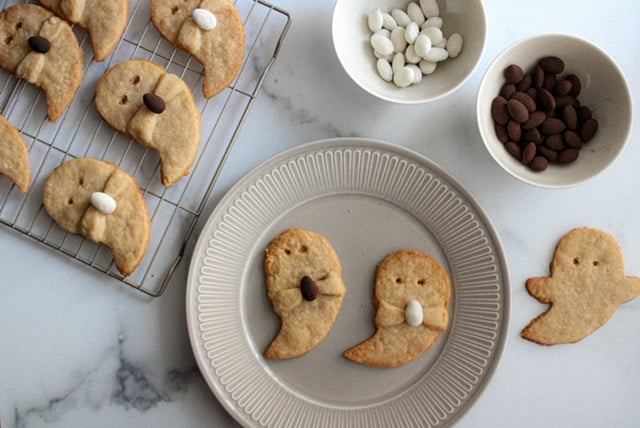 Shortbread Ghost Cookies
Original Recipe by Taylor Celentano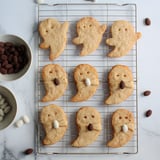 Ingredients
2 sticks of butter (softened)
1/2 cup sugar
2 cups of organic all-purpose flour
1/4 teaspoon of salt
About 12 Skinny Dipped almonds (any flavor you prefer)
Directions
Mix together your sugar, salt, and flour.
Using your hands (I don't currently own a stand mixer, but feel free to use one if you do!), mix your softened butter into your flour mixture until becomes a cookie dough consistency.
Divide dough into two logs, and wrap in wax paper and set in your fridge for about 10-15 mins.
Preheat your oven to 325 degrees.
Unwrap each log and on a floured surface, roll dough to about 1/2 inch thick.
Using your cookie cutter, cut out each ghost and place on a baking sheet lined with parchment paper (a silicone baking mat works, too).
Gently fold over their arms and mend the "rips" at the arm joins softly with your fingers (You don't want the hands to touch because you'll be placing your snack in between them).
Use a grill skewer to poke out two eyes on each as well.
Bake for about 18-20 minutes, as you'll want them to be light golden brown at the edges.
Allow cookies to cool fully and then using any icing you have on hand (I had some Pillsbury vanilla icing in my pantry), tack a little onto each Skinny Dipped Almond and stick in between the hands of each ghost (it should look like their holding a little snack).
Information
Category

Desserts, Cookies

Yield

12 Cookies

Prep Time

20 minutes

Cook Time

18 minutes

Total Time

37 minutes, 59 seconds