Oreos Launches New Limited-Edition Snickerdoodle Flavor
We Tried Oreo's New Snickerdoodle Flavor, and the Nostalgia Is Real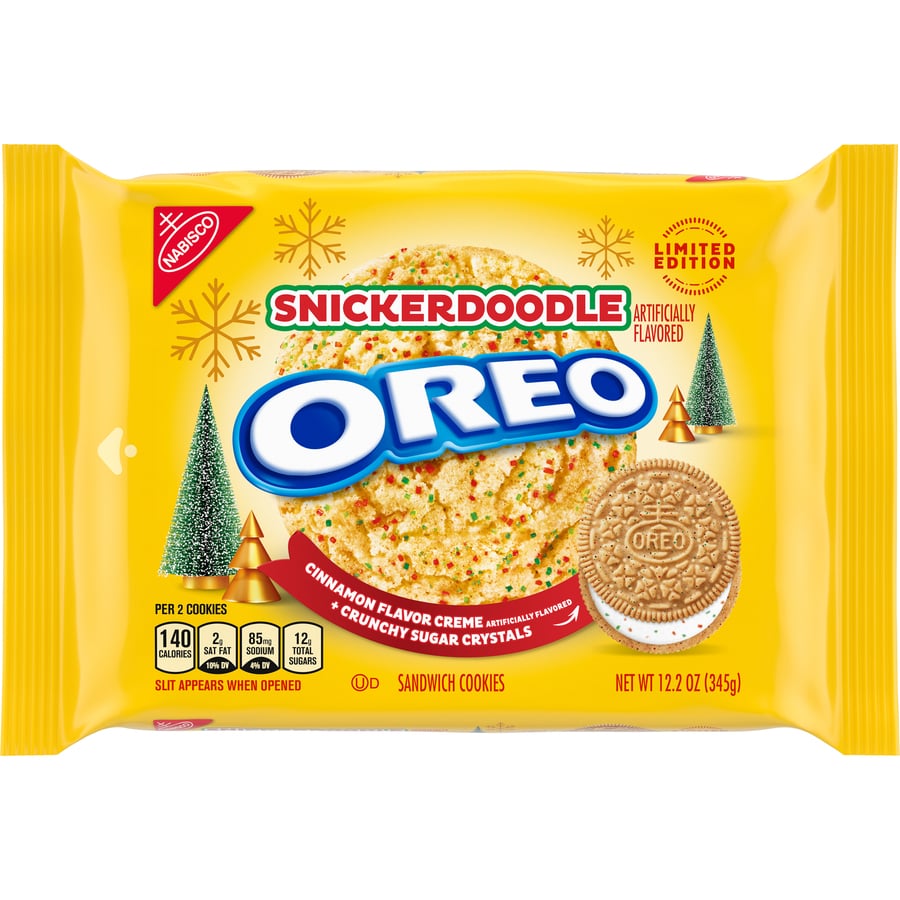 It's never too early to get into the holiday spirit, and luckily, Oreo's got you covered with a brand-new festive flavor. To ring in the colder months, Oreo is unveiling a limited-edition Snickerdoodle cookie, and we got to taste it for ourselves before it hits stores on Oct. 17. The latest Oreo draws inspiration from the American snickerdoodle, a holiday staple characterized by a light, fluffy texture and a warm, cinnamon taste. Oreo's version takes the cookie we all know and love and adds a snickerdoodle-flavored cookie base and a cinnamon-flavored creme, complete with green and red sugar crystals for a little extra cheer. But the question remains: does it actually live up to the hype?
The smell of the snickerdoodle Oreos sells me before the cookies even make it out of their container. I pull off the plastic packaging and am instantly transported to cozy holiday parties and chilly winter nights (which is saying something, because I'm eating these in the middle of a heat wave), catching familiar notes of nutmeg, cinnamon, and vanilla. As any sane human would, I twist off one side of the base cookie first, eager to see how different it is from a typical vanilla Oreo, and I'm pleasantly surprised: the base is almost nutty in flavor, bringing to mind the almond windmill cookies I used to scarf down in my childhood (although Oreo products do not contain any nuts or nut traces) and sending through me another wave of nostalgia.
I take another bite, this time with the cinnamon creme, and am happy to report that the final product is not overbearingly sweet the way I feared it might be. The end result is a merry cinnamon-sugar twist perfect for anyone who feels like the holidays can't get here fast enough. While I don't personally see myself shoveling these down with quite the same fervor as traditional Oreos, the new flavor is still delicious and true to its inspiration. Plus, I can always appreciate a cookie with the ability to take me on a trip down memory lane. Try the new snickerdoodle Oreos for yourself, and if you like them enough, don't forget to leave a few out for Santa this holiday season.
Image Source: Oreo