Pumpkin Spice Oreos Are Back For 2022
After a 4-Year Hiatus, Pumpkin Spice Oreos Are Back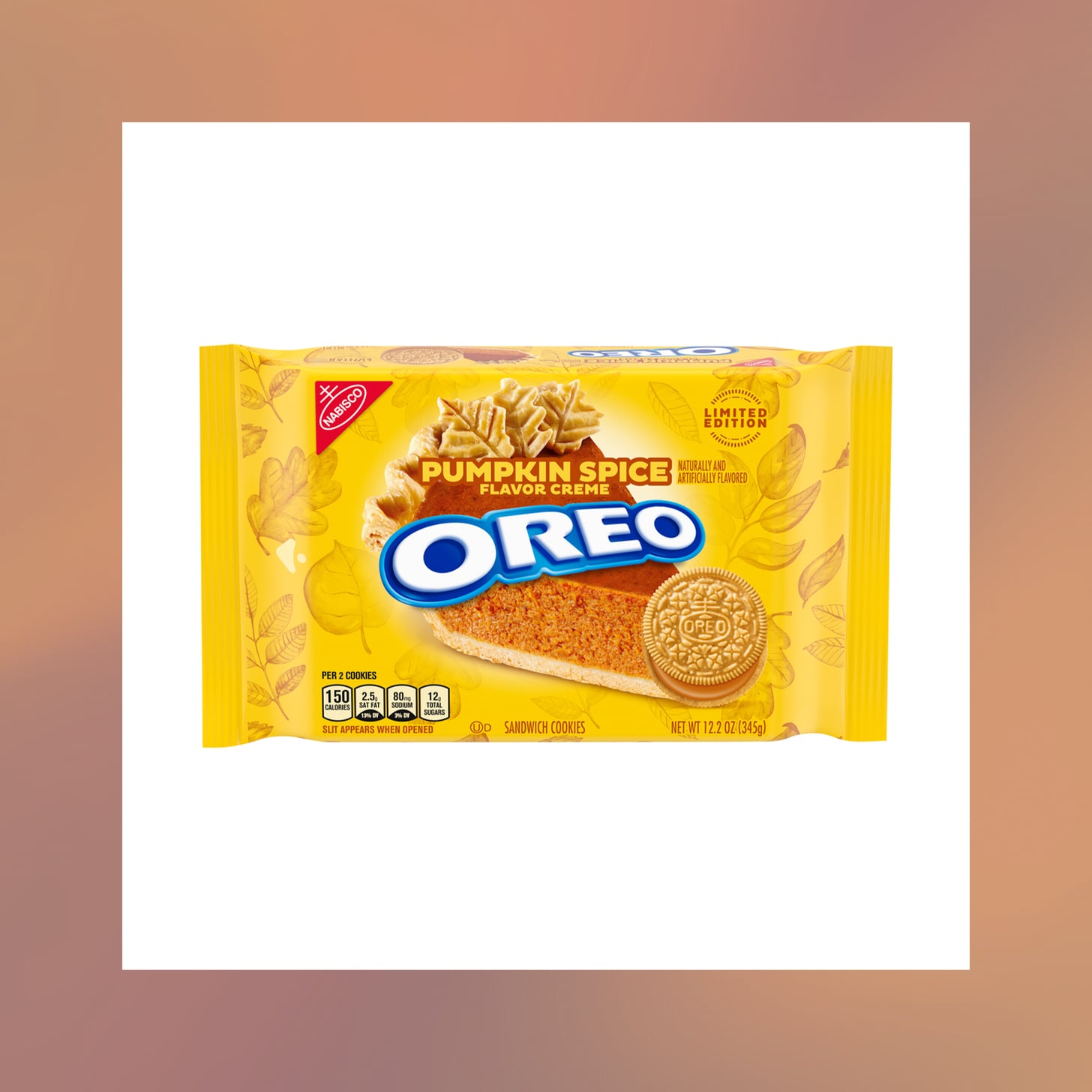 Image Source: Oreo / POPSUGAR
Fall is coming early for dessert-lovers, as Oreo announced it's bringing back its seasonal pumpkin-spice–flavored cookies. Starting Aug. 15, Pumpkin Spice Oreos will hit shelves after taking a four-year hiatus. The limited-edition flavor is made with two golden Oreo wafers and an orange-colored pumpkin-spice-flavored creme sandwiched between.
The brand "first brought limited-edition Oreo Pumpkin Spice Sandwich Cookies to shelves in 2014 and they were last available in 2017," an Oreo spokesperson tells POPSUGAR, and they're "excited to bring back a fan favorite."
The pumpkin-spice boom started when Starbucks unveiled the Pumpkin Spice Latte in 2003, and it slowly built momentum into the 2010s. Cinnamon, clove, nutmeg, and pumpkin seasonings had an absolute chokehold on the autumn American palate. Google searches for "pumpkin spice" spike every September and increased each year until hitting a peak in 2016. The trend has been on a slow decline since then, but the pumpkin-spice hype is still very real, gracing everything from Bud Light to english muffins.
Pumpkin spice hasn't been Oreo's only experiment with fall flavors; last year, it released Apple Cider Donut–flavored Oreos with a cider creme filling. The cookie brand, originally launched by Nabisco in 1912, has released over 65 new limited-edition flavors (and counting) since 2012. The seasonal specialties are reportedly important to the cookie's prominence and marketing strategy; in an interview with The New York Times, senior director of the Oreo brand Justin Parnell said the influx of new flavors actually keeps customers coming back to the original Oreo cookie.
Since celebrating the cookie's 100-year anniversary in 2012 with the Birthday Cake Oreo, the brand has also launched Firework Oreos with popping candies, fudge-covered holiday Oreos, Ultimate Chocolate Oreos, and dozens of other flavors. Lady Gaga has even collaborated with the cookie brand and launched monster-inspired, bright-orange Oreos to celebrate the release of her 2020 "Chromatica" album.
The pumpkin-spice launch is great news for fans of the flavor, which has a near total dominance of the autumn culinary season. If you found yourself mourning the discontinuation of the Choco Taco, another classic, feel-good treat, it might be time to enjoy an Oreo instead.