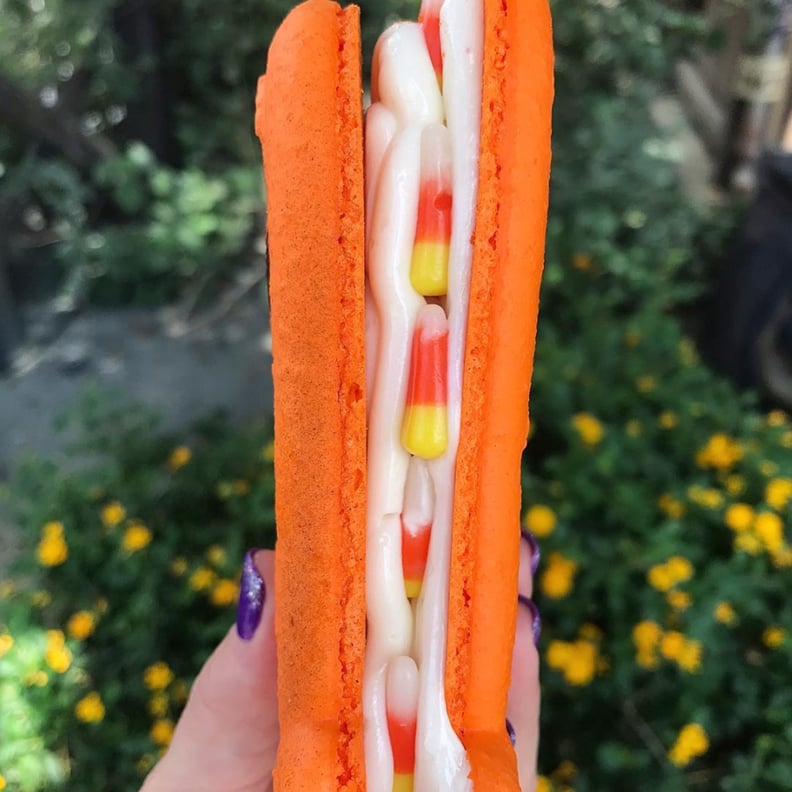 Is there actually anything better than Disneyland during Halloween? We're firm believers that no, there isn't, and Disneyland's lineup of Halloween food is really supporting our case this year. Next up on the list of things we must find immediately are the new Spoke-y Cone Macarons from the Cozy Cone Motel at Disney's Cars Land. The bright-orange confections are not your average Disney macarons.
The Spoke-y Cone Macarons are meant to look like the traffic cones in Cars Land, so they're triangular in shape instead of round. Filled with marshmallow buttercream and candy corn, one macaron is more than enough to crush your sugar cravings. Like many other attractions at Disneyland, the cones in Cars Land have gotten a Halloween makeover. The cones are currently sporting scary faces, and the macarons look exactly the same — the gooey inside might look sweet and innocent, but wait until you see the spooky outside!
We know that the Cozy Cone Motel is known for offering some of the best Disney foods, like the Bacon Mac and Cheese Cone, which also got a Halloween upgrade by the name of the Slow Burnin' Mac and Cheese Cone with a black cauldron cone and chili cheese puffs. So it comes as no surprise that the same location has introduced yet another creative treat! Keep reading to see more photos of this limited-edition Disneyland menu item that people are understandably showing off on Instagram.